It's where the Hadid sisters have been modelling through FaceTime photoshoots and where Gigi celebrated her 25th birthday bash.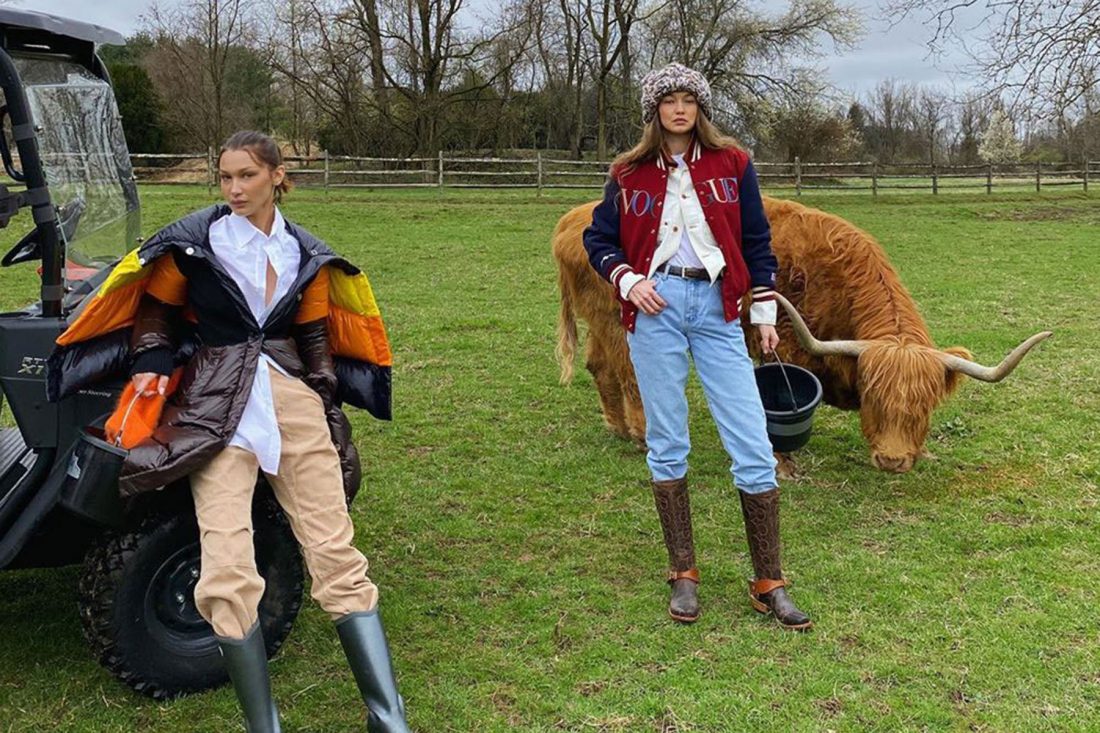 Ever wondered what celebrity supermodels like the famed Hadid sisters get up to while on self-quarantine? Well, based off their regular updates on Instagram, Bella and Gigi Hadid have temporarily left behind their bustling city life in Manhattan to stay at their mother Yolanda's country home in Pennsylvania during the country's Covid-19 lockdown.
Resting on 32-acres of land with green pastures and farm animals for neighbours, the expansive property has offered the family a welcome respite from the uncertainties of the global pandemic. This is probably most needed by Gigi, who recently confirmed that she is expecting a baby with boyfriend Zayn Malik.
Take a glimpse inside the Hadid farmhouse and what the family has been up to amidst the Covid-19 lockdown below.
FaceTime photoshoots 
Models are as models do, so these supermodels got up to some photoshoots from home. Conducted via FaceTime/video calls, we'd say some of these results are definitely cover-worthy for the times! The younger of the two sisters, 23, shared some takes from her shoots with Jacquemus, Vogue Italia and Vogue Greece:
Meanwhile, the blonde Hadid sister gave us a sneak peek at their outdoor "Postcard from Home" photoshoot with Vogue. (Note the adorable yaks in the background.)
One of her shoots saw Gigi cosying up in a red Chanel ensemble on the couch, playing a round of Mario.
Gardening therapy
With the lush gardens, horse stables and outdoor patio on the estate, it's no surprise that Bella, Gigi and Yolanda spend much of their quarantine time outdoors. In fact, Bella proudly shared that they have replanted 1,500 lavender plants in their backyard…
View this post on Instagram
…though Yolanda appeared to have run into a few friendly (furry) distractions in the process.
View this post on Instagram
But that didn't stop them from continuing their gardening plans, ending up with 3,000 lavenders as of yesterday.
View this post on Instagram
Trust the supermodel to strike a few celebratory poses in the freshly replanted garden.
View this post on Instagram
Gigi's birthday bash 
Glowing mum-to-be Gigi celebrated her 25th birthday on the farmhouse with a few loved ones, including surprise guest and boyfriend Zayn. One can certainly tell how overjoyed she is to have a bagel cake custom-made by American baker and reality TV star Buddy Valastro.
"This is a dream come true. I can't believe you made this cake for me while the bakery is closed. It means more to me than you know," she told Buddy in her caption.
View this post on Instagram
Bella also took to Instagram to share a heartwarming post of all her favourite sister moments with her "best friend, leader, teacher, partner in crime."
Mommy Yolanda also couldn't help but express her pride and joy at her eldest child, who looks a lot like a younger version of herself.
Cooking, gaming and all that stuff…
Supermodel duties and celebrations aside, the Hadid women passed the time like most of us. There was some cooking, baking, wining and dining…
View this post on Instagram
…and then showing off Nintendo Switch skills…
View this post on Instagram
…plus a side of healing meditation by a crystal labyrinth for Yolanda, who shared a global prayer in her caption.
It seems Bella isn't immune to the powers of TikTok in this age of quarantine either. If you're looking for someone to follow for some #qualitycontent and inspiration on the platform, she's happy to show you her moves:
All-round farmhouse fun
One thing you probably wish you could do like the Hadids, however, is surround yourself with endearing farm animals. Just look at those horses, cows, goats, ponies and yaks – who knew farm life could breed a serious case of FOMO?
View this post on Instagram
View this post on Instagram
Follow Bella (@bellahadid), Gigi (@gigihadid) and Yolanda Hadid (@yolanda.hadid) on Instagram for more updates.
Featured Image: Vogue Arabia