Any festive celebration in Malaysia is an opportunity to bond over delectable food. This holiday season, Maria's SteakCafe is once again offering its Christmas set menu, highlighting the famous beef wellington. This time, with the lovely addition of foie gras. Whether you choose to dine in at one of their restaurants or have it delivered straight to your door, the holidays are bound to be memorable. 
Sit and savour
This year's Dine-in Christmas Set features a range of choices, from the famous beef wellington (with or without foie gras) to mouthwatering steaks like Australian Wagyu MB7 or Japanese Wagyu A5. The beef wellington was cooked to a perfect medium-rare while the flaky crust gave an extra buttery flavour towards the end. 
But the options don't end there, for those who don't consume beef can also opt for the Atlantic white cod or New Zealand lamb instead. These mains all come with a starter of truffle mushroom soup and fried camembert with cranberry sauce, alongside lemon loaf for dessert. The dine-in menu will be available exclusively on the 24th and 25th of December 2022.
Enjoy in comfort
If staying in and watching your favourite Christmas movies is in your plans, then you're in luck. Because Maria's SteakCafe is also offering a home delivery set featuring four choices. Take your pick from the roast lamb, tomahawk or beef wellington and yes, the latter comes with or without foie gras too. 
Each set includes a hearty spaghetti chicken bolognese, a crisp caesar salad, flavourful roasted potatoes, and creamy creamed spinach. You'll also get a zesty lemon loaf to end your night on a sweet and tarty note.
The gift that keeps on giving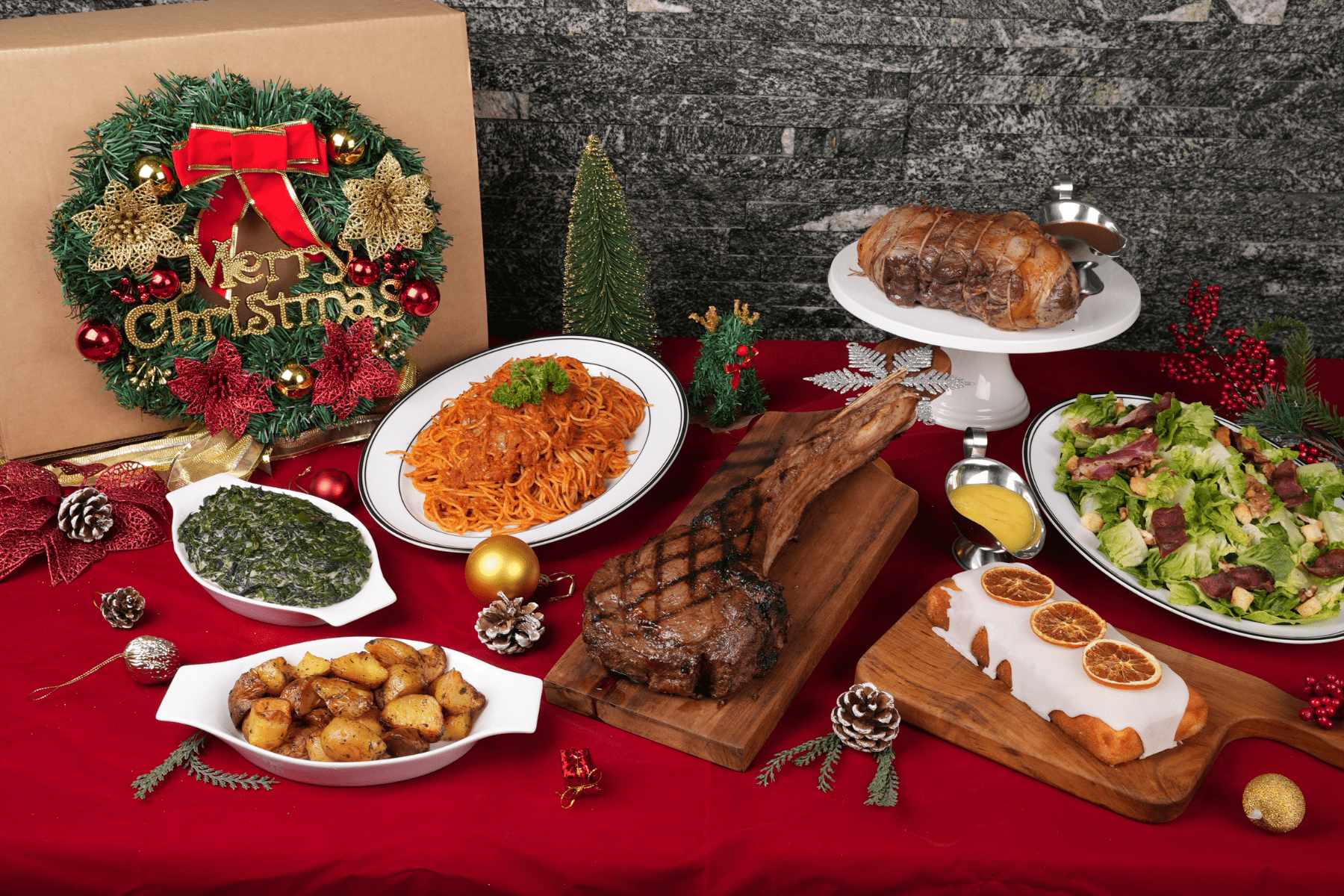 Those looking to spoil their family and friends with a fulfilling meal can look to Maria's Christmas Gift sets. Lavish them with the beef wellington, tomahawk or roast lamb – all of which come with the enticing creamed spinach and roasted potatoes. 
Photos by Maria's SteakCafe.