Why is everything, from vegetables to kitchen appliances, suddenly cake?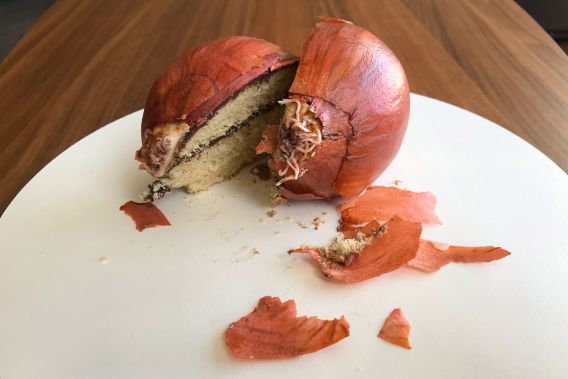 Why is everything suddenly cake?
If you've asked yourself that over the past week, you're not the only one.
The Internet was taken by a sudden influx of cake videos, except they don't appear to be cake videos at first glance. A carton of eggs, a bag of Doritos, an onion and even 2020's most sought after commodity, the toilet paper, is presented in the first few seconds innocently minding their own business before a shiny knife is lowered at them and slices right through them.
Lo and behold, it is revealed that these seemingly mundane objects are actually cake, made to look hyperrealistic by incredibly meticulous skill with fondant.
What's the deal with these deceptive desserts?
The cake masterminds
Everything started turning into cake when Tasty shared a video reel of a few different creations being sliced up. They are the works of three confectionary artists from two different bakeries.
These Are All Cakes pic.twitter.com/ejArkJHaid

— Tasty (@tasty) July 8, 2020
Natalie and Dave Sideserf of Sideserf Cake Studio in Austin, Texas, have long been uploading their creations of hyperrealistic cakes on Youtube. They've made cakes of Yoda, bulldogs, and Patrick Starfish, to chicken nuggets, oysters and even a human brain. It wasn't until they shared their video of cakes made in the shape of everyday vegetables like lettuce, bell pepper and eggplant that things blew up, with some viewers expressing delight at those being vegetables they'd finally eat.
Another name contributing to the phenomenon is Tuba Geckil of Red Rose Cake based in Turkey. The self-taught cake baker has long made a name for herself with beautiful busts of famous people like Bob Marley and footballer Neymar, but it isn't until she uploaded on social media her cakes shaped like Crocs slippers and toaster ovens that she caught the world's attention.
All three artists identify as sugar artists on top of bakers, explaining the accuracy of their creations. Most of them are made with cake as the base, but fine-tuned to real-life renditions with clever manipulations of various types of sugar and colouring.
For example, Sideserf's now famous onion cake looks so realistic that people assumed it's layered with onion skin. It's actually a lot more sophisticated – being made with vanilla wafer paper.
Some of them are cute…
The main fascination with these creations are simply how unassuming they are. They've got everyone questioning the eligibility of everyday objects – from fruits and vegetables to kitchen appliances – and even though we now know they're made of cake, just how they're made of cake still surprises us.
Sideserf's paperbag cake, complete with wrapping tissue flowing out of the top, steals breath when you cut into it – it's not just the base that's cake. Tuba's bottle of surface cleaner and foamy cleaning sponge leaves us wondering which is the cake. Surprise, it's both.
They are each a little guessing game in how much of them is cake, and how much, decorative sugar and sculpted fondant. Regardless, they're a delight to watch when the mystery is finally unveiled with something as smooth and swift as a slicing knife.
… some are quite gruesome
To every light, there is darkness.
Another part of the Internet that is transfixed on the trend caught on by means of more gruesome creations, like a severed hand, dismembered foot, bleeding brain and more. Going beyond Halloween specialty confectionary, they are made to cause you to squirm.
If you find the decapitated heads hard to stomach, wait till you lay eyes on the impaled skulls.
They come with syrupy blood, stringy hair and all the works to effectively keep you away from your daily recommended dose of sugar.
Is it cake?
Sweet and sugary or moldy and macabre, hyperrealistic cakes have certainly left a lot of people on the Internet confused.
The awe and disbelief even gave birth to a new meme "Is it cake?" deepening the existential crisis the majority of us are already undergoing in 2020.
One Tik Tok user  @dandambam articulated what all of us were suspecting with a video of himself discovering that he is, in actual fact, all cake too.
Just like this year, many things we've come to know and believe are turning out to be something else. At least with this one, it's just some sugar, flour and butter.