Just in time for the festive season, Hublot and Takashi Murakami unveil a sparkling, rainbow-speckled wearable work of art. 
Following the success of the first timepiece from their collaboration, the Classic Fusion Takashi Murakami All-Black, the luxury watchmaker and iconic artist are back to release their second creation, the Classic Fusion Takashi Murakami Sapphire Rainbow.
The first Classic Fusion Takashi Murakami, launched early this year, incorporated the artist's signature smiling flower motif in a black monochromatic style. After the success of this limited edition model, it's no wonder that Hublot is once again bringing the artist's inspired works into the world of horology.
In the new Classic Fusion Takashi Murakami Sapphire Rainbow, the sleek, all black scheme has been replaced by a vast array of colourful stones and a transparent case, echoing the bright, vibrant style that Takashi Murakami is known for.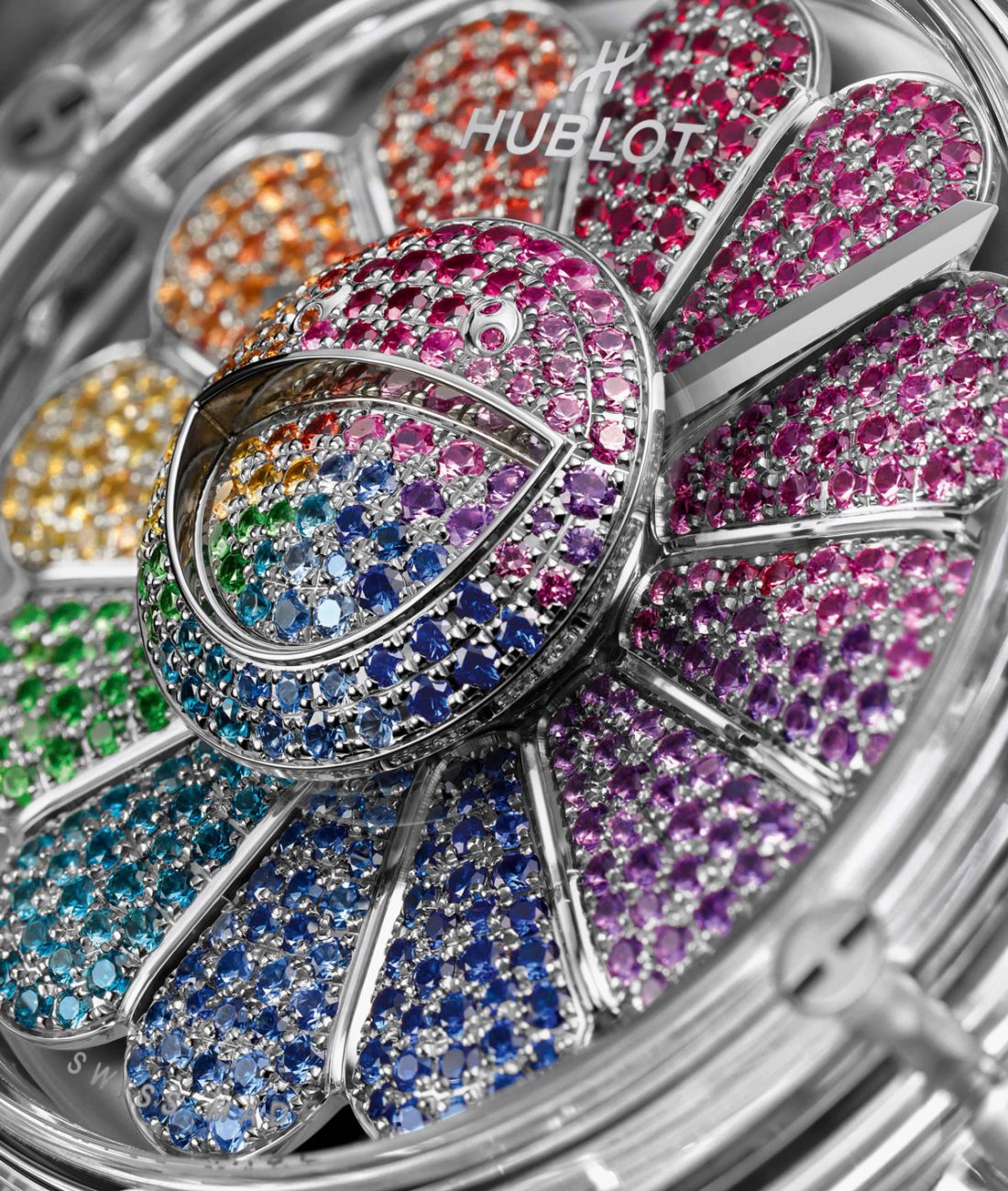 Spotlighting the smiling flower theme, the watch features the three-dimensional smiling face extending from the watch dial to the outside of the sapphire crystal. Around the face, 12 colourful petals rotate in a polychromatic show, dazzling with its 487 stones of ruby, amethyst, tsavorite, and various sapphires.
As with the All-Black model, the movement of the petals that bring Takashi Murakami's smiling flower to life is courtesy of the ball-bearing system specially designed by Hublot's engineers.
To fully showcase the work of art that is the timepiece, Hublot's technicians have created a transparent background setting so that the viewer can admire both the artist's creation as well as the technical precision and mastery of the watchmakers in Nyon.
Like the Classic Fusion model, this piece's 45mm-diameter case is cut from sapphire crystal, one of Hublot's pioneering technological feats. Powered by the company's HUB1214 calibre, the model also boasts a 72-hour power reserve.
"Our continuing collaboration with Takashi Murakami is taking us to new lands of expression as yet unexplored by the watchmaking world," says Ricardo Guadalupe, CEO of Hublot. "In this work, artistic creation and our company's know-how intertwine to give birth to a work of art you can wear on your wrist!"
Sharing how this partnership has allowed him to express his creativity in new ways, Takashi Murakami adds, "The mastery of the watchmaker's technicians has opened up new fields of possibilities for my inspiration. The result is this new watch in the colours of the rainbow."
The Classic Fusion Takashi Murakami Sapphire Rainbow watch is available in a limited edition of 100 numbered pieces.
For more information, visit hublot.com