Luxury wearables, NFT collections, virtual runways, robots, immersive digital spaces – Decentraland gave us a glimpse of what the future of fashion might look like over the weekend with the highly anticipated Metaverse Fashion Week (MVFW).
The four-day virtual event took place at blockchain-based platform Decentraland from 24 to 27 March, bringing a slew of fashion shows, pop-up stores, industry panel discussions, and afterparties to the metaverse. Over 60 brands, artists and designers participated in the fashion week, including the likes of Dolce & Gabbana, Etro, Tommy Hilfiger, Estée Lauder and Elie Saab.
Throughout the week, brands showcased NFT wearable collections, uniquely designed digital spaces, and breakthrough activations as thousands of attendees explored, interacted, and engaged with them using digital avatars. Here are our top highlights from the first-ever Metaverse Fashion Week.
Selfridges's flagship store opening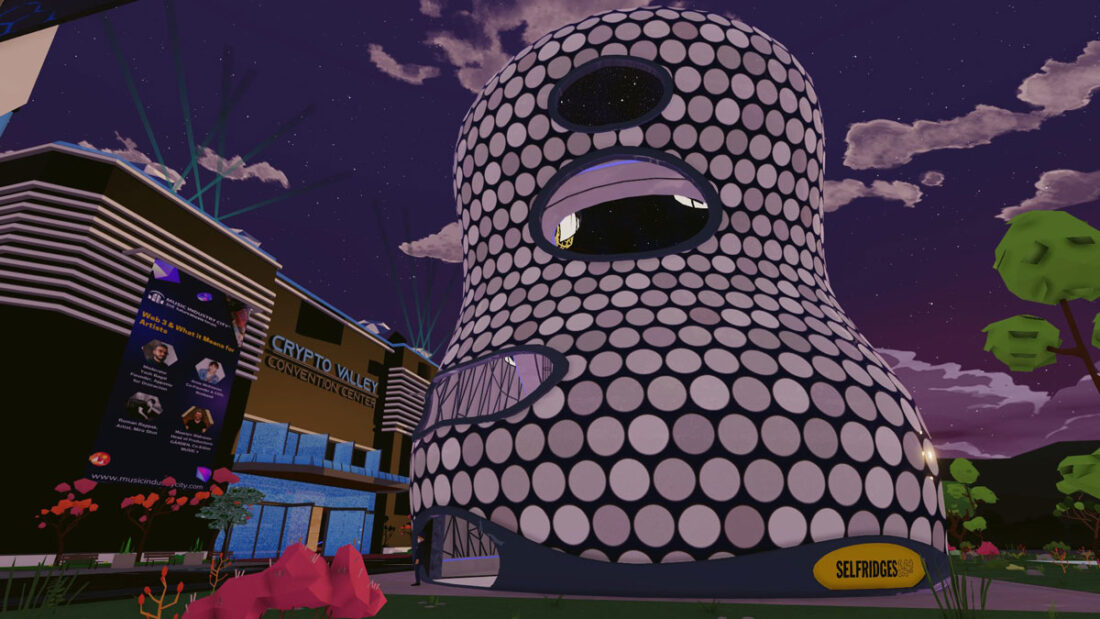 Iconic London retailer Selfridges kicked off Metaverse Fashion Week by unveiling its flagship metaverse store experience in Decentraland. The uniquely shaped virtual building, inspired by the architecture of Selfridges' Birmingham store, features exclusive 'Universe' NFTs by Paco Rabanne and Fondation Vasarely. Inside, users experienced the space through an immersive guided tour that highlighted important works of art from the past.
Estée Lauder's serum-inspired wearable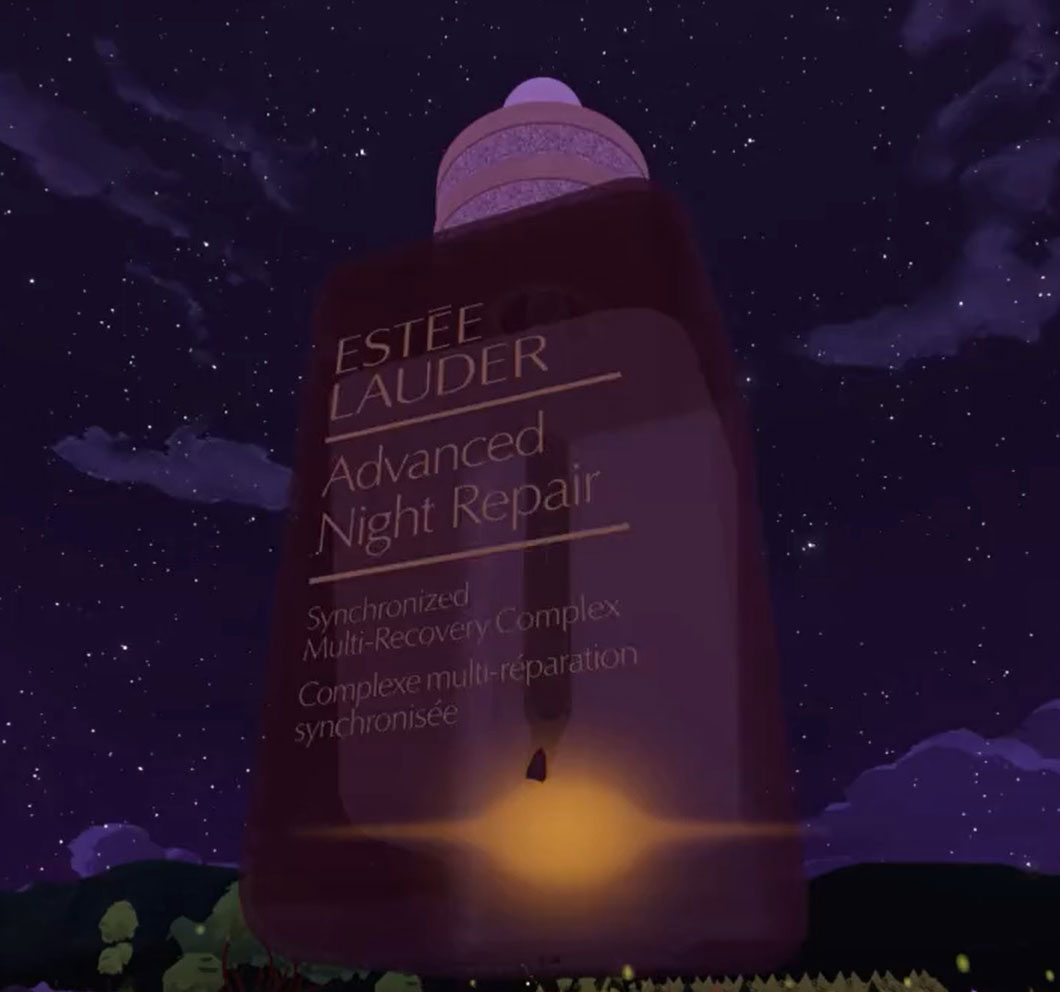 As the exclusive beauty brand of Metaverse Fashion Week, Estée Lauder made sure to give users an immersive experience to remember by transforming its best-selling Advanced Night Repair Serum Synchronized Multi-Recovery Complex into both an NFT wearable and a metaverse headquarters space. The brand partnered with Alex Box to create the wearable, which gives avatars a starry, radiant glow inspired by the serum. Users could claim the NFT by entering the virtual structure that resembles the iconic serum's bottle, and unlocking a digital badge or proof of attendance protocol.
Fashion-focused neighbourhoods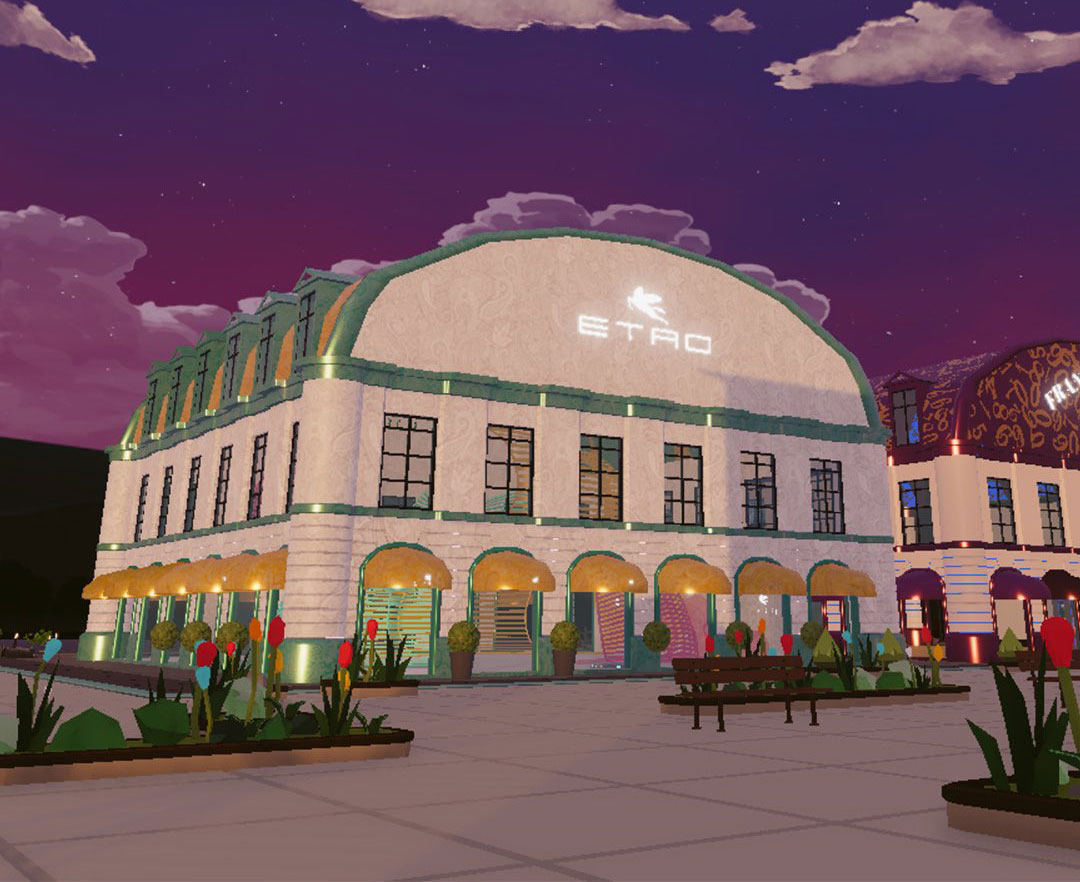 For the duration of Metaverse Fashion Week, a number of new areas in Decentraland were opened up for brands and designers to stage various fashion shows, panels, galleries, and activities. One of the main locations was the Luxury Fashion District, presented by curated NFT marketplace UNXD and Vogue Arabia. Modelled after the Avenue Montaigne of Paris, the district was home to fashion houses like Dolce & Gabbana, Etro, Elie Saab, and DUNDAS. The Rarible Fresh Drip Zone, styled after the streets of New York, held pop-ups of brands like PUMA, Fred Segal, and Perry Ellis America.
Dolce & Gabbana's catwalk full of cat looks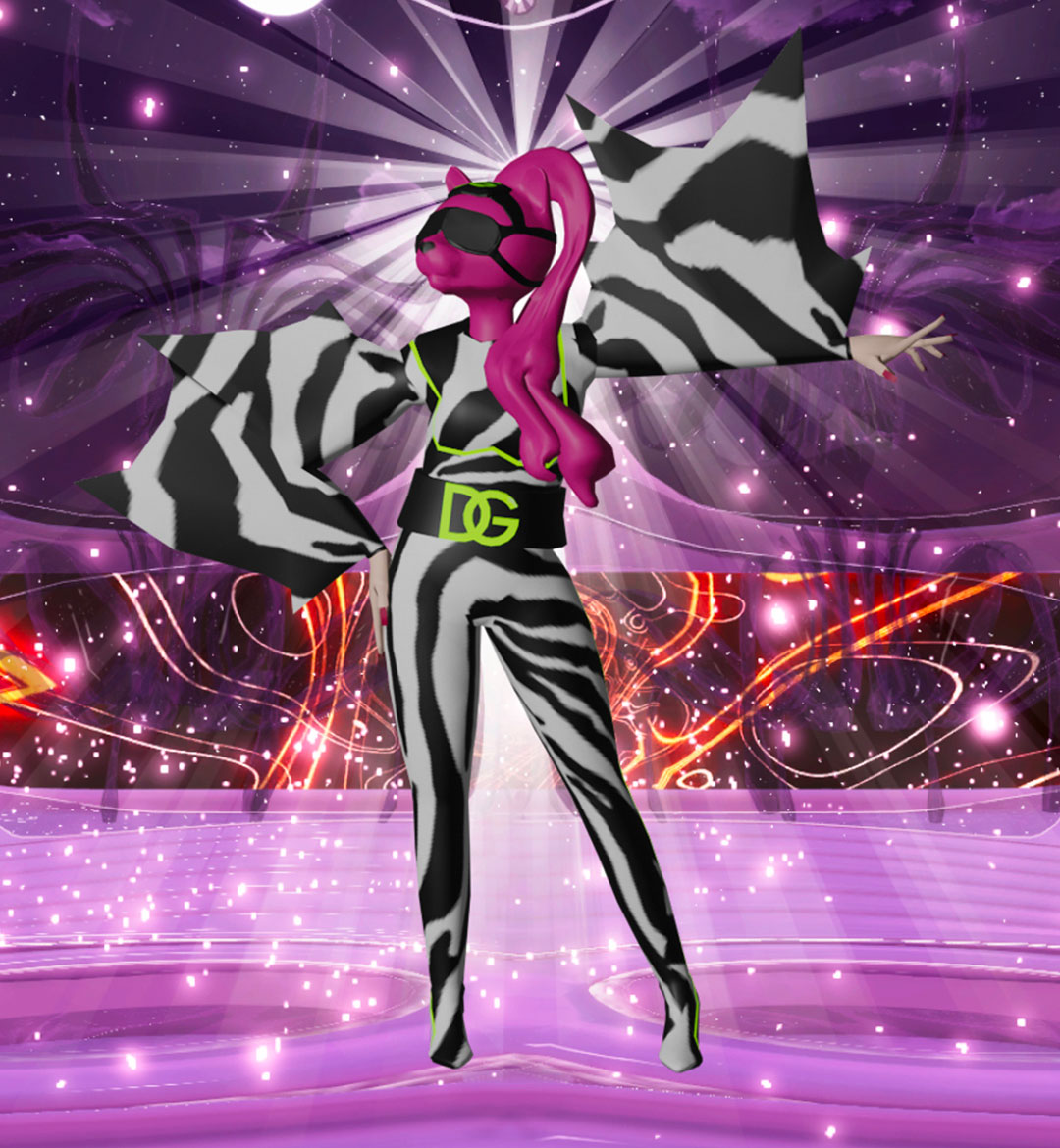 Dolce & Gabbana's runway show at Metaverse Fashion Week unveiled twenty bespoke metaverse wearables, playfully presented using avatar models with feline heads. After its debut on a massive stadium-like stage, the loud, brightly-coloured collection was then showcased at Dolce & Gabbana's pop-up in the Luxury Fashion District. Post-MVFW, the brand will continue its exploration of the metaverse, launching a DGFamily NFT community that will provide an ecosystem of digital, physical, and experiential benefits for DGFamily Box members.
Tommy Hilfiger's Spring 2022 NFTs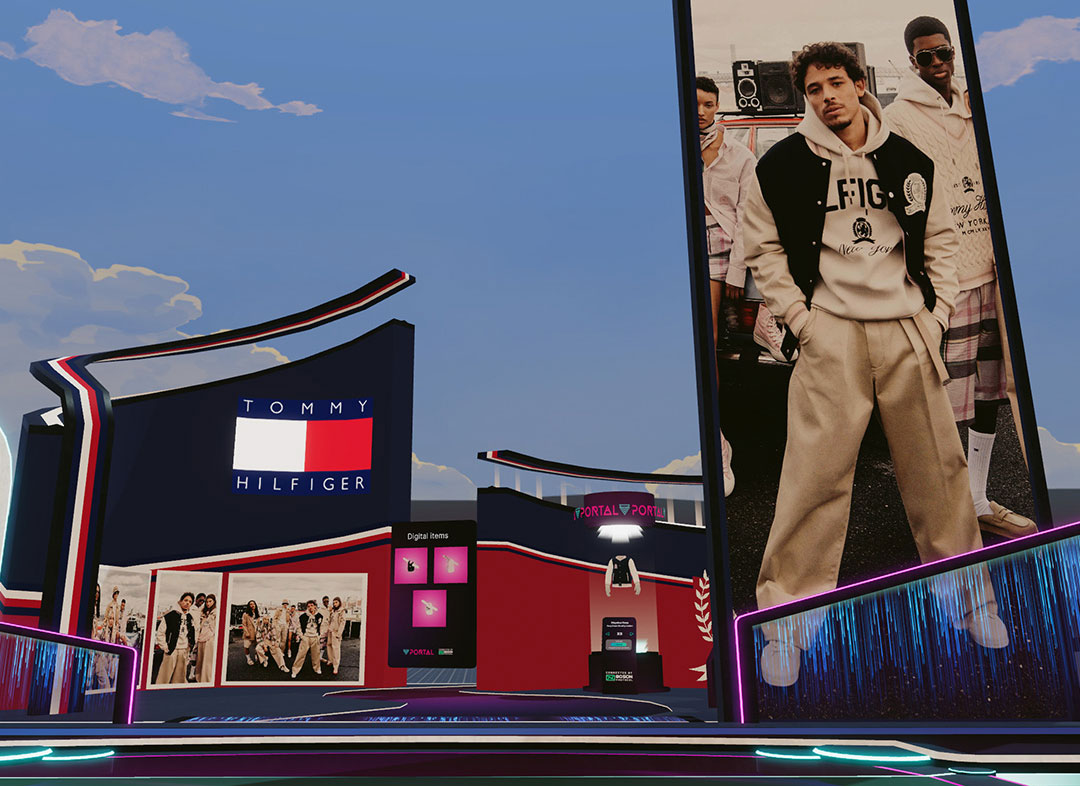 After embracing the virtual realms of Animal Crossing: New Horizons and Roblox, Tommy Hilfiger crossed a new digital frontier this past weekend with its digital store at Metaverse Fashion Week. Partnering with Boson Protocol, the brand showcased its Spring 2022 collection and sold its physical pieces as redeemable NFTs. Users could purchase items from the collection such as hoodies, varsity jackets, and mini dresses at the virtual store in Boson Portal, and then redeem them for their physical versions. Hilfiger himself also made a virtual appearance at a 'fireside chat' discussion panel about the emerging age of metaverse commerce.
Sophia the Robot was the one to watch
Spotted all over Metaverse Fashion Week was none other than the world's most well-known humanoid robot, Sophia. Her appearance at the fashion event was not surprising, considering that she has in previous years attended a number of physical fashion weeks around the world. Throughout MVFW, Sophia was seen strutting around Decentraland dressed in exclusive high fashion wearables, and users were encouraged to snap a selfie if they saw her. Those that posted their pictures on Twitter with the hashtag #findingsophiatherobot were entered into a special NFT giveaway sponsored by Percy Lau and Hanson Robotics.
Grimes performed for the finale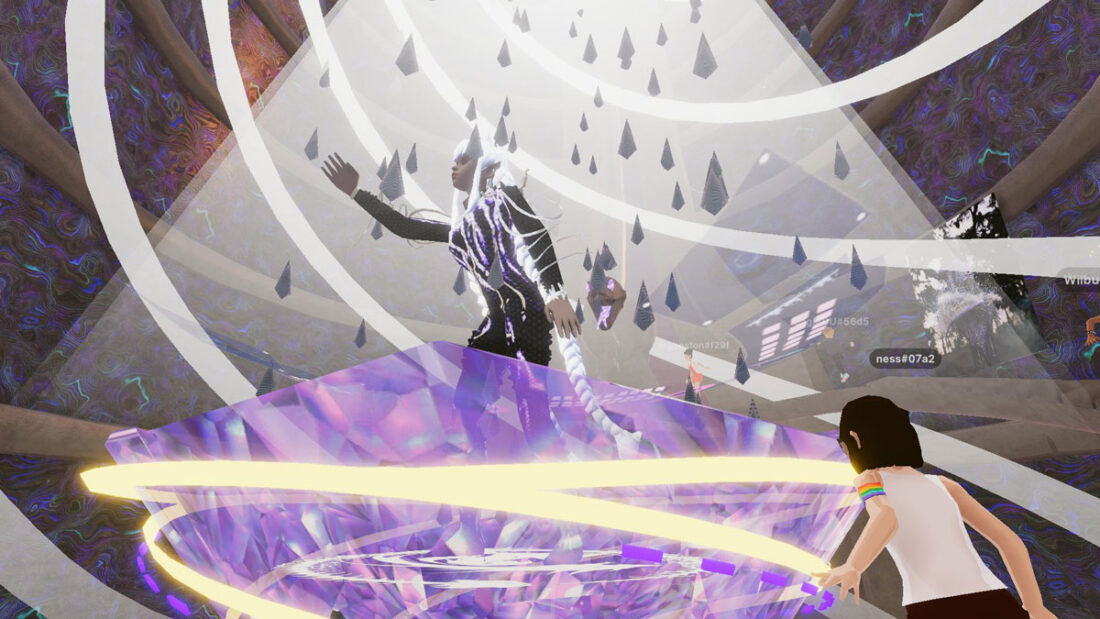 Closing out the week of events, musician Grimes took the virtual stage for an electronic DJ set in collaboration with digital-native couture house Auroboros. The star's avatar, dressed in Auroboros' science-fiction inspired 'Mystique' bodysuit, danced on an iridescent floating platform as avatar attendees watched from the steps of a spiral staircase. Other artists and DJs who performed at brands' afterparties during MVFW include Bob Sinclar, Nicki Nicole, DJ ICYKOF, and Blond:ish.