In conjunction with its 100th anniversary, Gucci celebrates this pivotal milestone in its history with the debut of its first high watchmaking collection.
Gucci's watchmaking history can be traced back to 1972, when it was not only the first luxury fashion house to introduce the fashion watch, but the brand also demanded the highest quality – ensuring that every Gucci watch be Swiss-made – from diamond-setting and assembly at La Chaux-de-Fonds, to crafting of the dials at Gucci's Fabbrica Quadranti facility in the Canton of Ticino.
The new collection is comprised by four lines – GUCCI 25H, G-Timeless, Grip, and high jewellery watches – with each gathering inspiration from Gucci's craft legacy and heritage elements. This includes flora and fauna, talismans, and of course, the emblematic interlocking G logo.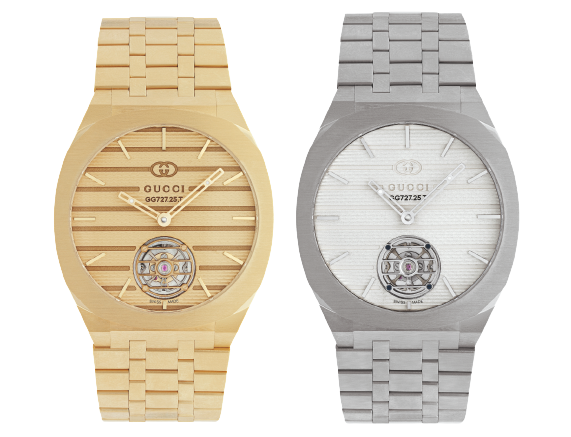 A sporty and minimalist model, the GUCCI 25H plays with numbers for symbolism. The first being in the name, which contains a number Alessandro Michele considers a talisman and one he often features in his collections for the Maison. The GG727.25 calibre also references other important numerical symbols: "7" to encapsulate a sense of completeness; "2" representing balance and cooperation; "5" to symbolise curiosity and freedom.
The mechanical watch boasts sleek lines, contrasting finishes and technological excellence, with an ultra-slim case to replicate the "second skin" sensation that's suited to both men and women. It comes in steel and pavé-set models and two tourbillon iterations in platinum and yellow gold.

Five designs make up the G-Timeless creations, starting with the G-Timeless Dancing Bees, a timepiece that comes with a high jewellery presence with bees that shimmer and move on the dial. This watch is also offered in Tourbillon versions.
Then there's the G-Timeless Automatic with bee motif, jewelled hard-stone dials and precious skin strapsl the G-Timeless with moon phases and the G-Timeless Pavé, a white diamond-encrusted automatic watch fitted with an alligator strap.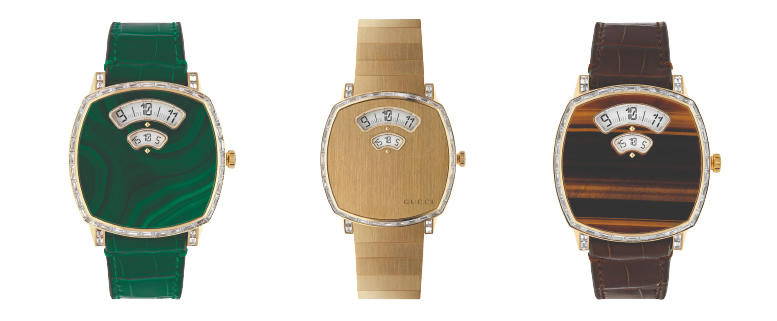 The Grip high watchmaking variations balance decorative craft traditions and cutting-edge techniques with technological know-how. Each Grip watch is equipped with a Jump Hour movement module triggered to jump forward every hour, to a minutes disc that sweeps around through 60 minutes.
Hardstone dials adorn the three new 18-karat gold Grip models, with two in yellow gold, and one in white gold. The watches come with an alligator strap corresponding to the colour of its stone dial. A fourth design in the Grip gold series in created entirely in 18-karat yellow gold with a brushed gold dial sporting an engraved Gucci logo. It comes fitted with straight bracelet links. Each 19-karat gold Grip watch is also precision-set with a continuous row of 44 baguette-cut diamonds.
Gucci High Jewellery Watches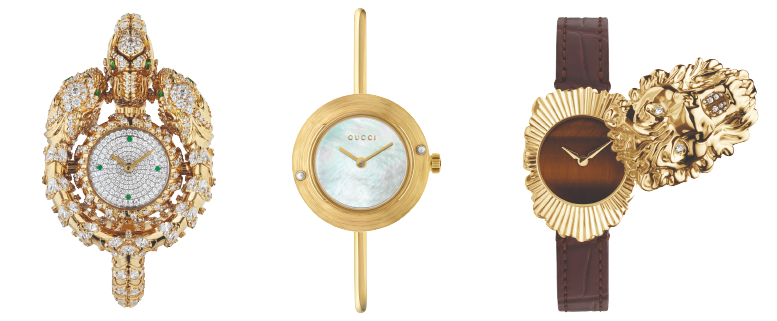 Finally, the high jewellery line comes inspired by the House's design motifs: Dionysus, Lion Head, and Gucci Play. As some of the most unique and compelling pieces in the collection, each design is created around a quartz movement, better suited to the goldwork and precious stones that set high jewellery watches apart.