This is what it's like to be a guest at the Gesuto x Moulin de Gassac wine pairing dinner.
The TTDI area is home to an array of restaurants, from humble European fare to a contemporary take on East-meets-West cuisine. One of the newer players on the block is Gesuto, a modern Japanese restaurant whose kitchen is led by an Italian chef.
With its name derived from the Japanese word for "guest", Gesuto wants you to forget everything you know about the traditions of Japanese food, as they welcome you with their own take on the beloved cuisine. Last month, we had the pleasure of dining at Gesuto for a wine pairing dinner with French label Moulin de Gassac, set in the restaurant's chic and intimate dining area.
Read on to find out what it was like being a guest at the Gesuto x Moulin de Gassac wine dinner.
Amuse bouche and appetisers
We kicked things off on an excellent note, beginning with an amuse bouche of edamame fritters served with ika ragout and a pastel-pink beetroot foam. While the word "fritters" invited expectations of a deep fried snack similar to tempura or pakora, Gesuto's rendition took on a form that's more of a korokke, the Japanese croquette. The fritter itself was pillowy on the inside, with a light and crisp exterior. While the sweet nuttiness of the edamame contrasted beautifully with the slightly tart beetroot foam, the squid ragout was nothing to shout about – and its natural sweetness was only detectable when tasted on its own. Despite that, these fritters were definitely one of the highlights – and we'd only just started!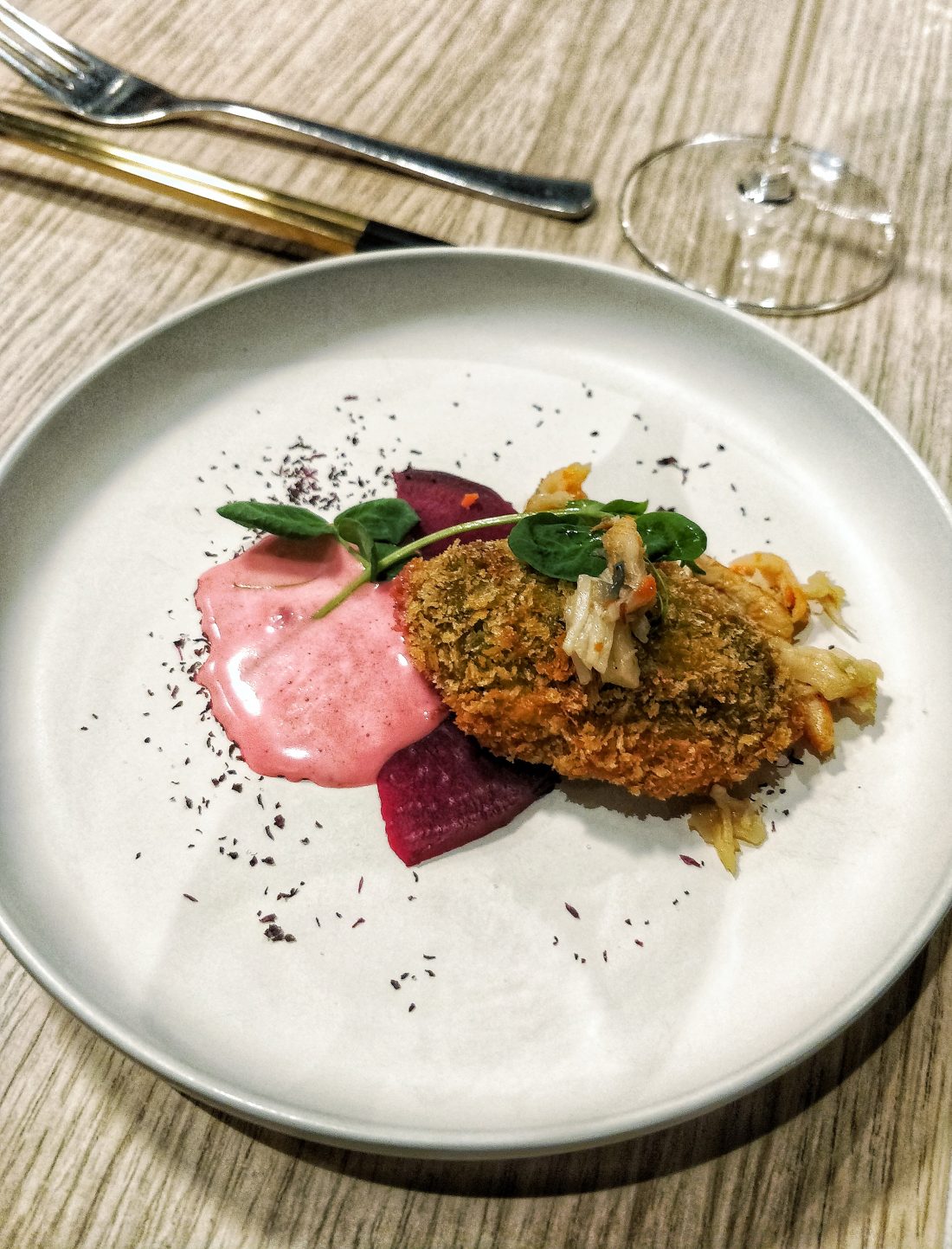 Pairing with the edamame fritters was a beautiful Domaine Delmas Séduction Cuvée, which indeed seduced the palate with its clean minerality and rich notes of bright red fruits such as cranberry, cherry, and strawberry. This sparkling rosé was a worthy match for the savoury fritter.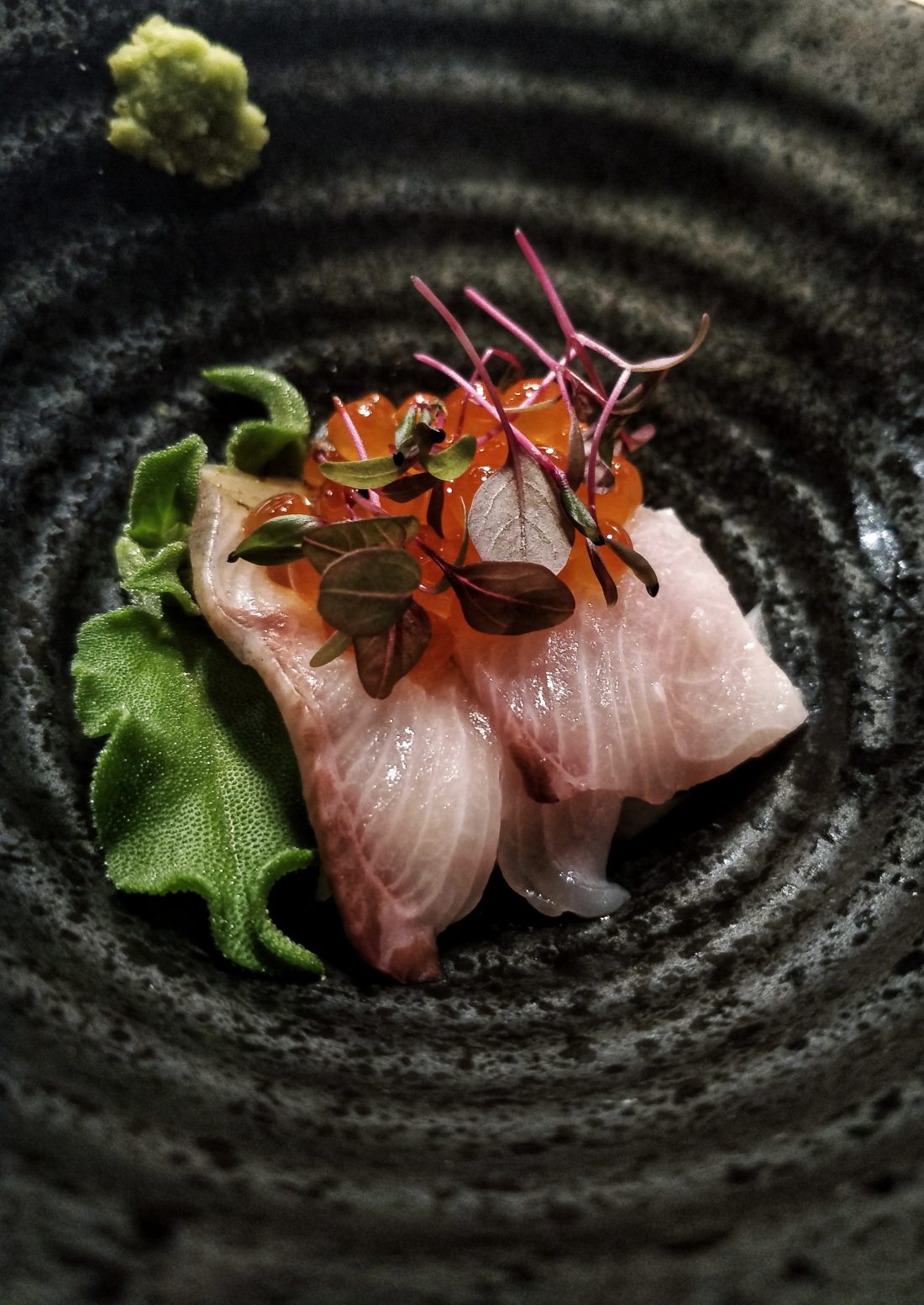 The next appetiser came in the form of Tasmanian hiramasa (yellowtail kingfish), served with sweet daikon ribbons, ice plant, and ikura in a shoyu base. While the sashimi itself was already fantastic in all its juicy, creamy glory – it was incredibly overwhelmed by the sheer amount of unrestrained umami from the ikura and shoyu. The dry 2018 Moulin de Gassac Sauvignon Blanc was suitably paired with this dish, bursting with ripe white peach and pear, with crisp tangerine threaded throughout, and an underlying earthiness to round off the wine.
A touch of the West
We then moved on to something a bit bolder and creative, with a blackcurrant macaron filled with foie gras mousse, and accompanied by an ume plum marmalade. This dish was a fine example of balance, as the fluffy foie gras mousse was full of its natural gaminess without being too cloying. Its richness was bolstered by the sweet yet tart meringue and plum marmalade. On the downside, the meringue itself was a tad too dense and chewy, lacking the satisfying crispness from a typical macaron, resulting in little to no textural contrast in the overall dish.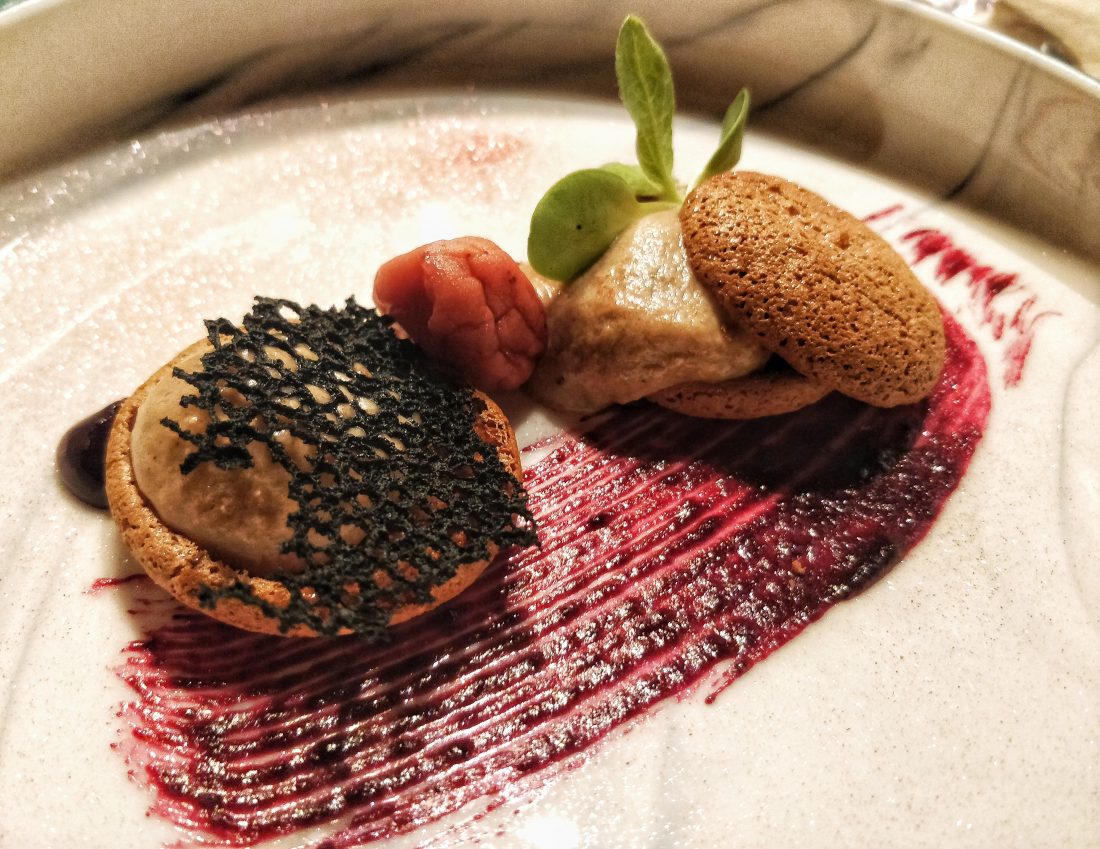 The foie gras macaron was paired with another dry wine – a 2018 Moulin de Gassac Guilhem Rosé, which not only complemented the sweetness of the dish with its floral aroma, but also boasted fresh tannins and a clean minerality that balances out the unctuous foie gras mousse.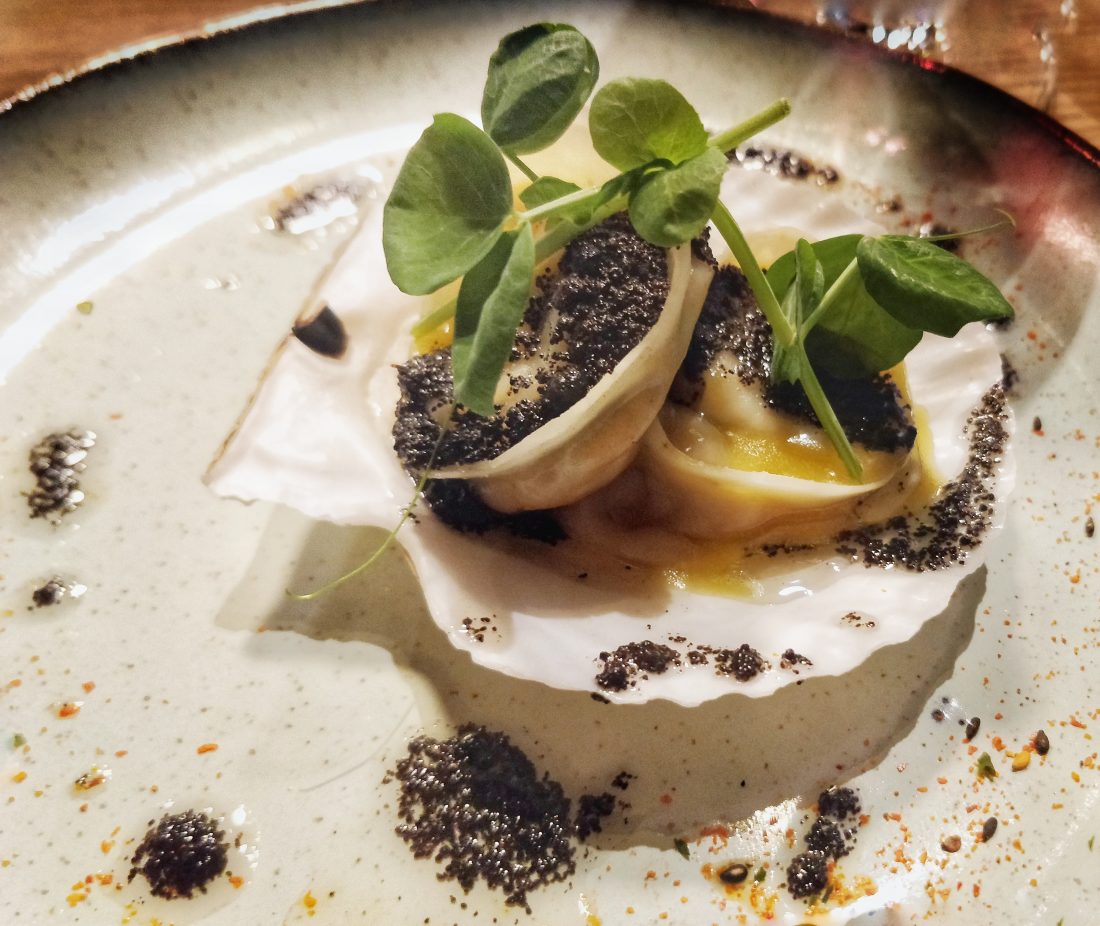 Our next dish saw a beginning of Korean influences slowly being implemented into the meal. Bite-sized and incredibly soft, the scallop truffle gyoza took on a shape of the Korean mandu, and was topped with truffle paste and beurre blanc. The scallops paired surprisingly well with the truffle without feeling heavy, and the beurre blanc added a touch of creaminess to the dish. However, just like the macaron, this dish could've benefitted from something with a bit more bite. We savoured the dumplings with a glass of 2018 Moulin de Gassac Merlot, a smooth red that brought fresh red berries and a hint of mint to the party.
Hearty palate cleansers and a marriage of bold flavours
While palate cleansers are usually served in a sorbet or granita form, Gesuto took the savoury route with its kenchin-jiru, a heartwarming broth made from shiitake mushrooms, kombu, and ginseng. No doubt it was a delicious and soothing dish, with flecks of gingerflower to brighten the soup's herbal earthiness, but the soup ultimately did little to actually refresh the palate.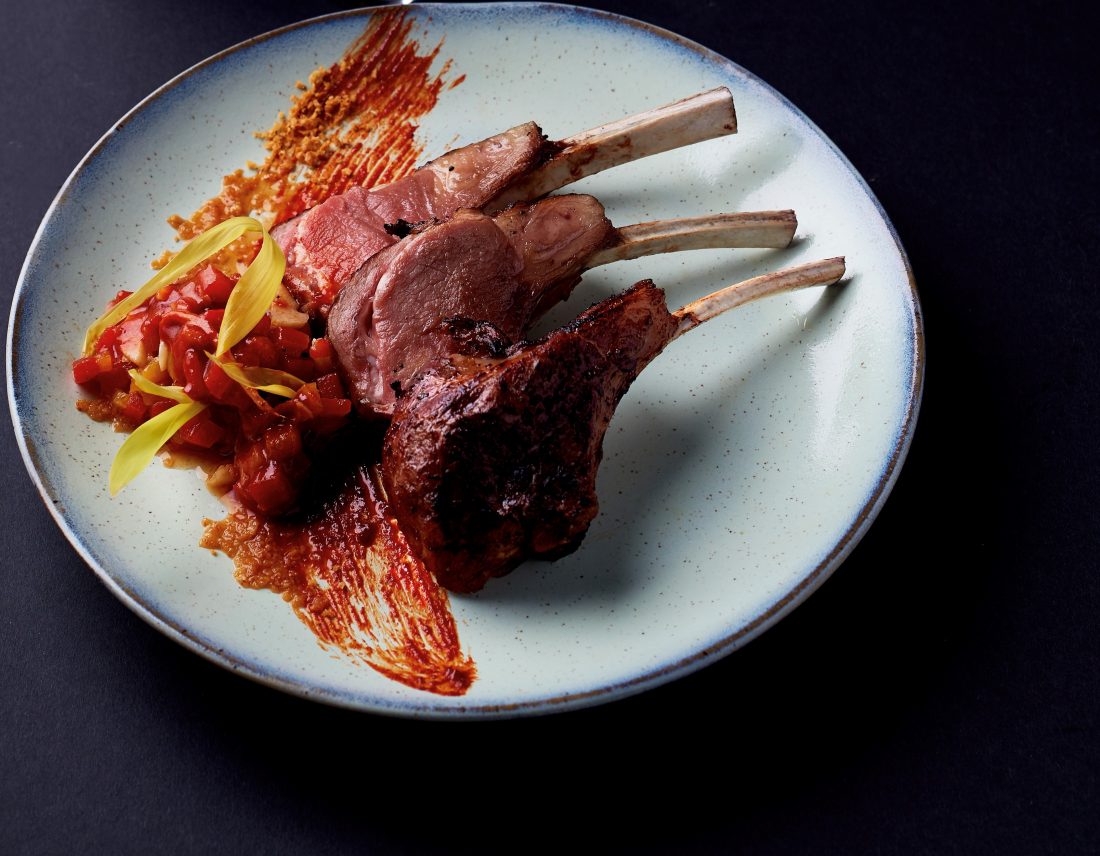 Korean elements made an appearance once again in the grilled lamb rack with gochujang and eggplant confit. It's here where two strong flavours were evenly matched, with the spicy chilli paste complementing the lamb perfectly. Bold spices and rich game were softened thanks to the sweet, almost honey-like eggplant confit. A dish that highlights strong flavours require an equally bold wine, such as the accompanying 2016 Moulin de Gassac Terra. Dark fruits-forward, this medium-to-heavy-bodied red carried more herbaceous and earthy notes, with a hint of white pepper and a long finish.
A treasure box of sweets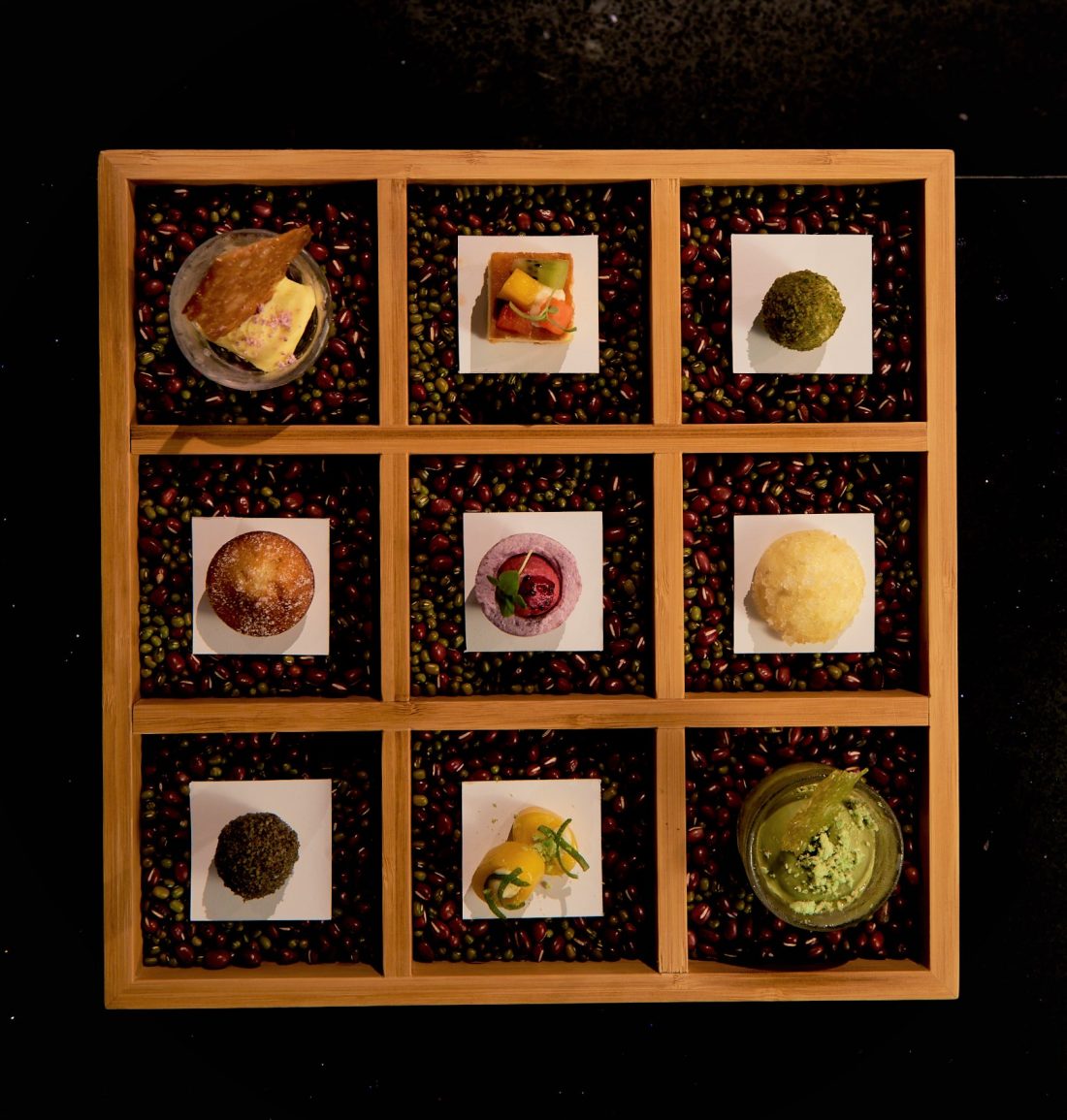 Dessert was a fun and creative affair, as we were presented with a bento box of 9 different mini sweets, which included a cheesecake, financiers, banana cake, chocolate pudding, and black sesame, yuzu, and matcha truffles. While some desserts like the matcha ice-cream were a tad too sweet, the banana cake, cheesecake, and truffles were the standout of this course.
All in all, Gesuto is still a rather young establishment in Malaysia's developing culinary scene, but it's definitely a promising contender if you're willing to be patient with them as they find a more solid footing. Its flair for creativity and combination of flavours certainly make for a memorable meal – elevated with this particular wine pairing from Moulin de Gassac.
Gesuto is located at No. 24, Lorong Datuk Sulaiman 1, Taman Tun Dr Ismail, 60000 Kuala Lumpur. Make your reservations at UMAI or by calling +603 7732 8808 / +6012 773 2070.
Photos: Gesuto and Moulin de Gassac