Geneva Watch Days closed to another successful year, emulating a similar format from the year before. In a series of phygital exhibitions, it reached out to a global audience in a decentralized and self-managed premise, bringing the best of luxury watchmaking to the public.
This year saw the participation from the same pool of its original founding benefactor brands, including Bulgari, Breitling, De Bethune, Urwerk, Girard-Perregaux, H. Moser & Cie, Ulysse Nardin, MB&F and more.
Here are some of ouor favourite pieces presented to us digitally over the past week.
Bulgari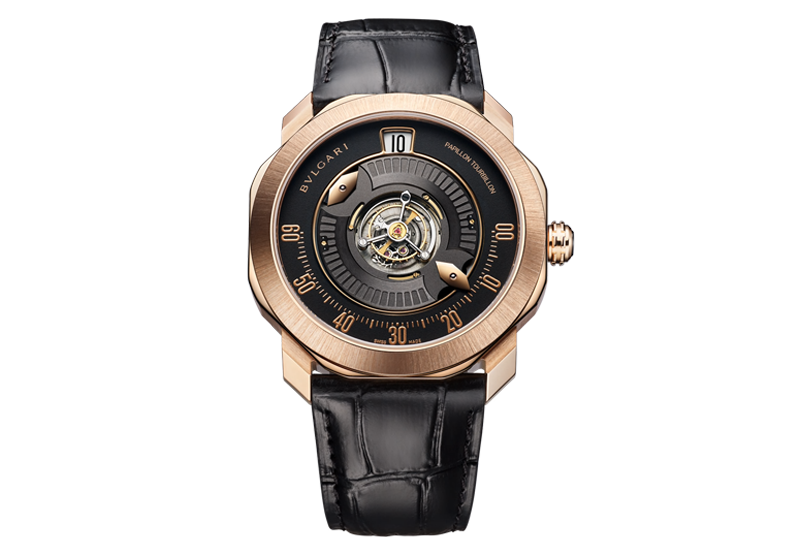 While complex in terms of its construction, the Bulgari Octo Roma Papillon Central Tourbillon offers infinite simplicity and originality when reading the time. A metaphor inspired by the flight of the butterfly, unique in the world of Haute Horlogerie, its mechanism carries two independent retractable diamond-shaped hands positioned on a supporting disc. Born from the exclusive combination of the prestigious tourbillon complication with Bvlgari's Papillon patent, the calibre is entirely designed and assembled in the finest tradition by Manufacture Bulgari's master-watchmakers, representing a unique encounter between Swiss know-how and distinctive Italian design. W bulgari.com
Girard-Perregaux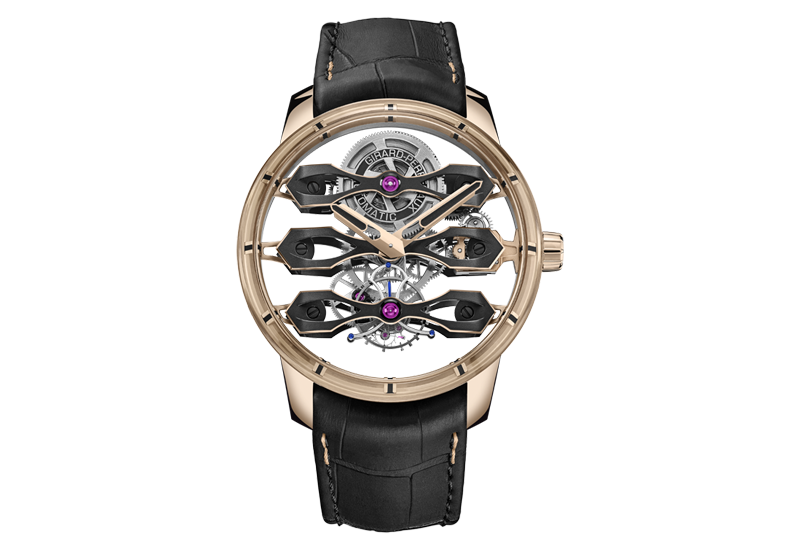 To mark its 230th anniversary, Girard-Perregaux is revisiting its Tourbillon with Three Flying Bridges, an icon endowed with three Neo Bridges formed of pink gold. For the first time, all three Neo Bridges have been made from this noble material. The three bridges not only support the gear train, barrel and tourbillon, they also act as the mainplate, resulting in bridges that seemingly float in mid-air, untouched by gravity. The upper and lower surfaces of pink gold bridges are dressed in PVC coating and each bridge is painstakingly chamfered by hand using a small piece of boxwood. While it appears contemporary, this piece upholds many of the traditional techniques synonymous with haute horlogerie. The watchmaker has also announced that this model will be the final subfamily to join its Bridges collection. W girard-perregaux.com
H Moser & Cie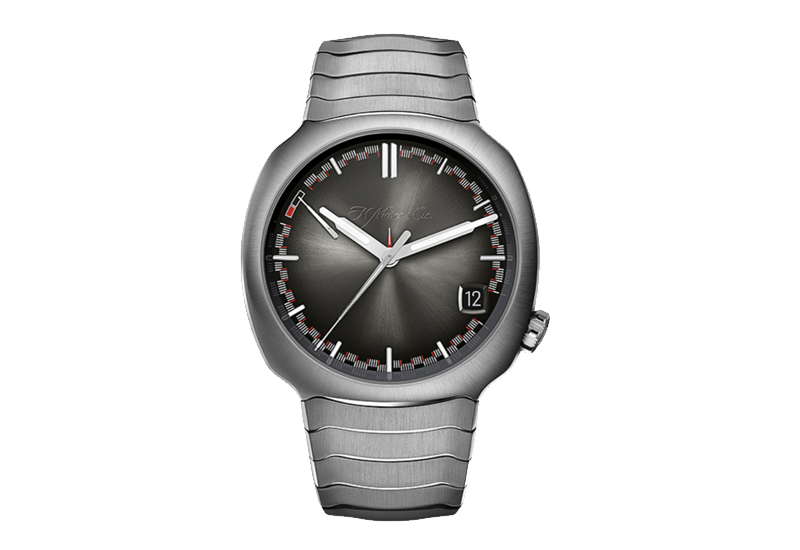 H Moser & Cie premieres a Streamliner Perpetual Calendar that is a clever fusion of two icons, namely the Perpetual 1 movement and the Streamliner collection. Created in steel with a Fumé dial, it combines two of the most difficult complications. Additional to its instantaneous date change function, the award-winning movement newly features three-dimensional hands indicating the hours and minutes. The sleek steel bracelet, innovative Globolight inserts and the signature Fumé dial perfectly complete the H Moser & Cie aesthetic. W h-moser.com
Ulysse Nardin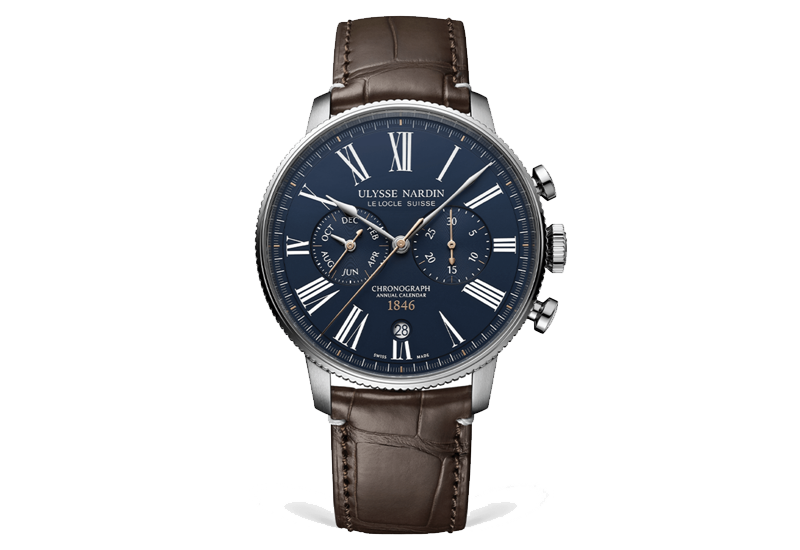 Ulysse Nardin is proud to introduce a squadron of seven original Marine Torpilleur models, showcasing the House's 175 years of Haute Horlogerie savoir-faire. Of the seven, the Marine Torpilleur Annual Chronograph comes in two versions, a varnished white or a matte blue dial, and the UN-153 Manufacture movement that has replaced the earlier UN-150 movement. The dial is adorned with silvered, small counters and the annual calendar, which sits at 9 o'clock just above the signature, verifying that Ulysse Nardin has been the leader in "Chronometry since 1846". The date changes automatically. An invention by Ludwig Oechslin, the annual calendar system employed in the perpetual caliber model of 1996 has been improved, with all settings adjustable both forward and backward by using the crown, making it easy to set time. W ulysse-nardin.com
URWERK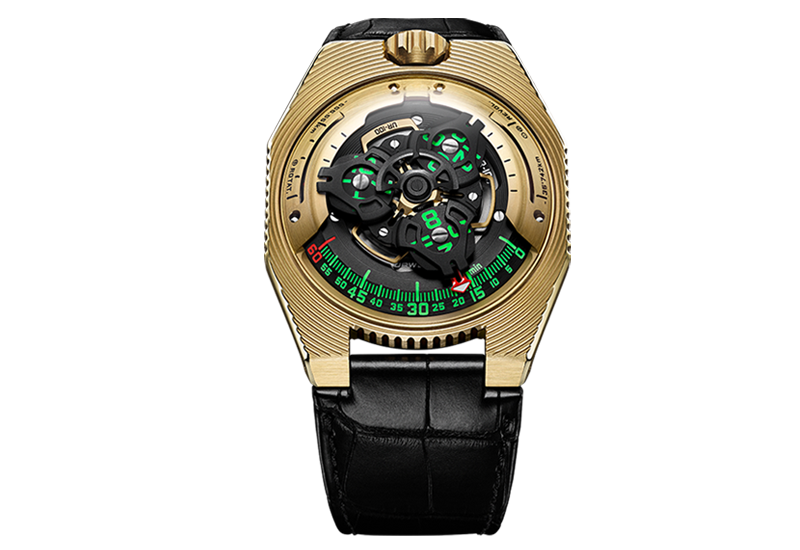 URWERK presents a new edition to its URWERK's 100 collection, limited to only 25 pieces. The UR-100 Electrum boasts a case made of one of the oldest precious metals known to mankind – electrum, an organic gold and palladium alloy. In addition to its sunny yellow colour, it features a structured, pleated and undulating surface. The rhythm and rhyme of time are played out in the centre of this golden arena. In addition to the satellite-type hours and minutes display, the UR-100 Electrum provides a new item of information. Once the 60th minute has passed, the minutes hand vanishes and reappears as a kilometre counter, illustrating the 555 kilometres travelled every 20 minutes by every inhabitant of the Earth. This corresponds to the Earth's average speed of rotation calculated at the Equator. Earth's revolution around the sun – corresponding to 35,740 kilometres per 20 minutes – is displayed exactly opposite. On the face of the UR-100 Electrum, hours and kilometres thus share the same status, the same scale of value. W thehourglass.com
MB&F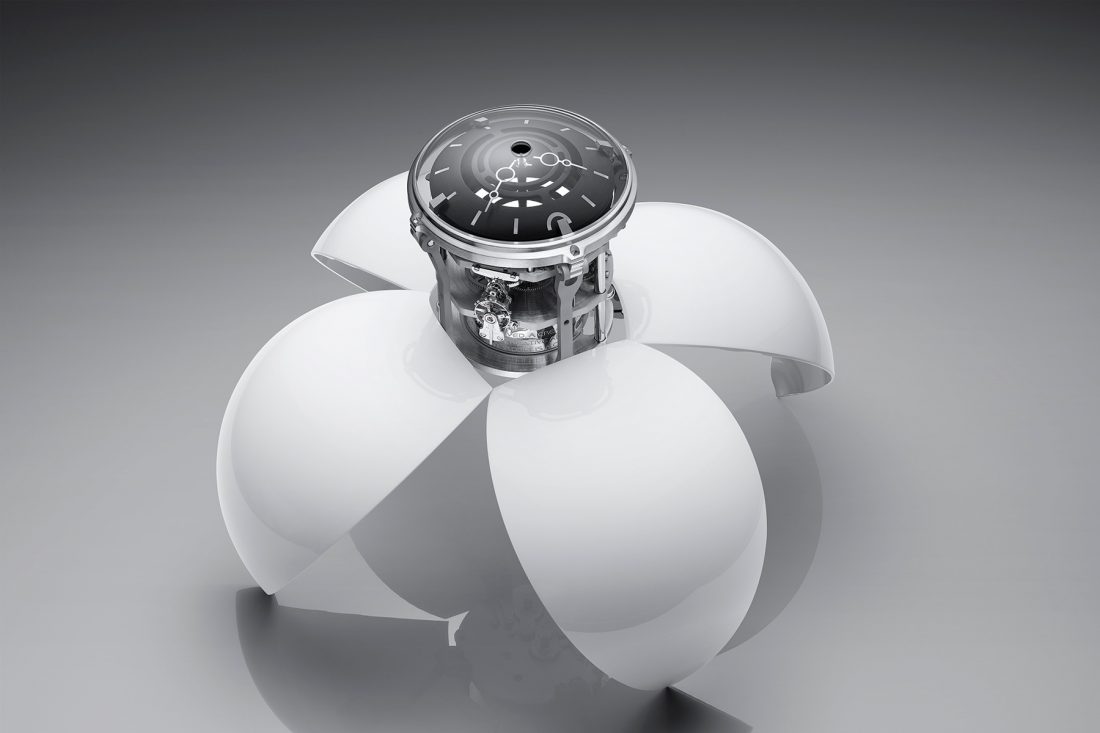 MB&F brings forth another table clock machine created in collaboration with L'Epée 1839. At first glance, the Orb looks like a futuristic model of an eye with its perfectly formed shiny sphere, and its dial taking the place of the iris and the pupil. But nothing is ever quite what it seems with the collaborative clocks of MB&F x L'Epée 1839. The minimalistic structure is composed of four elytra (that's the technical word for a beetle's protective wing covers, in case you were wondering) that not only open up, but can also swivel like a transformer to display the Orb in a variety of different positions. Orb starts life as a solid block of aluminium that is then hollowed to create the perfect sphere. Once cut, the elytra are then coated with several layers of lacquer that are hardened in a kiln to create the brilliant finish. The four elytra are soldered to the structure with torque hinges so they can retain their angle however little or wide they are opened. When closed, the elytra are held in place with four tiny magnets on the interior of each tip to keep the shape of a perfect sphere. W mbandf.com
Gerald Genta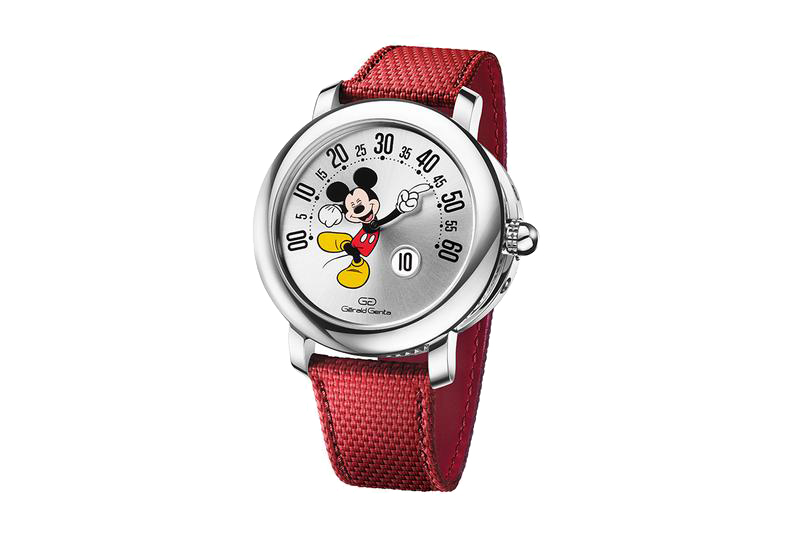 Gerald Genta and Disney's Mickey Mouse is back with the new Gerald Genta Arena Retrograde with Smiling Disney Mickey Mouse. The latest model is a joyful, playful watchmaking classic, featuring Disney's most iconic mouse. Gerald Genta has been owned by the Bulgari Group since 2000. The limited edition platinum commemorative version of the brand's 50th anniversary presented in 2019 was followed in 2020 by a new titanium addition to the Arena collection. In 2021 the brand is introducing Gerald Genta Arena Retrograde with smiling Disney Mickey Mouse, marking the return of the mischievous mouse. Mickey appears to be leaping onto the rhodium-plated sunray dial, its left arm indicateing the minutes on a 210-degree retrograde sector with the jumping hour appearing at 5 o'clock. This automatic mono-retrograde movement has a 42-hour power reserve, housed in the distinctive historical 41 mm-diameter Gerald Genta Arena round polished stainless steel case. Gerald Genta Arena Retrograde with smiling Disney Mickey Mouse will be limited edition with 150-pieces available globally. W geraldgenta.com