Netflix proved that it was more than just a movie streaming platform when it launched its gaming service just recently. Netflix Games provides a wide range of mobile games that started out mainly for Android users before quickly making its way to iOS. 
Alongside idle and farming games are also games inspired by Netflix Originals like Stranger Things and Too Hot To Handle, just to name a few. Other than it being completely free for existing subscribers, the games come with zero ads and no in-game purchases. Having tested a few games out ourselves, here are some games based on Netflix shows worth checking out.
Too Hot To Handle: Love is a Game
Adapted from the hit Netflix reality series, 'Too Hot To Handle: Love is a Game' is a simulation game that allows you to experience being on the island to find love. You'll be able to create your own character and connect with other in-game characters by making decisions through multiple choices. Though the storyline can be pretty cliche in our opinion, it's a fun and stress-free game to play, especially for fans of the show.
Download it here.
Nailed It! Baking Bash
Inspired by the show where home bakers attempt to recreate complex cakes, gamers are given the task to do the same. The game allows you to play with up to six friends through a unique code, or join an online room to go against random players worldwide. Albeit picking out ingredients and baking the cake is simple, the challenge comes during the decorating stage, where players are required to carve and stack layers to precisely match the detailed display cake.
Download it here.
Stranger Things 3: The Game
Set in an 80s nostalgia, this game fully follows the story of Stranger Things season 3, with incredibly detailed 16-bit graphics. Places like Hawkins pool, Hopper's cabin, and Starcourt mall are all featured in the game, in an almost uncanny matter. The game allows multiple players and solo gameplay, while the latter allows players to control multiple characters using buddy commands. If you complete the entire game for the first time, you'll unlock an eliminator mode in which all characters are unlocked at the start of the game. But if a character dies, the character will stay dead and cannot be revived for the rest of the game. 
Download it here.
Heads Up! (Netflix Edition)
Created by Ellen DeGeneres, Heads Up! Has accumulated more than 70 million downloads since its release in 2013. Last year, the game launched a Netflix edition in partnership with the streaming platform, featuring blocks inspired by films like Bridgerton, Squid Game, Stranger Things and more. There are also genre-inspired blocks such as anime, baking shows and others to choose from. The only downside to this game is that you'll need a group of family or friends to play with, and your group will need to be an avid Netflix viewer. 
Download it here.
Mahjong Solitaire (Netflix Edition)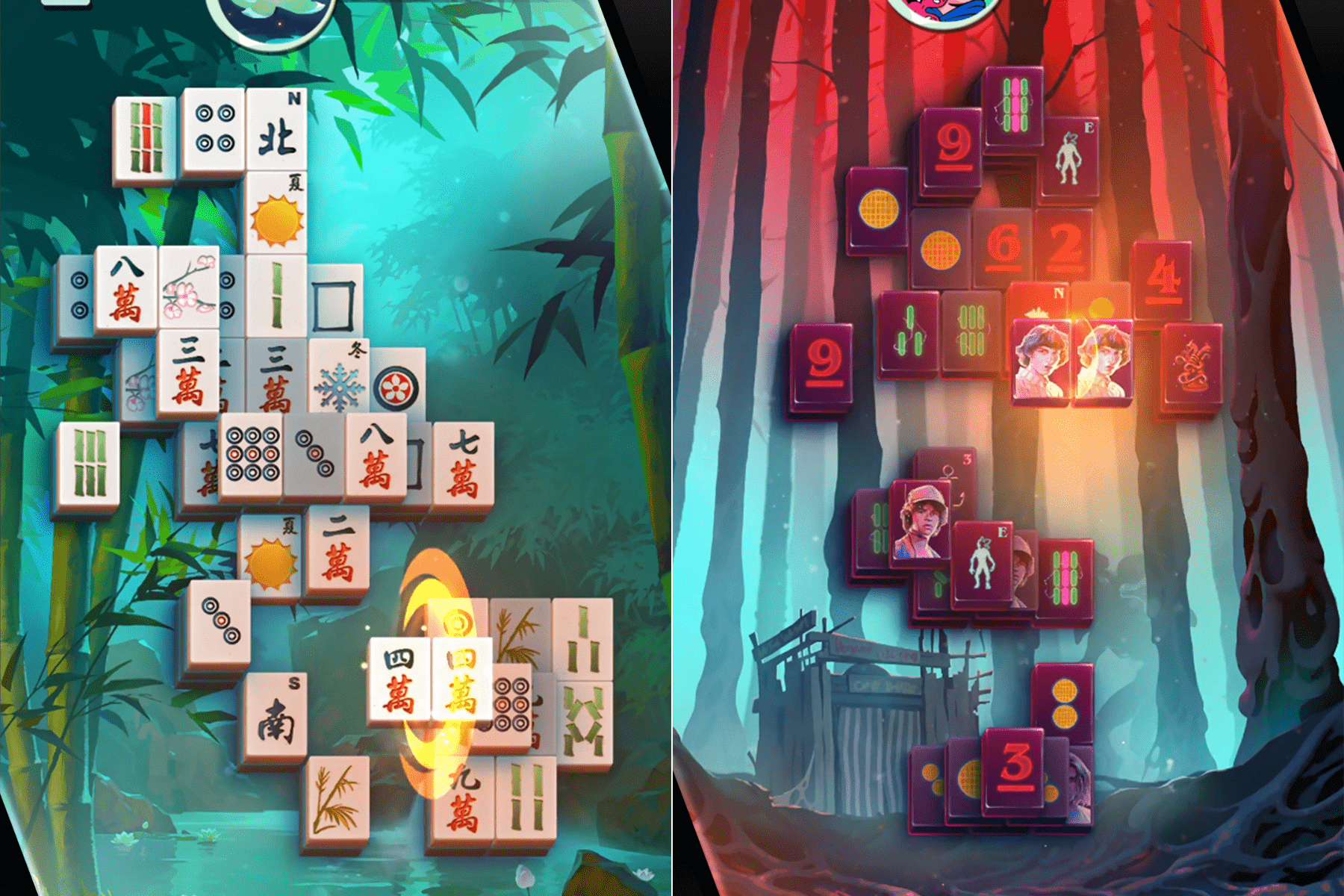 Gameplay for Mahjong Solitaire entails matching tiles to each other, with every level proving more difficult. While most of its tiles are the exact same as its classic edition, featuring traditional Chinese numerals and floral accents, there's also a special 'Stranger Things' deck. However, to unlock the Netflix-themed deck, you'll be required to play several rounds of the normal deck to earn gold coins. With 5000 coins, you can unlock the 'Stranger Things' deck, comprising various thematic backgrounds and tiles with the series' characters. There are also challenges to complete to earn extra coins which can be used to unlock other deck designs.
Download it here.
Featured image by Netflix.