This is Flour Rises: the third and ultimate manifestation of Chef Yogi's vision from the start of his restauranteur journey three years ago.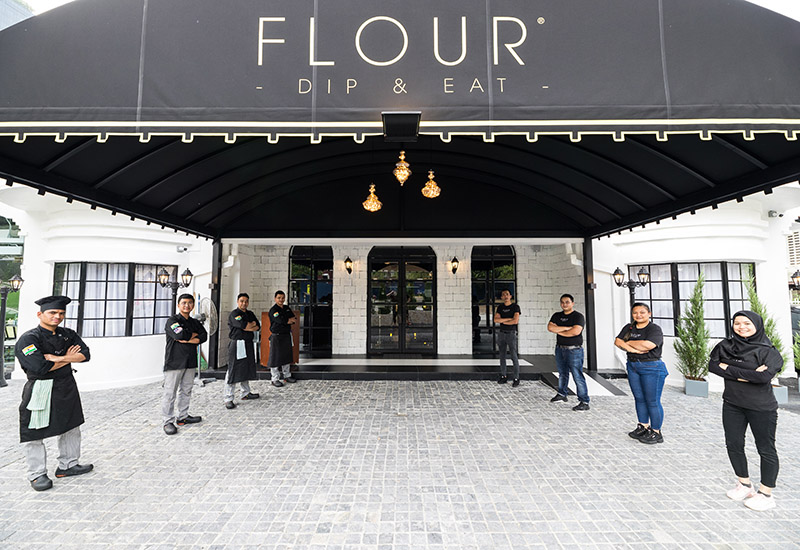 It's 1pm on a Monday afternoon when we drop by the swanky new home of FLOUR along Jalan Kamuning in Imbi. A stark contrast from its former location, the Indian restaurant now occupies a standalone two-storey bungalow with a spacious front entrance complete with a valet (no more rushing to find a parking spot in the Bukit Damansara neighbourhood).
Opening last May in the middle of the MCO may be a questionable decision, but FLOUR's new location has proven to draw in loyal fans and fresh faces alike. Upon stepping inside pass a gold winged unicorn centrepiece and registering our details as per the new norm, we find the restaurant buzzing with activity. Mind you, it's the first day of a work week.
We catch a glimpse of chef proprietor Yogesh Upadhyay, or more fondly called Chef Yogi, seemingly occupied with paperwork. He throws us a wave and smiles, signalling to his staff to offer us a quick tour of the place.
Ignoring the growl in our bellies incited by the fragrance of spice all around us, we eagerly tag along.
Black, white and glossy
If you're familiar with its original setting, you'll immediately notice that FLOUR 2.0 is a world of difference. "I want people to feel like they're not in Malaysia when they step in," Chef Yogi reveals.
To the left of the Pegasus in the lobby is one of three distinctively themed private rooms, decked regally in black and gold and surrounded by floor-to-ceiling mirrors. In the opposite room, a more feminine aesthetic greets the eye – defined by white wall paneling, pale pink-feather ornaments and fuchscia glasses.
The third private room is accessible via a narrow spiral staircase and can accommodate up to 20 pax. This loft-style space exudes a minimalist aesthetic with a long wooden table, plant décor and natural lighting (at least during the day) radiating through the glass ceiling.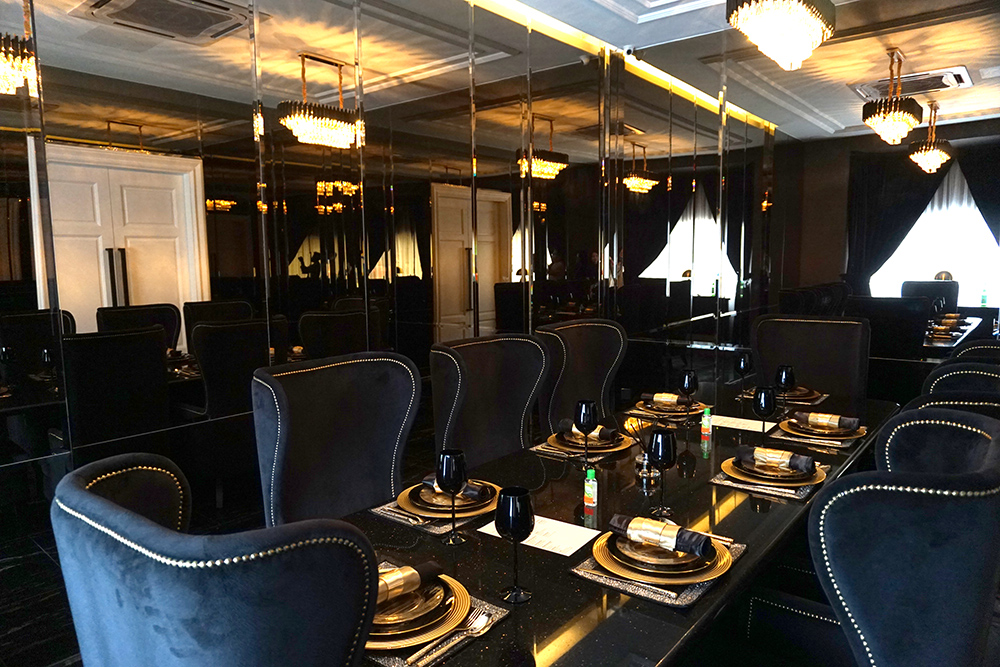 Black and gold themed private room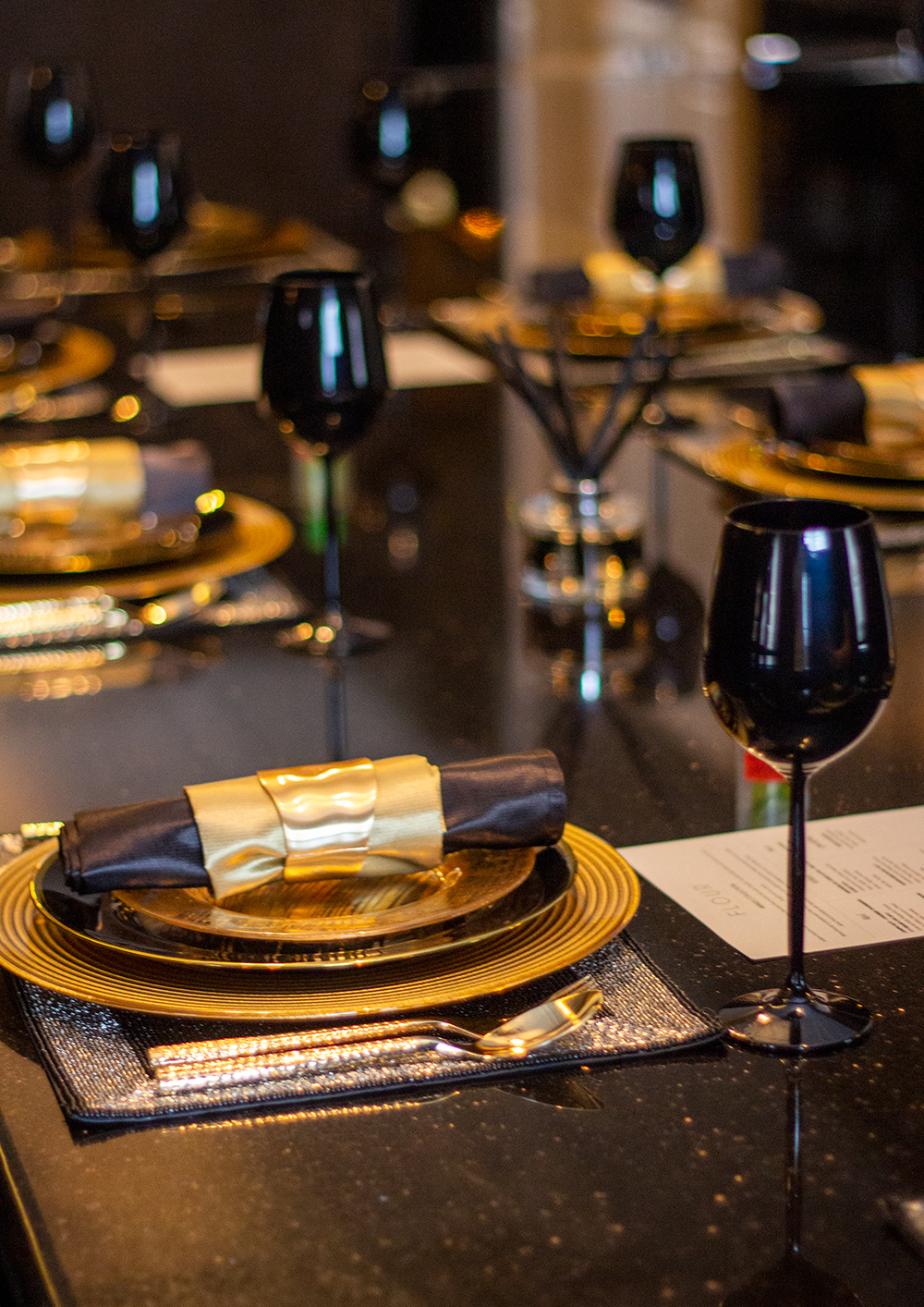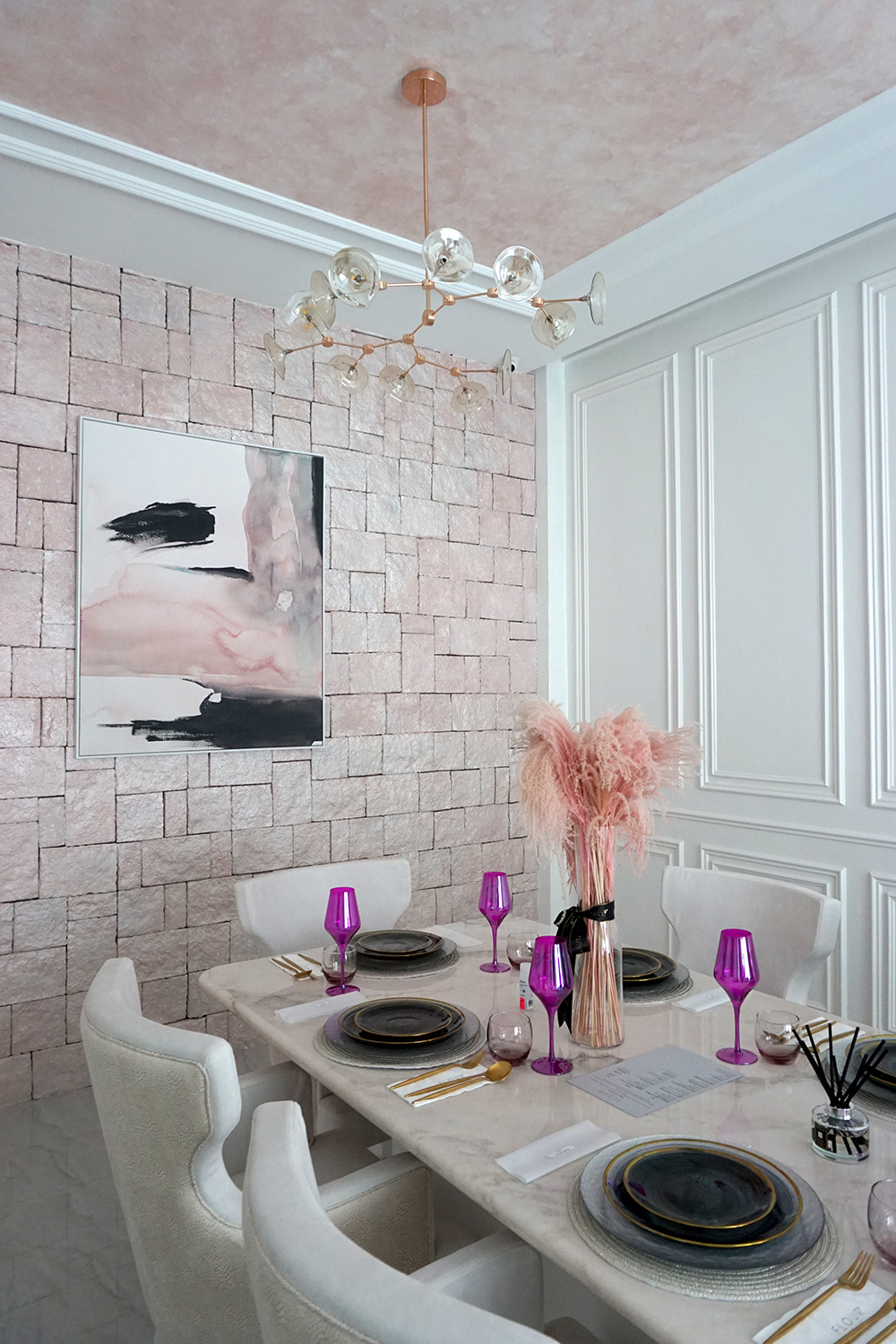 White and pink themed private room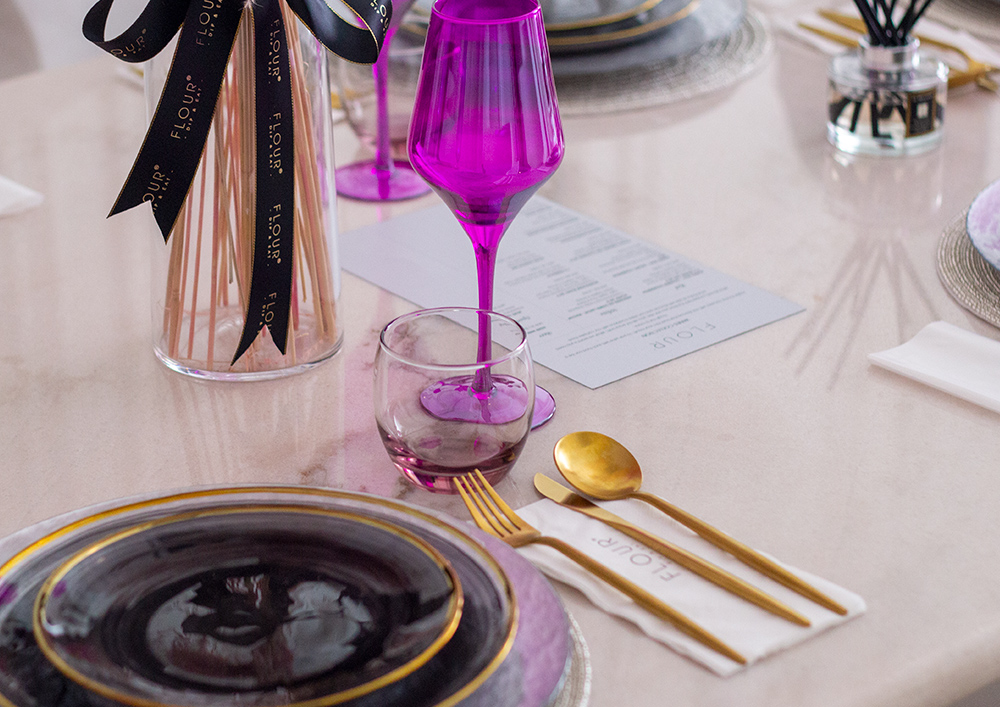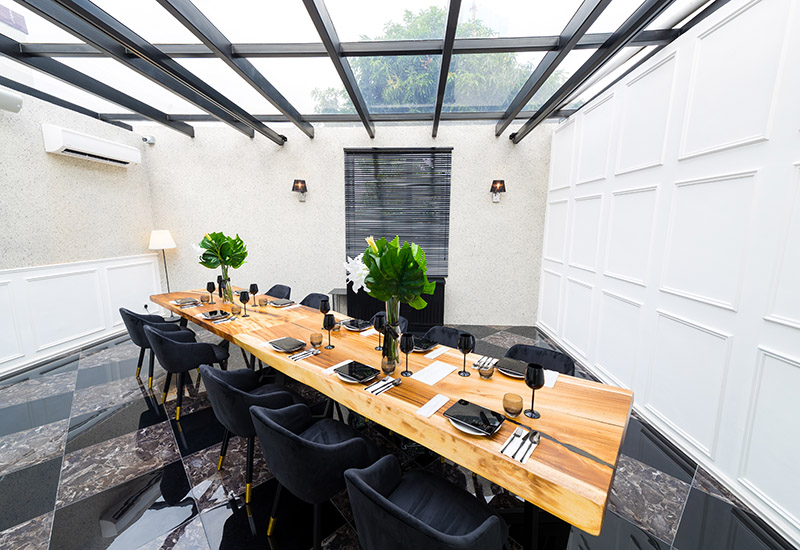 The loft-style private room on the second floor. (Photo: FLOUR)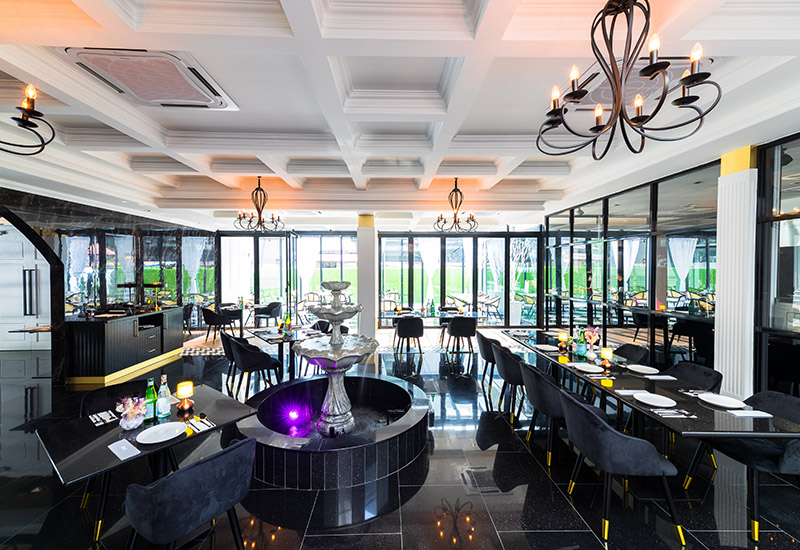 The main dining room. (Photo: FLOUR)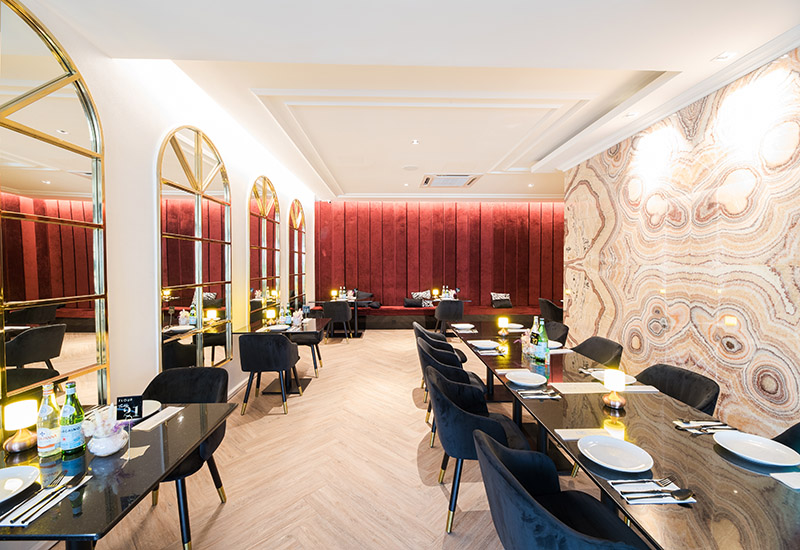 Stepping further inside leads to a more intimate dining area that's ideal for couples. (Photo: FLOUR)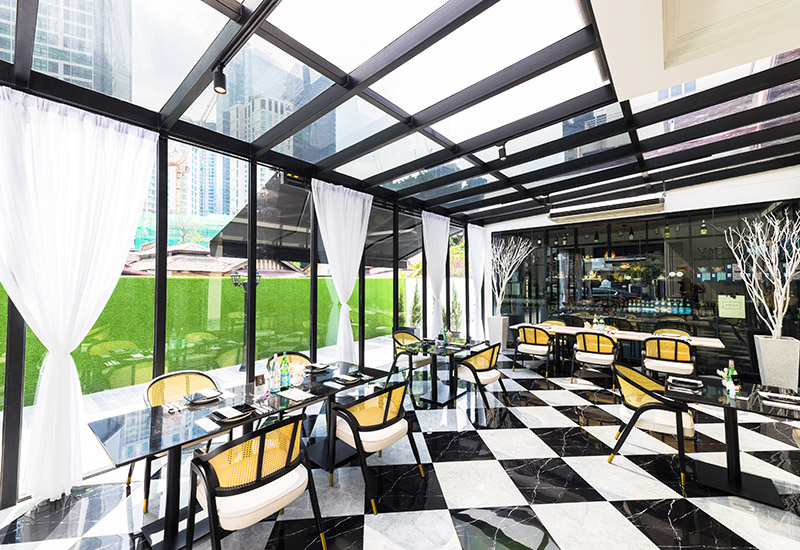 The Instagram-famous glasshouse dining area. (Photo: FLOUR)
(swipe left for a virtual tour)
From the main dining room, a right turn will lead to an intimate space with red velvet walls and gold accented mirrors. Arguably the most popular spot (as you may have guessed from social media) is the glasshouse, complete with marble checkerboard floors and views of the street outside and city skyscrapers above. Unfortunately, it's closed for a private event during our visit, so we resort to sit in the central dining area next to the fountain feature.
Chef Yogi walks over to introduce us to the menu, or the Third Book, as he prefers to call it. "I didn't write the book. The lovely madam over there," he clarifies, gesturing to his wife and co-owner, Natasha Ng, seated in a corner, "wrote it. I'm just the brains behind the food in the book."
With that, the chatty chef talks us through the most exciting part of our visit: the food.
Not your familiar Indian cuisine 
"What do you know about Indian food?" he starts rhetorically, naming a few common dishes like chicken tikka masala and rogan josh. "You're not going to find those here. I want to show a style of Indian food that's still comfort food, but it's different. It has evolved."
This is Flour Rises: the third and ultimate manifestation of Chef Yogi's vision from the start of his restauranteur journey three years ago.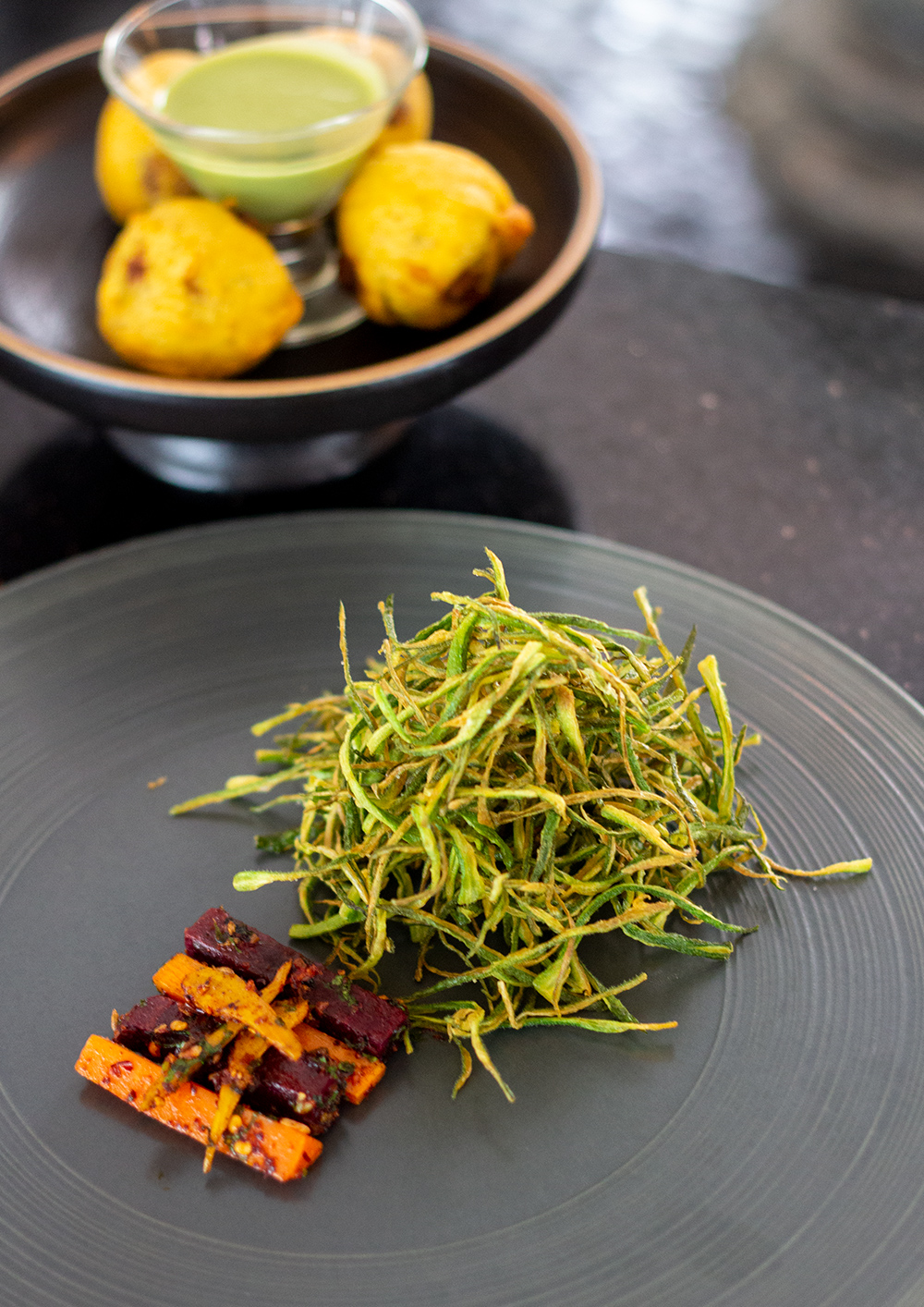 Here, his reputation as the 'King of Spice' in KL is demonstrated through a repertoire of dishes selected by us ("you know what you'll like best") and approved by him ("for balance", he adds) – starting with the Batata Fritters. Crunchy on the outside, soft and creamy on the inside, these golden potato balls follow the same recipe by Maharaj, Chef Yogi's father, since 1966. The spices kick in after a moment in the mouth but don't linger too long that it feels heavy, which we love.
A second hors d'oeuvre of fingerroot, carrot and beetroot with fried okra comes next. Eating the root vegetables together offers a sweet, aromatic crunch with a spice that hits you later; whereas the crispy okra strips cools the heat, leaving us wanting more.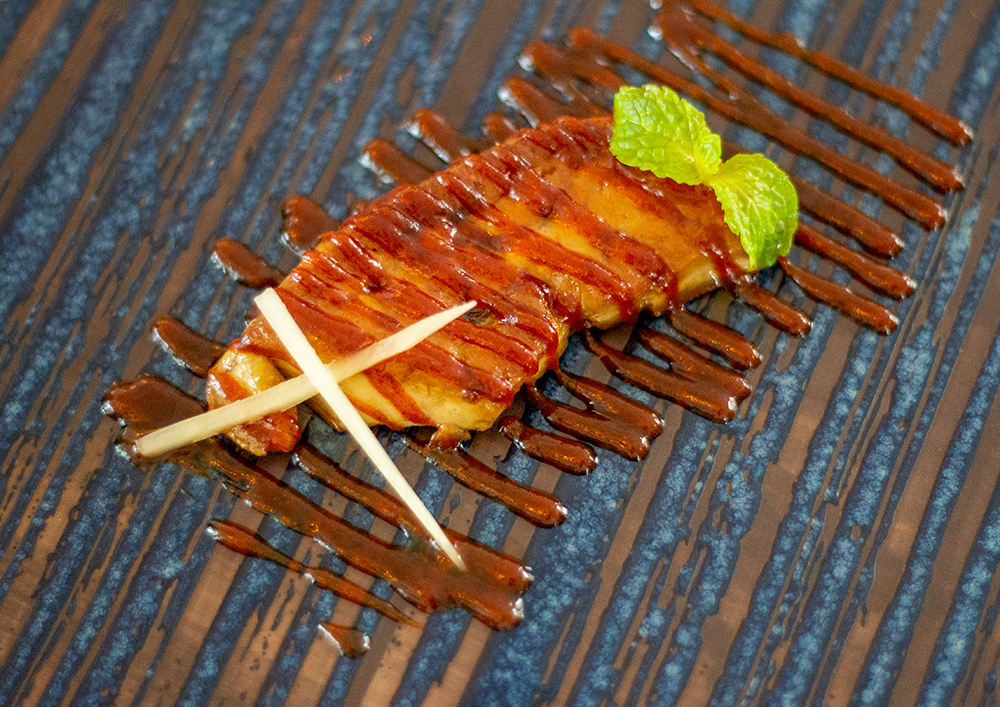 For our first entrée, we have a Kaleji (traditionally mutton liver) with a French twist: foie gras served with a secret sauce and mint. The fresh herb and sweet, punchy sauce combination complements the buttery, fatty liver without overwhelming the palate – another testament to the chef's perfectionist standards of balance.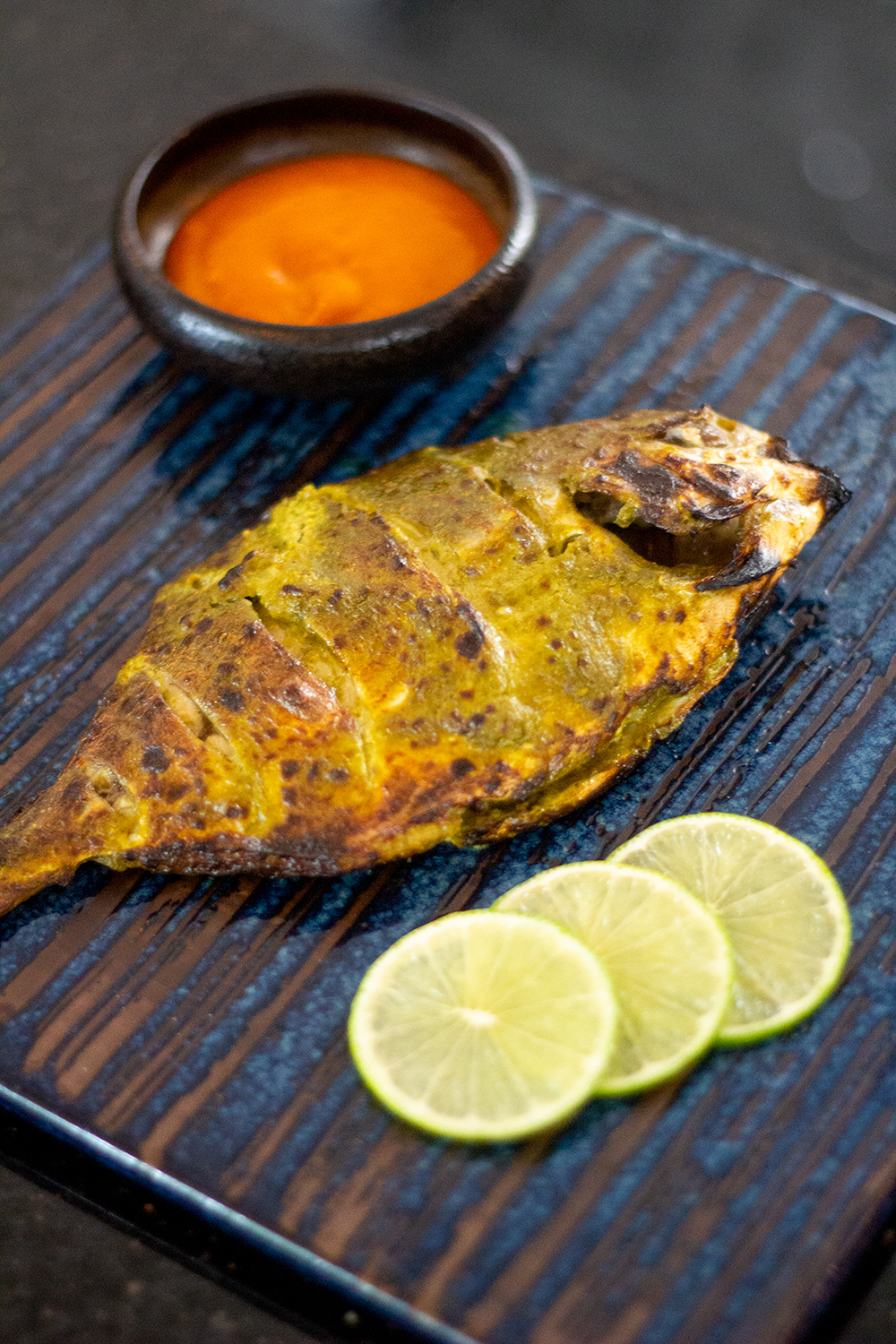 Seafood lovers shouldn't miss the curry leaf fish that displays Chef Yogi's prowess at marrying North and South Indian influences. The pomfret is cooked in Tandoor, a cylindrical clay or metal oven originating from the Northwestern region of Punjab, whilst the sauce that's made from a blend of curry leaves hints at Southern Indian flavours. This marriage brings forth delicate, flaky pieces of fish that are bursting with aromas with each mouthful.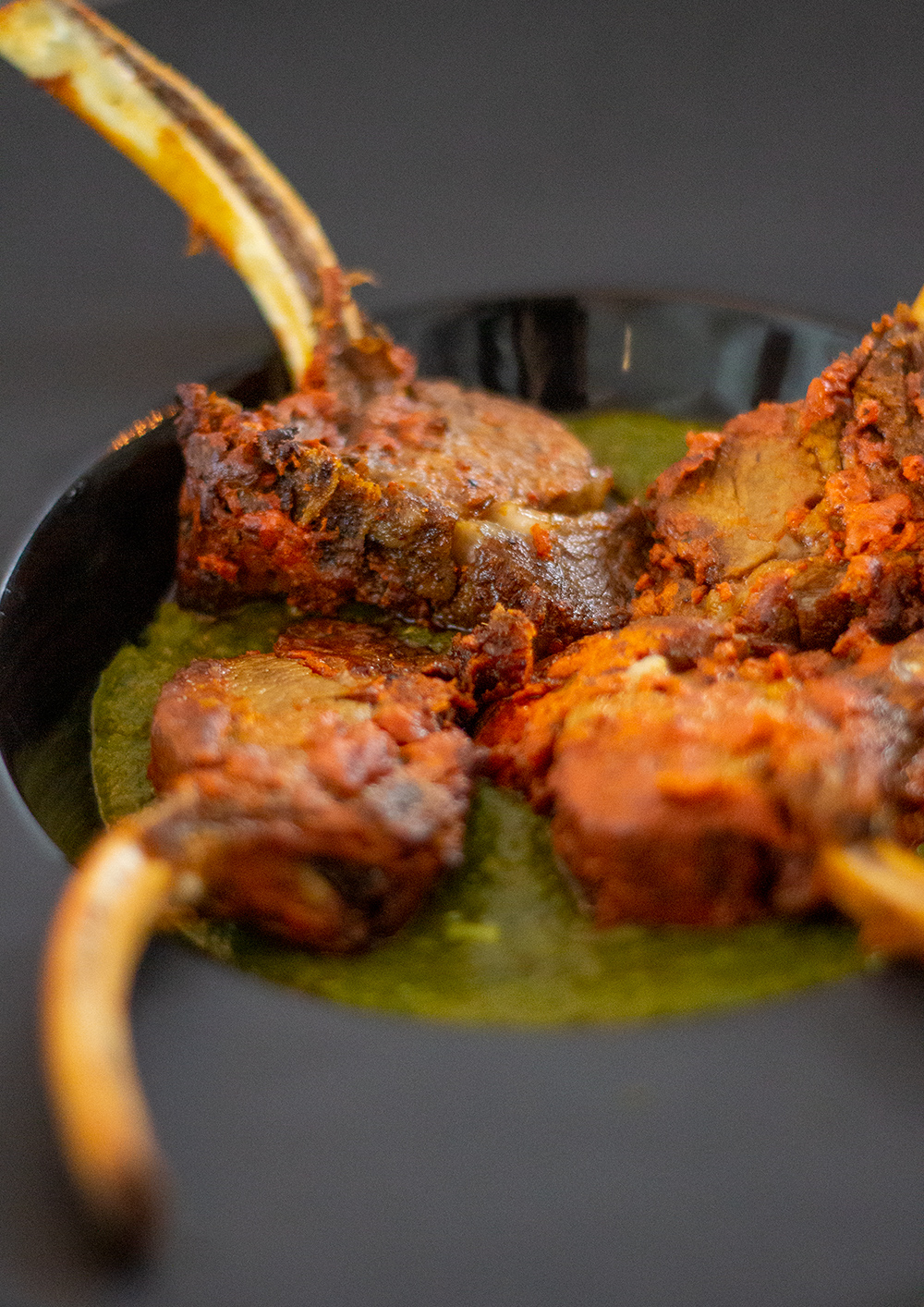 Mains are separated into two courses/chapters in the book – meat-based and vegetarian. Four baby lamb chops resting on a bed of mint sauce arrive on our table first. Meant to be eaten by hand, the succulent game finds a perfect match in the gloriously creamy, paste-like sauce that's unlike any other we've tasted.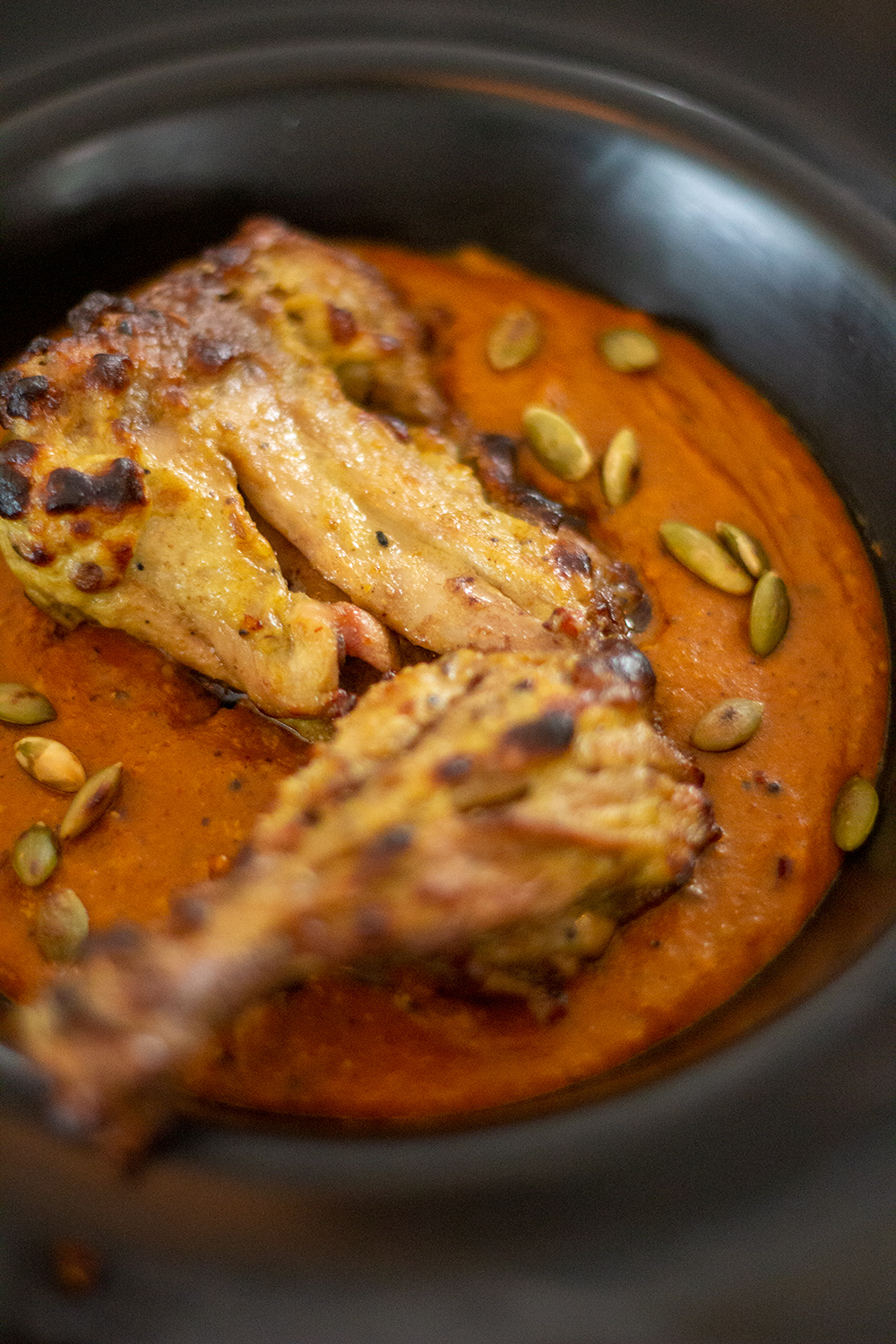 Next up is a free-range chicken leg that's marinated and cooked in tandoor, then bathed in a pumpkin sauce that's just as creamy as the last. The meat is pleasingly juicy with a hint of smokiness, lending sweet, earthy flavours from the sauce. Toasted pumpkin seeds top the dish to add dimension and a nice crunch.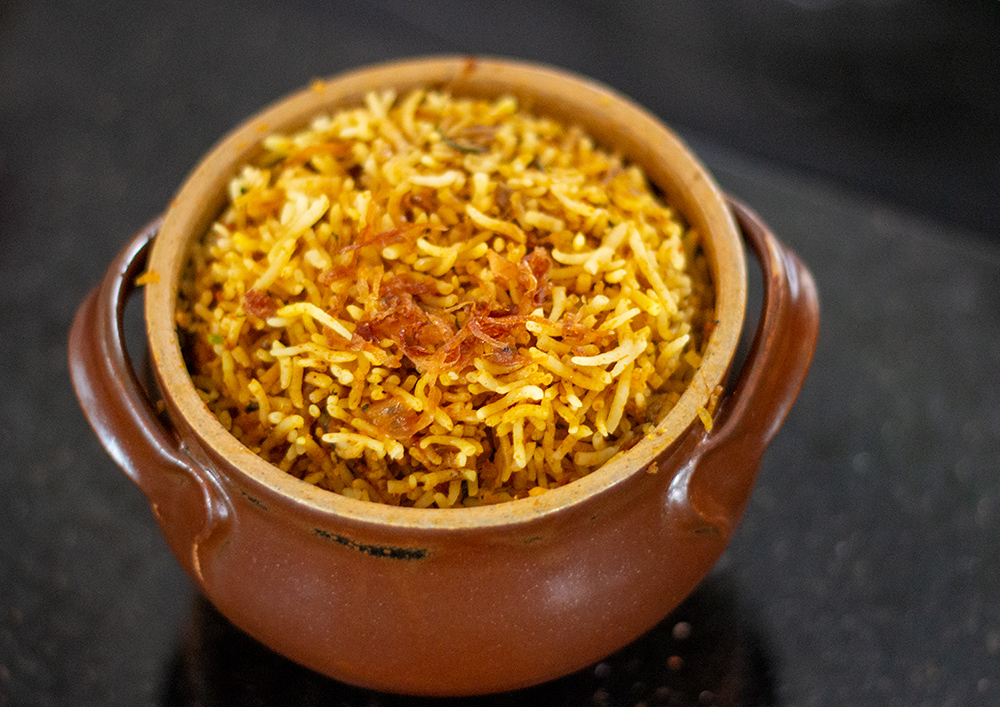 Mutton briyani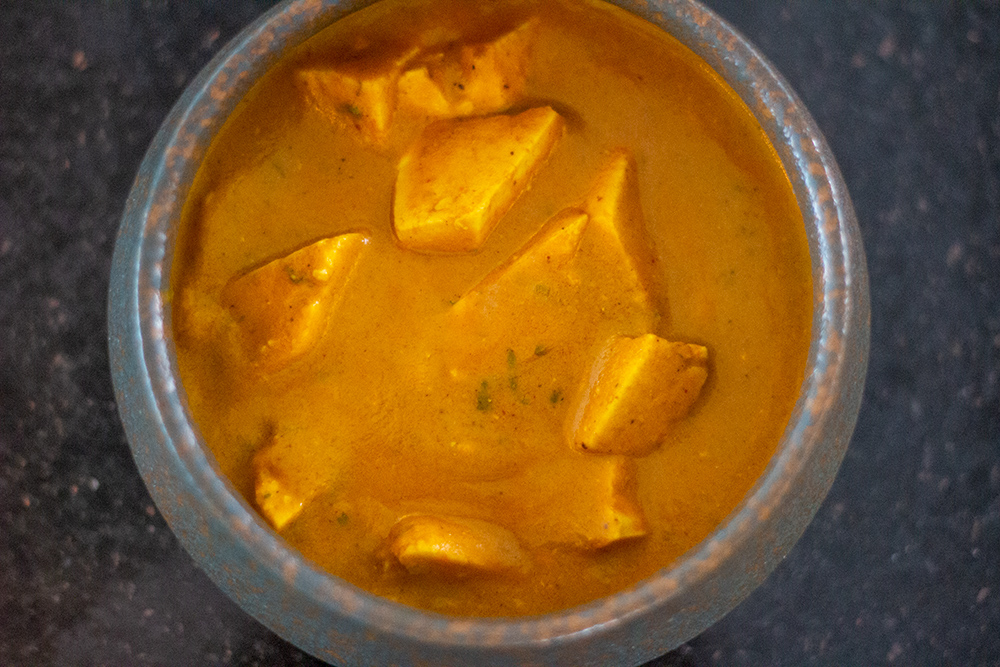 Cottage Cheese & Kaffir Lime Leaves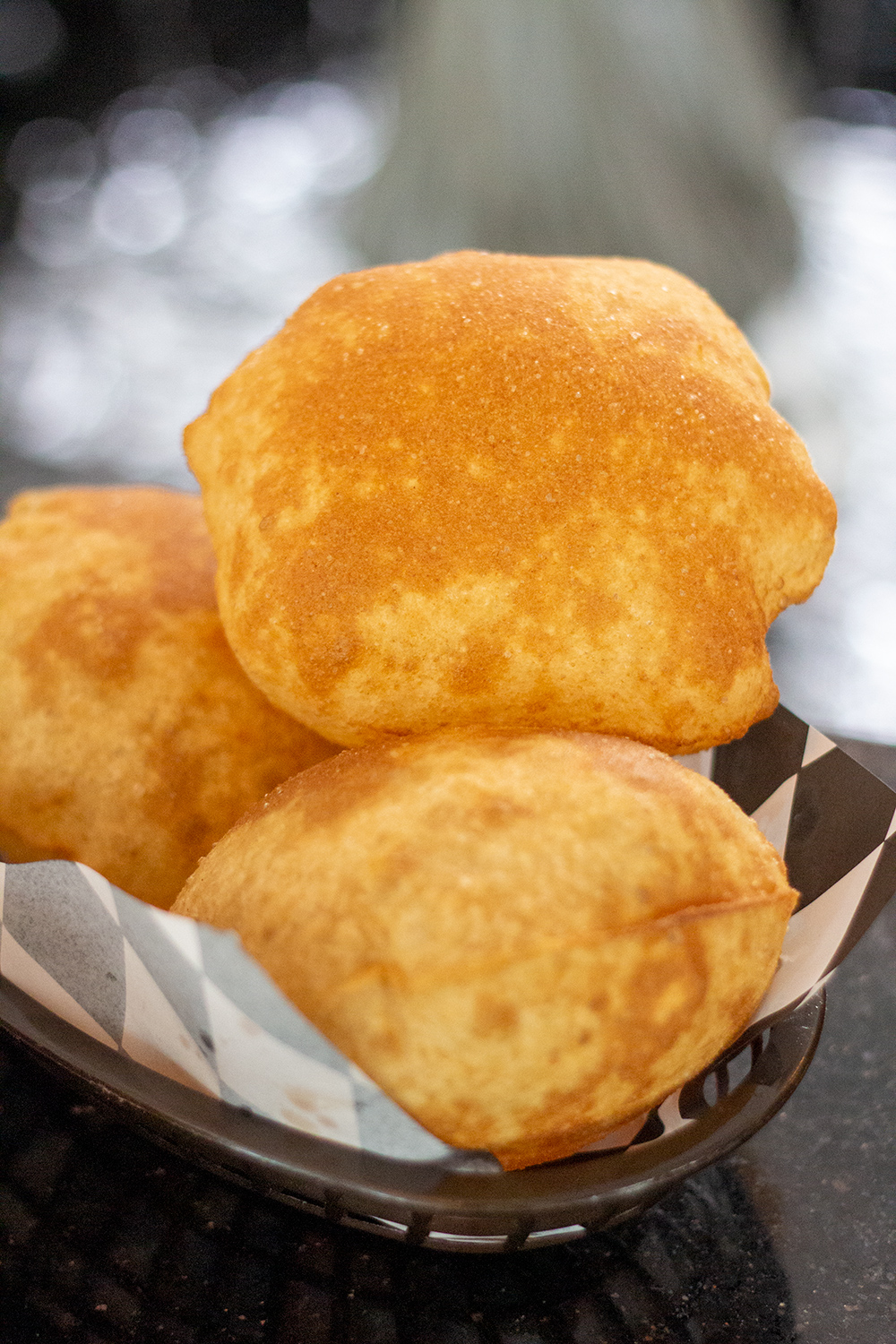 Puri
(swipe left to see more dishes)
Other dishes worth mentioning are the vegetarian-friendly main of Cottage Cheese and Kaffir Lime Leaves; a classic mutton briyani served with tangy Greek yoghurt; and perfectly round, fluffy, goes-with-everything puri.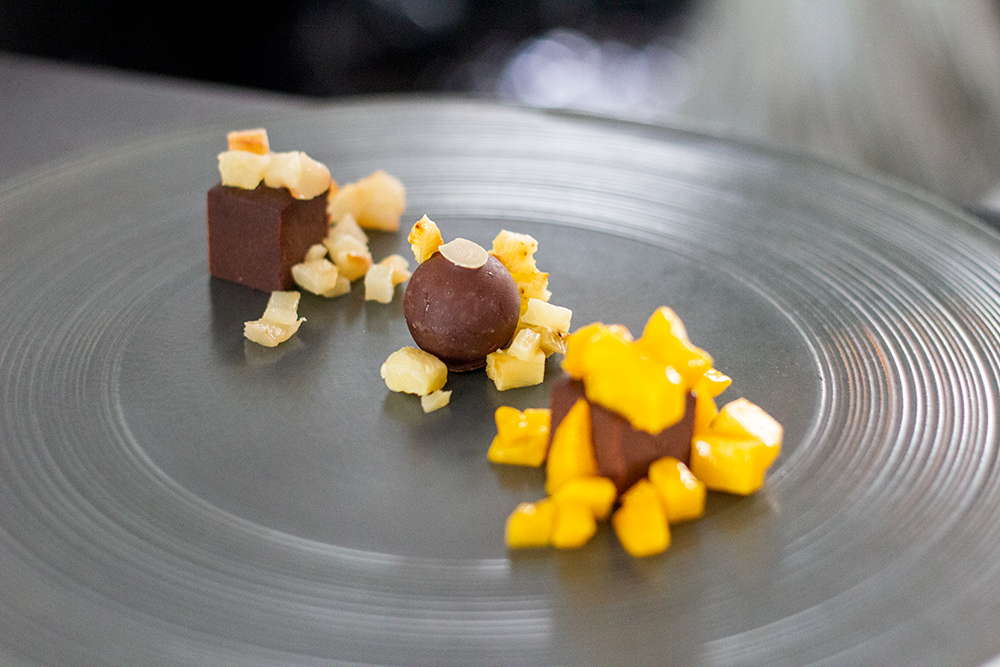 Chef Yogi rejoins us for the finale: a trio of spiced chocolate truffles. "When I asked Ning [of Chocolate Concierge] to make the truffles for me, he said I was crazy," he laughs, explaining the challenging process and temperature regulation in a kitchen like FLOUR's. "But we did it. I'm still working on the presentation but this is how we're serving it for now."
One is a sugarless dark chocolate truffle with green cardamom and mango bits; the centre is a hard truffle made with green curry and rosewater topped with roasted pineapple; and the last – our favourite – is a dark chocolate truffle with cinnamon and saffron, topped with roasted pear. Sure, the dessert could use some dressing up; but apart from that, every spoonful proves an unexpectedly harmonious symphony of rich chocolate, aromatic spices and sweet fruit.
We have reached the end of the chef's Third Book at this point, but this is one we'll want to pick up and read again.
Photography: Anson Siau (unless otherwise credited)