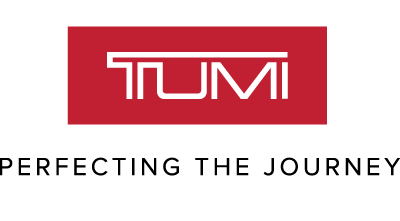 FirstClasse recently spent three days in the coastal city of Danang with Vincent Tan and Shaine Wong. Watch our travel video and answer the questions at the end of the page to win more than RM2,790 worth of products!
As the co-founder and chief creative officer of Capsule Transit, Vincent Tan spends a great deal of the year jet-setting around the globe. As a parenting and lifestyle influencer, Shaine Wong also has her fair share of travels. And as proud parents to two bright children, the rest of their annual trips are often spent as a family.
But when was the last time the happily married couple of seven years had a getaway without the kids?
The fact that they couldn't quite recall their last vacation together was enough reason to come along with us to a place they had yet to visit: the lively coastal city of Danang in Vietnam. Follow along our 3-day, 2-night journey filled with fun, laughter and romanticism below.
---
City: Danang
Population: 1,231,000
Area: 1285.4 km2
Weather: 26°C, Wind NE at 8 km/h, 80% Humidity
Day 1
Although the weather forecast showed cloudy skies, we arrived to a sunny Danang less than three hours after take-off from Kuala Lumpur. An equally welcoming reception met us at Sheraton Grand Danang Resort, located at the Ngu Han Sonh district south of the city centre.
Vincent and Shaine received a sweet surprise upon entering their suite, courtesy of the hotel's pastry team. The couple's corner room meant unparalleled vistas of the ocean and the hotel's massive infinity pool from two room balconies!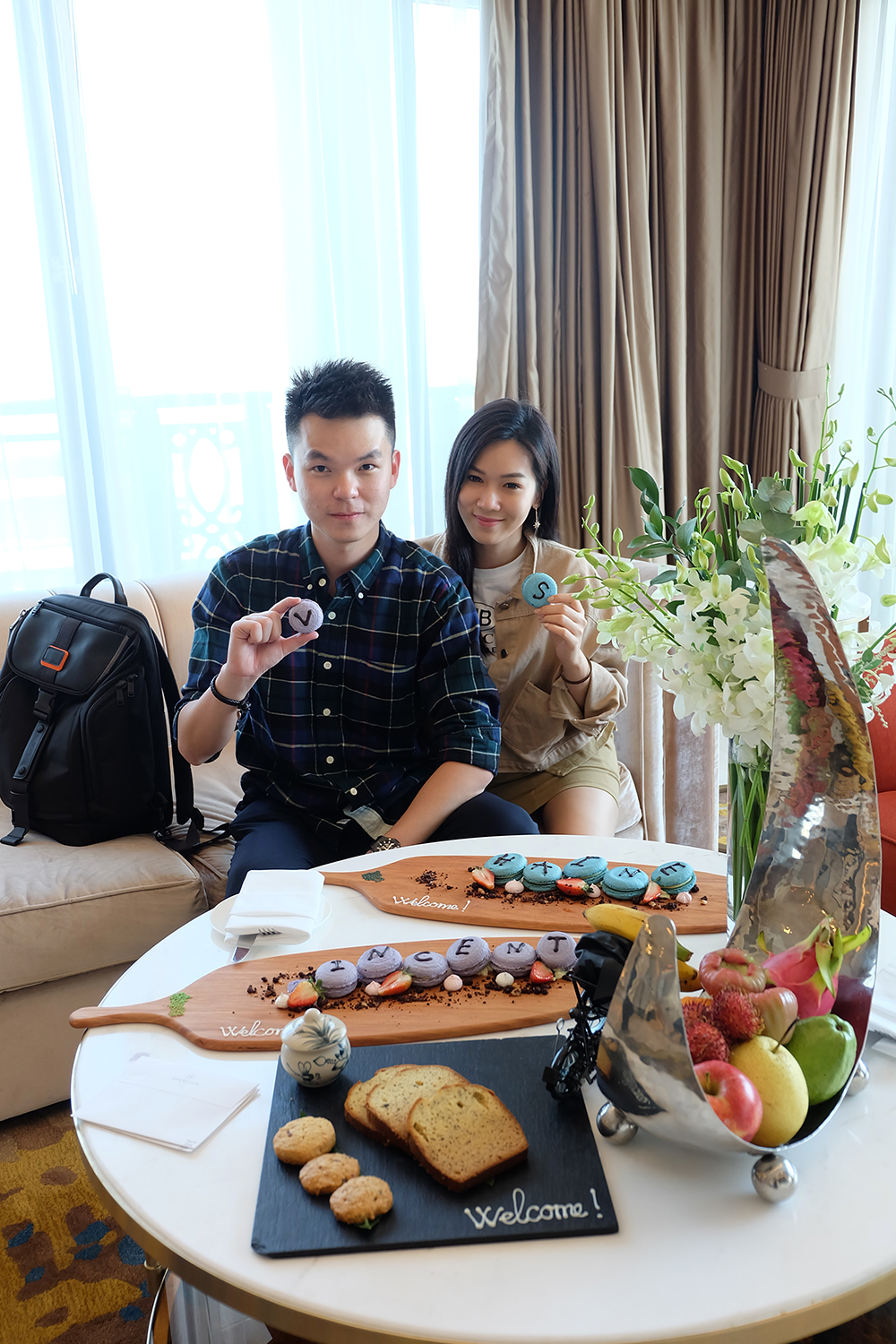 Look at the yummy macarons and fruit platter Vincent and Shaine found in their room courtesy of Sheraton Grand Danang Resort!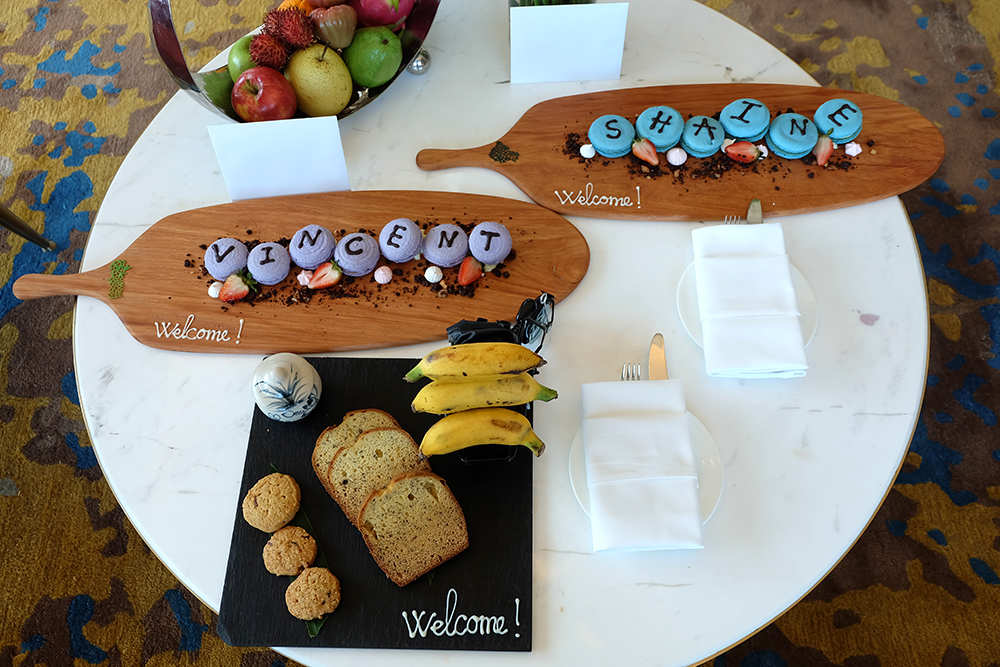 A warm welcome, indeed.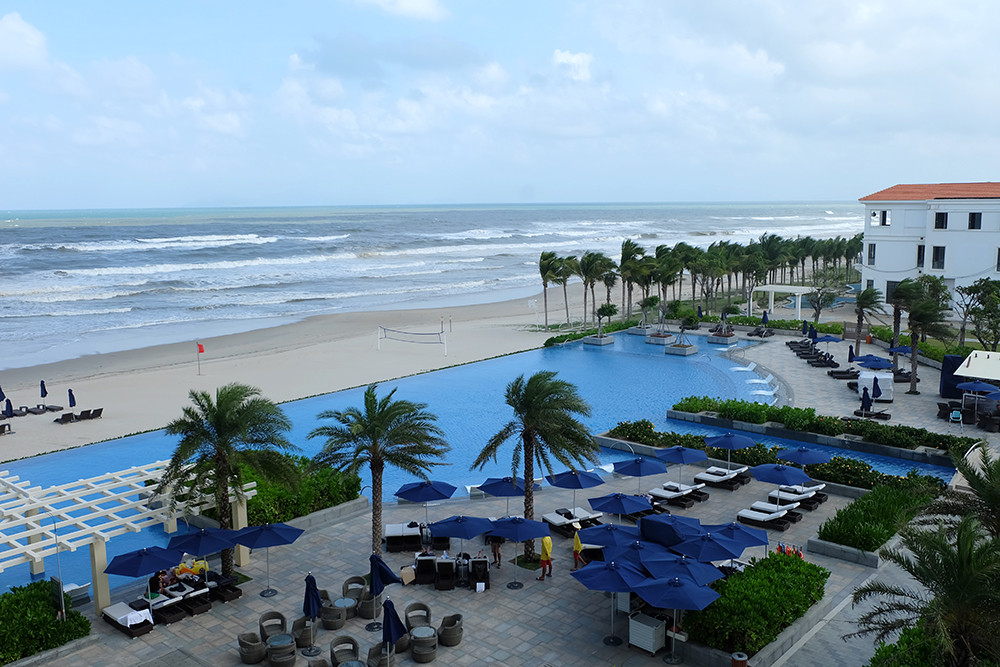 The views from their room balcony were unparalleled, hands down.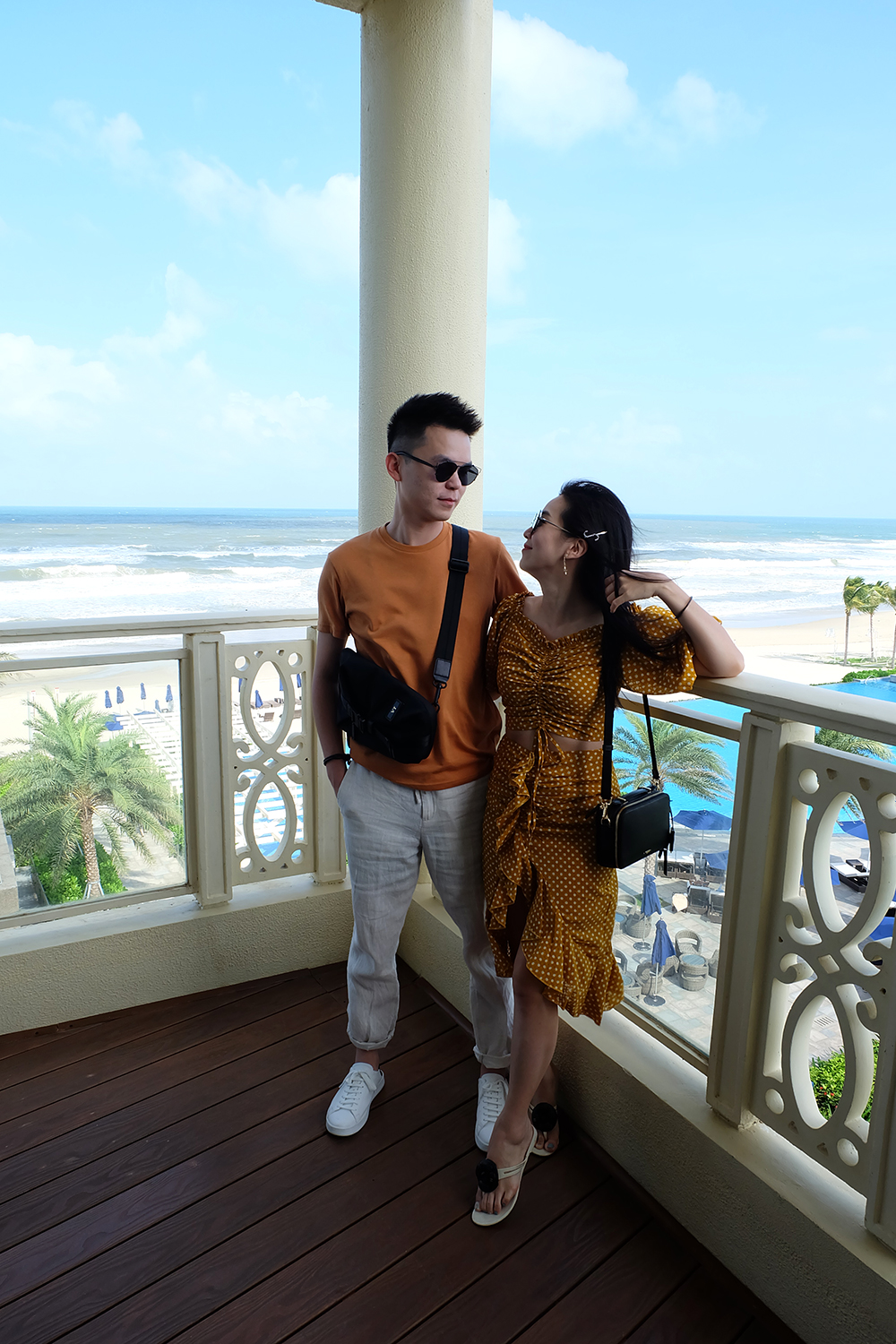 But the couple also had a different kind of view to admire...
After settling into our commodious rooms (and pinching ourselves for the dreamy views), we headed for a late lunch at La Plage, the hotel's beachfront restaurant and club.
Our lunch set filled us up generously with juicy scallops, fresh oysters and succulent meats as we dined to the sound of waves crashing in the distance and palm trees bustling in the sea breeze. Being vegetarian, Vincent enjoyed a different menu of salads and local noodles curated specially for him.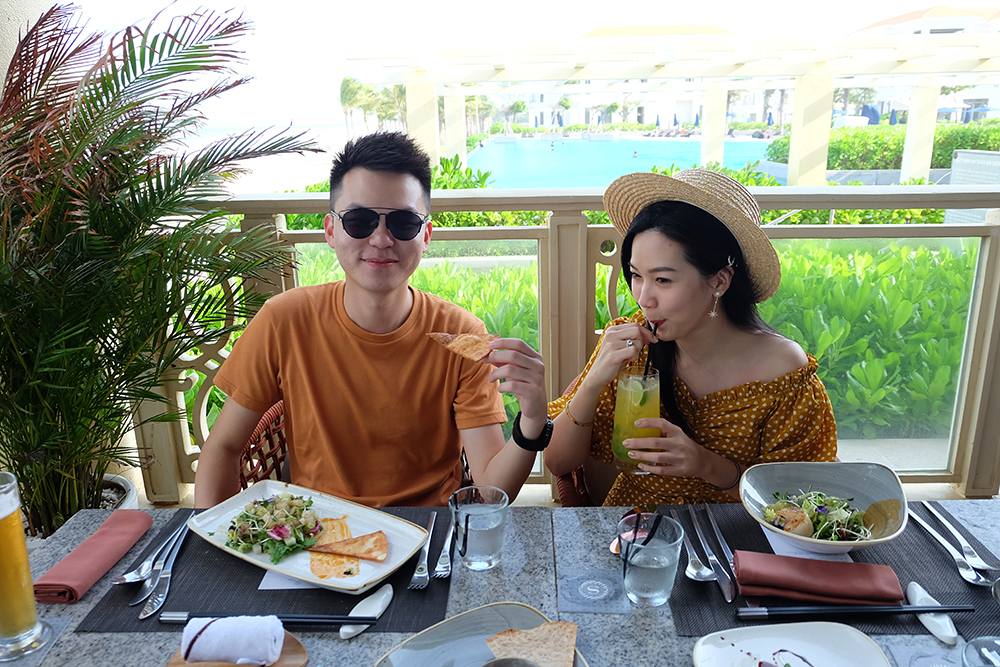 With our tummies well-fed, we were eager to explore the vibrant neighbouring port city of Hoi An. Only 30 minutes away by car, the city is famed for its multi-cultural history owing to the Japanese, Chinese and Portuguese that once lived or traded there. We spent most of our time here wandering pass the storied heritage buildings in Ancient Town, stopping occasionally at colourful lantern-lit stores at the Night Market.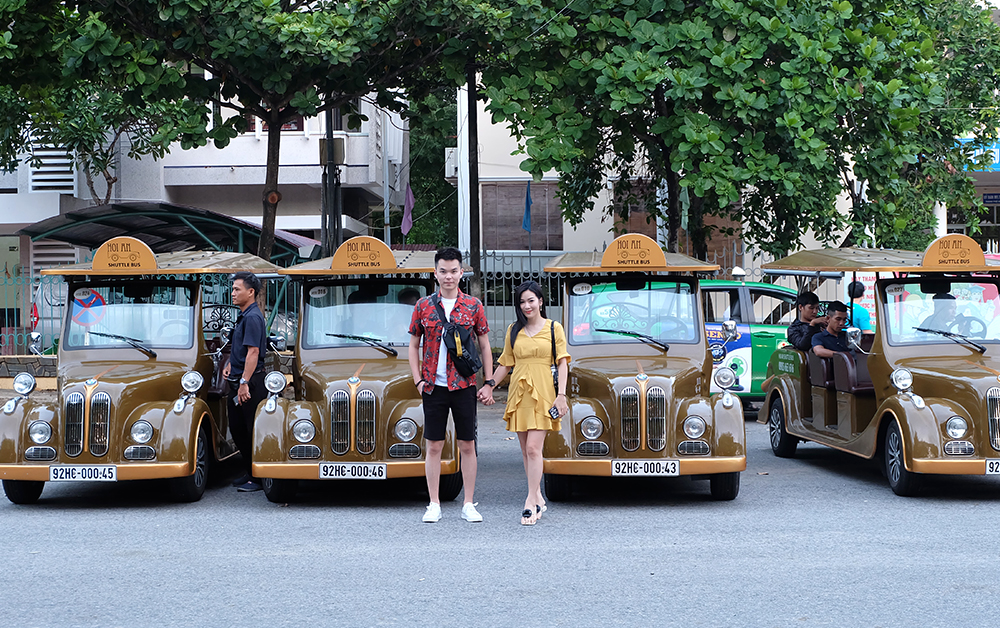 With their keen eye for Instagram-worthy spots, Vincent and Shaine were quick to strike a pose with their TUMI bags.
And you can be sure there's more than one spot worth the gram.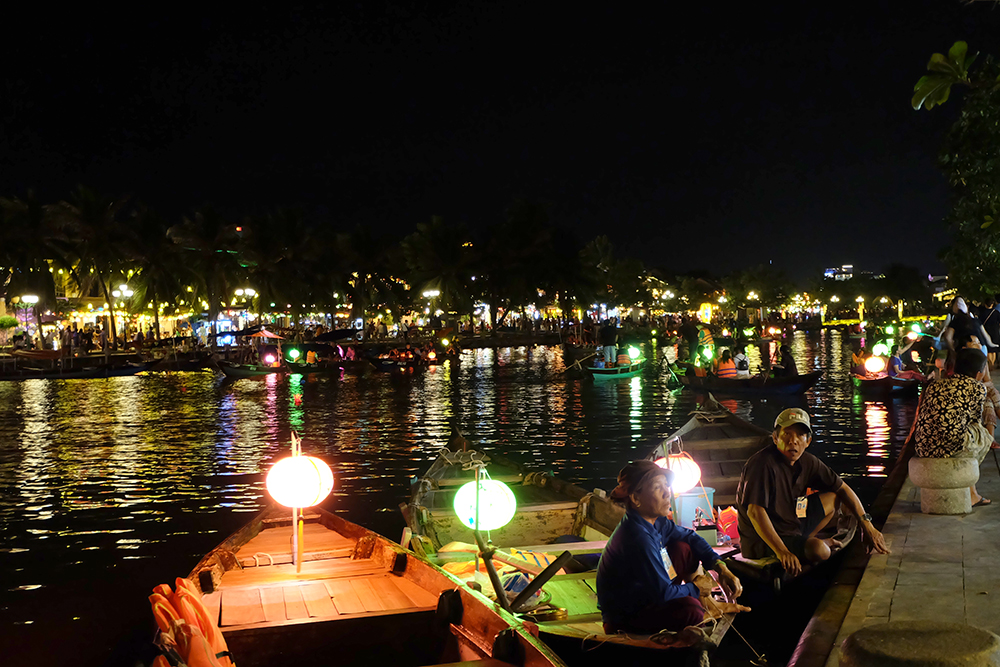 Colourful lanterns have become synonymous with Hoi An…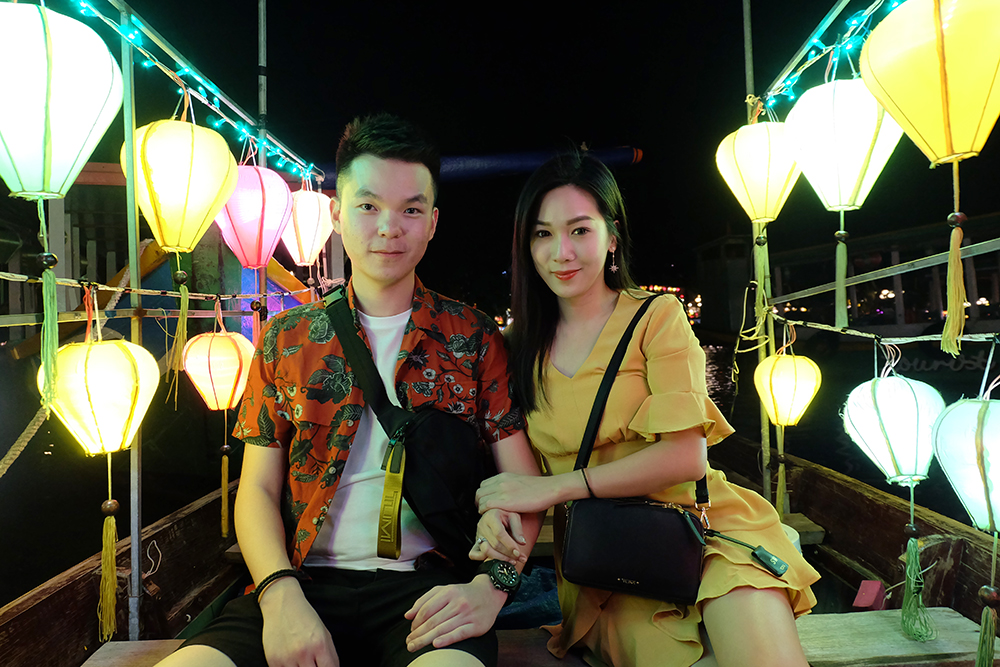 …and the best way to experience its charm is via a boat ride along the river!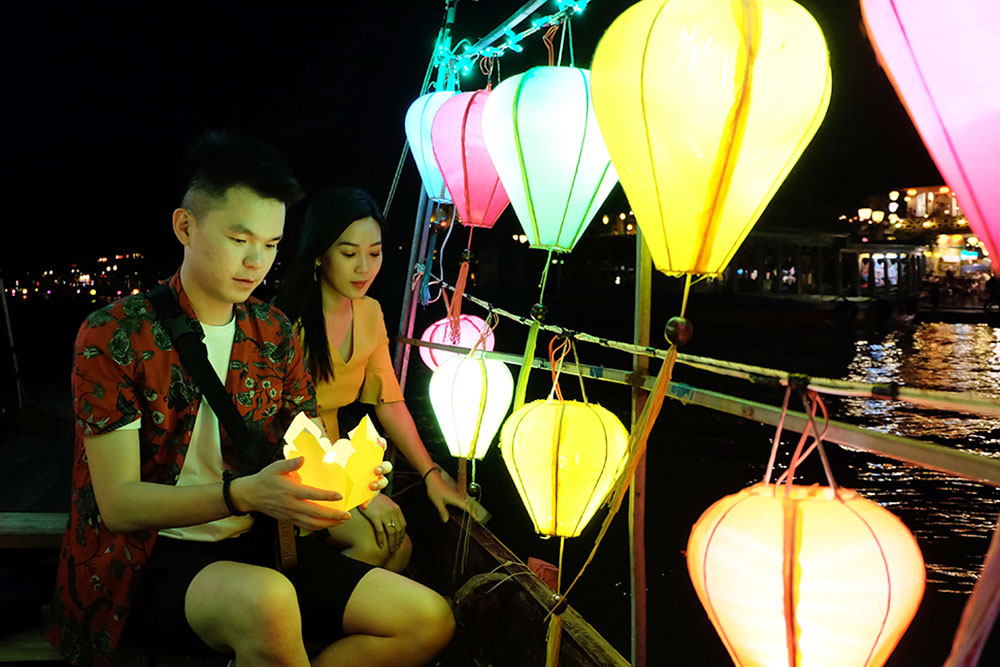 It's also mandatory to light one and make a wish before releasing the lantern into the river, as Vincent demonstrates.
All those floating lanterns truly made for a stunning spectacle as we walked along the promenade.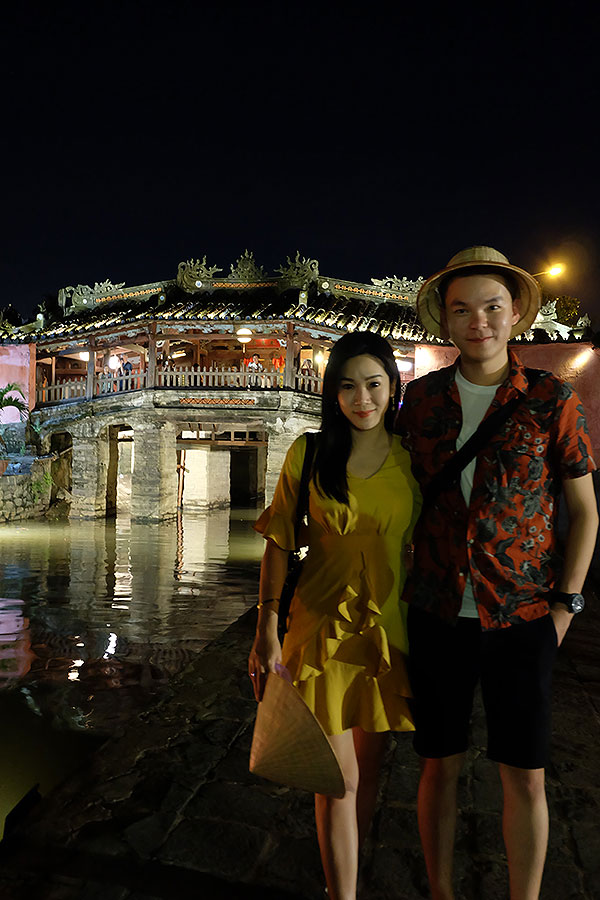 Our final stop before heading back to the resort was this famed Japanese Bridge, built in the 1950s by the Japanese as a link to the Chinese quarters.
Day 2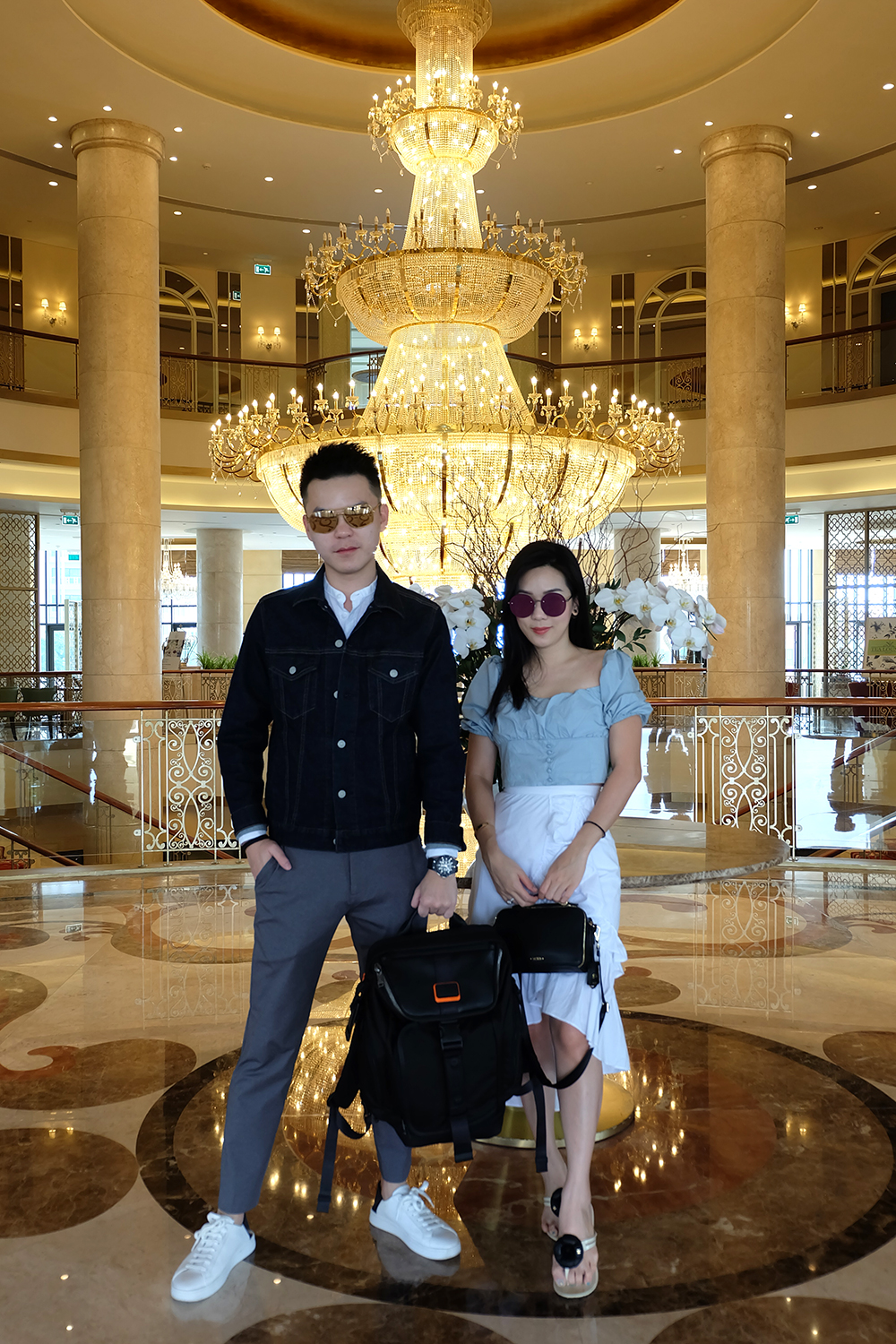 A bountiful breakfast spread of continental offerings and local dishes at the Sheraton Grand Danang Resort's Table 88 restaurant warmed us up for our second day of exploration. Not to be missed was the coffee trolley, which offered a selection of aromatic local brews.
We're not sure if it was the caffeine or adrenaline that kept our spirits high on our early journey to Ba Na Hills, located an hour away from the resort. Even the dark clouds and misty conditions up in Sun World couldn't dampen our enthusiasm as we sat in the world's longest cable car ride, visited the famous Golden Bridge and sightsaw our way around the amusement park.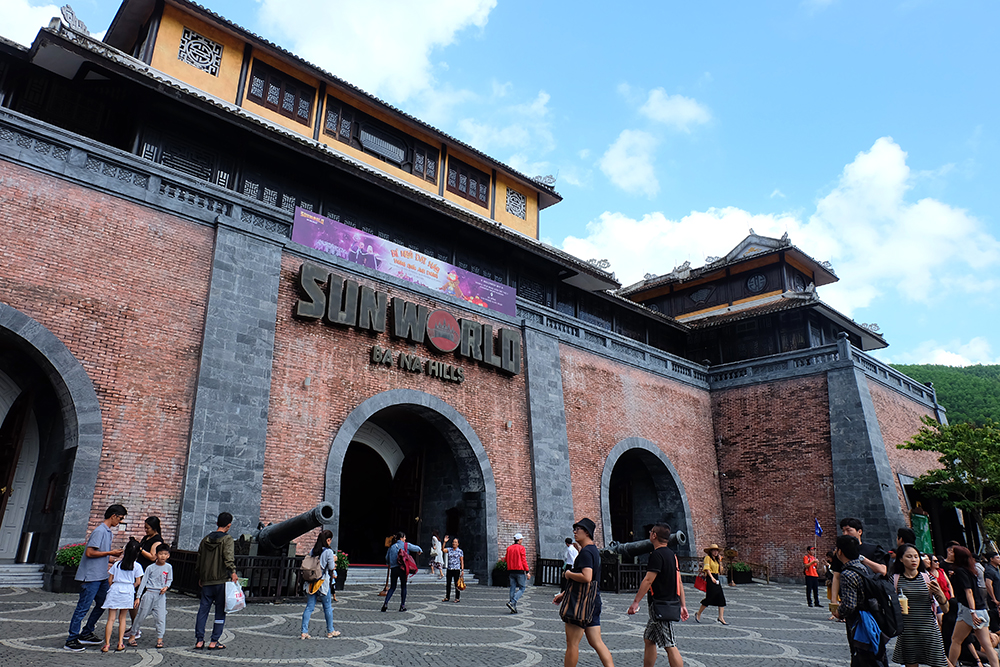 Sun World Ba Na Hills, here we come!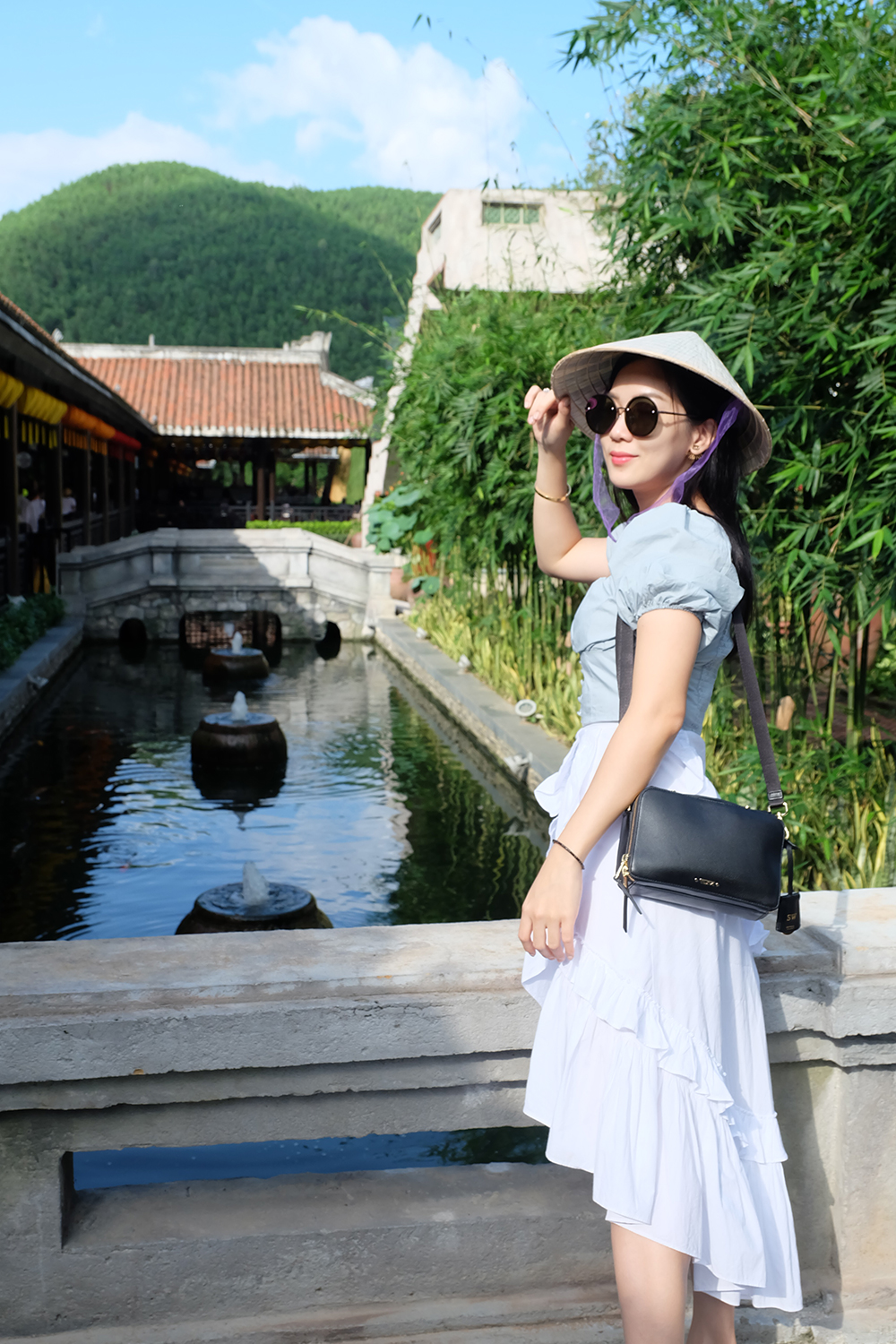 But first, let's get our Vietnamese conical hats on.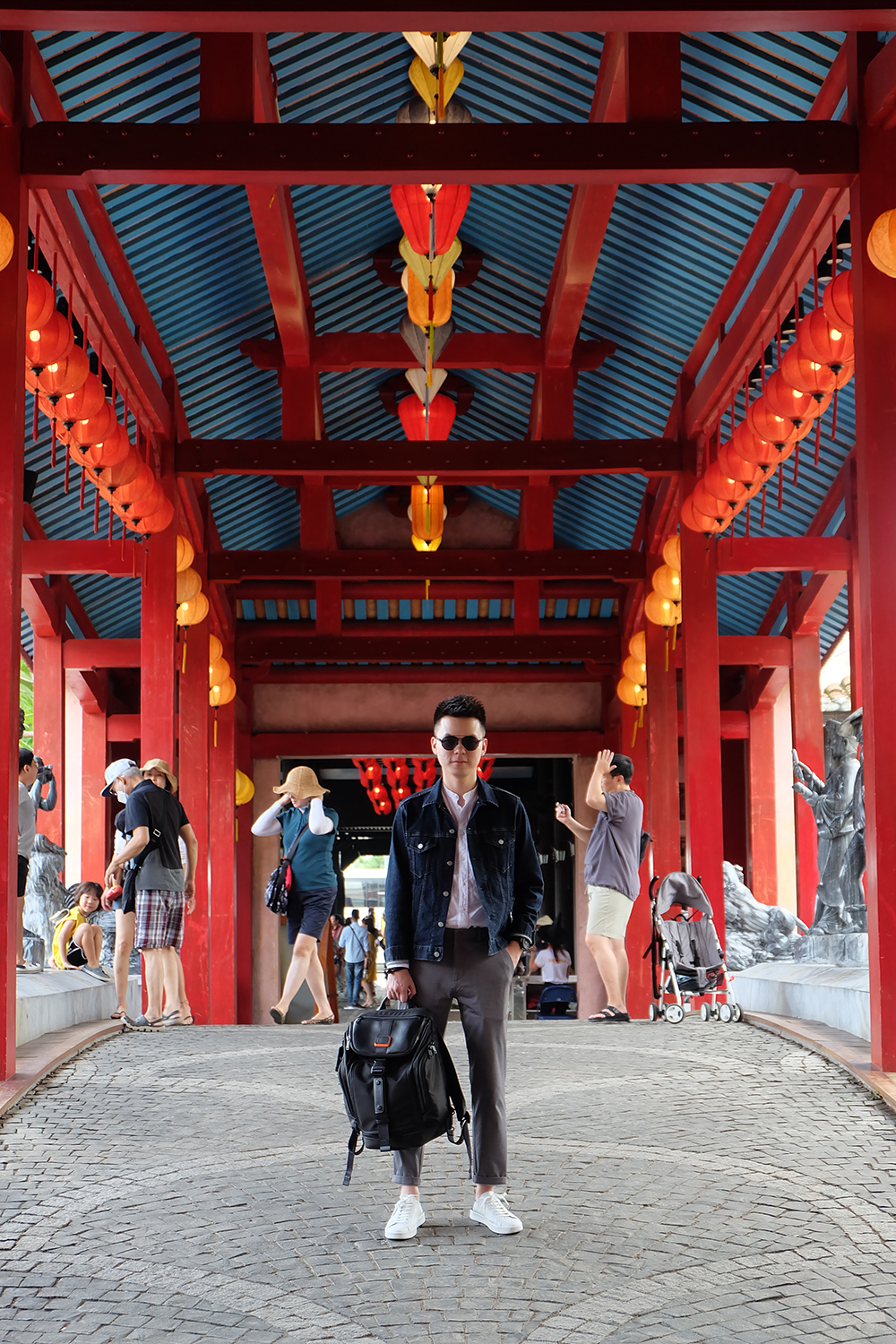 Every corner of this place is Insta-worthy.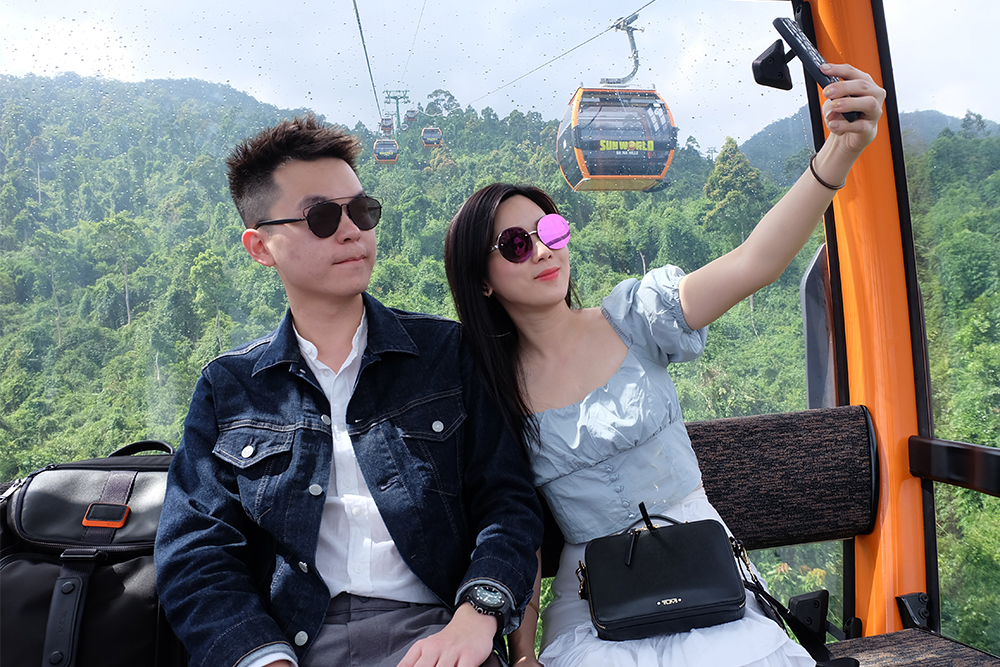 Up on the world's longest cable car ride we go!
Check out the view while we're at it.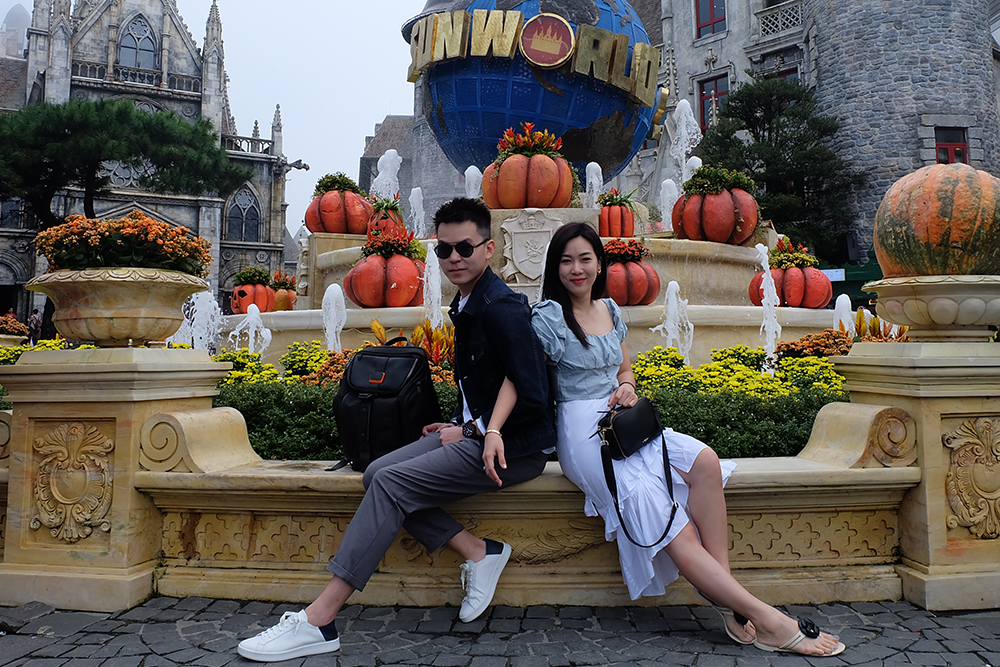 It's all fun and smiles at this theme park with these two around.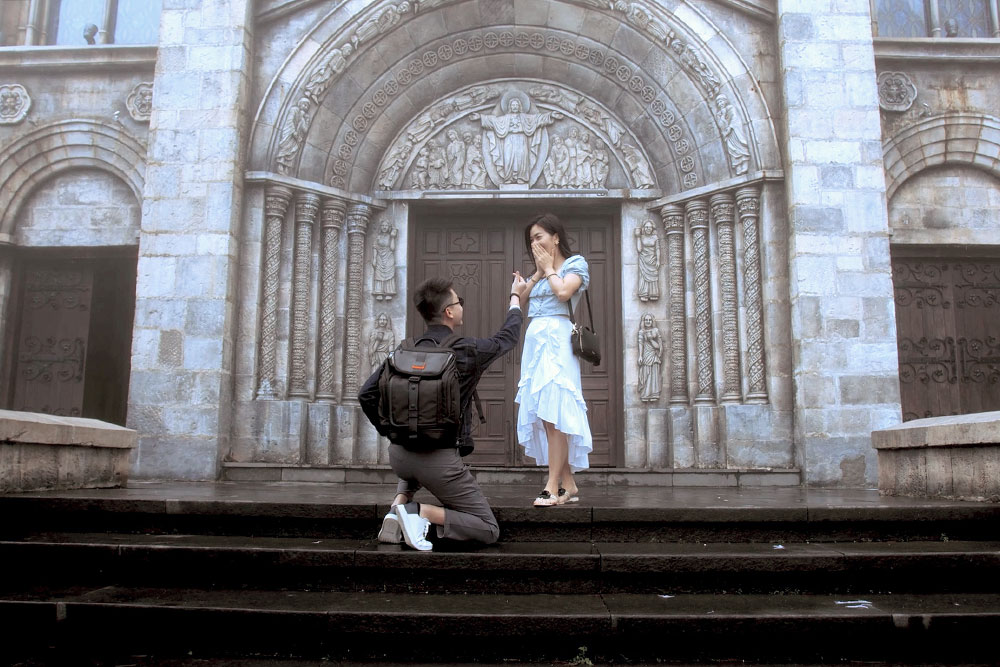 Fun fact: The St Dennis church at the little French village in the hills is a popular spot for wedding photos...so Vincent and Shaine had a little fun with the idea.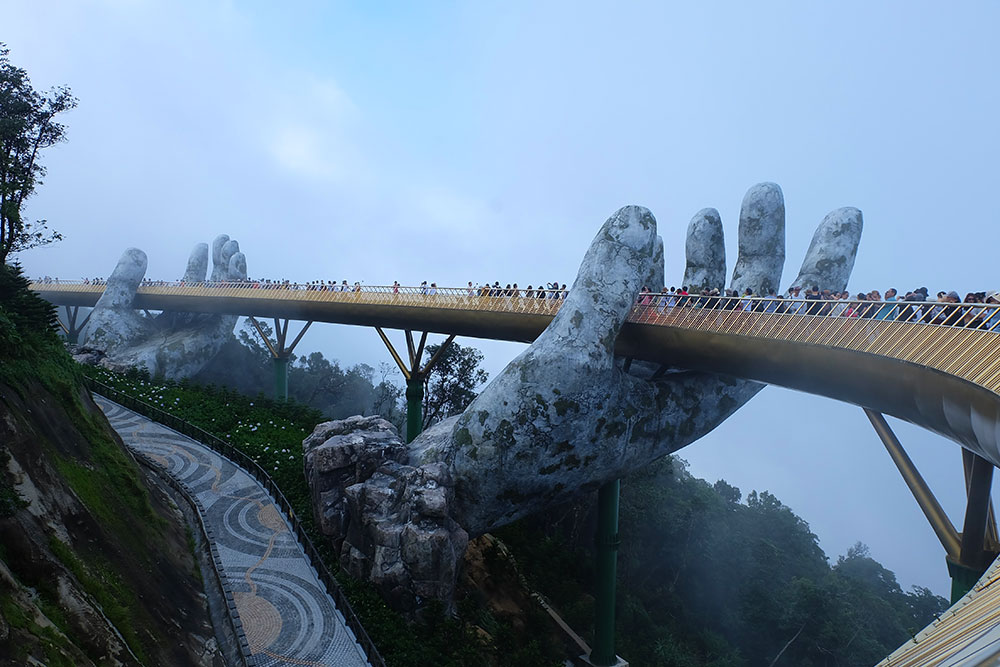 Of course, we couldn't miss this iconic bridge - even if we had to brave through hundreds of tourists to get a decent photo.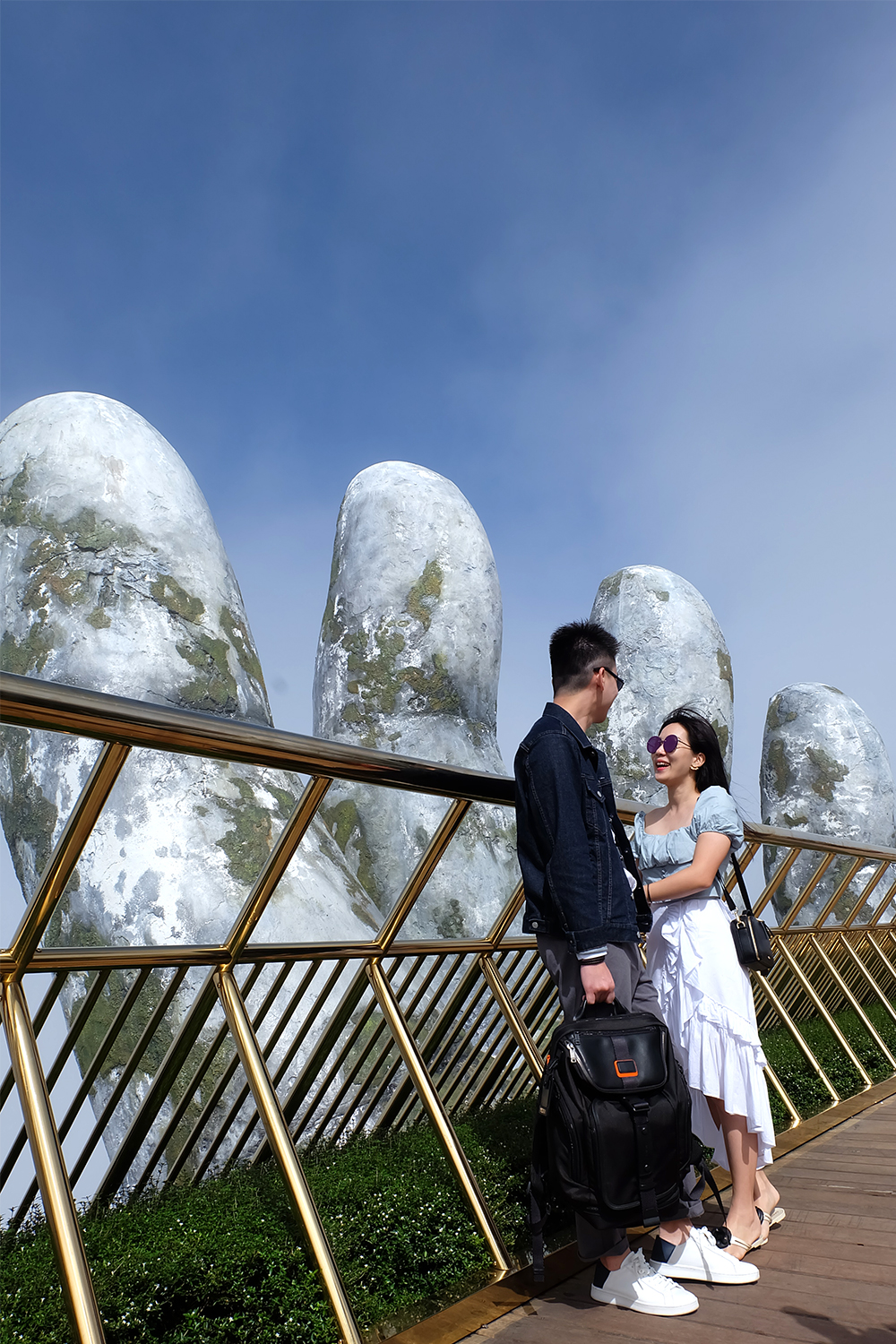 "If you didn't take a picture at the Golden Bridge, were you even at Ba Na Hills?"
Having immersed in the sights and marvels in the hills, we returned to our resort just in time for sunset. Though Danang is better known for its sunrises (since its coastline faces the East), the evening sky was a mesmerising palette of pinks and purples worthy of admiration in its own right.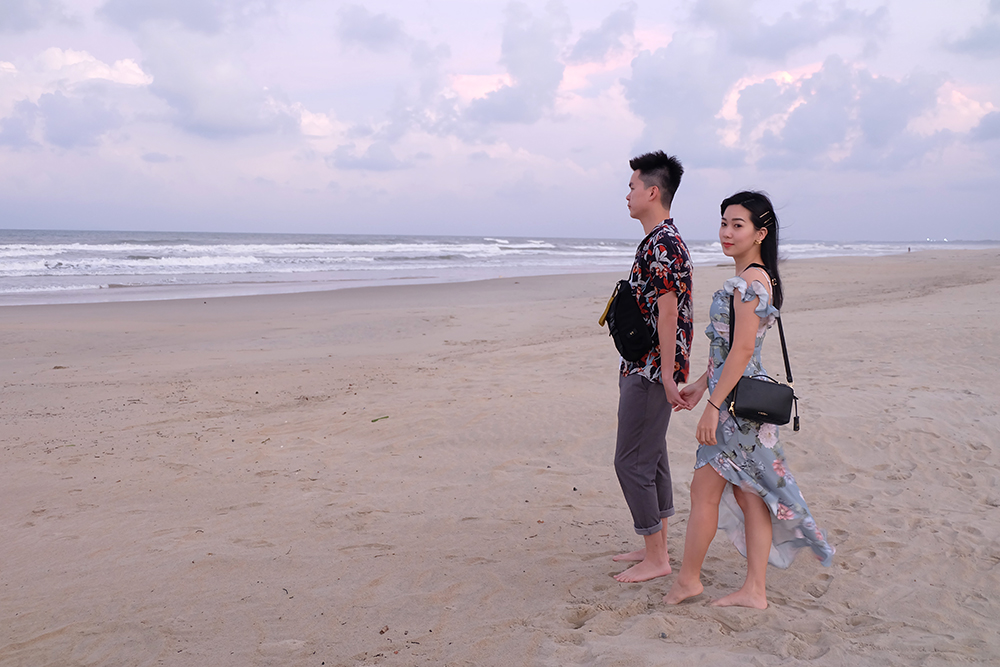 Our long but memorable day concluded with a candlelit dinner at The Grill, the resort's signature restaurant. Famous for its fresh seafood and grilled steaks, we indulged in a scrumptious meal off the Surf and Turf section of the menu. The vegetarian options are no less appetising too, as Vincent can attest.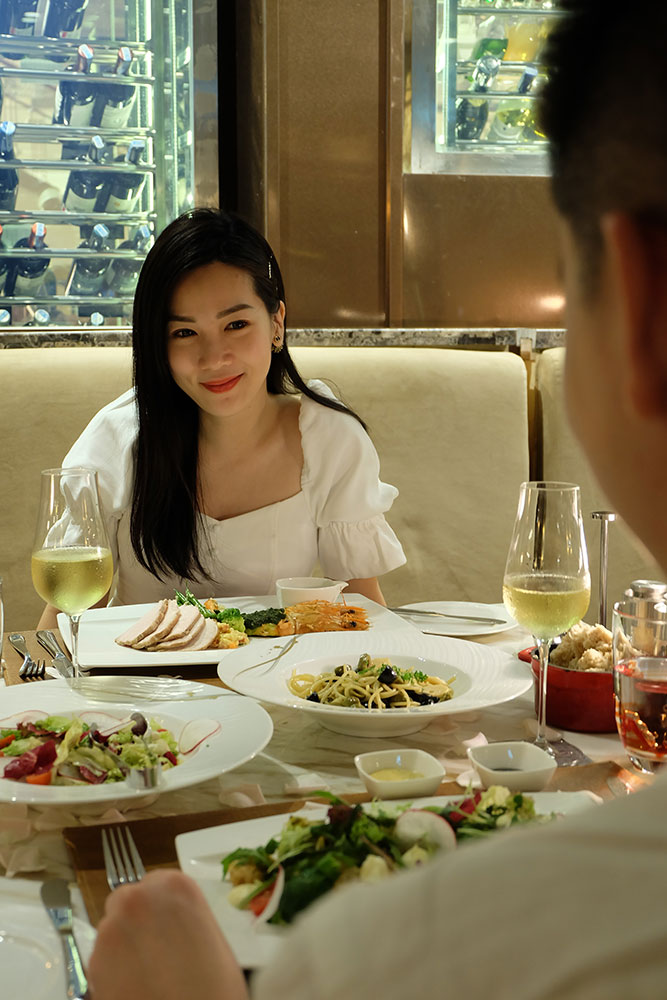 Trust a candlelit dinner to put a smile on Shaine's face...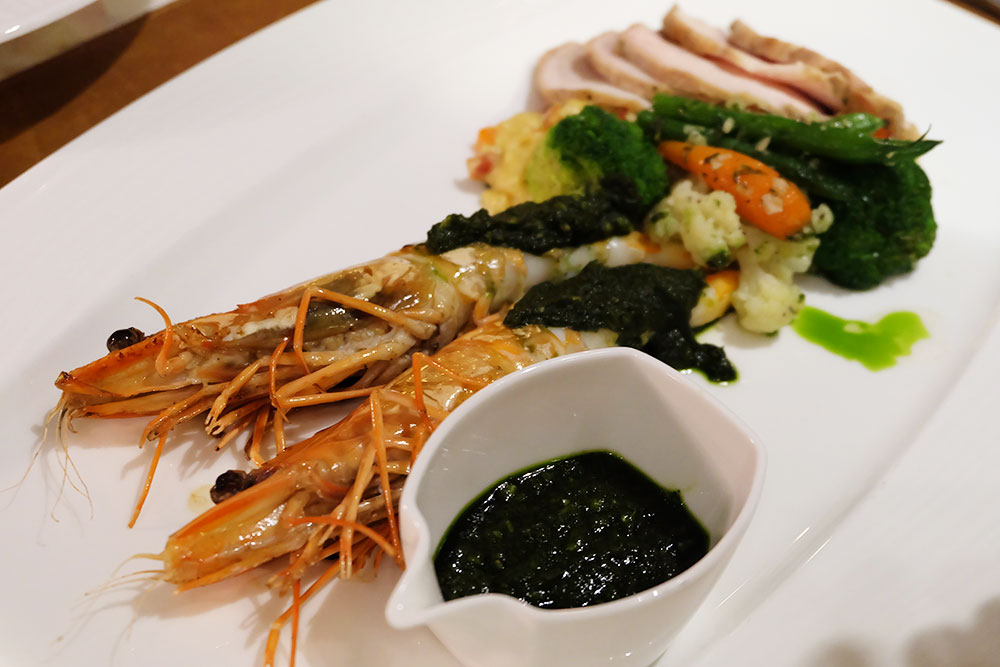 ...especially when it serves up some mouth-watering grilled seafood and meats like this.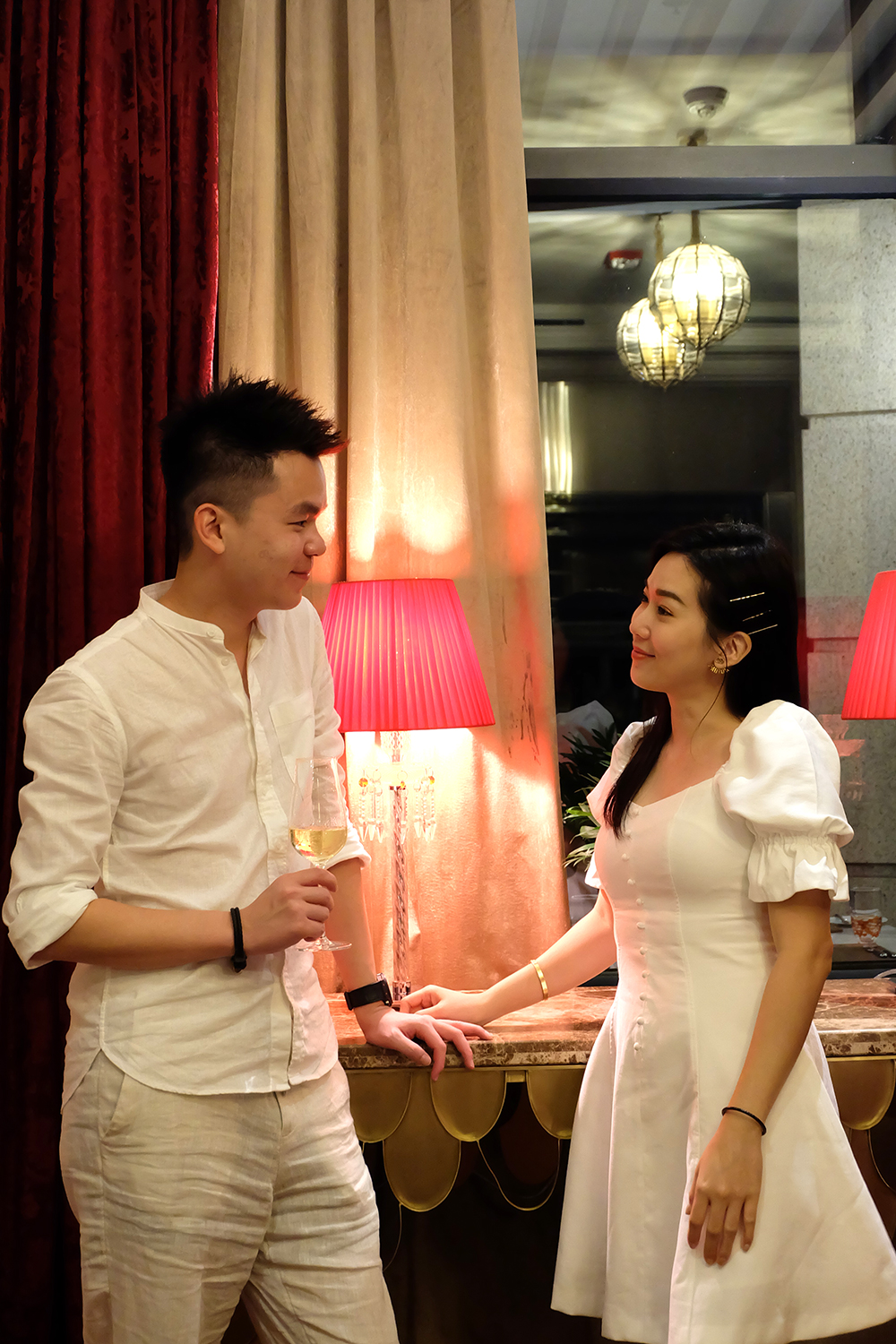 Cheers to another well-spent day!
Day 3
We made it a point to catch the sunrise on our last day and thanked the heavens for parting the clouds at just the right moment. Trust us when we say the 5am wake up call was worth it because the scene we were rewarded with on the beach was one that will remain etched in our mental scrapbook for a very, very long time.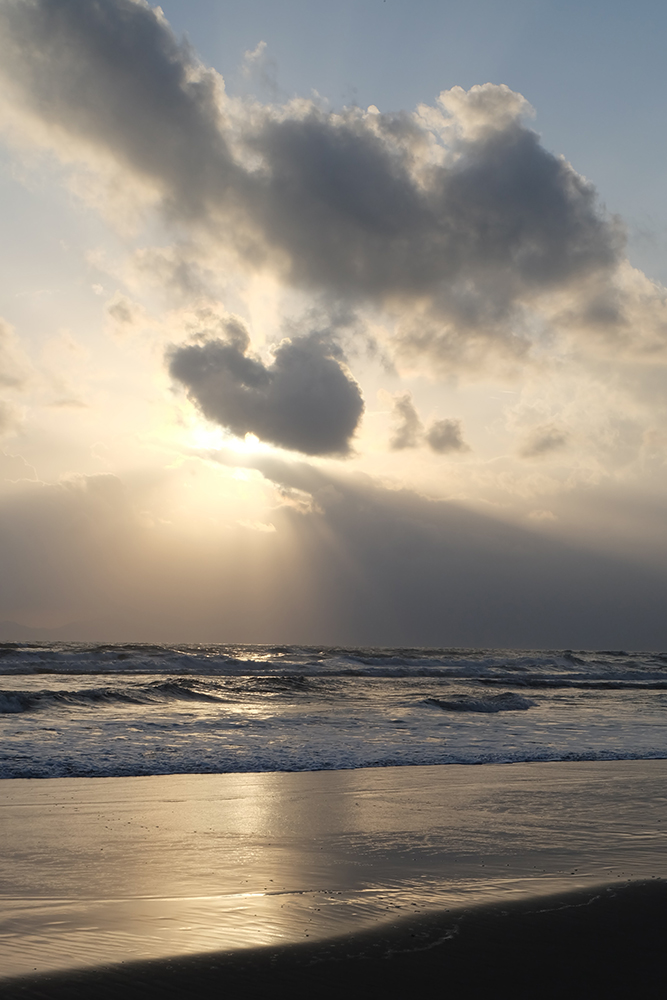 Despite a bad weather forecast, the clouds parted at just the right time to unveil this glorious sunrise.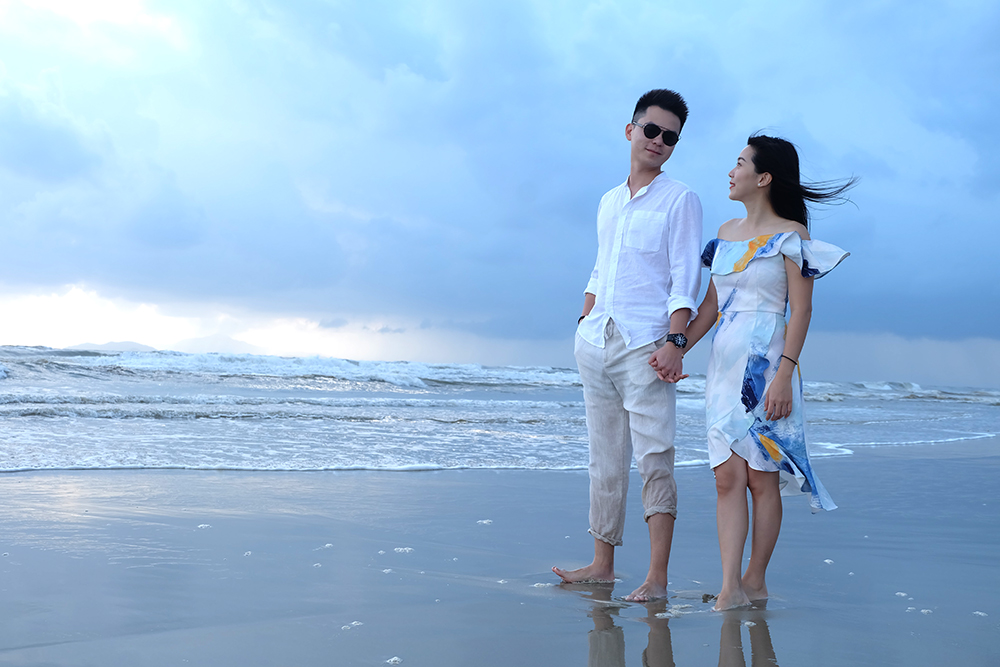 Taking a moment to soak in the sun, sea and sand as the sun rises.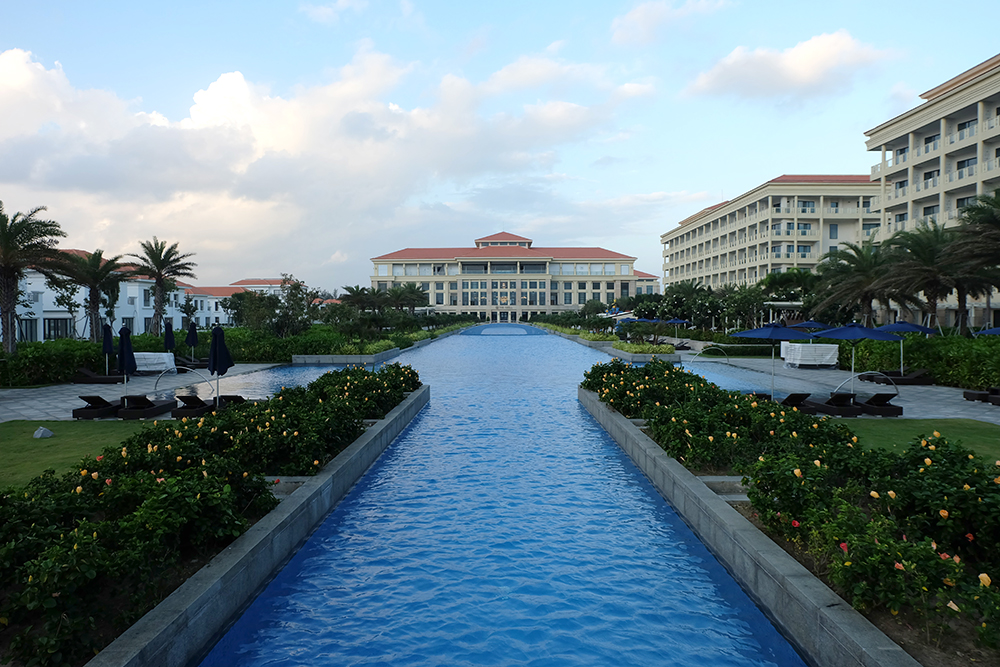 Morning views of our resort are no less praiseworthy.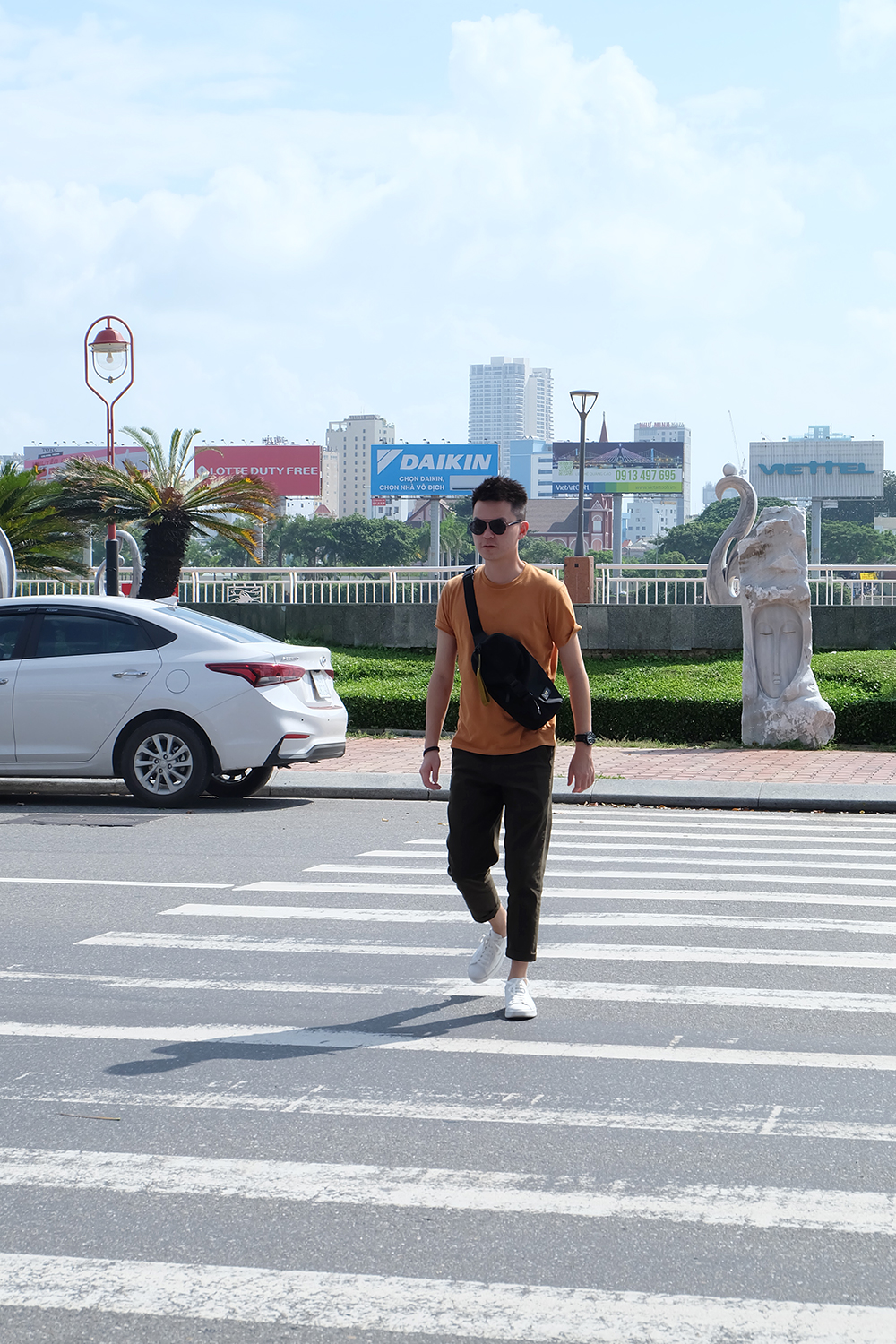 After helping ourselves to the breakfast spread at Table 88 a good two hours later, the rest of our morning was spent discovering the heart of Danang city.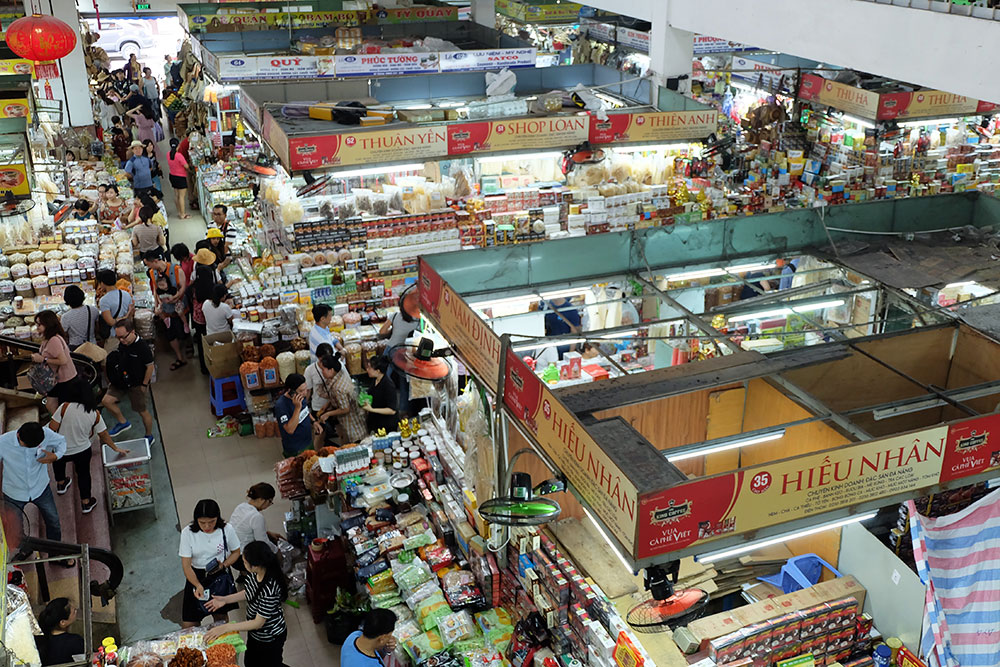 The buzzing Han Market is popular among locals and tourists alike, offering everything from food to clothing and housewares.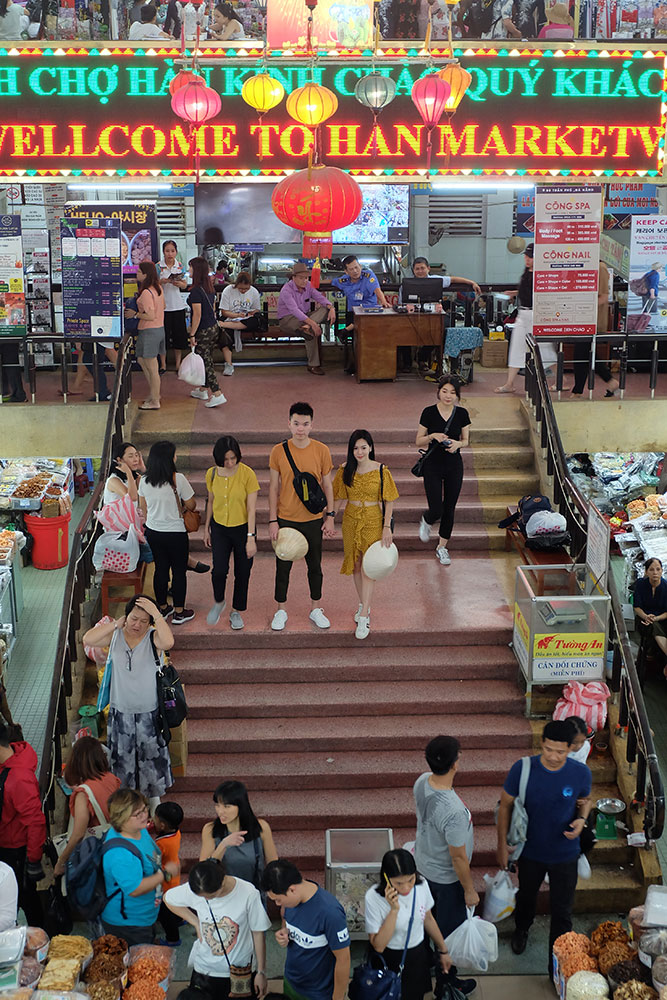 Can you spot Vincent and Shaine blending in among the crowd?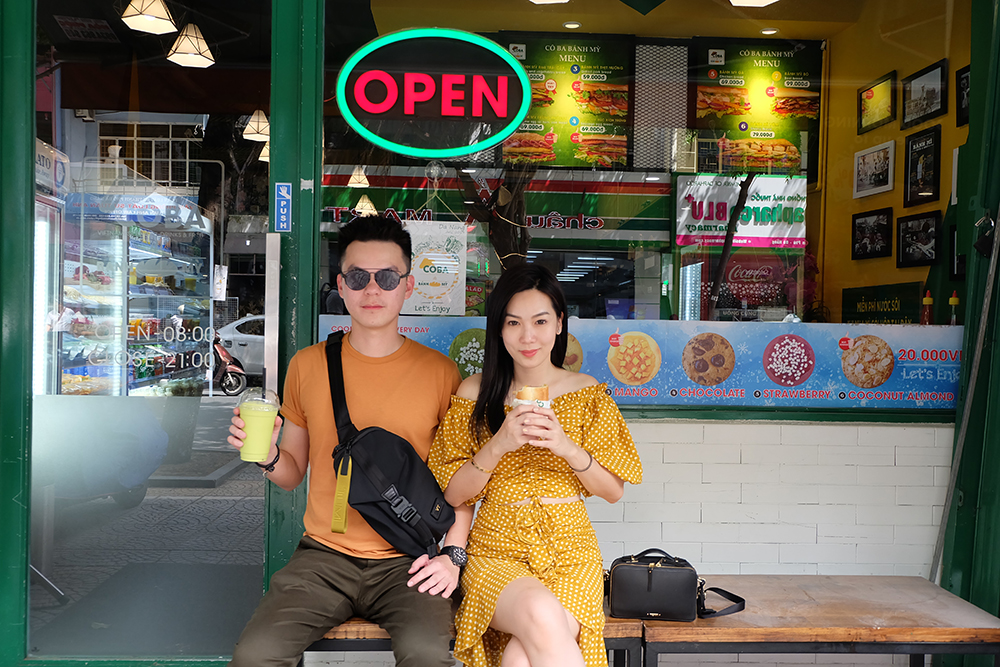 Stopping for banh mi and avocado shake after shopping at Han Market.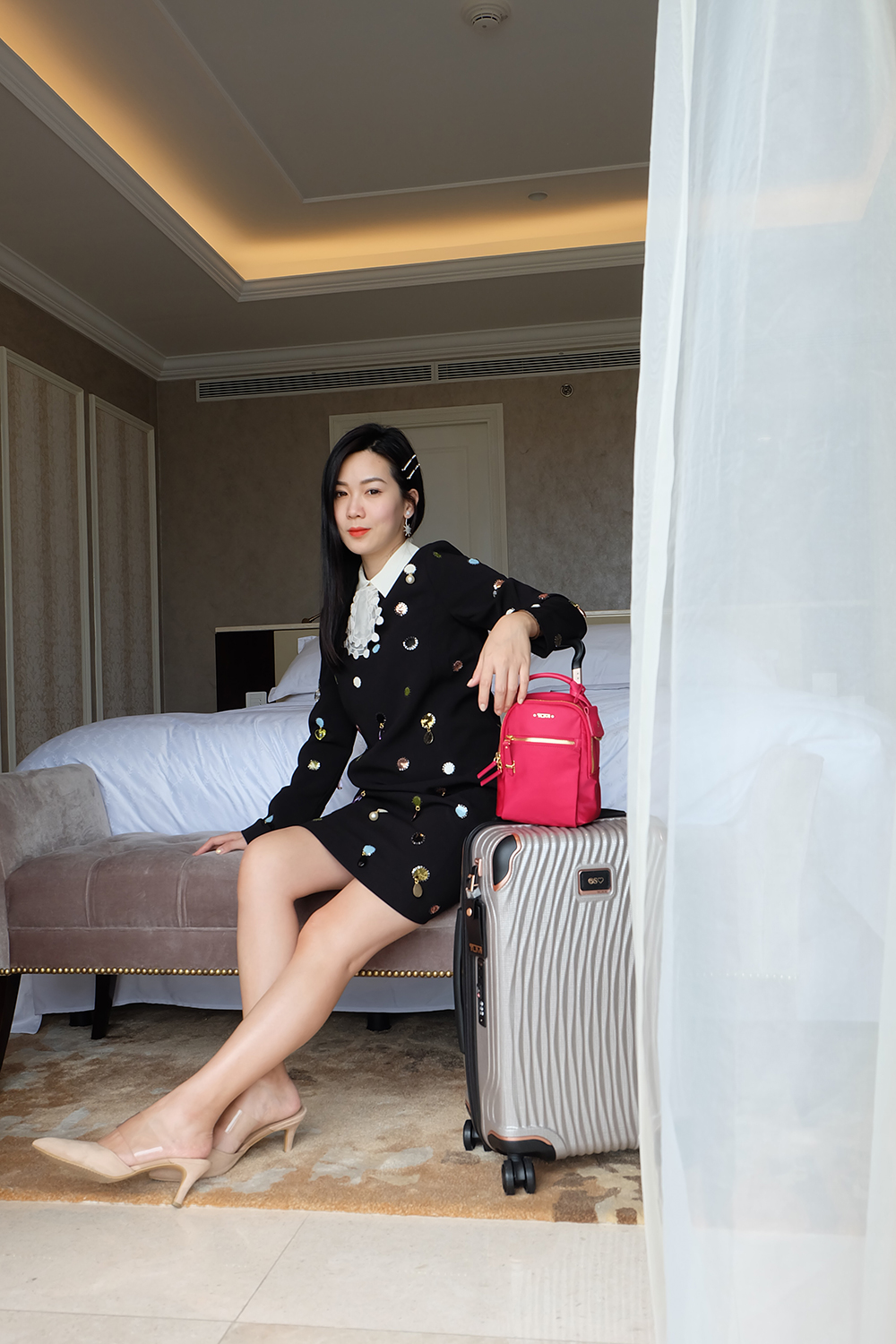 Back at the resort later that afternoon: goodbyes are hard, but packing for it is easy with Shaine's Serra mini convertible backpack and Latitude carry-on luggage.
It was with heavy hearts that we checked out from our resort and left for the airport to catch our afternoon flight, but we brought home beautiful memories to cherish until our next visit.
"We'll definitely come back again," Vincent and Shaine agreed.
---
In collaboration with TUMI, we are giving one (1) lucky reader the chance to win a 3D2N stay for two at Sheraton Grand Danang Resort (inclusive of breakfast) & a TUMI carry-on luggage worth RM2,790.
To be in the running to win, just follow these simple steps:
Like FirstClasse Malaysia on Facebook.
Follow FirstClasse Malaysia (@firstclassemalaysia) and TUMI (@tumitravel) on Instagram.
Share this story on Facebook (make sure you set your visibility to Public).
Visit tumi.my to browse the TUMI luggage you would like to win and fill in the details in the form below.
[This giveaway has ended]
This giveaway will run from Monday, November 18th, 2019 to Friday, December 6th, 2019. The winner will be announced on our Facebook page and Instagram story on Monday, December 9th, 2019.
Terms & Conditions:
– This giveaway is open to readers residing in Malaysia except employees of FirstClasse Malaysia and their family members.
– By submitting an entry in this giveaway, you are giving your consent to FirstClasse Malaysia and TUMI to collect and process your personal data.
– Submissions close at 11.59pm on Friday, December 6th, 2019.
– The winner of this giveaway will be selected at random.
– The giveaway prize is not inclusive of flight tickets.
– Please leave us with a working email at which we can reach you. The prize will go to the next participant should the selected winner fail to respond within 48 hours.
– FirstClasse Malaysia reserves the right to change the rules & regulation without prior notice.
Videography: Zac Lam