FirstCharge is our new dedicated electric vehicle (EV) review series, where we aim to offer a first-hand account of being behind the wheel of some of the finest offerings present in the burgeoning local premium EV market space. If you're considering a switch to electric, FirstCharge is a good place to start.

Mercedes-Benz EQA 250 AMG Line – A starter EV charged with all the right stuff!
Locally, it's safe to say that Mercedes-Benz Malaysia (MBM) is at the forefront of electrifying many local prospects. Charging this fact further was MBM's move in growing the local EQ cars range dramatically with the introduction of the flagship EQS, and both the EQB and EQC electric SUV models this year.
Sure, said trio may be the new 'darlings' of the range for now, but their arrival wouldn't have been possible without the initial entry – and subsequently good reception – of the EQA model featured here before them. As Merc's entry point into its EQ electric cars range, it embodies much of what this sub-brand has to offer.
Thanks to the gracious folks over at Cycle & Carriage Bintang Berhad (CCB), we were able to experience both the EQA in full over a recent weekend, as well as the firm's charging services. Here's what that was like: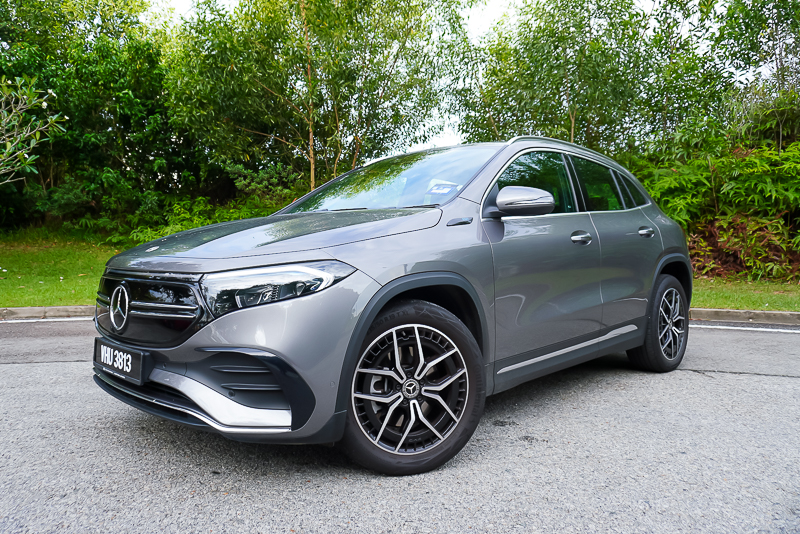 First Impressions
On the surface, it's safe to say that the design language adopted by the Mercedes EQ range is best described as 'distinct' and 'futuristic', and the EQA is no exception to either. The latter doesn't sound as far-fetched once you soak up details like the head- and taillights, the front grille – or lack thereof – as well as the style of the 19-inch wheels primed at all four corners.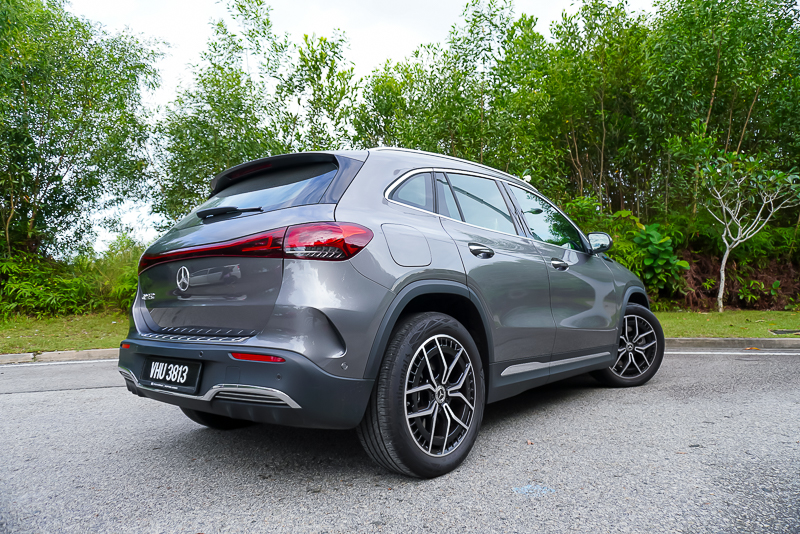 As far as looks go, the EQA in 250 AMG Line form as featured here doesn't look too bad, to say the least. Being the electric offshoot of the marque's GLA-Class crossover, the resemblances are somewhat uncanny, but perhaps this 'familiarity' of sorts is a good thing, especially in the eyes of the marque's fans who are keen towards the idea of adopting it.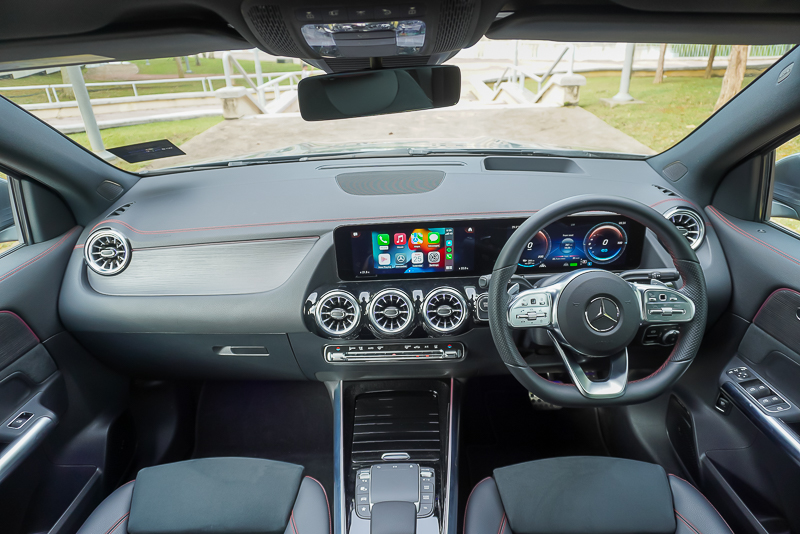 Climb aboard and, simply put, things are rather familiar here too. That's because the EQA's innards are more or less identical to what's seen in the combustion-powered GLA crossover it's based upon, which isn't a bad thing entirely considering the high levels of luxury and tech present – arguably key hallmarks of any offering that bear the three-point star emblem.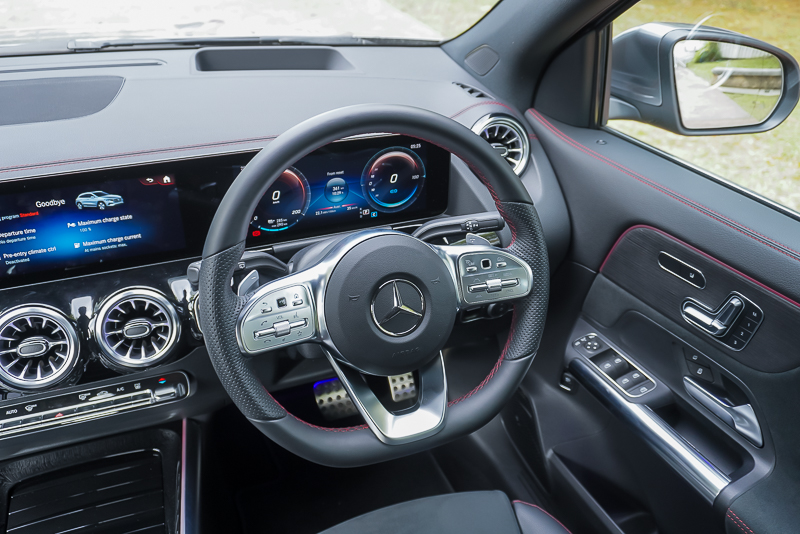 If anything, the brand's renowned knack for putting together a cabin lined with fine leather, classy wood trims, as well as the right amount of shiny brightworks, plus a myriad of tech, only signals to both drivers and passengers that they're in something that's really a cut above the rest – as how most bearing this famed emblem feels. 
Surely, what needs getting used to with the EQA, as well as with any of its EQ stablemates, is the way it starts and drives…

The Drive
Just like its combustion-powered stablemates, starting the EQA up only takes the press of a button. However, you won't get the usual sensations of sound and vibrations of a multi-cylinder mill turning over here, just a beep and 'Ready' status readout from the visually-pleasing digital dash display instead.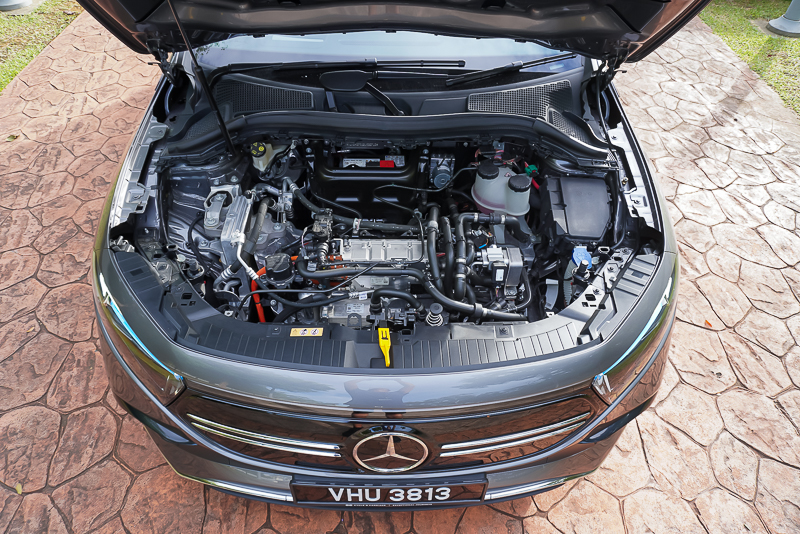 Those uninitiated with EVs will be taken aback slightly when putting the EQA into drive and setting off. That's because all 370NM of twist available from the 140kW (or 188HP) electric motor sitting up front is accessible immediately from the get-go. The result is a crossover that will easily despatch the 0-100KM/H sprint in a respectably rapid 8.9 seconds.
In other words, the EQA, like any other EV, requires a little more restraint in terms of your right foot application. What needs getting used to here too is the un-dramatic silence of the whole operation. For first-timers, this really is quite an event, with said silence only broken by the electric motor's faint buzz and perhaps the air-conditioning blower fans' wind blast.
What's worth noting here too is the presence of Mercedes' array of advanced driver assistance systems (ADAS). Highlights include things like Adaptive Cruise Control, Lane-Departure Warning and Mitigation, Autonomous Emergency Braking (AEB), as well as Blind-Spot Monitor and Warning, all do well in making the EQA both an easier and safer drive.
Notably, the respectably rapid performance and speed the EQA possesses is surprising given that it's not exactly lightweight – it tips the scale at just a little over two tonnes. This heft only shows when you throw the EQA in and out of fast corners. This, in turn, perhaps signals that this crossover prefers a comfort cruise more than anything else.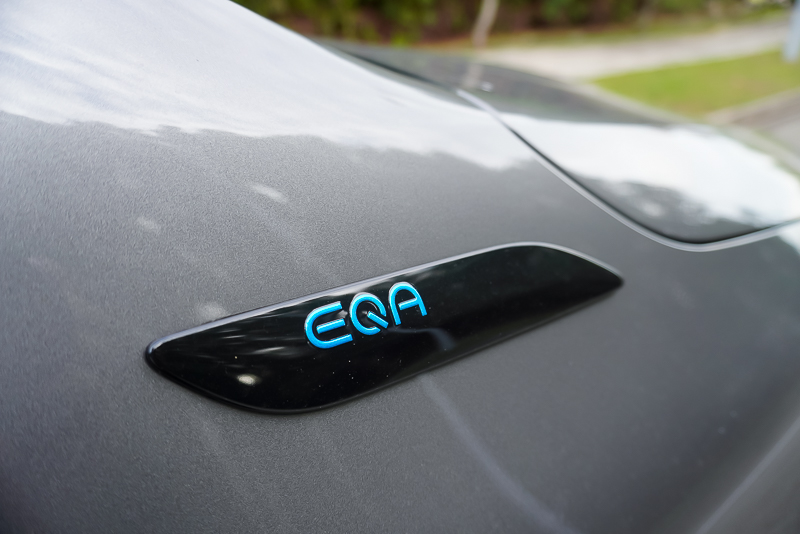 Adding to that last fact is just how supple the EQA's ride felt. Much of this stems from the Comfort Suspension it's primed with. Couple that with Merc's renowned high levels of Noise, Vibration, and Harshness (NVH) damping lining the cabin and it's plain to see the EQA is a very comfy ride indeed.
Overall, it's safe to say that the EQA is neither difficult nor daunting to drive or be driven in. It really feels very much akin to its combustion-powered peers of the same badge here to say the least, only much quieter and arguably a lot more refined too as a result of said near-silent electric drive.

Range and Charging
Going electric means trading time spent filling up at the pumps for time spent recharging instead. The good news here is that the EQA 250 AMG Line as featured offers a decent amount of range to begin with – up to 429KM on the WLTP cycle according to Mercedes-Benz. Realistically speaking, the EQA 250 AMG Line should offer anywhere between 350 to 380KM of city driving, which isn't bad per say.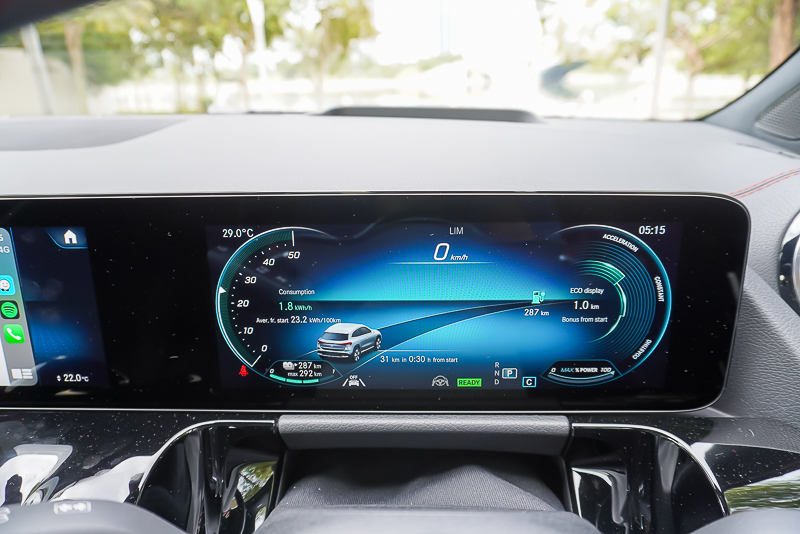 Though the EQA does come with a standard three-pin charging cable included, both MBM and dealers such as CCB recommends prospect to opt-in on purchasing a dedicated home wallbox charger.
Sure, this is a pricey affair and, depending on the type of residence, it could be a bit of a challenge to install too. Considering that the wallbox can recharge the EQA's 66.5kWh battery in under six hours as opposed to double or triple that time using the conventional three-pin type cable, it's indeed a worthy investment.
If you seek a rapid and higher recharge, your best bet is to find a DC-type 180kW fast charger.  Fortunately, such facilities are present at several key Mercedes-Benz dealerships nationwide like CCB's very own Mutiara Damansara Autohaus. 
We had a go recharging the EQA there during our testing stint, which allowed us to boost charge from 25% to just about 90% in about 30 minutes – enough time to savour a quick cup of coffee at said Autohaus. By the way, access to these fast chargers at CCB, as well as other key Mercedes-Benz dealers, is free throughout the first year of owning the EQA.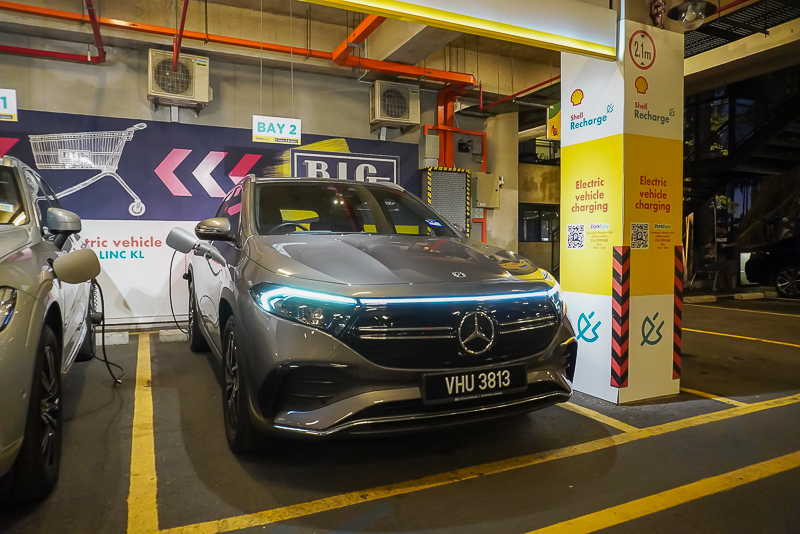 The added convenience of accessing these facilities comes from the onboard navigation system, which already has these fast-charging Autohaus locations stored, as well as the location of other public-access charging facilities. In short, finding spots to recharge the EQA is no challenge, to say the least, thanks to said onboard navigation feature.
Apart from considering the aforementioned wallbox, perhaps prospects will also need to consider subscribing to some of the key EV charging service providers. Indeed, this will be essential towards long-term ownership of EVs such as the EQA.

Should you buy one?
If you're keen on an electrified urban runabout that's not only posh but is also very competent and somewhat stylish, then the EQA 250 AMG Line as featured here is indeed a good starting point. Though it may be the starting point to the brand's EQ range, it really is a starter EV that will impress just about anyone – new and experienced EV owners included.
At RM296,888 base price tag (sans on-road costs), the EQA 250 AMG Line is no cheap ask to say the least, but said figure is somewhat justified considering the amount of luxury and tech plus respectable performance it delivers, not to mention the stellar after-sales support provided by dealers such as CCB, that's included too. 

On that last note, it's also worth mentioning that, apart from a 4-year, unlimited mileage warranty and an 8-year or 160,000 KM EV battery warranty, CCB also offers an optional Extended Limited Warranty Program for the EQA. Said plan is flexible thanks to the choices of either a one- or two-year tenure with unlimited mileage and up to RM120,000 in annual coverage, as well as both a 24-month repair warranty and fast claim approval included.