For the first time, homegrown label BONIA has teamed up with actress, model and TV host Scha Alyahya on a special collection of everyday essentials. Launching just in time for Raya, the BONIA X SCHA collection includes a range of bags, footwear and a new lifestyle offering from the brand: scarves.
Curated by Scha in partnership with BONIA's team of designers, the collection is inspired by her personality and style while paying respect to the brand's roots and heritage in Italian craftsmanship. The designs draw cues from the surge of the modern sculpture movement in Italy, evoking their curves and lines through revisited archival classics such as the Venice and Camilla silhouettes.
"This collection is so close to my heart," the actress said. "To collaborate with a brand like BONIA is a once-in-a-lifetime opportunity, and I have enjoyed every step of this partnership. The BONIA x SCHA collection brings together our unique styles in a way I couldn't be happier with – each piece is bold, empowering, and undeniably cool. This is a collection of essentials to cherish for a lifetime."
"We have loved every moment working with Scha Alyahya on this collaboration," commented Datin Sri Linda Chen, Marketing and Communications Director at BONIA. "When we first started considering partnering with a celebrity, Scha Alyahya was at the top of our list. She's everything we envision our BONIA woman to be – sophisticated, confident and one-of-a-kind."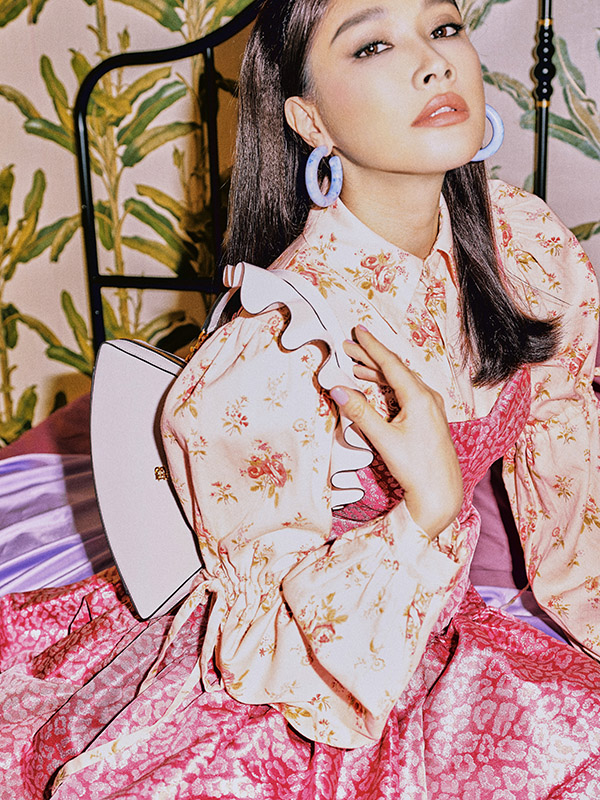 Highlighting the collaboration is the new Adjani Shoulder Bag, first introduced in the brand's Spring-Summer 2021 collection. Referencing the shelled carvings and sculptural flowers that appear on Tuscan pillars, the bag is distinguished by a unique, curved shape that comes with a ruffle strap and a limited-edition BONIA x SCHA twilly scarf. It is available in five colours, including beige, black, green, light pink and white.
The Venice reedition has been given a crystalline makeover, featuring Swarovski crystals that embellish the entire mini satchel in alternating columns. Only ten pieces of the Crystal Venice Petite will be available worldwide. Meanwhile, the Camilla is given a modern revival from the 2002 archives with the use of crocodile-embossed leather. It comes in classic black and is accompanied by a matching "baby Camilla" accessory.
As for footwear, Scha's love for strappy designs is reinterpreted into a contemporary square-toed heel with curved and clean lines, slender cross straps and a calf leather insole. It comes in white, purple and black – perfect to pair with your Raya outfit.
Completing the collection are two silk scarves inspired by the sculptures of Giambologna. Available in coral or green, the scarves feature an abstract art print and a contrasting, elegant "Bonia X Scha Alyahya" inscription.
Take a closer look at the collection and campaign imagery lensed by photographer Chee Wei, set against the backdrop of a 90s sitcom, in the gallery below.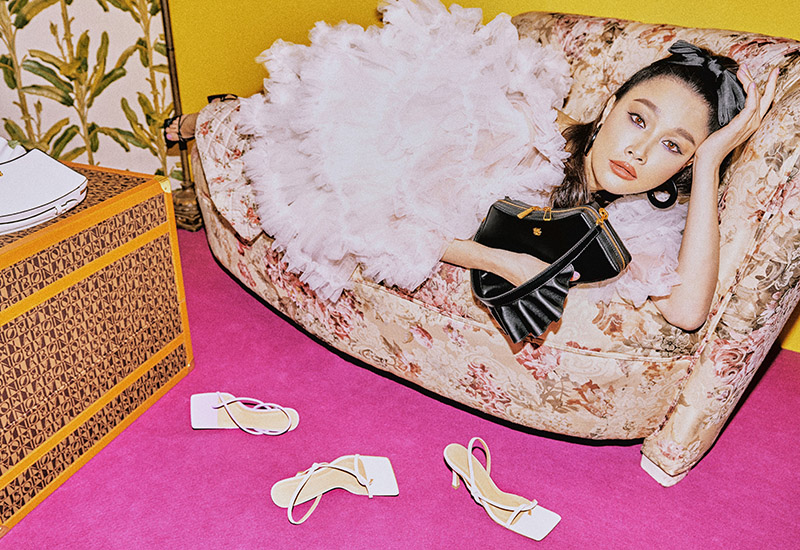 Scha carries the Adjani Shoulder Bag in Black, featured alongside the Raha Cross Strap Heels in White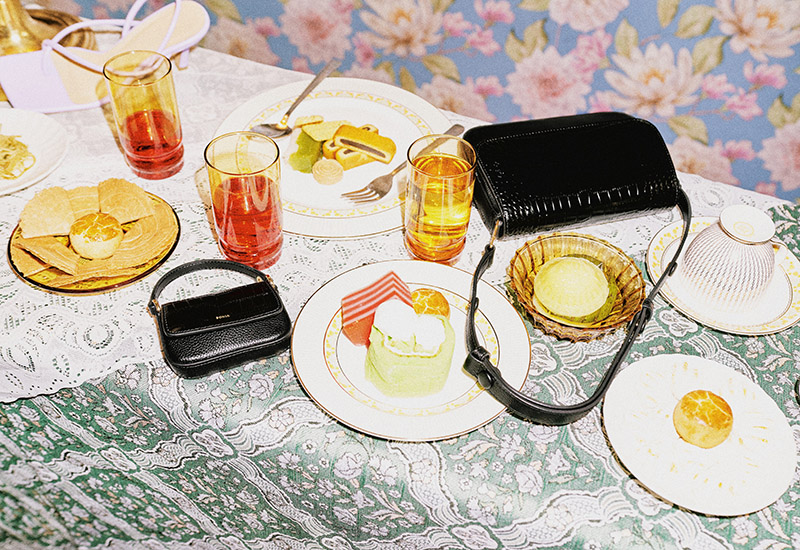 The BONIA X Scha Camilla Re-Edition in Crocodile Embossed Leather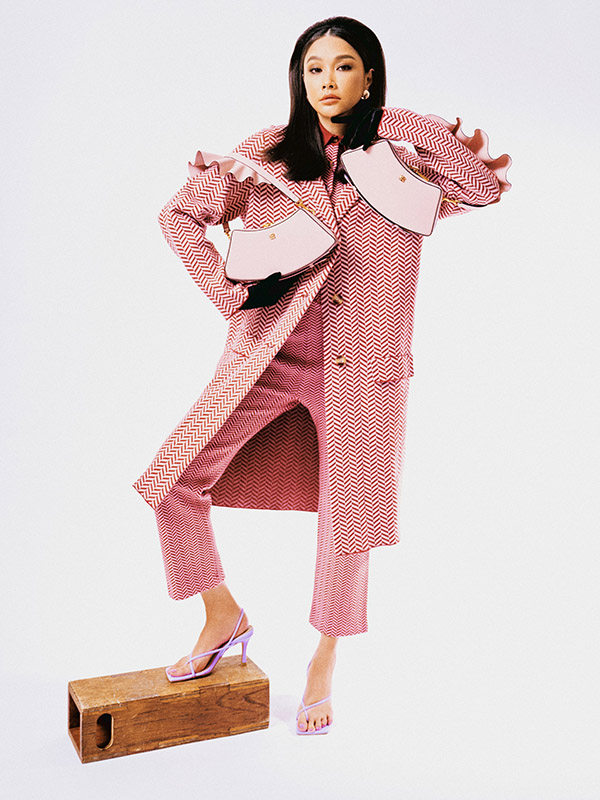 Scha dons the Adjani Shoulder Bag in Light Pink and the Scha Cross Strap Heels in Purple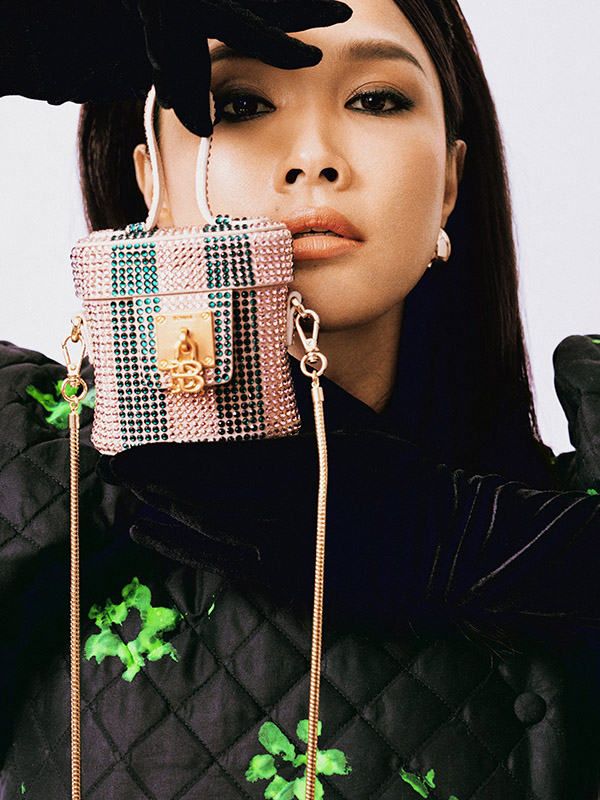 Scha poses with the Crystal Venice Petite bag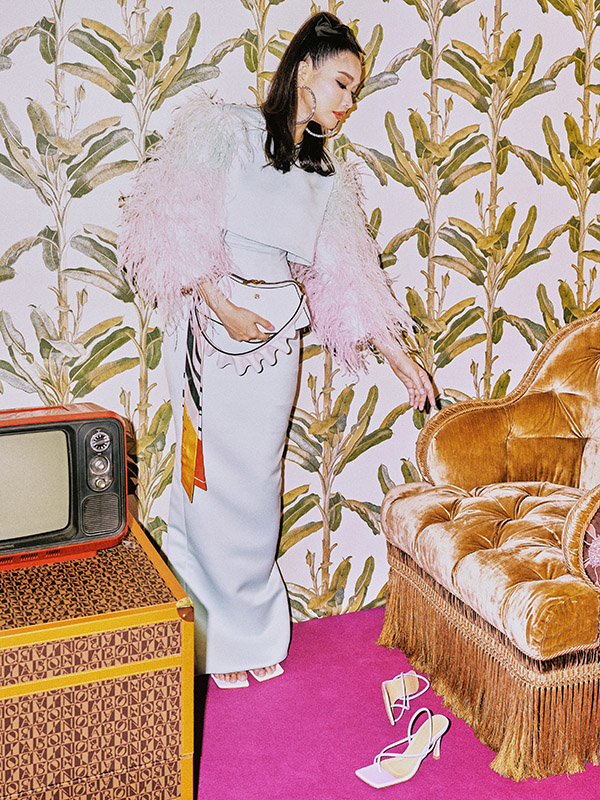 Scha carries the Adjani Shoulder Bag in White, pictured alongside the Raha Cross Strap Heels in White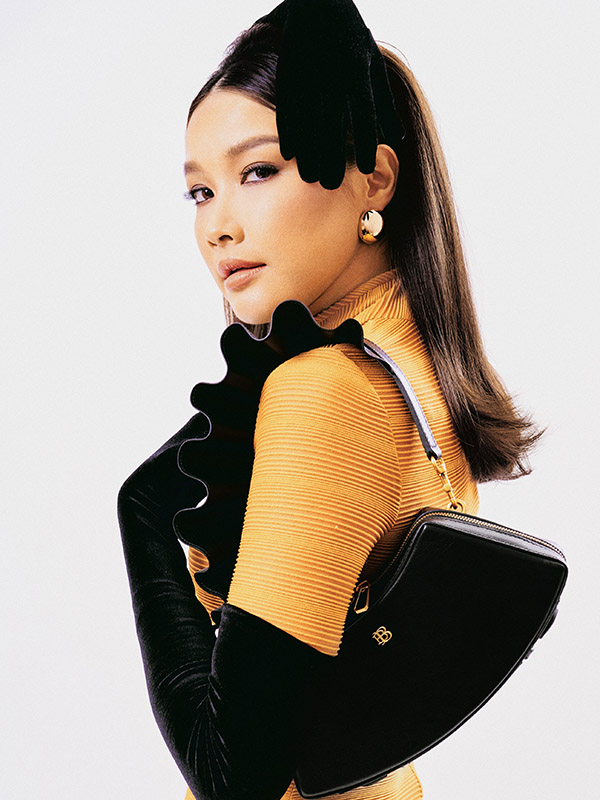 Scha carries the Adjani Shoulder Bag in Black
(swipe left for more photos)
The #BoniaxScha collection will be available in boutiques and online starting 19th April 2021.