A mixture of adrenaline and art-in-motion keeps the Ferrari fire blazing bright in the monotony of sedans and SUVs – yes, this one's a city slicker.
Following its 2015 debut at the Geneva Motor Show, the Ferrari GTC4Lusso has established itself as the marathon runner of the two variants.
Driving around Petaling Jaya at child-friendly speeds, we may not have been fully aware of that low growl (blame that on improved cabin insulation), but a series of turned heads and overly-courteous drivers serve as a reminder that we are, indeed, riding a blazing hot Ferrari. Oh, don't let the four-seater configuration distract you – Maranello's latest GT is propelled by the power of 680 horses, making it the most powerful in its segment.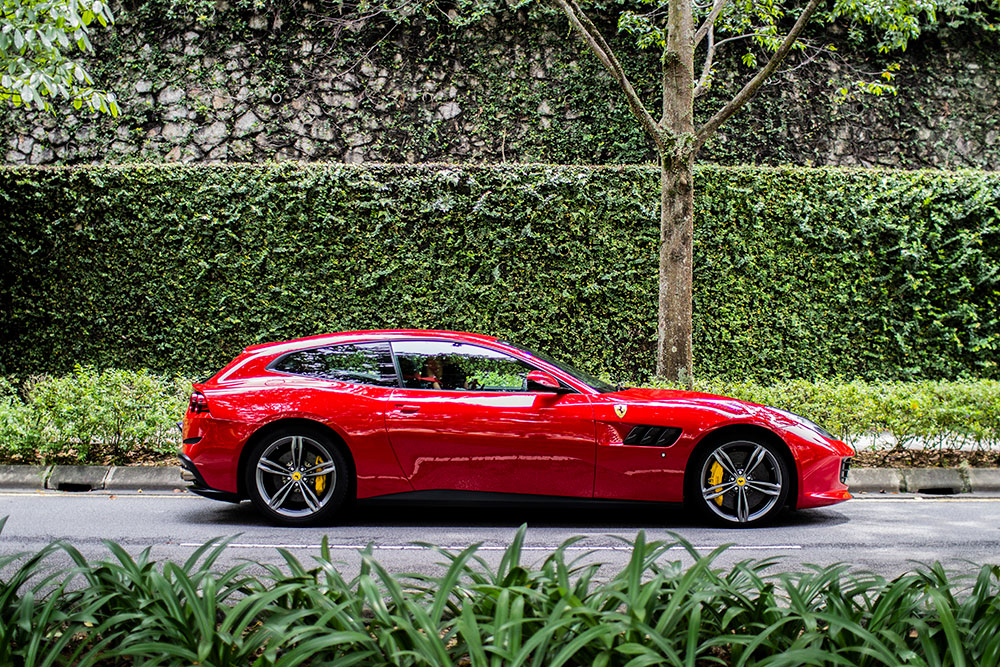 Despite all this power potential, we must say the Ferrari GTC4Lusso is an easy, comfortable drive. Comfort mode compares to your favourite Continental car, while sports mode is ever-ready for a daring streak down an empty track. Too low, too 'hard', too sensitive – none of these generic sports-car complaints are valid for this Prancing Horse.
Side bumpers are refreshed into single, smooth surface for better airflow, while the grille is centralised for efficient usage of pressure. Reduced internal pressure cuts drag and boosts down force, resulting in better grip and a driveability that every novice reviewer would appreciate.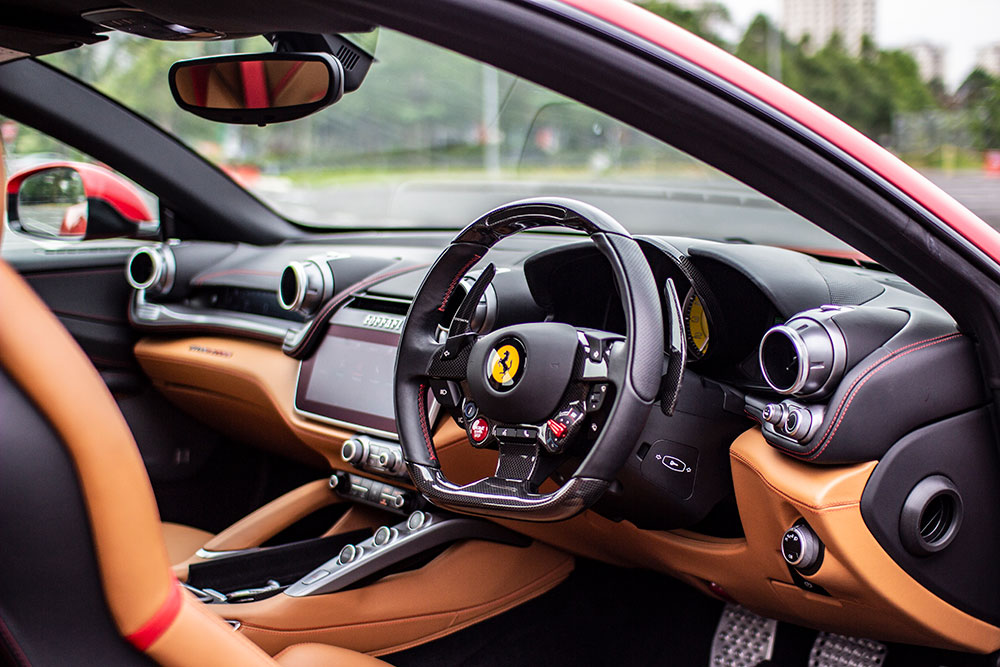 The fact that you can take it from 0-100 km/h in 3.4 seconds is like a naughty open secret, begging to be exposed. Yet, you never feel quite compelled to out of sheer comfort. We can vouch that it's as pleasant at 60 km/h as it is at 120 km/h, even if each offer succinctly diverse user experience.
Maximum torque is 697 Nm at 5,750 rpm, with 80% available at 1,750 rpm. Additionally, a patented Ferrari innovation called PTU delivers four-wheel drive while maintaining 53% weight at the rear. That's still 50% less than conventional 4WD systems, and the result is a delightfully responsive, intuitive ride, even at low revs.
In many ways, Ferrari GTC4Lusso is the fancy, all-grown-up FF. One of our qualms – and there aren't many – is the bonnet extends a little too far. Granted, it's housing a monstrous V12, but this places GTC4Lusso just short of proportion perfection – even then, it's something you quickly adapt to.
Belly of the beast, refined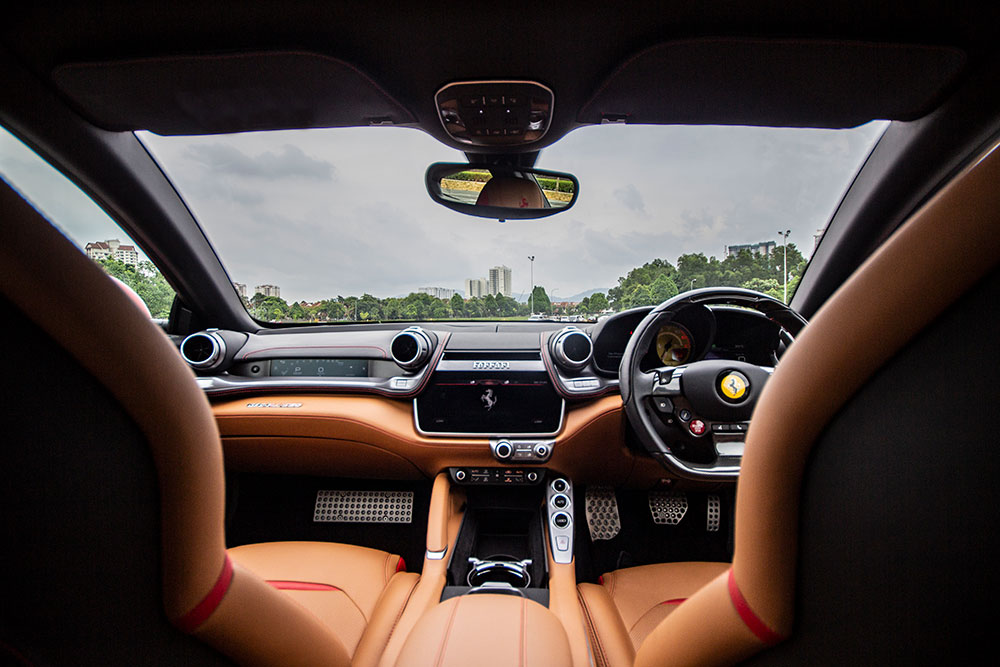 All bratty qualms are small trade-offs for the host of cabin and interior upgrades from the FF. Setting eyes and fingers on the multi-function sports steering resulted in love at first sight. Controls for lights, indicators, wipers, and modes are all just a palm's length away. This is not only organisational heaven, but a welcome de-cluttering of the infotainment deck.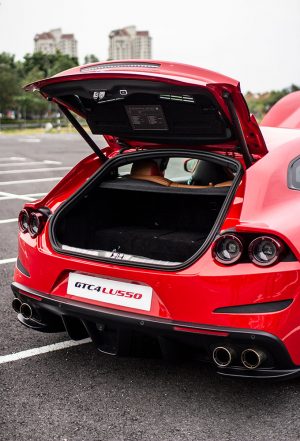 At the centre is a 10-inch, split-view touchscreen – a GT first – with accompanying passenger display. Passengers can even keep an eye on the rev counter from this small left screen. This is part of the new Dual Cockpit Architecture, which makes the drive all the more immersive and enjoyable for drivers and passengers.
The touchscreen itself allows you to easily connect to mobile, choose your tunes via Apple CarPlay or radio, and find your way with built-in satellite-navigation.
Gear sticks are nowhere to be seen, because there are paddle shifters. Need to reverse? There's a button for that. Park? You guessed it, just a push away. Neutral? Bring both paddle shifters towards yourself. In any case, the seven-speed F1 DCT transmission is something we'd only advise with confidence through practice.
The rear fit one happy adult on our drive, but Ferrari promises it can comfortably sit two. What's more impressive is the boot space created when the rear seats are flattened out.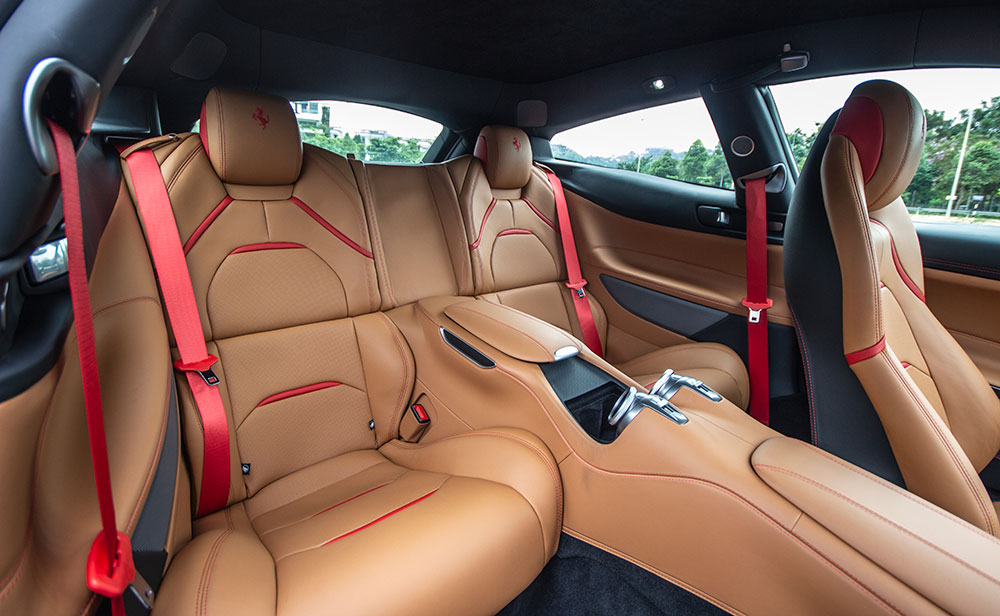 All these interior tweaks lend refreshed awe to improved emissions and drag coefficient figures – the GTs may be getting prettier, but Maranello is also building better machines.
It's like they say, the classics are hard to beat. Here is an Italian super car that's unabashedly powerful while maintaining a compelling balance through sophistication. It is this mixture of adrenaline and art-in-motion that keeps the Ferrari fire blazing bright in the monotony of sedans and SUVs.
Now, is that worth RM 1,158,000?* That's for you to decide.
Visit the official site for more, or call Naza Italia at 03-7956 8599 to book your test drive.
*before taxes, duties and customization (minimum RM 200,000)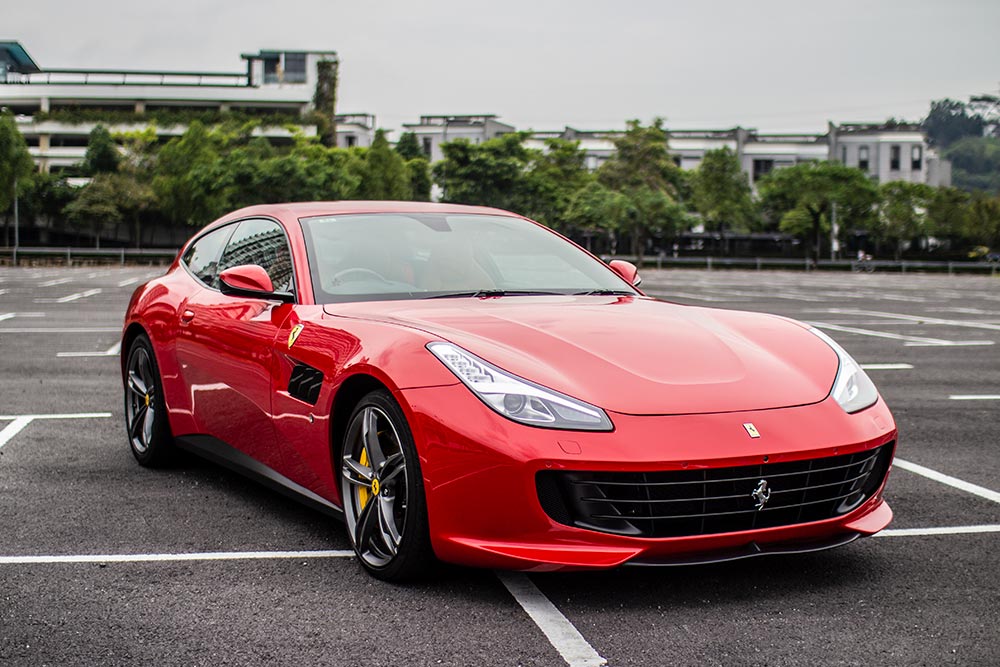 Photography & videography: Gan Yew Chin
Shot on location at Desa Park City, courtesy of Naza Italia