A major accident planted the seed for Fern Chua to learn batik, but it's far from the only obstacle that both challenged and fortified her journey as founder of FERN Batik.
Though rare, blessings can come in the most life-threatening disguises. Malaysian batik designer Fern Chua is living proof.
After a car accident rendered her left hand paralysed for six months, she was advised to pick up an activity that works on fine motor skills to rehabilitate movement in her fingers.
"At the time, I really thought about what I wanted to do in my life. It's interesting how you see things when you literally walk out of a tragedy that shook you," the mass communications graduate ponders.
She decided on sewing and later took a particular interest in batik. The hobby bloomed into a passion that has slowly, but surely, nursed her hand almost to full recovery.
But that accident happened a decade ago – and it's far from the only obstacle that both challenged and fortified her journey as founder of FERN Batik.
Thorns in the flesh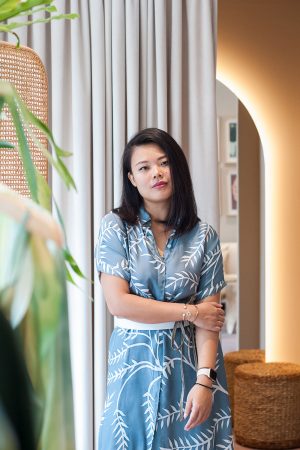 From a young age, Fern had always loved art and painting. She also developed a keen eye for the complexities of nature from her late father, who often brought home unique plants and rocks that he stumbled upon in the outdoors. A nature-lover himself, it's no wonder why his daughters were named after floral elements.
Like many of us, however, that childhood interest was brushed aside for a 'more stable' corporate career path in public relations and marketing.
It was a trip to Central Market post-accident, where she saw vendors selling batik and pseudo-batik products, that reignited her first love and drew her attention to the traditional art form.
"The Finnish have Marimekko and they're very proud of it, so I thought to myself, why are we not doing anything about this (batik)? Why is it so fixated on traditional wear? Why can't we modernise it?" she observes.
And so she took it upon herself to learn the art by visiting local artisans in Kelantan and Terengganu and attending (read: gate-crashing) batik showcases.
"I actually went into a battleship with myself," she recalls contemplating on whether to pursue formal education in fashion, "But I thought I could use that money to buy fabric and just figure things out on my own instead of going to a fashion school."
A few years later, she designed her first collection in collaboration with premium batik label Ruzz Gahara and subsequently won the first Fashion Pitch by MyCreative Ventures in 2013.
Alas – that achievement wasn't enough to merit her parents' approval to pursue a full-time career as a batik designer. Still, she was adamant to prove she could make a name for herself and went on to launch her namesake brand.
"It was quite an emotional journey for me to go through this path, from the trauma (of the accident) to facing the challenge to develop what I truly wanted and my parents not agreeing with what I wanted to do," she tells through misty eyes.
Upon sharing that she eventually received her father's blessing before he passed, she beams, "I never thought I would get this far. The pioneers that I looked up to, I'm proud to say that we're sitting together at the same table now."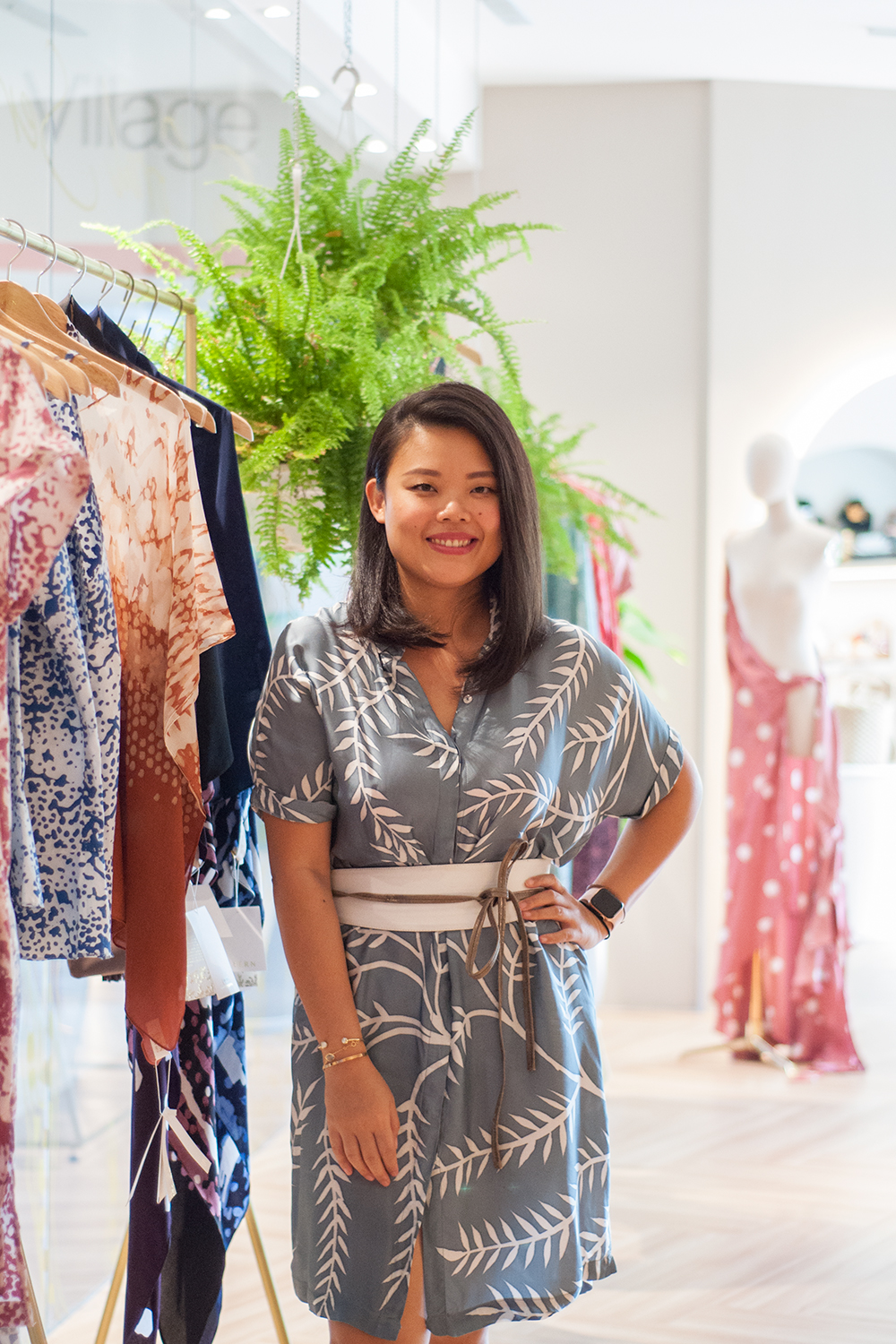 Planting 'The New Batik'
From the start, Fern knew she wanted her batik designs to be different. This required changing the public's misconception of batik really is.
"Batik is actually a technique of using wax to create resistance on the dye to create patterns. But some people see certain motifs and they think that's batik, but no, that's not necessarily the case," she points out.
The entire process begins with determining the print through a pattern-making trial, then determining the colours that would best compliment the print and house style. Once set, the actual painting and dyeing process ensues. These steps alone can take months to come to life before the final fabrics are treated and fashioned into wearable designs.
"The pioneers that I looked up to, I'm proud to say that we're sitting together at the same table now."
As Fern's house-style incorporates contemporary patterns and materials, getting suppliers to materialise her artwork onto fabric proved a challenge in itself. Her solution: set up her own studio.
"The best part about that is that I'm able to determine the prints, the colours, the placements and all the different elements exactly how I wanted it," she divulges. "For me, it's not just about being drawn to nature. There's a certain emotion attached to the prints as well."
She illustrates how her inaugural Kiso in Winter collection was inspired by her first experience of a snow blizzard in Japan; whereas her latest Coral Series immortalised the long-time diver's fascination of sea life on fabric, shedding light on its endangered status at the same time.
It's all embodied in her brand's tagline: 'A New Batik'.
"The idea is to move with time and demand but also preserve our tradition and stay true to the art. I'm not just looking at the traditional aspect of it but I (also) see it as a form of art to wear," she expounds.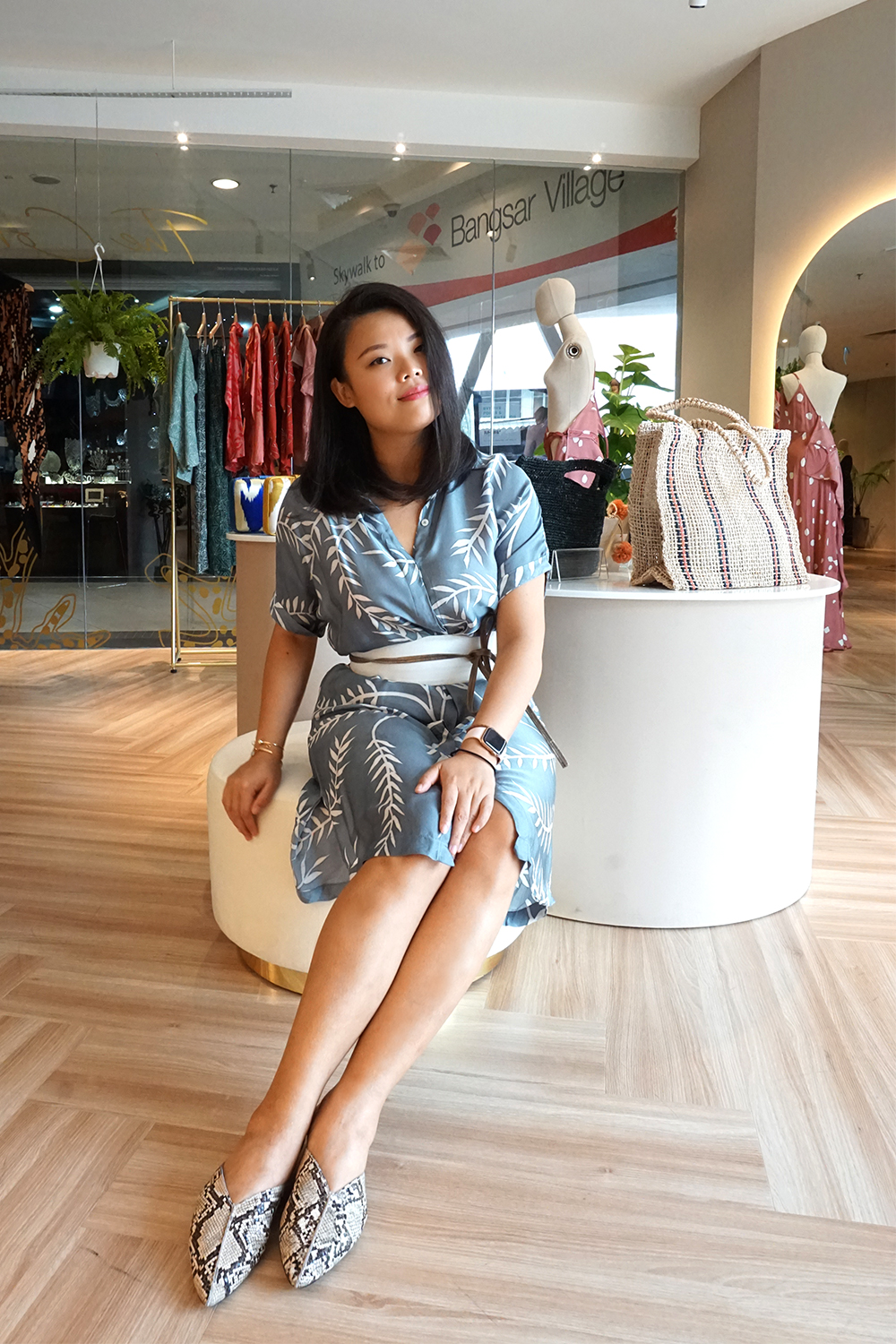 Watering the way for other artisans
Six years on today, Fern's weathered career as a batik designer has hit another milestone with the launch of FERN's first flagship store in Bangsar Village II.
Officiated by the Deputy Minister of Tourism, Arts and Culture (MOTAC), Yang Berhormat Muhammad Bakhtiar Wan Chik, last month, the new store features soft pastel hues spruced up with locally-inspired materials like rattan as well as lush greenery including – you guessed it – ferns.
"Because everything is handcrafted, we can't promise you the same pieces you see online. The colours and cuts may be similar but it's never exactly the same piece," she starts on the importance of establishing physical presence, "The brick-and-mortar store is really amazing because it allows us to show off one-of-a-kind pieces so clients who walk in can find a treasure."
She highlights the lounge area – the very spot of our interview – where customers can browse through lookbooks and materials to customise their own designs.
Besides her own collections, the store also carries bags, shoes and accessories from other local and regional artisanal brands, altogether making up the FERN Batik + Artisanal Collective.
"I realised that people wanted one-of-a-kind pieces and that isn't just limited to batik, but all forms of handicraft. Brands like Aranaz just match so well with my pieces, so why would I not want to help other artisans by giving them a platform to sell as well?" she divulges.
With that said, she's not in a rush to set up another store anytime soon. When asked why, she candidly replies, "I continuously question myself in terms of how true I want to stay to my brand and create pieces that draw international clients to Malaysia to buy as opposed to me setting up shop overseas. I'm still trying to figure it out."
For now, she's focused on what she does best: designing beautiful batik pieces that make people look good, feel good and share her love for the art, regardless of demographics.
"I feel blessed that my team is made out of so many different racial backgrounds…I like the idea of driving diversity and unity forward – that's what I stand for. I'm not trying to cater to just one market, I'm trying to cater to everyone."
For more information about FERN or to shop the collections, log on to the official website here or visit the store at Bangsar Village II.
Location: UGF-17A, Upper Ground Floor, Bangsar Village II, No. 2, Jalan Telawi 1, Bangsar Baru, 59100 Kuala Lumpur
Opening hours: 10am to 10pm
Photography: Anson Siau