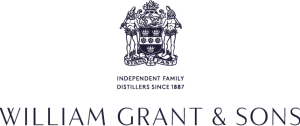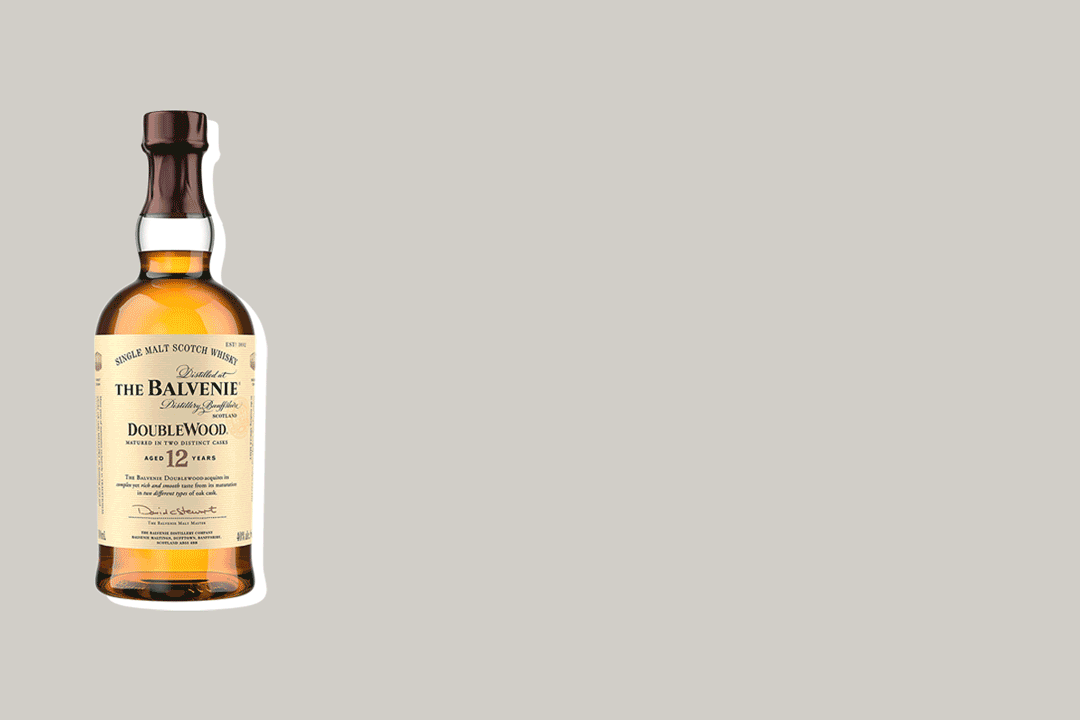 Whiskies and dads go hand in hand for more reasons than one. Both strong in spirit and the product of many life experiences and exchanges, many a father has bonded with their children over a solid drink, dissecting life lessons and inspirations in the warmest of ways.
Having said that, no two dads are alike, just as not all whiskies are crafted the same. He could be a man of little words or a generous hugger always encouraging you on. Similarly, he could prefer his whisky smooth and sweet or bold and brazen.
If you're eyeing a bottle of malt for dad this Father's Day but are unsure which, take this quiz and find out which will warm his heart.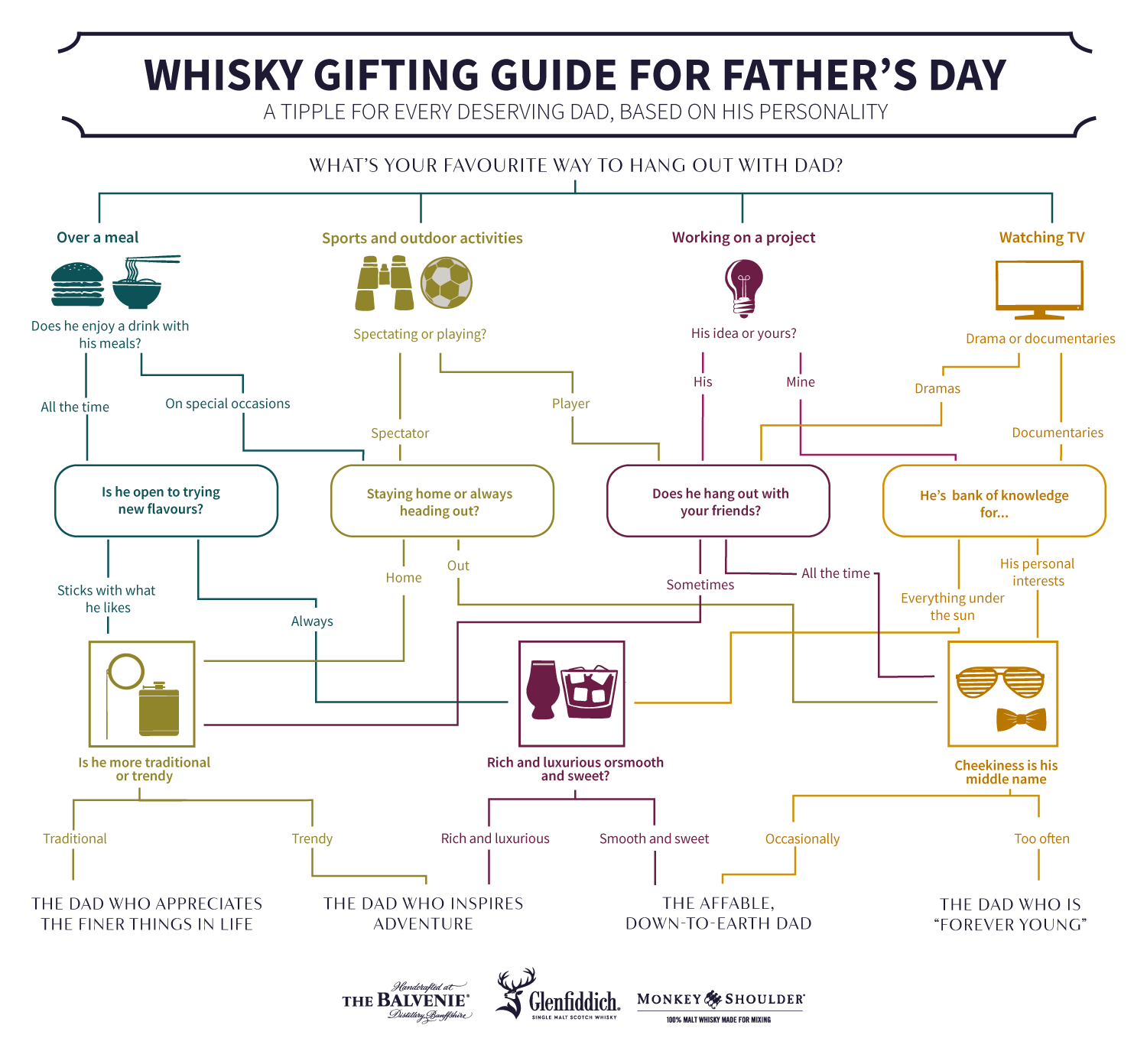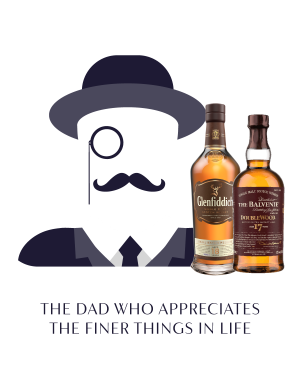 Over the years he's refined his palate and knows what he likes and will not settle for anything less.
We recommend the Glenfiddich 18 Year Old, a full-bodied single malt produced in small batches. Specialist on-site coopers personally look after every precious cask for this outstanding 18 year old single malt throughout its long maturation, ensuring the oak is in the best condition to imbue the whisky with its notes of baked apple, cinnamon and robust oak. Married for at least three months, the Glenfiddich 18 Year Old has a unique depth and complexity that has been acclaimed in the industry.
Alternatively, The Balvenie DoubleWood 17 year Old single malt whisky will also fit his fine tastes well. Malt Master David C. Stewart MBE returned to one of his most celebrated achievements – consecutive maturation in two different types of cask, a process often referred to as 'cask finishing' – that sees the whisky matured first in American oak barrels for soft sweet vanilla notes, before being transferred to European oak sherry casks that adds rich spicy flavours and a depth and fullness of flavour.
He is always exploring and experimenting with something new. Ever-ready to try something different with you, he is there with you every step of the way.
Take him on a journey with the Glenfiddich 15 Year Old which exemplifies The Glenfiddich's tradition of innovation with a technique pioneered by our Malt Master. Aged in European oak sherry casks and new oak casks, the whisky is mellowed in a unique Solera Vat, a large oak tun inspired by the sherry bodegas of Spain and Portugal. Never emptied and kept half full of whiskies since 1998, the Solera Vat is the secret behind this whisky becoming the first 15 year old expression to enter the top ten best selling single malts.
He'll also like The Balvenie Caribbean Cask 14 Year Old single malt whisky, matured in traditional oak whisky casks for 14 years, and then 'finished' in casks that previously held Caribbean rum. To create the ideal finish Malt Master David C. Stewart MBE filled American oak casks with his own blend of select West Indian rums. When ready, the rum was replaced with the 14 year old spirit and the wood adds the final touches. The result is an exceptional single malt whisky with the traditional smooth, honeyed character of The Balvenie.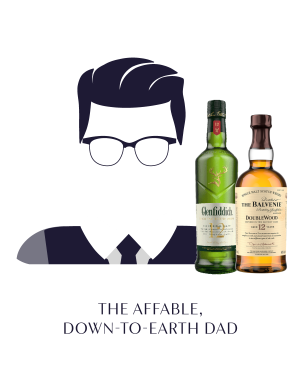 Quiet and thoughtful, he values simple luxuries over fancy gifts. He is always more than willing to roll up his sleeves to help get the job done well.
The Glenfiddich 12 Year Old is the Glenfiddich family's signature expression and the world's most awarded single malt Scotch whisky. Carefully matured in the finest American oak and European oak sherry casks for at least 12 years, it is mellowed in oak marrying tuns to create its sweet and subtle oak flavours. Creamy with a long, smooth and mellow finish, the 12 Year Old is the perfect example of Glenfiddich's unique Speyside style and is widely proclaimed the best dram in the valley.
The Balvenie DoubleWood 12  spent at least 12 years in traditional whisky casks, American Oak ex-bourbon barrels and hogsheads, before moved to Spanish oak ex-Oloroso sherry casks for an additional nine months. It gains its distinctive character from being matured in two different wood types. The traditional casks add delicate character, the sherry wood brings depth and fullness of flavour and the final few months in the tuns allow the whiskies to marry harmoniously.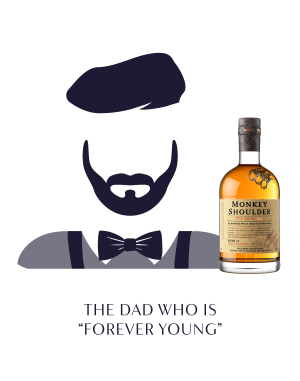 He's a best friend and team leader all rolled into one. Always a crowd favourite, he is the life and soul of any party or gathering – even your friends want to be his friend!
Just like the life of the party, Monkey Shoulder is made for mixing. It's the best gift for him to experiment with and enjoy in the company of those he loves most. Monkey Shoulder whisky is first made in small batches of different Speyside single malts before expertly blended then married together. The result is a whisky of immense richness and vibrancy. Combined with fruity aromas and mellow vanilla notes, it is a whisky with a playful attitude and commitment to the unconventional for a new generation of whisky drinkers.