Over the weekend, Facebook launched the first product to come out of their partnership with EssilorLuxottica: smart glasses that lets you take calls, listen to music, capture photos and record videos without having to reach for your phone.
Introduced as Ray-Ban Stories, these internet-connected frames are designed to change the way we capture and save life's moments, with dual integrated 5MP cameras that takes photos and records videos of up to 30-seconds from a first-person point of view. Utilising beamforming technology and a background noise suppression algorithm, the open-ear speakers with a three-microphone audio array is a feature that provides the user a rich, high quality voice and sound experience that can rival that of dedicated headphones.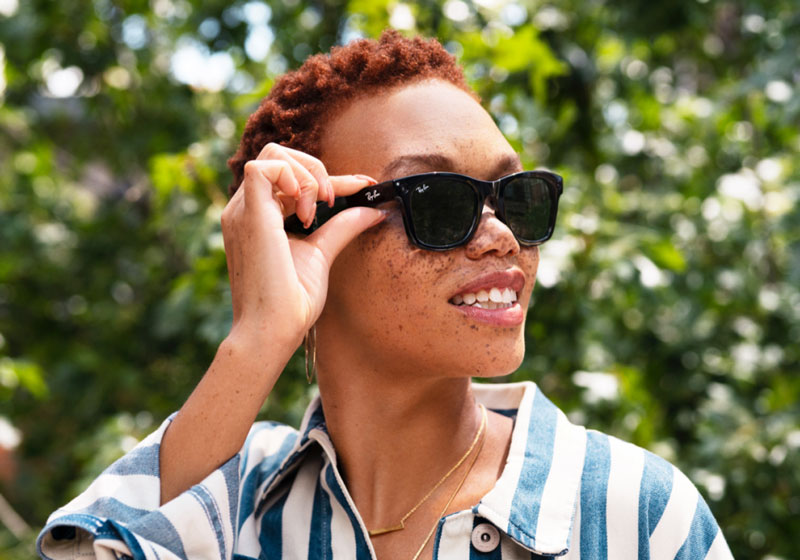 While forerunners in smart glasses technology such as the 2013's Google Glass were ridiculed for their ability to make the wearer look pretentious and dorky at the same time, the Ray-Ban Stories come in the form of Ray-Ban's most popular styles such as Wayfarer and Meteor, in a range of colours and lens options like clear, sun and prescription.
To make the most use out of Ray-Ban Stories, owners of the high tech eyewear will need to download the new Facebook View app on their phone, which provides a streamlined avenue through which they can import, edit and share content recorded onto Facebook, Instagram, WhatsApp, Twitter, TikTok, and more. 
With this many functions fitted into such a small-sized accessory, it comes as no surprise the smart glasses also require regular recharging, which might dissuade those who already have a full roster of devices that are charged daily. However, the portable charging glasses case that comes with the Ray-Ban Stories provides a solution for wearers on the go, with a fully charging case offering three extra consecutive days of glasses use.
Fashion-forward tech, or privacy invading spy-gadget?
Reactions to Facebook and Ray-Bans' collaborative release were, on the other hand, mixed. Many cited Facebook's past of overstepping in issues of privacy and failures in protecting user information, and expressed worries that this new crossover into eyewear technology will be an extension of the company's unsolicited surveillance. 
Given that the glasses were designed to resemble ordinary, non-futuristic spectacles, criticisms have emerged about the potential problems involved in filming and taking pictures of others without their knowledge or consent. 
Likely anticipating this, Facebook pre-emptively highlighted Ray-Ban Stories' privacy features, which include photo and video encryption as well as an LED light that turns on when recording or capturing photos, so that people nearby are notified. Nevertheless, some have argued that this action does not go far enough, noting that the LED lights can very easily be taped over, negating the privacy feature's function.  
Ray-Ban Stories will be available online and in select retail stores in the US, Australia, Canada, Italy, Ireland and the UK.