Nearly three years has passed since the divisive finale of the HBO American fantasy drama series, Game of Thrones. But for those who can't get over the pop culture phenomenon, Faberge has recently hatched a bejewelled Dragon Egg in commemoration of the 10th anniversary of the beloved series.
The iconic Russian jeweller's new "egg objet" collectible is inspired by Daenerys Targaryen (Emilia Clarke), also known as the Mother of Dragons herself. (Warning: minor spoilers ahead.)
Co-designed by Liisa Tallgren and Michele Clapton, the Emmy® and BAFTA® award-winning costume designer behind the eight-season saga, this one-off work of art is meticulously crafted to resemble the eggs that birthed Daenerys' famous dragons.
Marrying the brand's superior craftsmanship with the artistic ingenuity of the hit TV series, the resulting bespoke masterpiece is the jewel of the crown any diehard fan would dream of owning – if they had US$2.2 million to spare.
Made of 18k white gold encrusted with diamonds and rainbow moonstones, the egg sits atop a crystalline lattice base that mimics a dragon's scaled tail. The shell itself is formed by three interlocking wings that open to unveil a ruby dragon guarding a "secret gift" – a miniature crown for the would-be heir to the Iron Throne, featuring a responsibly sourced pear-cut Mozambique ruby.
"I knew instantly what the secret gift should be, there was never a doubt; it had to be the crown that Daenerys believed throughout her life was her destiny. With the crown, I referenced her dragons, their wings sweeping around protecting the beautiful Gemfields ruby that represents Daenerys, her house colour, and her fierce quest to rule," Michele Clapton said in a statement.
"Rarely has a story captured the imagination of so many people around the world, and this one-off piece is a once-in-a-lifetime collector's item," added Josina von dem Bussche-Kessell, Global Sales & Business Development Director at Fabergé. "The partnership with Warner Bros. and Michele Clapton showcases Fabergé's relevance today by encapsulating the 'Zeitgeist' of storytelling and artistry."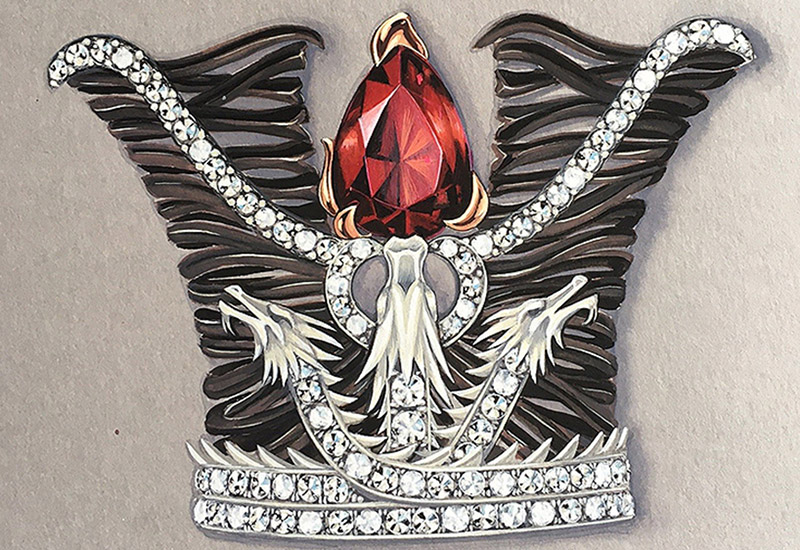 Indeed, what better way to celebrate the Iron Anniversary of the storied battle for the Iron Throne than with an Imperial Class Fabergé Game of Thrones Egg?
Those interested to purchase the collectible masterpiece can direct their sales enquiries to the Fabergé 'By Appointment' team via sales@faberge.com. For more information, log on to the official website here.