One of the most revolutionary features of the latest iPhone will be its Face ID security system, which may either complement the existing Touch ID or replace it altogether.
It's not uncommon that we hear rumours or leaks about a new phone, especially as it gets closer to its launch date (hint, hint). With the latest iPhone, however, we're actually getting the biggest 'leaks' from Apple themselves, so what you're about to read is highly likely to be the characteristics of Apple's next flagship gamechanger.
Thanks to developers Guilherme Rambo and Steve Troughton-Smith who translated Apple's HomePod firmware codes into plain English, here are the 5 biggest leaks of the new iPhone (codename: D22).
Face ID security system
I can confirm reports that HomePod's firmware reveals the existence of upcoming iPhone's infra-red face unlock in BiometricKit and elsewhere pic.twitter.com/yLsgCx7OTZ

— Steve T-S (@stroughtonsmith) July 31, 2017

One of the most revolutionary features of the latest iPhone will be its Face ID security system, which may either complement the existing Touch ID or replace it altogether (more evidence points to the latter). According to Troughton-Smith's deductions, the new system, codenamed Pearl ID, will use infrared technology to detect multiple points of your face from different angles, which works even in low-light conditions. Rambo also tweeted to confirm that the unlocking mechanism will be used for Apple Pay. While its closest competitor, the Samsung Galaxy S8 and S8+, already has a facial recognition and iris scanner security system, this could be a compelling factor for Apple fans to get an upgrade.
New design, minus the bezel
Me too. New bezel-less form factor as well pic.twitter.com/Y0RrSOk2OO

— Guilherme Rambo (@_inside) July 31, 2017
Edge-to-edge displays seem to be the new thing in the smartphone market, and Apple is quick to jump on the bandwagon this time. Rambo discovered an iPhone icon inside the HomePod firmware, showing a bezel-less display with a camera notch at the top.
Home button goes digital
Along with the new design, there will no longer be a physical home button but a virtual one to navigate the phone. Apparently, the "home indicator" will appear only when you need it, together with other shortcuts at the bottom of the screen.
Tap to unlock screen
Apple fans may need to get used to the absence of the home button, but that shouldn't be a big problem  as there will be a tap-to-wake function to unlock the screen in a resting position. Though not an unheard of feature (Android fans have been enjoying it for years), we think it will prove convenient to iPhone users.
Larger screen resolution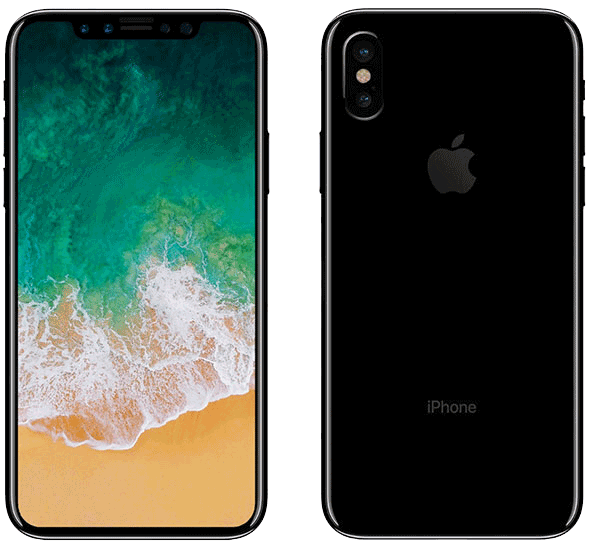 When Apple first introduced the Retina Display on the iPhone 4, it propelled the company to fame and probably sealed its place as a smartphone giant. Unfortunately, their rivals have gone far beyond that since then, and Apple is finally keeping up this year with its new iPhone. Troughton-Smith believes Apple will amp up its Retina Display with a larger resolution of 1125 x 2436 and 521 ppi pixel density, significantly higher than the 750 x 1334 and 1080 x 1920 resolutions in the iPhone 7 and 7 Plus, respectively.
Launch date?
Aside from the five major leaks above, analysts have identified an important clue as to when the new iPhone/D22 will be released. Apple's sales forecast includes a huge spike in its fourth quarter (ending September), which indicates a big sales jump prediction before October. This could best be explained by the launch of the iPhone 8 or D22, though likely in limited stock due to reported shortage of certain components.
Images: Courtesy of iDrop News