A guide to understanding the types of watch enamels you previously dismissed for sounding too complicated.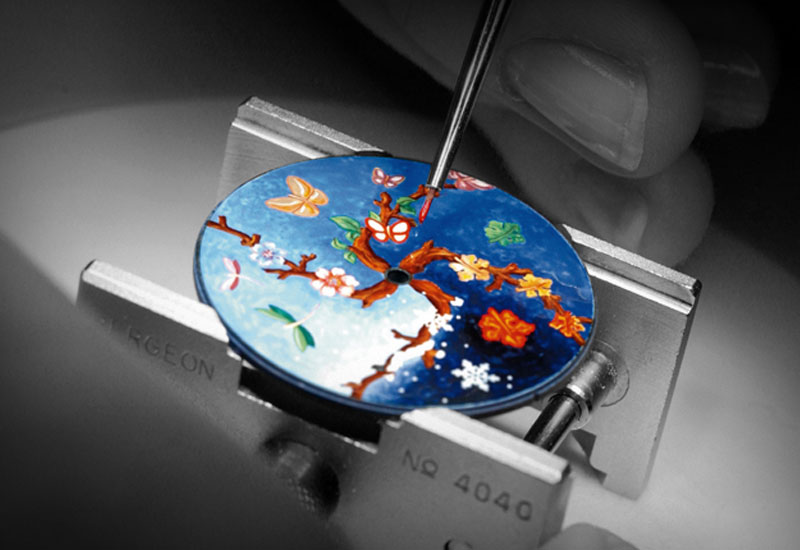 Invented by oriental craftsmen 4,000 years ago, the art of enamelling involves a soft glass made of silica, red lead, and soda. When mixed and heated with iron, chromium, or other elements, the resulting liquid appears in intense colours. This enamel is then applied to watch dials using a goose quill in a lengthy, delicate process.
Artists create all sorts of enamels by experimenting with various silica and metal oxides. That's why it is revered as an art form in the world of fine watches – it takes skill, patience, and a critical eye for detail to mould the volatile substance on such minute surfaces. Ulysee Nardin's Patrik Hoffman explains the appeal of enameling succinctly, "In the case of enameling work, where everything is handmade, it's true value, and today serious consumers are out for true value."
Exclusive and elegant, enamelling is practised in a few different forms.
Grand feu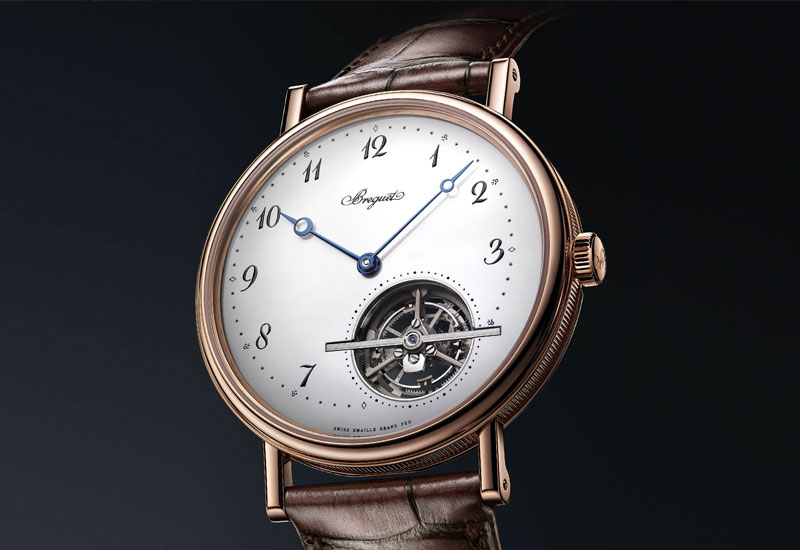 Literally translating into 'Great Fire', this enamelling starts with coating copper plates in layers of oxides. Then, the dials are heated in a large oven at 800-900℃ to bind the enamel to the disc. This process is repeated until several layers of enamel create the desired thickness and finish.
A large flame erupts in the oven each time the alcohol burns off, which explains how this technique got its name. Only then are the dials sent for marking – a delicate process that requires separate firing for every colour applied.
Cloisonné
Look closely at the outline of this ship, or rooster. Notice its solid, 3D borders? That's the mark of a cloisonné enamel ('cloison' being French for compartment). These segments are outlined by soldering or adhering wires as thin as human hair to their edges, relying only on pliers and a steady hand.
The artist can then colour the compartments in different enamels or inlays before it is fired in a kiln. Each piece is finished and polished to perfection, and we end up with gorgeous pieces boasting detailed dimension and depth.
Champlevé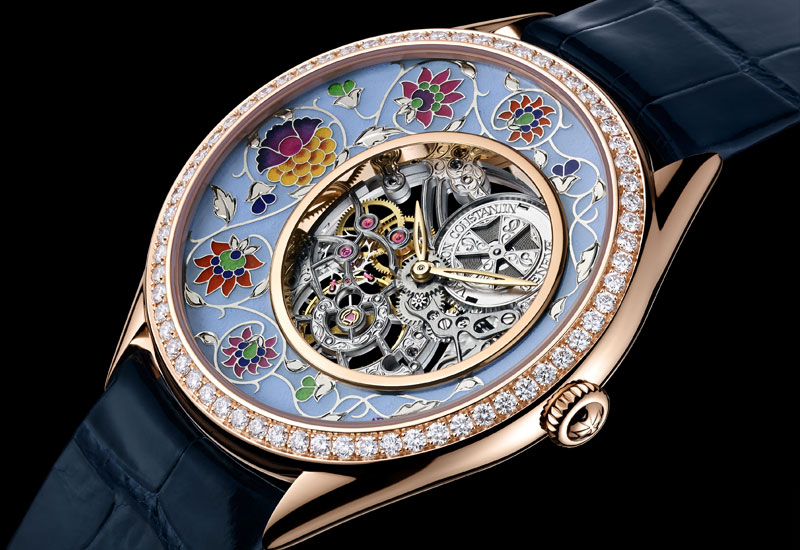 Like cloisonné, the champlevé method artfully segments a dial. Unlike cloisonné, champlevé achieves this by first carving a metal dial. These spaces are then filled in with enamel, fired to melting point, then cooled and polished. The resulting effect is colourful or patterned raised fields (that's what champlevé means), with the uncarved portion framing various enamel designs.
Paillonné
Ever wondered how certain dials seem to shine with such steely luminosity? That's actually thanks to a single piece of foil separating layers of enamel. The transparency of the enamel allows the foil to shimmer through, creating the perfect backdrop.
In the short clip we see a variation of this technique by Jaquet Droz, which applies decorative paillons (foils) to the dial instead of layering enamel with them.
Flinqué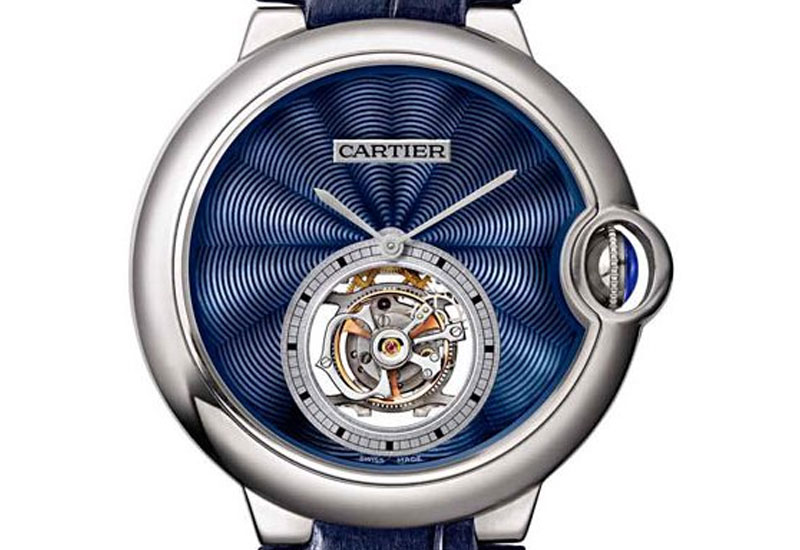 Key to this enameling technique is its metal base, which is first engraved to specific design. The enamel is applied directly on this sheet with a quill pen or brush; this process is repeated for a minimum of four times. After each layer, the dial goes into the oven at high temperature.
Grisaille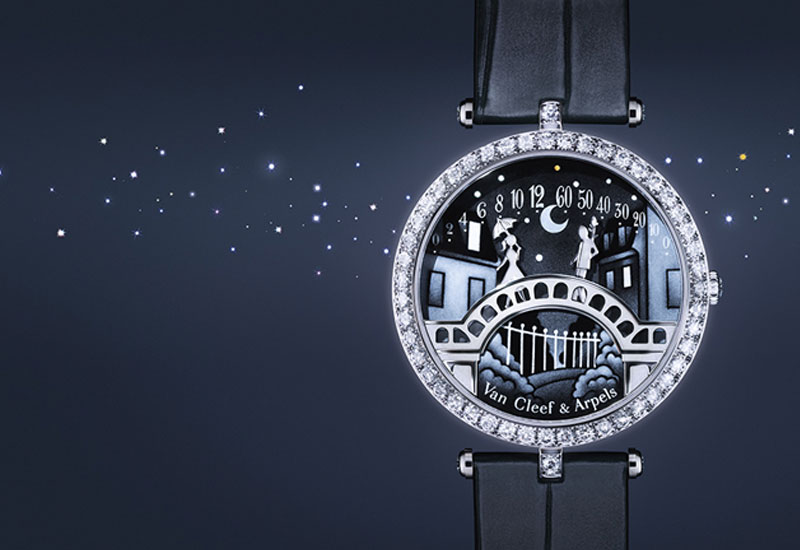 Likely the newest of the lot is this process developed for Van Cleef & Arpels, which capitalises on contrast of white pigments against a black background. It starts off with a layer of deep, black enamel. It should be pure and solid enough to withstand multiple firings.
Then, the white paint (Blanc de Limoges) is applied on this background to create the desired effect. Thin layers produce grayish hues, while thicker white paint is used for elements meant to stand out. What's special about grisaille is that enamel is first applied with brush, then drawn with a needle. This deepens the contrast with subtle plays of light and shadow. Finally, a little fire reveals the magic of the dial as a complete yet oh-so-mysterious picture.
Images courtesy of respective watchmakers.
See more enameling: 8 watches to have on your wrist this Year of the Dog