The Martell Noblige Swift Nights club takeovers are back! From 29 September to 10 November 2023, seven high-energy clubs across Malaysia will be transformed, showcasing a neon-lit fusion of music, fashion and dance.
As strong believers in enabling cultural architects, Maison Martell has launched the Martell Noblige Swift Talent Quest to elevate local talents in creative fields to the grand stage. With that, they are partnering with DJs Playground, Malaysia's pioneer DJ Certified Academy for 2023 to identify and nurture budding DJs who exemplify the Martell Spirit of "Soar Beyond the Expected".
If you want to check out the up-and-coming DJs, 14 top-notch DJs have been shortlisted for preliminary rounds. Their talents will be on display at the Martell Noblige Swift Nights. It'll be your chance to cast your vote and choose the 8 DJs who will spin at the grand finals on 18 November 2023. The first night will be kicking off tomorrow, 29 September at Chateau de Canter, Sky Forest @ 1Powerhouse. There will be club takeover nights every Friday until 10 November all over Malaysia. The Martell Noblige Swift Nights schedule is as follows:
29 September in Petaling Jaya: Chateau de Canter, Sky Forest @ 1Powerhouse
6 October in Johor Bahru: Onle Club
13 October in Kuala Lumpur: Las Vegas Club
20 October in Kuala Lumpur: Supernova Club
27 October in Kuala Lumpur: Millennium Club
3 November in Johor Bahru: Route 66
10 November in Penang: Midnight Black
The winning DJ will not only dazzle alongside esteemed DJs at select Swift Nights events, but will also play a set at a major, much-anticipated Martell Noblige music event this November.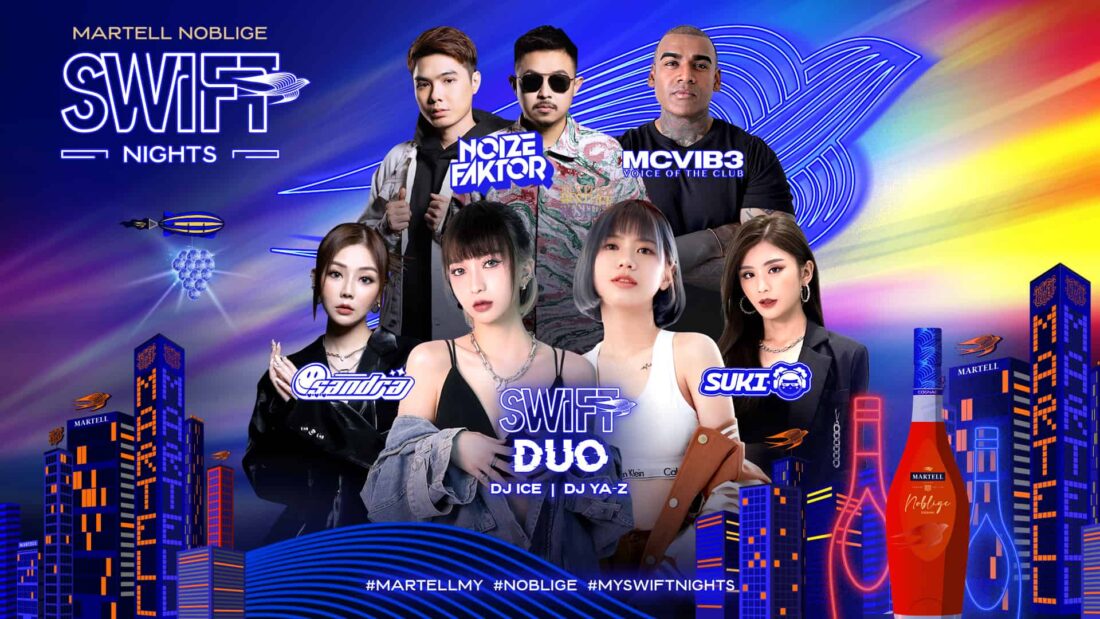 At these events, Martell's dedication to nurturing local talent and supporting the Malaysian music scene will be highlighted on stage. Starting with the introduction of "SWIFT DUO" featuring DJ Ya-Z and DJ Ice. The homegrown dynamic duo will share the limelight with fellow local luminaries such as NoizeFaktor, DJ Sandra, DJ Suki, and MC Vibe.
For those who are curious about the art of sound mixing, the Swift DJ Experience in collaboration with DJs Playground offers a hands-on DJ-ing session off-stage, giving you the chance to step behind the decks and try your hand at creating your own sonic landscape.
Of course, what would a club night be without the right drinks to imbibe! The Martell Noblige Swift Nights will also feature Martell-inspired gastronomic delights, named 'Swift Your Taste' to sample Martell's audacious spirit in unexpected ways.
For more details, visit swiftnights.martell.com.
Photos by Martell.