Paris Fashion Week has just begun, and the runway has already seen the likes of Saint Laurent, Balmain, The Row and more. But the one Maison everyone looks forward to is Dior and what Maria Grazia Chiuri, the Creative Director of Dior's women's lines, will bring. 
Dior's Spring-Summer 2023 ready-to-wear collection takes inspiration from various muses. The map of Paris and Catherine de Medici, a woman who ruled in the 16th century are what drew Maria in. Catherine in particular fascinates Maria because of how smart she was and the fact that she brought iconic fashion to royal manufacturers like heels, corsets and Burano lace. Hence, the new collection features these details as a homage to the powerful ruler. 
Hoop skirts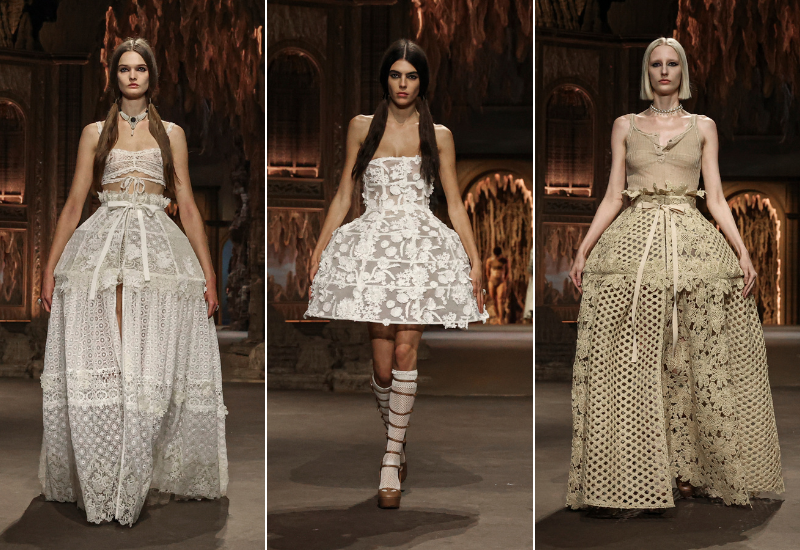 In true Renaissance fashion, hoop skirts were seen on some looks throughout the runway. The short hoop dresses were unique, one featuring prints of lace while the other was a beautiful white floral piece. But the hoops draped with long dresses were the ones that caught everyone's eye, as it displays every intricate detail on the trail. 
Baroque-goth
Baroque fashion is known for bright colours of cream, sky blue and lilac even. But Dior is always reinventing and trying new things which is why Maria Grazia Chiuri used darker tones for the baroque designs. Featuring dresses and skirts of black on black lace alongside a gown of black, white and gold lacing, the pieces were paired with below-the-knee socks and black heels.
Map of Paris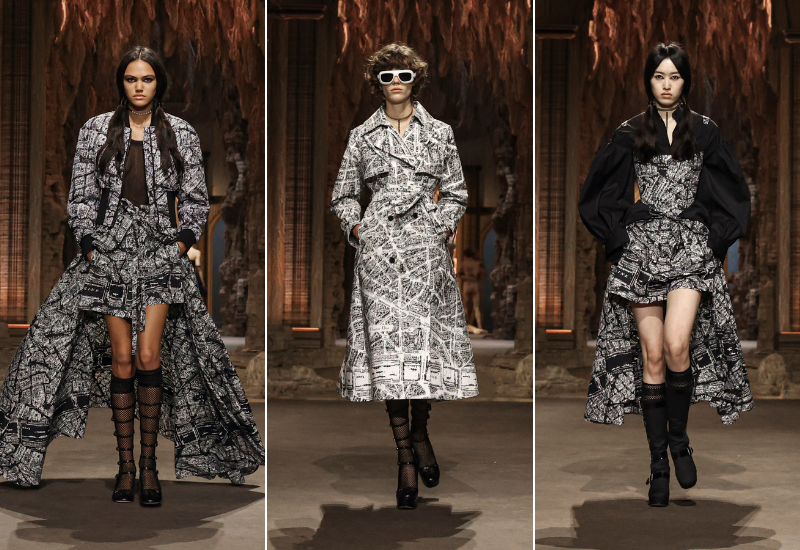 Another thing that served as a muse for Maria Grazia Chiuri was the map of Paris, more specifically Avenue Montaigne, which she also printed on a Dior scarf in the early 1950s. The map appears as a distinctive print from afar before you actually realise it's a map from near. From coats to high-low dresses and skirts, two hue variations of bright and dark are seen on the catwalk.
Blooms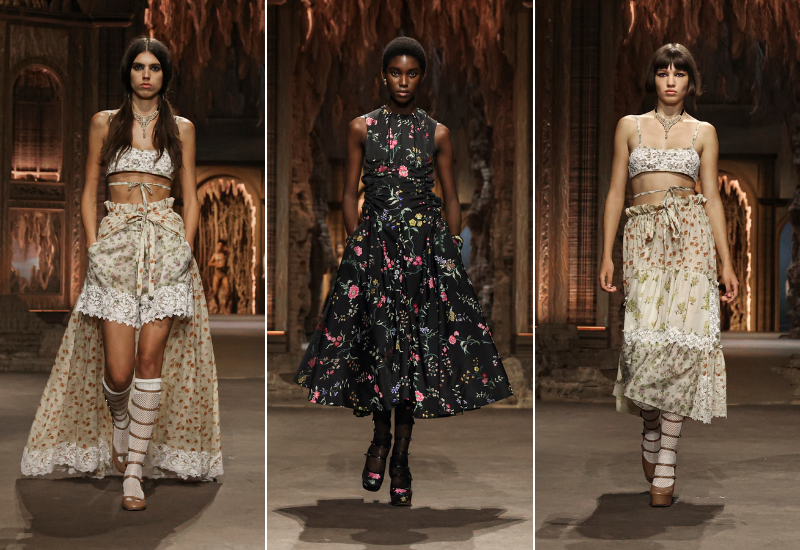 Dior did not forget florals for its Spring-Summer 2023 ready-to-wear collection and the runway was filled with them. Colours sprawl across a canvas of black as the flowers grew to life, while white pieces got smaller prints with faded tones. Featured in a wide array of tops, shorts, skirts and dresses, they make for the perfect summer fits. 
Watch the Dior Spring-Summer 2023 show below:
Photos by Dior.