The Dior Lady Art collection is back with its sixth installation, and it's a visual feast you won't want to miss. 
This year, twelve talented artists brought their unique perspectives and abilities to the table, reinventing and transforming the iconic Lady Dior into a new creation. The renowned group of international artists hailed from countries like Saudi Arabia, Korea, Ireland, China and more, attesting to the beloved bag's timelessness that transcends borders and cultures. 
More exciting news for those hoping to get their hands on the new pieces: the limited edition Dior Lady Art #6 launches in Dior Pavilion Kuala Lumpur on 6th Jan 2022.
In the meantime, swipe below for a look at the 12 new Dior Lady Art #6 creations and the artists behind them.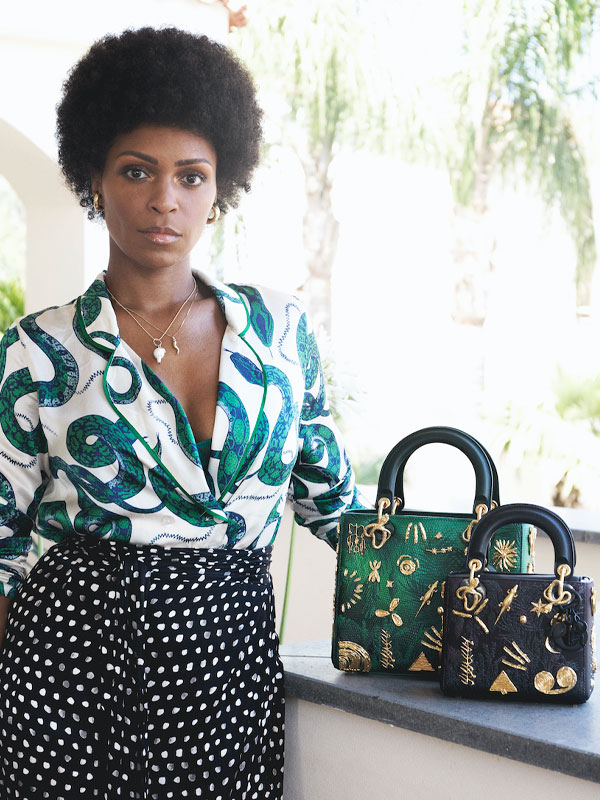 Lina Iris Viktor
Lina Iris Viktor
With a multidisciplinary approach that combines ancient and contemporary arts, British-Liberian conceptual artist, painter, and performer Lina Iris Viktor seeks to question the symbolic, socio-political and philosophical meaning of the colours black and gold. Named 'Constellations' after her own artwork, her reimagining of the Lady Dior takes the forms of a starry sky and a lush landscape, embellished with handmade gold metal elements. These unique gilded talismans point to the rich histories and sacred rites within African, Egyptian, aboriginal, pre-Columbian cultures.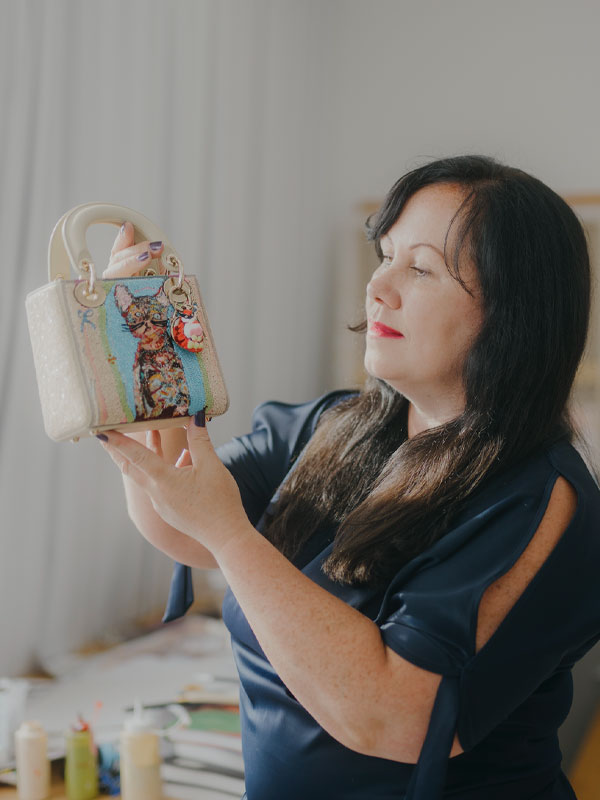 Genieve Figgis
Genieve Figgis
Irish artist Genieve Figgis' draws inspiration from Ensor, Boucher and Fragonard in her works, infusing her brand of emphatic comedy and tragic decay into 18th-century painting aesthetics. Her three Dior creations are ethically made with grape leather, and feature intriguing imagery such as a cat deformed by pearl embroidery and a scene where animals and humans in period attire coexist in a colourful, disintegrating group shot.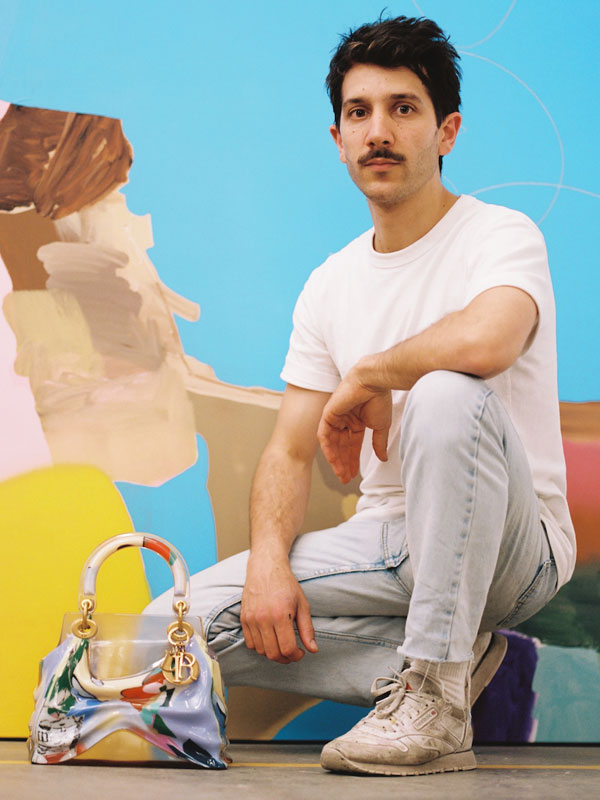 Antonin Hako
Antonin Hako
Multidisciplinary artist Antonin Hako reinterprets the Lady Dior as 'a bag in flight' that represents a poetic mirage where infinite possibilities lay. The French artist's style is characterised by bright colours and free flowing forms, which is thoroughly reflected in this translucent resin creation. Draped in a colourful rolling 3D-printed overlay, the bag's solid glass-like material interacts with the pigments and graphic lines to create ethereal curves.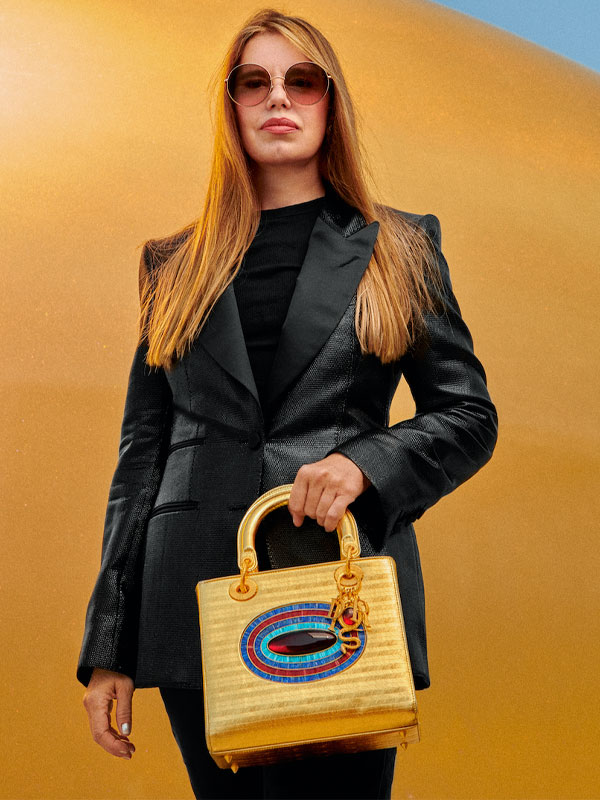 Gisela Colón
Gisela Colón
With a stylistic approach that mixes geometric and organic forms, LA-based artist Gisela Colón brings her hypnotic art language to the Lady Dior once again. The gold handbag she created celebrates the splendour of Egypt and its vastly rich heritage, mimicking a royal sarcophagus. At its centre, a garnet Eye of Udjat, deeply associated with ancient Egypt, sits surrounded by semi-precious stones, reminiscent of those adorning famous pharaohs and queens.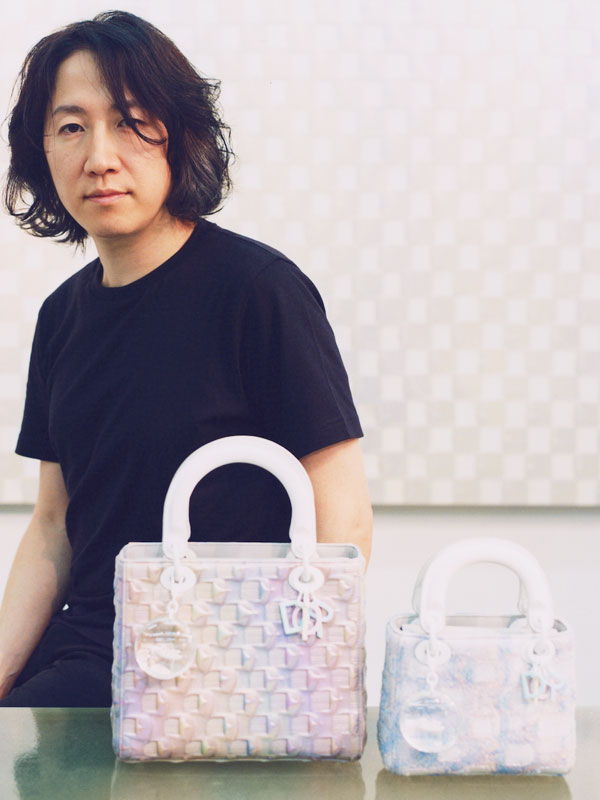 Daisuke Ohba
Daisuke Ohba
Using his own works as inspiration, Tokyo-based artist Daisuke Ohba transforms a series of Lady Dior bags with his signature holographic effects and hypnotic illusions. As a result, the colours of the textured surfaces move and shift depending on the viewer's position. One bag features a digital charm that further adds to the light effects, while others sport an elliptic snowdome with a Dior ship floating inside.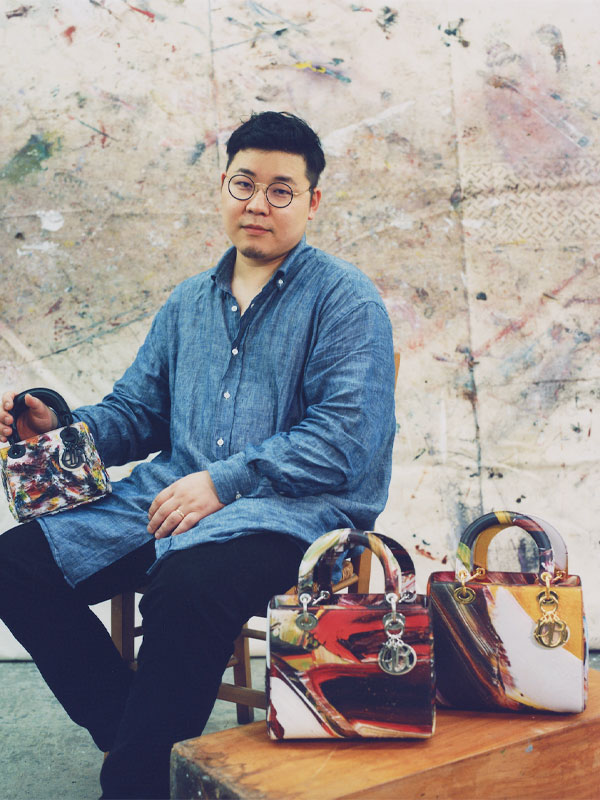 Yukimasa Ida
Yukimasa Ida
Japanese artist Yukimasa Ida's works are inspired by the concept, 'Ichi-go Ichi-e', which means to always treasure the present moment. His signature impasto technique involves superimposing layers of paint and earth minerals to create poignant, abstract portraits. That same approach is taken in his reinterpretation of the Lady Dior bag, which is brought to life with the energetic, rhythmic brushstrokes and textures that characterise Ida's powerful artworks.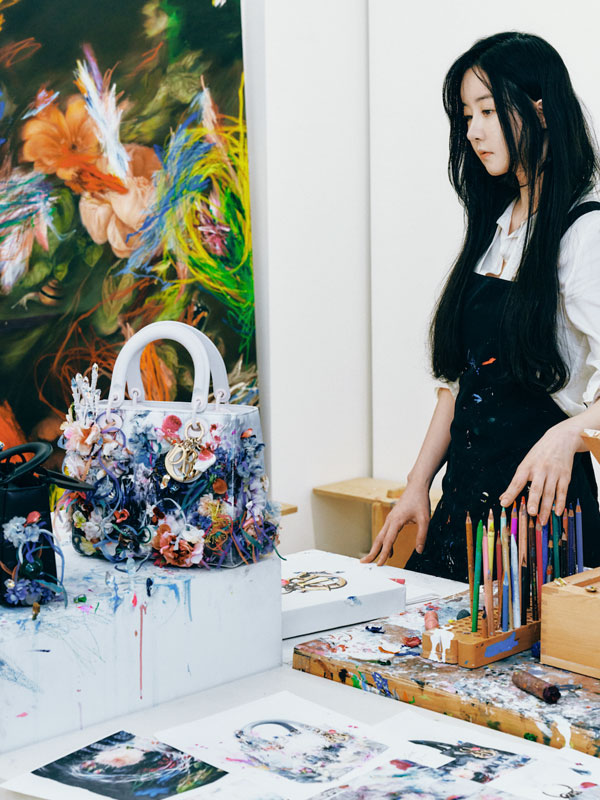 Gigisue
Gigisue
Reimagining the Lady Dior as an embroidered painting, Korean artist Gigisue creates a microcosm of her art universe that is vibrant and joyful while at the same time dark and disturbing. Embroidered with glass stones and threads, the bag showcases a bursting bouquet of silk flowers, as well as tweaked Dior lucky charms. In line with the theme of the her works, the flowers represent happy memories while observing the gap between ideals and realities.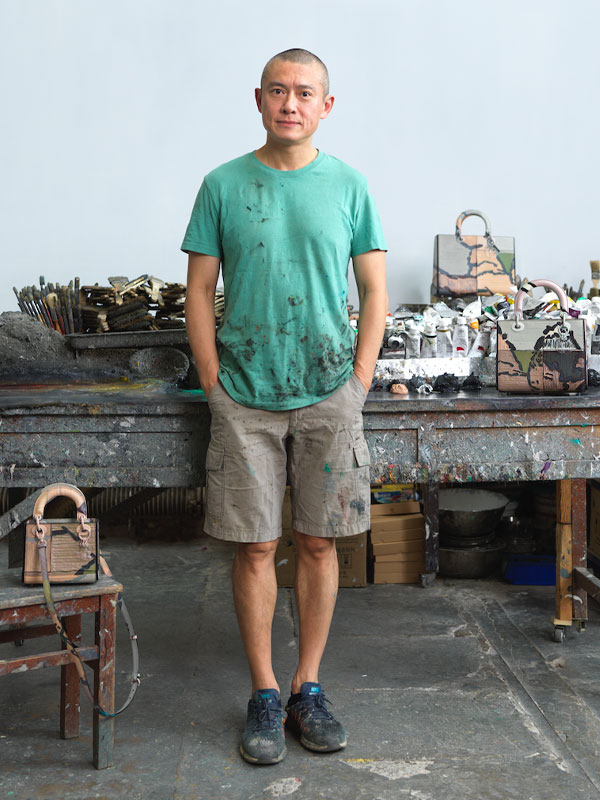 Li Songsong
Li Songsong
Contemporary Chinese painter Li Songsong brings his own take on three Lady Dior bags, based on his own printed work 'Swordsmanship (III)'. Songsong's art explores the fluctuating perceptions of memory, transforming images from Chinese history with cut-outs and sections in various colours and textures. The same treatment is given to the Lady Dior bags, which are enhanced with a subtle patchwork of different shades and materials, resulting in a bold triptych that marries fashion and art.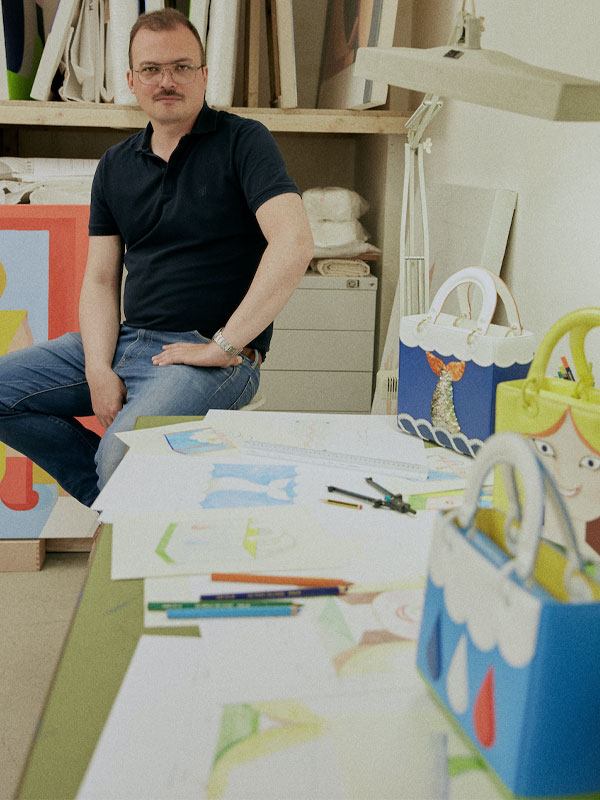 Leonhard Hurzlmeier
Leonhard Hurzlmeier
Specialising in art work that is vivid, joyful, provocative and humorous, German artist Leonhard Hurzlmeier often presents simple-looking, singular motifs that encompasses multiple complex ideas. Among his Lady Dior creations, one that stands out is the version decorated with a close-up female face, which opens to her brain in the interior. Another version showcases a rainy cloud that then transforms into a sunny day when spun around. Lastly, a sequin-embroidered mermaid, only half visible on the front and back, is displayed on the third bag as a metaphor for an enchanted odyssey.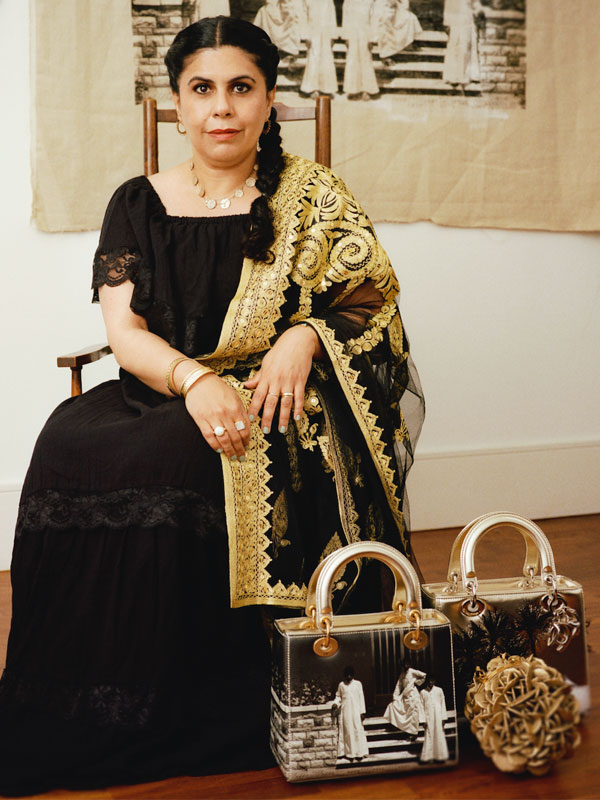 Manal AlDowayan
Manal AlDowayan
Inspired by her artwork 'The Boys', the first of the Lady Dior bags reinterpreted by Saudi Arabian artist Manal AlDowayan explores the subject of Saudi youth and its role in confronting tradition and modernity by contrasting old and new images of contemporary Saudi society. A second version dives into the landscape of Dhahran, the oil producing city of her birth, enhanced with feathers and embroidery to highlight the links between palm trees and oil. Blended hues of gold and silver create a contrast between the black and white images on the bags, while the Arabic lettering on the Dior charms serves as an emblem of self exploration.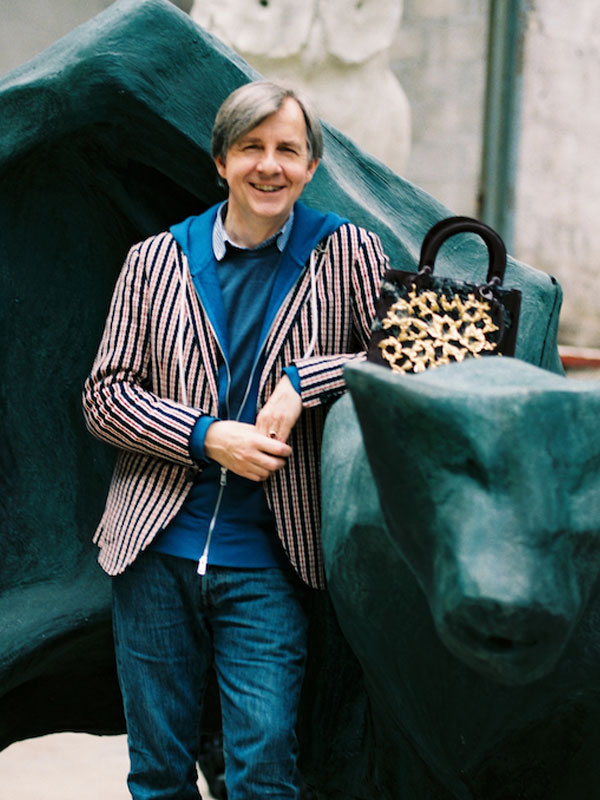 Johan Creten
Johan Creten
Belgian-born artist Johan Creten, in his reinterpretation of the Lady Dior, explores the theme of the bee as a symbol of utopian society. As his most distinctive works are centred around introspection and humanist conscience, this Dior creation titled Love Games similarly speaks of a more respectful world. Using sand and resin to evoke the beauty of the earth, a textured suede surface is formed as a base beneath a swarm of ornamental golden bees.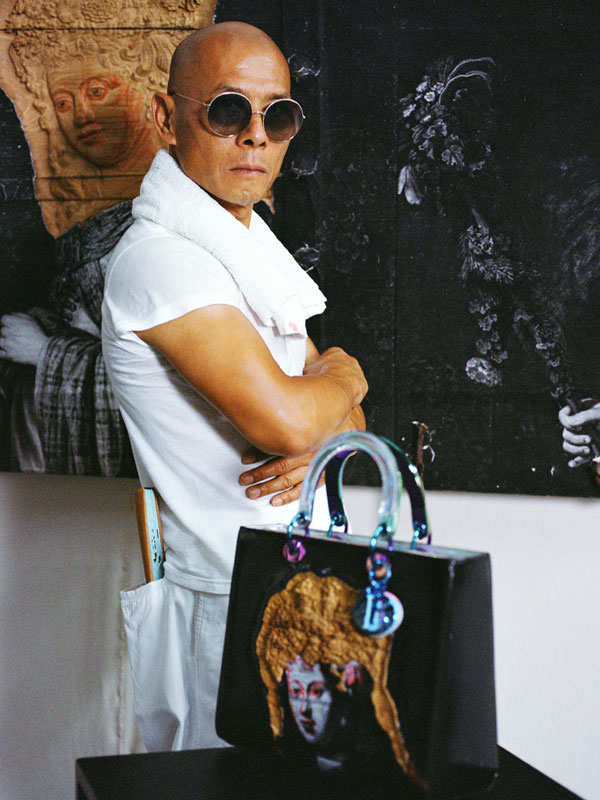 Zhang Huan
Zhang Huan
Reflecting his passion for Buddhist philosophy, the work of contemporary Chinese artist Zhang Huan explores the cycles of life and death, the body-mind relationship and the role of memory. His four unique Lady Dior creations include one from his 'My Winter Palace' series, which celebrates the art of ancestral Chinese cabinetmaking. The Sakura Field mini bags, on the other hand, symbolise a field of flowers populated with Buddhist masks, with their multi-hued mosaics made of embroidered beads and sequins.
(Swipe left for more)
The limited edition Dior Lady Art #6 will be available at Dior Pavilion Kuala Lumpur on 6th Jan 2022.
For more information about the collection, check out the Dior Talks podcast series or visit the official website.
Photos: Dior