Exfoliating, whether physical or chemical, has always been a vague topic that many aren't very sure of. Does exfoliating actually work on our skin? Should we exfoliate in our AM or PM routine? And how much exfoliating is too much? Well, FirstClasse had the opportunity to speak to Dr Angela Murphy, the Vice President of Global Research and Development for Dermalogica and The International Dermal Institute, on everything exfoliants!
Exfoliating myths – debunked

Sensitive skin should not exfoliate 
"This is something we hear a lot because the incorrect exfoliation choice can leave skin raw and red and feeling rough. With Daily Milkfoliant we have the perfect solution, as we have designed this product to gently exfoliate, whilst actively replenishing the skin barrier and calming the skin. However, it is important to seek out the professional advice of a Dermalogica Skin Therapist to ensure you are on the right track."
You should only exfoliate during your night skincare routine 
"Starting your day off fresh and invigorated from a gentle exfoliation is possible, as long as you're prepared to wear SPF throughout the day! It really depends on your daily lifestyle and your morning and evening routines as to when will be the time that will suit you to maximise and enjoy your skincare routine."

Exfoliating makes your skin even drier
"This can be true when our clients are using harsh exfoliants that are too aggressive for their skin needs. It can also be true when exfoliants contain oil-controlling ingredients like a high percentage of salicylic acid or clays. This is why we recommend seeking out a Dermalogica Professional Skin Therapist, who can provide a Face Mapping skin analysis to determine your skin's needs and provide professional product recommendations and guidance."
You can use body exfoliant for your face 
"While it may sound convenient to have a "do-it-all" product, unfortunately, there are distinct differences in the skin found on the face and body, in terms of skin texture and strength. For this reason, we recommend seeking out a formula purposely designed for your face to ensure you maximise the results whilst protecting your skin health and barrier function."

Exfoliating daily is bad
"The truth is that daily exfoliation is essential for smooth, healthy-looking skin but it's not one-size-fits-all. Because everyone's skin is different, it's important to find the right exfoliant for you and that is why we have three products in our foliant franchise."
Know your exfoliants

What's the difference between powder exfoliants and chemical exfoliants and how often should we use them both?
"There are two types of exfoliation ingredients; physical exfoliants which polish the skin and buff surface cells away using grains or powders, and chemical exfoliants, including enzymes and hydroxy fruit acids, that dissolve the glue between cells to help them detach without a scrubbing action. At Dermalogica, we use chemical, physical, or a combination within each of the foliant formulas to clear the debris that builds up on our skin and help drive the skin's natural cell turnover. All of our foliants are designed to be used on a daily basis."
Is using a powder exfoliant followed by a facial cleansing brush too much exfoliating? 
"We recommend adding an exfoliating step after you have cleansed and prepared your skin. If you're new to exfoliation you might like to pop aside your facial cleansing brush whilst you become accustomed to your new routine. However, be mindful of overusing your brush, as overuse can disrupt the skin and impact the barrier function. A Dermalogica Professional Skin Therapist will be able to guide you as to how to incorporate daily exfoliation into your current skincare routine, alongside any beauty tools you may have at home."
The new Daily Milkfoliant by Dermalogica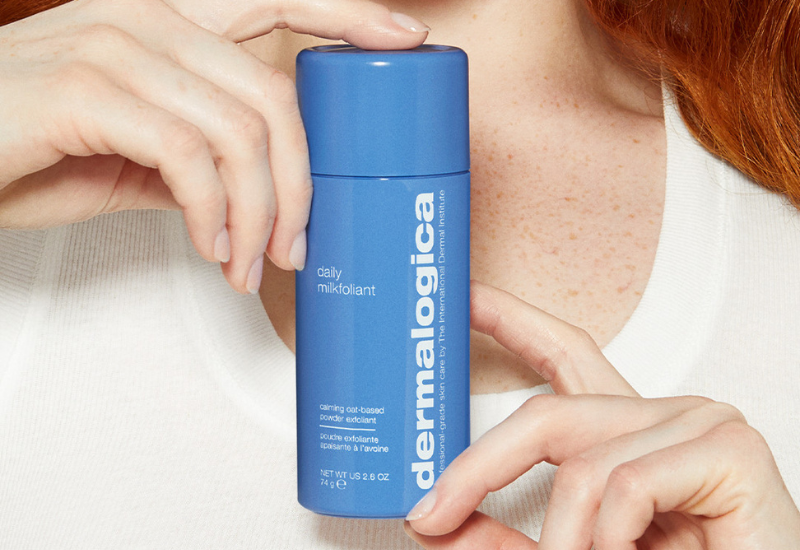 "Daily Milkfoliant is designed to actively calm the skin by balancing exfoliating benefits with replenishing skin's hydration barrier."
A sister product to the award-winning Daily Microfoliant, the Daily Milkfoliant is a gentler edition of the everyday exfoliant. If you're looking to smooth, replenish and calm the skin, then the Daily Milkfoliant with oat and coconut milk is ideal for you. Featuring plant-based AHAs and BHAs, the vegan powder is housed in a bottle made from 50% recycled plastic.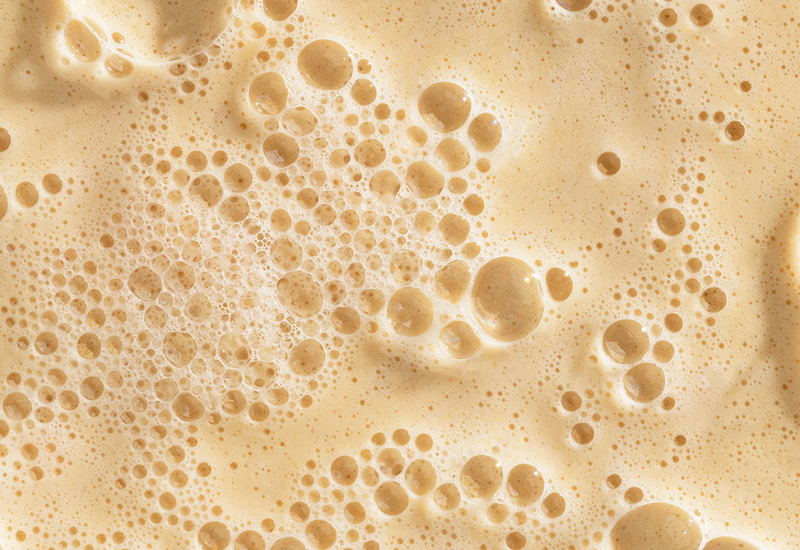 The Daily Milkfoliant is extremely easy to include in your skincare routine. Use it right after your cleansing step, dispensing a teaspoon onto the palm of your hand. Then, add a splash of water and create a rich and creamy lather before applying it to your face. 
Photos by Dermalogica.