Darren Teoh is proud to lead the Best Restaurant in Malaysia, but he won't let that distract him from his  vision: bringing local produce and cultivators to the forefront of public discussion.
It is a widely held notion that Malaysians love food, right? Not according to Darren Teoh.
"We say we are a food nation, but we are not a food nation. We are an eating nation," the chef and owner of Dewakan restaurant distinguishes.
"We don't care about where our ingredients come from and we don't care how they're prepared…We don't have a strong food culture," he maintains.
Coming from someone who recently won the Best Restaurant in Malaysia 2019 award from Asia's 50 Best Restaurants, his claim may seem mind-boggling. Controversial, even. But it stems from years of experience in the industry both as a chef and as a consumer.
He poses the current bubble tea craze for example, questioning how much we really know about what's inside it and whether we're merely buying into the hype. The answer to that reveals the emphasis we put on satisfying our cravings versus feeding our comprehension of food.
Oddly enough, the start of his career also had little to do with an affinity for cooking, eating or food itself. As a matter of fact, he had once considered pursuing fashion design or graphic design…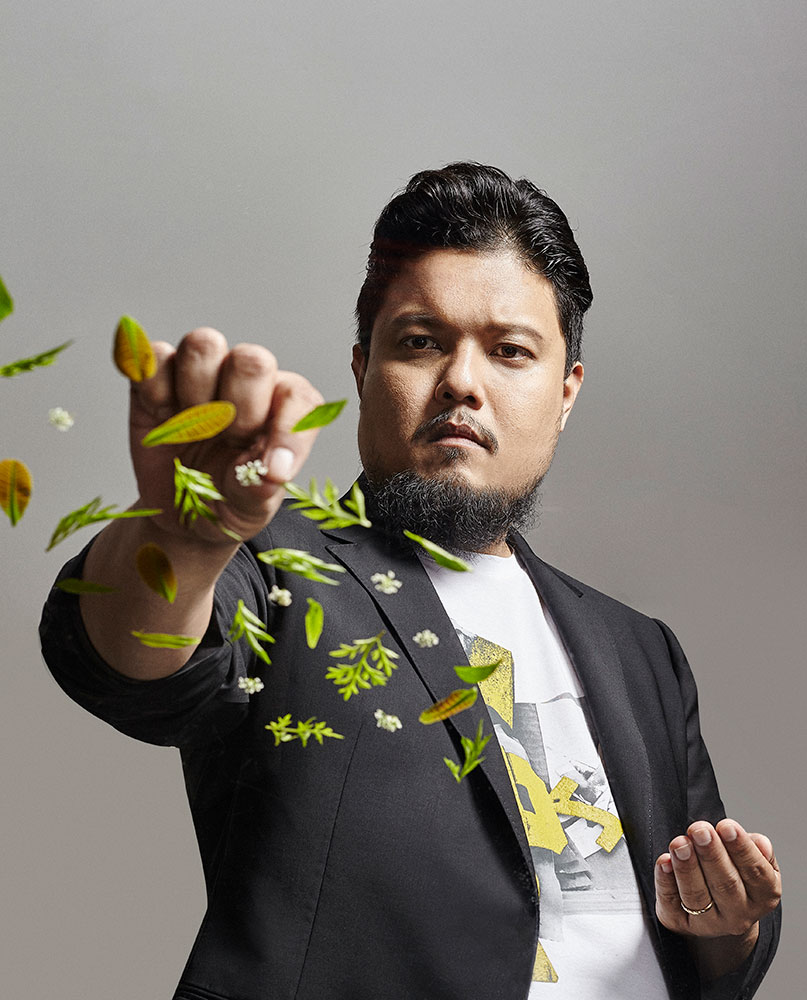 A series of epiphanies
…but it was his father who suggested a course in hospitality management.
"At the time, it was about '98 or '99 after the economic downturn. Local chefs were being promoted and foreign chefs' contracts were just not renewed, so the salary was relatively okay for a local," he tells.
He had also grown up helping his mother in the kitchen and whipping up his own creations for a midnight snack, so the idea arguably wasn't as farfetched as the rest. There's no romanticising it; he came to a point after SPM where he had to find his footing in the world and culinary school just appeared to be a reasonable fit.
Upon graduation, he cut his teeth at Breizh and Le Bouchon – two among the top French restaurants in KL back in the day. But it wasn't until his first day working at a prestigious restaurant in Singapore a few years later that really sealed the deal for him career-wise.
"I had no idea what I was doing, but that one night at the restaurant gave me such a buzz – I think that captured me more than the food," he recollects. "I never saw any of the dishes that went out. But it was that feeling of being in a restaurant that's live and just the adrenaline rush of it all that made me think 'yeah, I could do this for the rest of my life'."
"This country has so much bounty; it's ridiculous how much we don't know about it."
From there, he landed an opportunity with the Les Amis group where he developed an appreciation for produce. After five years of honing his craft and fostering friendships there, he returned to KL and began working as a lecturer.
"I mooted for doing this molecular gastronomy (subject) because at the time, it was just moving its way into Asia," he shares of his teaching stint at KDU University College.
"The idea wasn't really to define what molecular cooking was, it was more to allow students to have the opportunity to explore what exists beyond what we teach them at school. Basically, we wanted to equip them not with the techniques but with the curiosity," he explains.
But teaching didn't quite cut it for him the way cooking did. And then there was that desire to start his own restaurant, which ultimately led to the birth of Dewakan – a collaboration between the chef and KDU college as part of its educational entrepreneurial effort.
Defining modern Malaysian cuisine
Established in 2015, Dewakan was quick to catch the attention of local gourmands for its highlight on local ingredients from our seas to our farms and jungles. It's really in the name – a portmanteau of the word "dewa" (meaning deity or god) and "makan" (meaning to eat) – representing "food from God".
"This country has so much bounty; it's ridiculous how much we don't know about it. It's so interesting that some of the ingredients we have here, other places don't have them. If you're a cook, it's like finding a new language," he says, betraying a tone of euphoria.
Kulim, a type of nut with a pungent, garlic scent, is one example that has since become synonymous with the restaurant. Keluak, daun selom and tenggek burung are few others worth mentioning from the menu.
Seeing as he trained primarily in French cooking, how did he know what to do with these initially unaccustomed ingredients?
"If you want to express a new language, you'd have to form new words and identify new characters," he divulges. "But at the same time, if you're going to reimagine something, there needs to be a sense of relativity and that relativity comes from other cooking styles."
"We're interested in doing something that is different, to be the first to cook something and doing all of these things with the people that we have."
He goes on to explain two pillars: the first being the ingredients and cooking techniques, and the second being the lens through which they are approached. The more cultures you're exposed to, the more lenses you have and the more interesting it gets to look at a particular ingredient.
That's what Dewakan's cuisine is all about – exploring different lenses to look at local produce and tell their story. Cue dishes like Banana Heart and Kerdas and Roast Eggplant with Keluak and Candlenut Oil off the restaurant's Kayangan menu.
You may know it as 'modern Malaysian cuisine', but that's just a catchphrase for him to raise a broader conversation.
"First, you'd have to explain what Malaysian cuisine is – that's something that we try to get people to think about because we don't know the answer ourselves," he says.
With little historical content to go by since our cuisine wasn't well-documented, he wants us to rethink how we perceive 'Malaysian food'. After all, quintessential dishes such as the bak kut teh you thought originated from Klang contains imported garlic and herbs – is it really Malaysian, then?
"I think the answer that works for us is that if it goes back to the core ingredient, because then it's tied to the earth. If you have something that is indigenous, then it has a history of being eaten," he remarks.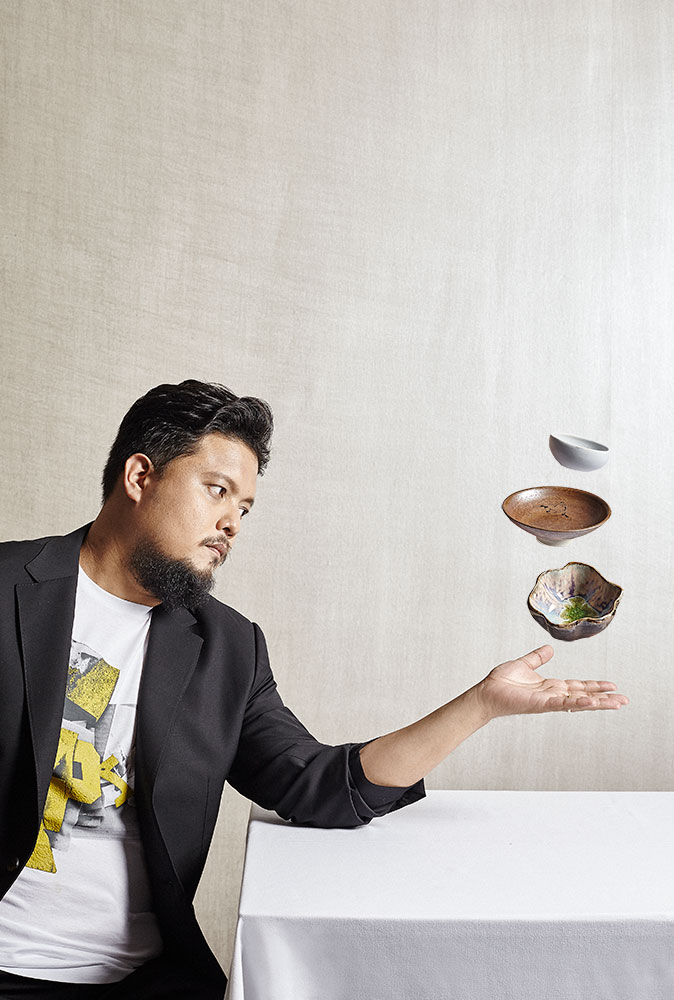 Of family and camaraderie
As much as it was grit that saw him through the demands of his career and the criticism from naysayers, Darren is quick to give credit to his support system. His parents, especially, were his greatest support from the start.
"And I don't just mean the support of 'okay, you can do it'," the eldest of three siblings stresses, "But they created the means to do it, they mapped it out for you and they reminded you to work hard for it. They reminded me that when everybody else gives up, you don't."
Now with Dewakan relocating from its obscure location at KDU University College in Shah Alam to the trendy Platinum Park in KL come September, Darren and his team are far from giving up. On the contrary, he is excited about having a 'second chance' to conceptualise the space and the new ideas that come with it.
Yet, the hardest challenge for him is still coming to work everyday.
"It's the faith that they (his team) have put in the restaurant and in myself to bring them to a place that no one has ever been to in the country – to carry that responsibility is very trying," he reveals.
Fiercely proud of their camaraderie that stems from long hours of working together with high expectations to meet, he adds, "To work this much, it's definitely not for the salary. There has to be something reverential about it and that's what we try to do – to construct to a place where you feel that you are not only a functionality but you have a purposefulness."
That sense of purpose is the vision he will continue to work towards, not just for the growth of his team but also for the people in the industry – the farmers, the fishermen, the producers and the like – and for the elevation of Malaysian cuisine.
"We're not interested in being the best restaurant in Malaysia. We're interested in doing something that is different, to be the first to cook something and doing all of these things with the people that we have."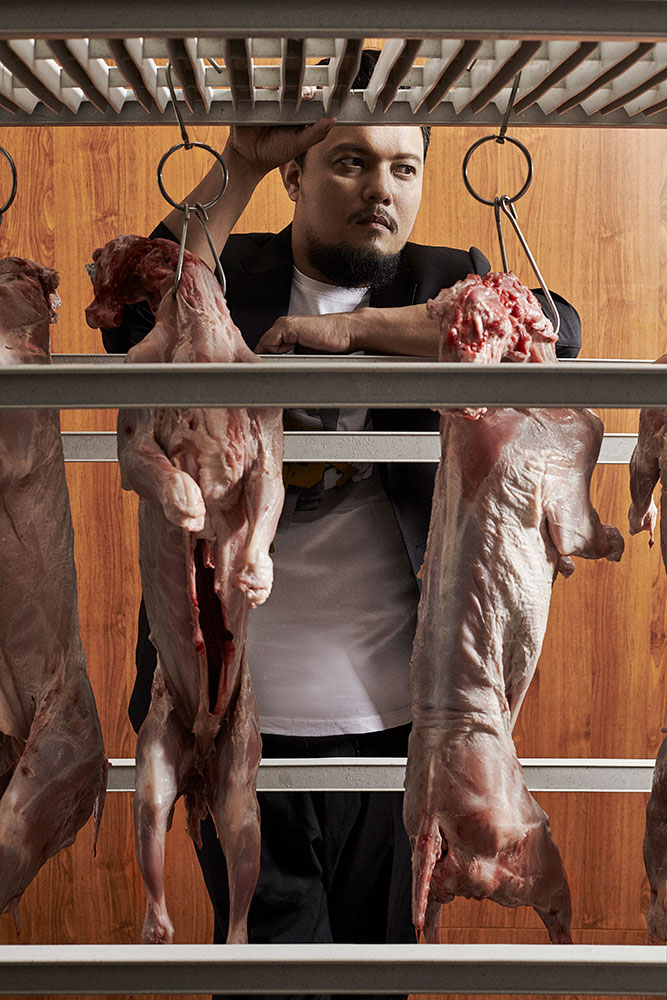 Photography: Xerxes Lee of Awesome Image
Videography: Felix Khu
Art direction & styling: Gan Yew Chin
Grooming: Ling Chong
Darren wears T-shirt and suit from Ermenegildo Zegna