"The real leading men are the ones who are vulnerable and who do show their true feelings."
Daniel Lee's era at Bottega Veneta has brought a fresh focus on the Maison's leather expertise through trendy accessories and biodegradable hybrid boots. But his impression on the house transcends beyond a renewed aesthetic and his latest film in partnership with photographer and filmmaker Tyrone Lebon is proof.
Dubbed "Bottega Veneta: Men", the 8-minute film explores the concept of masculinity through a cast of unique personalities of varying ages, backgrounds and creative fields. Among them are French-British rapper Octavian, British artist Dick Jewell, Swedish singer-songwriter Neneh Cherry, English musician Tricky, Italian dancer Roberto Bolle and Irish actor Barry Keoghan, just to name a few.
To be clear, this video isn't part of a campaign promoting the brand's collections. It's simply a work of art documenting the people who inspire Lee and their perceptions of "what makes a man" as they dress (and undress) in pieces from the brand's past and present seasons.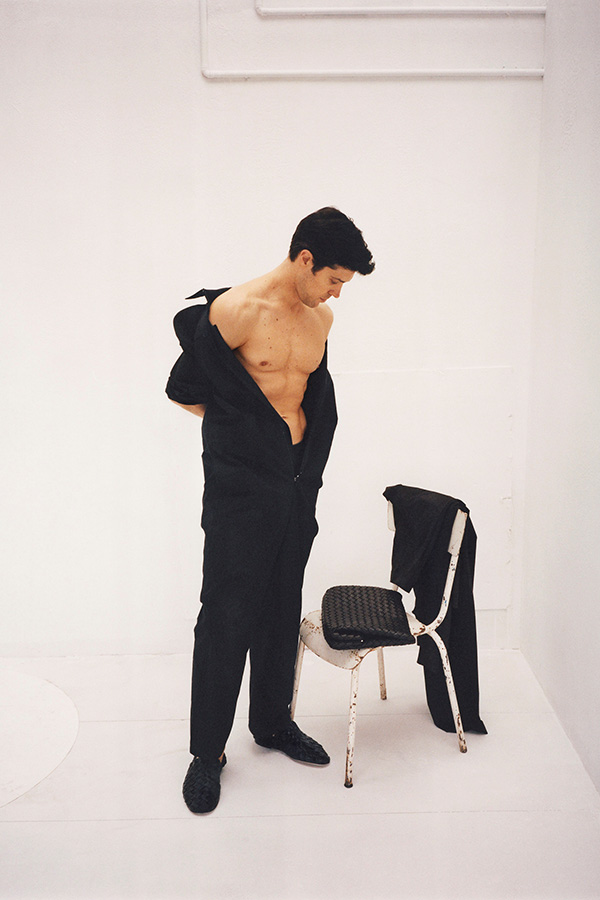 "You can be whatever you want, can't you?" offers Jewell, who dons a grey turtleneck and camel suit. "There's no specific way that I feel a man should behave or anything. It's up to the individual. I'm not going to dictate that."
Halfway through the film, Keoghan is portrayed in an oversized coat and a pair of baggy trousers with his voiceover saying: "We put this front on, we don't show anyone anything, it's a weakness. It gives me hope that I don't have to live up to this masculinity. The real leading men are the ones who are vulnerable and who do show their true feelings."
In the end, the underlying tone of the film is that there is no clear-cut definition or answer to the question. The narrative of manhood is one that's left to the individual to express, whether in the way they choose to dress or through their respective disciplines and passions.
Watch a short teaser above and catch the full film on the official Bottega Veneta website here.
Photos: Bottega Veneta