Sip on these comforting beverages that help bring back some calm and hygge into your life.
It's official – the MCO has been extended for another 2 weeks. An unsurprising and obvious decision, but that doesn't mean that some of us don't still feel extreme stress and anxiety over the news. We can try to soldier on in our struggle to stay productive while working from home, find new ways to soothe our bad moods and uncontrollable emotions, or finally give into trends that have been circulating our social media channels.
So yes, the situation does seem pretty bleak – so why not try another way to comfort ourselves? Not like we're running short on time at home anyway! This time, we're covering beverages that bring to mind moments of hygge, evoking feelings of warmth and comfort (though with the amount of spices you'll be using, you'll honestly feel warm regardless), while soothing our souls. We've covered both alcoholic and non-alcoholic beverages, so everyone gets a hot cup of cosiness!
Spiked Hot Apple Cider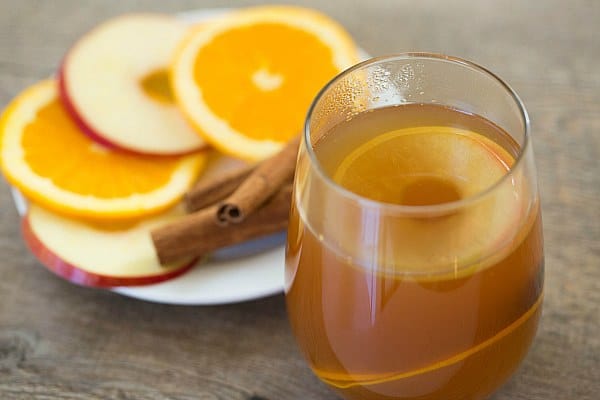 This mulled apple cider recipe is all things fruity, warm, comforting, and reminiscent of cool holidays and outdoor bonfires. This hot apple cider is infused with bright fruits, rich spices and dark rum to bring the "cosy good feeling" of outdoor gatherings, while acting as a soothing balm for our troubled spirits.
Ingredients
8 cups apple cider

1 apple (thinly sliced crosswise)

1 orange (thinly sliced crosswise)

1 inch piece of fresh, thinly sliced ginger

2 cinnamon sticks

2 cups dark rum
What to do
In a large pot, combine the apple cider, fruit slices, ginger slices, and cinnamon sticks.

Bring the ingredients to a boil over high heat, then reduce heat and let it simmer for 5 minutes.

Remove from the heat, let it sit for at least 5 minutes before stirring in the rum. Serve immediately.
Mexican Hot Chocolate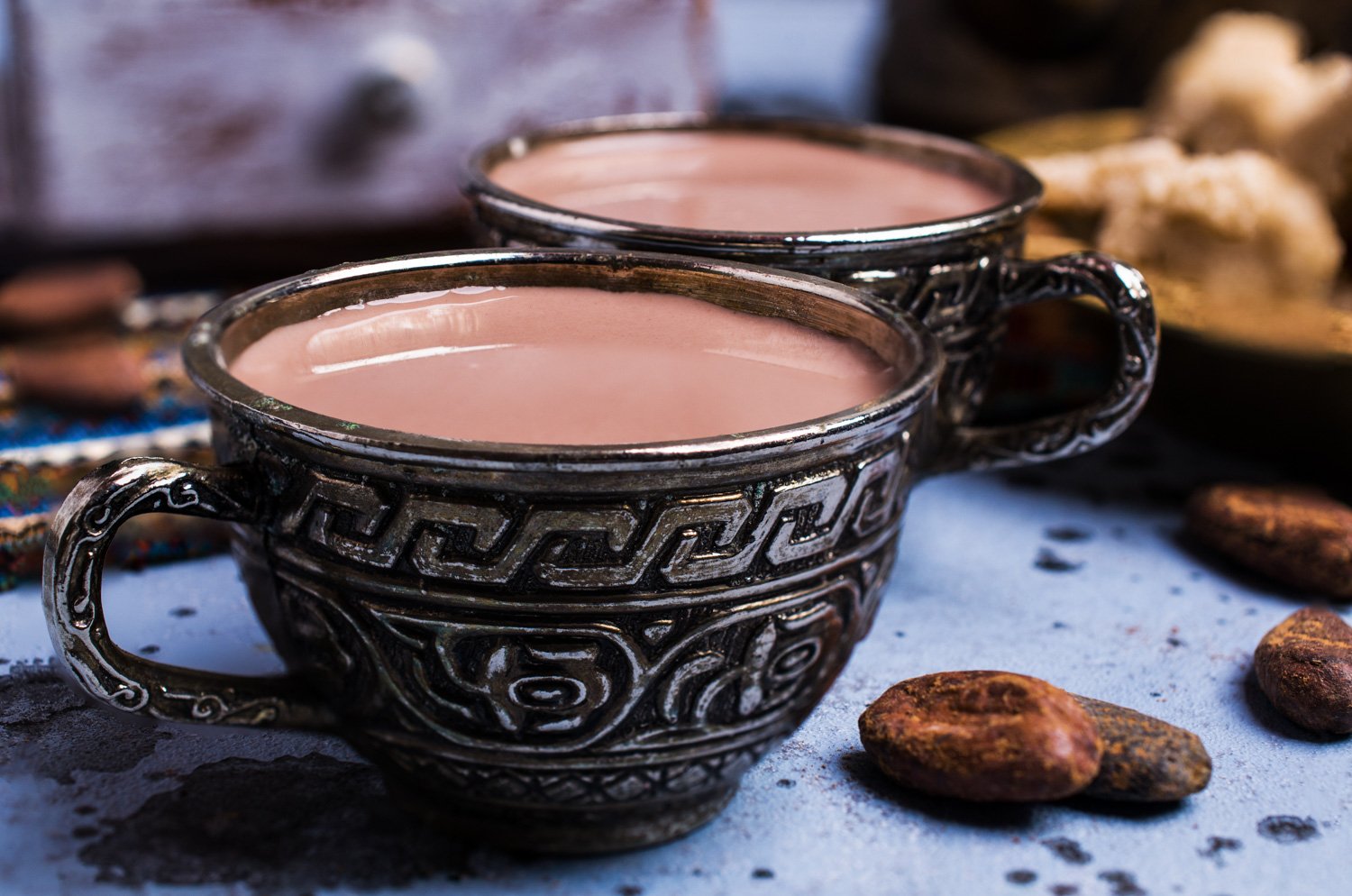 Sure, hot chocolate is great and all – but how about giving it a bit of a kick? (Not that kind of kick, if spiking it with alcohol is more your thing, you can check out a recipe that uses Cognac below) Mexican hot chocolate traditionally uses cayenne pepper – but if you've tried cayenne, you know that it doesn't take much at all to experience its fiery kick. Cayenne can oftentimes overpower other flavours with its spiciness, in this case, the deep and sweet chocolate, cinnamon and vanilla notes. Ancho chiles on the other hand, still adds that warm fiery kick that can make drinking hot chocolate more fun – without taking over other flavours or setting your mouth on and stomach on fire.
If you find yourself struggling to make hot chocolate from scratch and have a tendency to have clumps – it's advisable to mix the dry ingredients separately first, so that you can stir them into the milk easily. You should also incorporate them gradually instead of plonking the entire lot into the milk – no matter how hot the latter is.
Ingredients
1 1/2 cup milk

2 tablespoons of sugar

1 tablespoon of real cocoa powder

1/2 teaspoon cinnamon powder

1 teaspoon vanilla extract

1/4 teaspoon almond extract

1/8 teaspoon ground ancho chile peppers (if you don't have access to ancho chiles, you can swap with a tiny pinch of cayenne powder)
What to do
Bring the milk to a gentle simmer over medium-high heat.

In a separate bowl or cup, mix together the cocoa powder, sugar, cinnamon and ancho chile.

Skim any 'skin' or solids off of the milk and whisk in the cocoa mix until thoroughly incorporated into the warm milk.

Finish it off by adding the almond and vanilla extracts and stir it in before serving.
Hennessy Hot Cocoa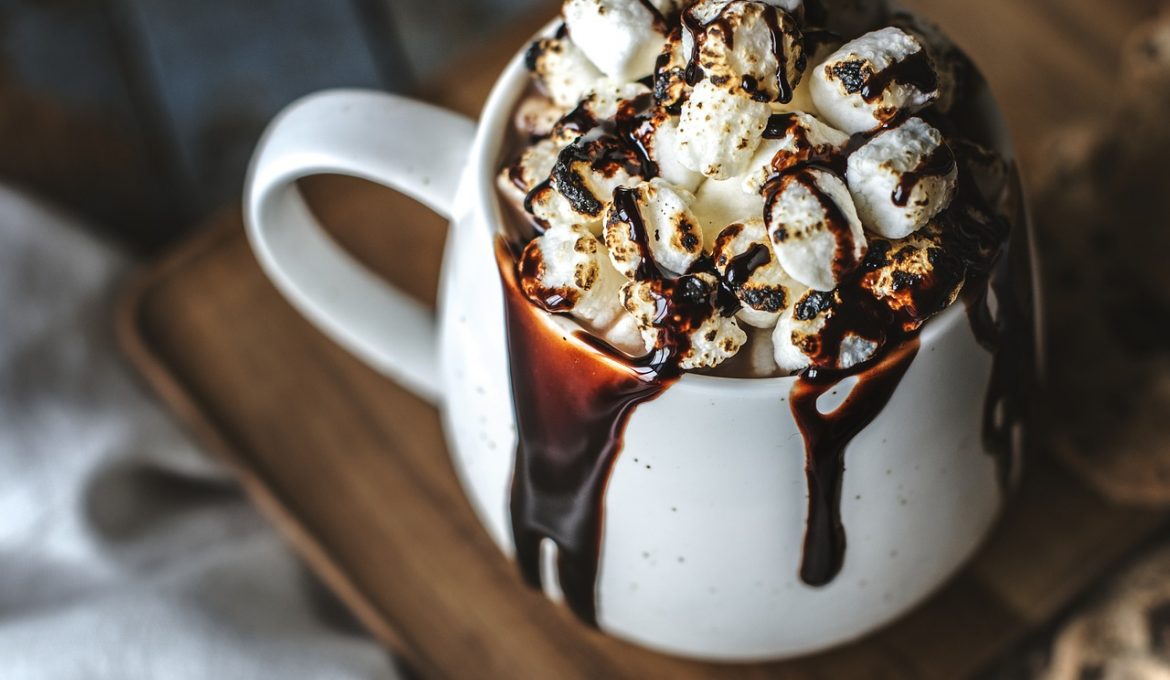 It's no secret that dark chocolate and Cognac make a real match in heaven when it comes to romantic or boujee desserts – but did you know that pouring a shot of Cognac into your hot chocolate can really take that generic comfort drink to the next level? Purists, look away now.
But it's not just about pouring your precious Cognac into your hot chocolate and calling it a nightcap, it's about adding some other flavour accents such as a delightfully rich spiced syrup and vanilla that will make this Hennessy Hot Cocoa an overachiever. Bonus indulgent points if you top it off with luscious cream and shaved chocolate garnish.
Ingredients
(For 1 cup of brown sugar syrup) – will stay fresh if stored well-sealed in the refrigerator for 2 to 3 weeks.
1 cup brown sugar

1 cup water

3 cinnamon sticks

1 teaspoon whole allspice

1 teaspoon whole cloves

1 teaspoon grated nutmeg

1 tablespoon orange zest
Bring the water and spices to a boil.

Add sugar and stir gently until the sugar is dissolved.

Remove from heat, cover and allow to cool for at least 3 hours or until it reaches desired spice level and flavour.

Strain the syrup with a fine mesh strainer.

Bottle and store in the refrigerator.
(For the hot cocoa)

45 ml of Hennessy V.S. Cognac

22 ml of spiced brown sugar syrup

3 drops pure vanilla extract

150 ml of hot chocolate (refer to the Mexican Hot Chocolate recipe – just remember to exclude the chiles!)

30 ml heavy cream or handful of marshmallows
What to do
Make or heat up your hot chocolate and pour it into an Irish coffee glass or coffee mug.

Gently stir in the Cognac, spiced syrup, vanilla extract. You can add as much as or little syrup as you'd like depending on individual tastes.

Top off your hot chocolate with some marshmallows and toast them or drizzle with chocolate syrup if you're feeling whimsical. Alternatively, you can either layer the cream on top by pouring it carefully over the back of a spoon, or whisk it into whipped cream and top off the hot chocolate with a sweet, fluffy cloud. Shave dark chocolate over the top for added garnish. 

Serve immediately.
Spiced Milk and Honey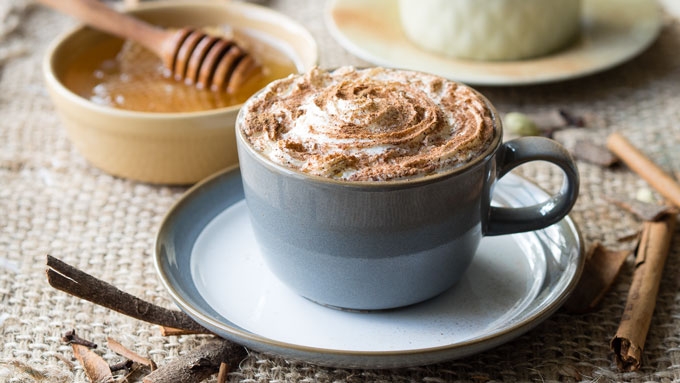 If you're not much of a milk drinker, or dislike the scent of warm milk, spicing it with a smooth blend of vanilla, cinnamon, cloves and cardamom can fix that. This comforting drink is quite similar to chai but without the tea element, and can help ease your restlessness and sleepless nights when even rivers of camomile tea aren't doing the trick in lulling you to slumberland. It's also a really relaxing way to start the morning.
If you're lactose intolerant, you can easily swap out cow's milk for any nut milk, or opt for oat milk which has a smoother, slightly sweeter flavour. You can also experiment with different types of honey to give your beverage a different flavour profile, such as Acacia honey for a brighter and livelier taste, or Manuka honey for a deep, molasses-like flavour that can pair nicely with the warm spices.
Ingredients
2 cups whole milk

1 whole vanilla pod, sliced open

1 whole cinnamon stick

4 whole cloves

2 whole cardamom

1 tablespoon honey

whipped cream for topping (optional)

ground cinnamon for topping (optional)
What to do
Add the milk and spices into a small pot on medium-high heat. Gently bring the milk up to a simmer while constantly stirring.

Once the milk is just under boiling, remove from the heat, cover, and let it stand for 10 minutes for the spices to really infuse into the milk.

While still warm mix in a tablespoon of honey. This recipe serves 2 mugs, and should be served immediately. If you want to amp up the comfort factor, you can top it off with some whipped cream and ground cinnamon.