The future is here. Despite the belief that technology has reached its peak, it continues to surpass our expectations—even in the creative industry. In order to remain relevant, the art industry must conform to the ever-changing world, where accessibility is key. But how can the art community participate in a secure digital environment? 
With vision that ''Technology could play a key role in rebuilding the art world'', Shyevin S'ng and Kendall Warson co-founded Cohart. An online art marketplace made to revolutionise and transform the art gallery experience with cutting-edge approach, making it accessible and feasible for everyone.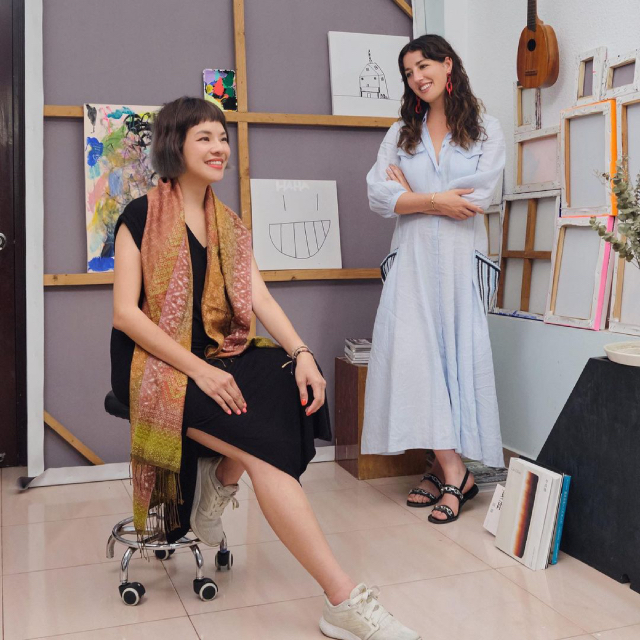 Gone are the days of enduring the inconvenience of scheduling appointments and waiting in long queues to view someone's art collection. Or to endure a tedious one-hour commute to the nearest art gallery to buy a hand-painted masterpiece. ''The reality is that buying behaviours have changed a lot in the last decade, especially post COVID. Online sales have been increasing year-over-year. We ensure the customer is protected in every stage of purchasing online'', explained Shyevin S'ng. 
''Anyone can be an art collector. But a good collector is someone who knows what they like, and who appreciates the workmanship of each piece that they collect.''
Having been an art gallerist for over 15 years, she has experienced the current art ecosystem first hand, observing that the artist is always the last to be paid, even while they are the ones who create the artwork.
''We hope we can help build something meaningful that bridges all the gaps for stakeholders in the art world. Kendall and I shared points of view about the ways that the art world is broken for artists, and how technology can help build a brighter future.'' 
So how does Cohart functions as a digital art gallery? To start, the platform welcomes verified artists from all backgrounds and levels of experience to share their art and build trust with other artists and followers. Like other online platforms, Cohart allows you to follow, view, share, and direct messages to the owner in order to purchase. There's also a livestream feature that allows artists and potential buyers to communicate online, making the art-buying process more personal and transparent. After everything has been validated, the Cohart team will be in charge of ensuring that each piece is authenticated and sent securely. 
Shyevin also encourages artists to be as transparent as they can be. ''It helps consumers to get a better idea of the work and a deeper connection to the artist before they make a purchase. We also enable a 48 hour return policy. So if the artwork is something you don't like you can get a full refund.'' 
But as interesting as it sounds for the next generation to browse the online art gallery, Cohart has been specifically designed to cater to the needs of artists above all else. Providing them with a comprehensive platform to build a community and efficiently sell their artwork. Traditionally, art galleries have been known to charge artists a commission of 50% on their sales.
However, Cohart has set its commission rate at 25% for artists who choose to sell their artwork through the platform, with the intention of further reducing this percentage as the platform expands. In order to enhance the overall experience for artists, Cohart has plans to introduce a range of services that will enable them to manage their business operations from a single location. 
Shyevin hopes that the development of a contemporary and efficiently structured art platform such as Cohart will foster a heightened enthusiasm and appreciation for art and art collecting among future generations. ''Anyone can be an art collector. But a good collector is someone who knows what they like, and who appreciates the workmanship of each piece that they collect.''
The Cohart App is now available for download on the Apple App Store. Or checkout their online marketplace here.