Note: This list may be updated from time to time to reflect changes due to MCO restrictions. (Last updated: 8th February 2021)
Chinese New Year reunions are going to feel different this Year of the Ox. Whether it's because the malls, streets and homes won't be buzzing with as much activity as the years before or because you'll miss visiting relatives and friends outside of your immediate family, most of us won't be able to shake off the feeling that something's amiss.
Nevertheless, this shouldn't stop us from celebrating the occasion with our nearest and dearest at home, or if new regulations permit, at our favourite dining venues – no matter how small a reunion. If anything, perhaps a prosperity toss and wishes of good health and fortune is just what we need to keep our chins up and our loved ones close. With that, here are some establishments in KL to get your yee sang and auspiciously curated meals from.
The St Regis Kuala Lumpur
As per tradition, customers can expect fresh yee sang platters and prosperity-inducing sets (now served in Reunion Boxes for takeaway/delivery) at The St Regis Kuala Lumpur. Additionally, the hotel is offering new Prosperity Box sets for gifting, each comprising of delectable cookies, tarts and cakes complemented with either a bottle of CNY Limited Edition The Macallan 12 Year Old Double Cask Scotch Whisky or Delamotte Champagne.
CNY Reunion Box 
30 January to 14 February 2021
From RM448+ per person (serves 4 persons)
Prosperity Yee Sang
11 January to 26 February 2021 (available for takeaway/delivery)
From RM108+ for 6 persons/RM198+ for 10 persons
House of Fortune Prosperity Box
11 January to 26 February 2021
From RM618+ or RM988+ with a bottle of Delamotte Champagne
For reservations and enquiries, please call +603 2727 6696 or email dining.kualalumpur@stregis.com. W marriott.com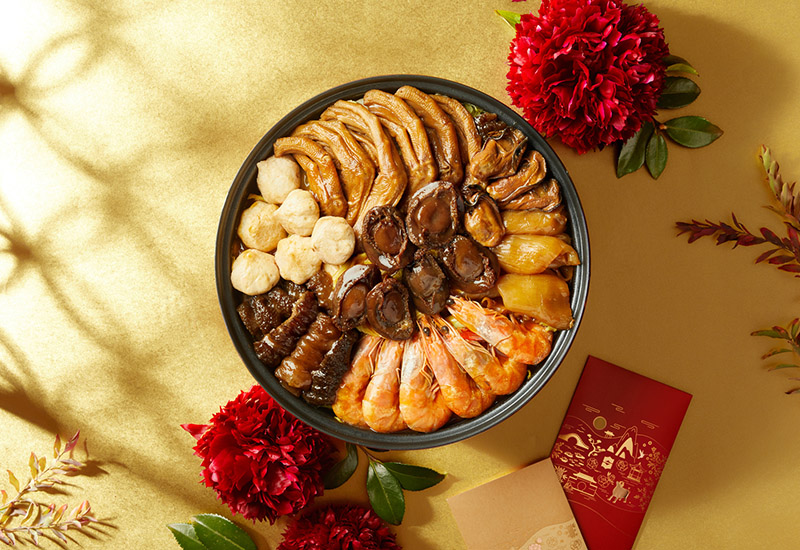 Embrace tradition with hearty Imperial-themed dishes at Shang Palace, offering four varieties of yee sang, 7-course set menus and a Premium Abalone Poon Choy – all available for takeaway or delivery only. Additionally, treat your loved ones to a collection of auspicious hampers from Lemon Garden2Go as well as Ninko or gift sets from Shang Palace.
Shang Palace
1 to 19 February 2021
Yee sang sets – From RM108 (S)/RM208 (L)
7-course set menus – From RM990 nett per set, suitable for five persons (add-on RM198 nett per additional person)
Premium Abalone Poon Choy – RM990 nett for 5 persons, with an additional RM198 nett per person for additional servings
Ninko sets from RM98 nett per set
Nostalgic Pastries Gift Box – RM98 nett per set
Lemon Garden2Go
8 January to 26 February
Auspicious Hampers from RM688 nett
For orders and enquiries, contact +603 2074 3900 or WhatsApp +6019 390 2257. W shangri-la-specials.com
Mandarin Oriental Kuala Lumpur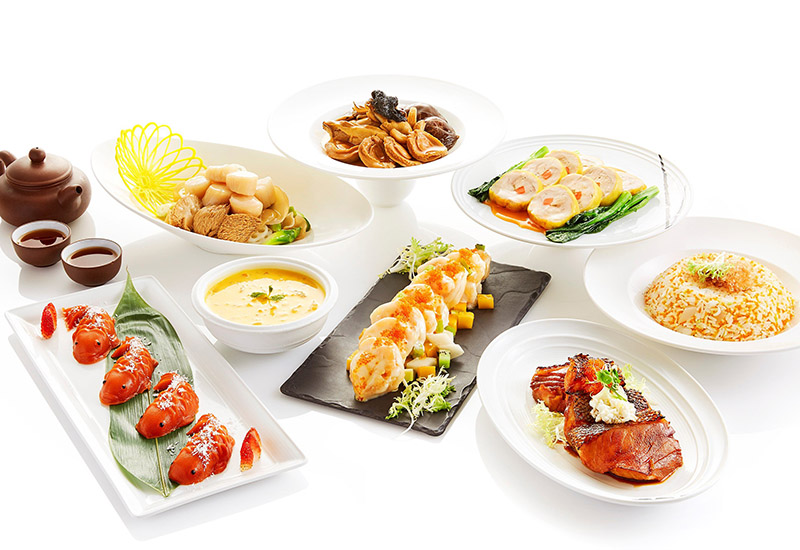 This Chinese New Year, Lai Po Heen is offering yee sang platters made with salmon or sea urchin and fish roe, as well as one topped with Wagyu beef striploin marble eight for a unique spin on the traditional dish. There are also Treasure Pots (Poon Choy) and set menus awaiting for your joyous reunions. Meanwhile, customers can order other exclusive Chinese New Year treats and hampers from the hotel's online shop.
Lai Po Heen
Now until 28 February 2021
Yee Sang selection
From RM108 (half portion)/RM216 (full portion)
Treasure Pot – RM988/Supreme Treasure Pot – RM1888
Chinese New Year Fortune 7-course Set Menu – RM168 per set (minimum order of four sets)
Chinese New Year Prosperity 8-course Set Menu – RM258 per set (minimum order of four sets)
Chinese New Year treats
Now until 28 February 2021
From RM188 onwards
Available for purchase online via The Mandarin Oriental Shop Kuala Lumpur
For reservations and enquiries, please call +603-21798887 or e-mail mokul-fb@mohg.com. W mandarinoriental.com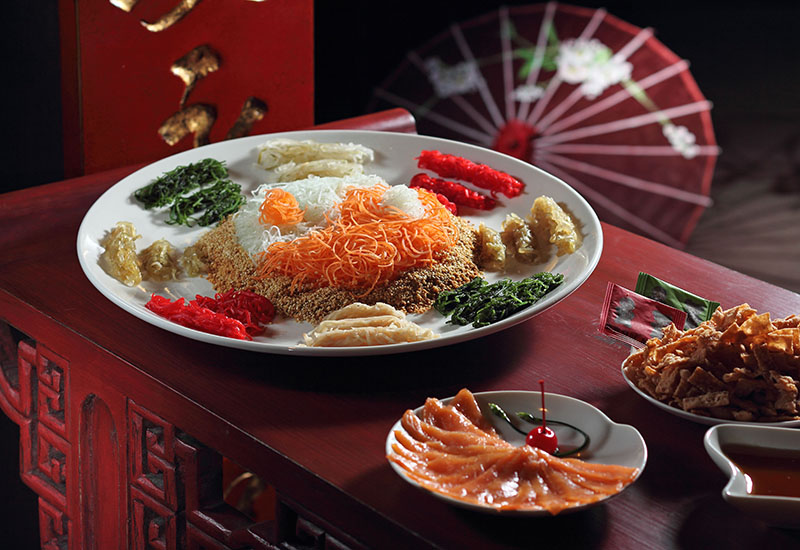 Whether you have a small or big reunion this year, Hilton Kuala Lumpur welcomes you to honour tradition with its selection of set meals and yee sang platters. Takeaway is available thanks to the Bring Hilton Home program, so you can enjoy an abundant 6-course meal at the comfort and safety of home – lockdown or not.
Chynna
15 January to 26 February 2021 (12.00pm to 2.30pm; 6.00pm to 10.30pm)
Chinese New Year Yee Sang
RM128 nett (half portion)/RM316 nett (whole portion)
Chinese New Year Set meals
From RM208 nett per person (minimum 5 pax)/from RM499 nett per person (minimum 2 pax, order one day in advance)
Chinese New Year Takeaway Set Menu (6 Course)
RM538 (for 2 to 4pax)/RM1288 (for 6 to 10pax)
For reservations and enquiries, contact +603 2264 2264 or email KULHI_CustomerServce@hilton.com. W eatdrinkhilton.com
Four Points by Sheraton Kuala Lumpur, Chinatown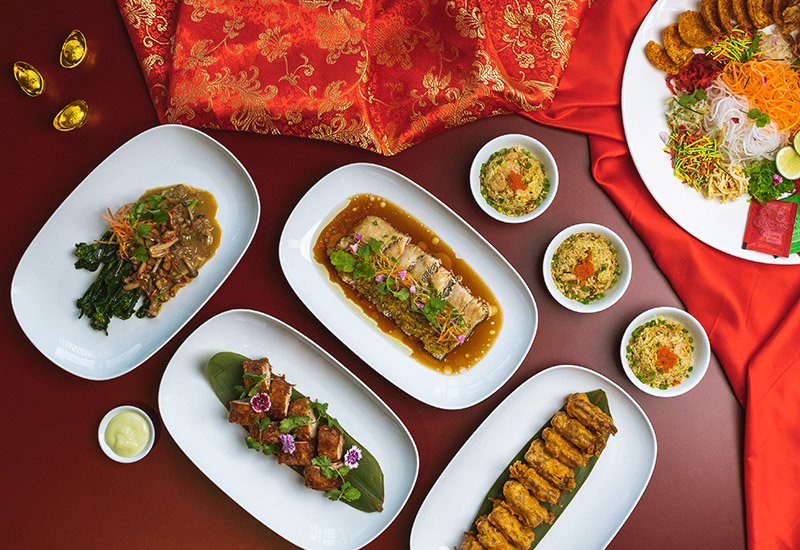 Quan's Kitchen is offering a twist to your standard yee sang selections with the addition of Crispy Fish Satay, Chicken Floss Rice Crackers, Chili Softshell Crab or even Tanjung Malim T'Lur Caviar to its platters. Customers can enjoy a taste of this unique yee sang along with 7 other courses in the Spring Happiness set, or on its own with an additional bird's nest-inspired cocktail from Jann. As for gifting, the hotel has curated an auspicious Fu Hamper, consisting of 8 items representing fertility, prosperity, luck and good fortune.
Quan's Kitchen
Triple Prosperity Yee Sang – RM88 (half portion)/RM138 (full portion)
Opulence Yee Sang – RM168 (half portion)/RM298 (full portion)
Spring Happiness 8-course set – From RM268 per pax
福 Fu Hamper – RM188 per hamper
Jann
Bird's Nest Baijiu – RM50 per cocktail/RM88 for two
For reservations and enquiries, WhatsApp 012-507-3327 or email dining@fourpoints.com. W marriott.com
Four Seasons Hotel Kuala Lumpur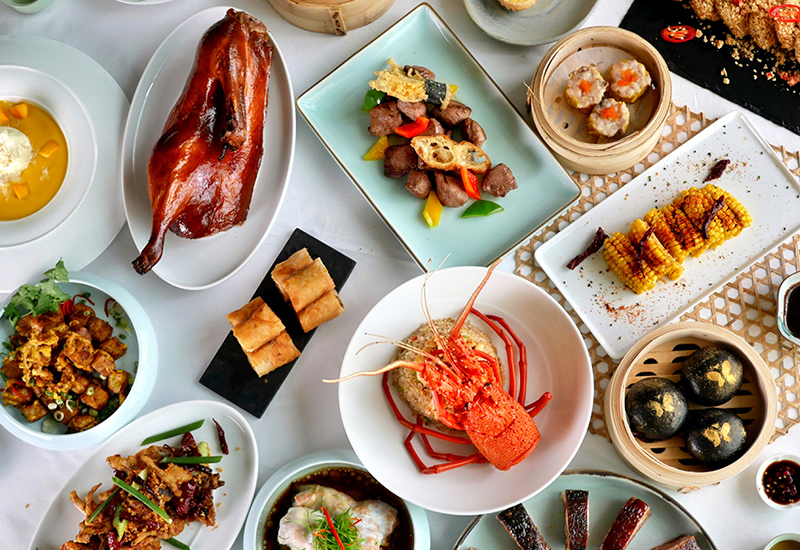 Over at Four Seasons, Yun House has prepared a sumptuous selection of yee sang platters made with premium ingredients, including champagne gelee and caviar. The buffet spread at Curate has also been reimagined to include specialties from different regions of mainland China, such as Thypoon Shelter fried flower crab and La Zi chicken. There's also a special afternoon tea to pay tribute to Chinese flavours, with delights like Szechuan smoked eel and Mandarin orange cheese cake – available for one day only.
Yun House
11th January to 25th January 2021
A Toss to Great Fortune Yee Sang
From RM88 (S)/RM108(L)
Curated menus
From RM468 nett per person
Curate
Prosperity Feast
11th January to 25th January 2021
RM158 per person for lunch from Monday to Saturday
RM228 per person for Sunday brunch
RM189 per person for dinner from Monday to Sunday
The Lounge at Four Seasons
The Festive Afternoon Tea
12th February 2021
RM188 per person
For reservations and enquiries, chat on the Four Seasons App or email yunhouse.kualalumpur@fourseasons.com, kua_curate@fourseasons.com or res.kualalumpur@fourseasons.com respectively. W fourseasons.com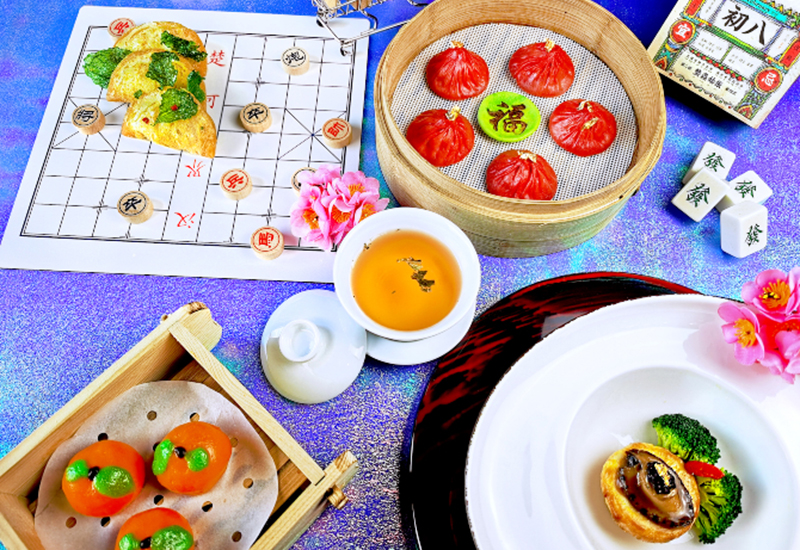 Customers need not stuff themselves with 8-course meals at every reunion, although that is still an option at YEN. Simply pick your favourite Lunar New Year specialities or dim sum offerings from the a la carte festive menu as you please. On the other hand, copious appetites can be satisfied with the Yen Ox Year Brunch, featuring all-you-can-eat dim sum dishes for an abundant CNY brunch.
YEN
Set menu
From RM188 per person (minimum 2 persons)
Yen Ox Year Brunch
RM148 per adult/RM74 per child
For reservations and enquiries, call 603 2786 8888 or email b&f.wkualalumpur@whotels.com. W marriott.com
Sofitel Kuala Lumpur Damansara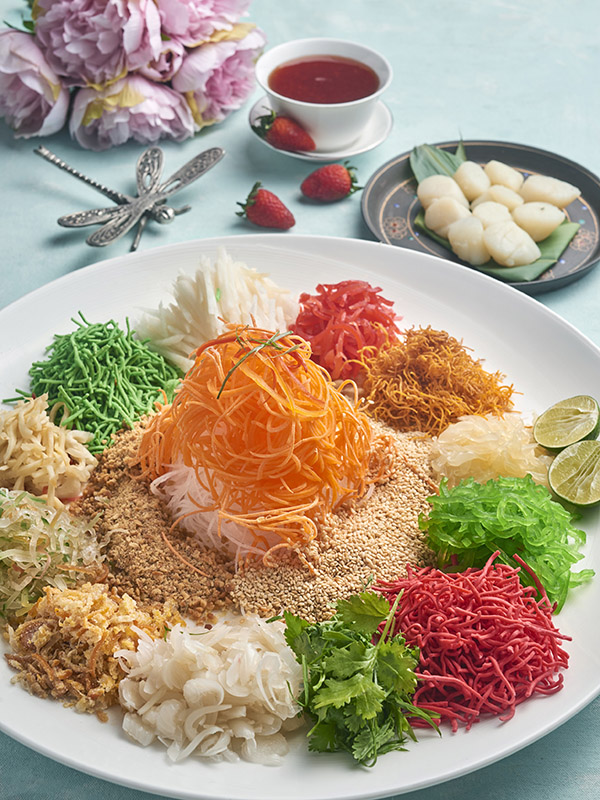 Sofitel KL Damansara will be offering a la carte menus and a selection of 7 yee sang platters for takeaway and delivery this Year of the Ox. Take your pick from Chef's Recommendations such as Steamed Farm Chicken with Minced Ginger and Wok Fried Butter Prawns with Curry Leaf topped with Shredded Egg and Coconut.
Yee Sang menu
From RM88 nett (half portion)/RM176 nett (full portion)
Optional add ons available; complimentary delivery applies to destinations within 10km of the hotel. Enjoy 20% off when you place your order for self-pickup or delivery.
For enquiries and reservations, please call 03 2720 6688, WhatsApp +6018 873 2028 or email HA123-FB3@sofitel.com. W sofitel.com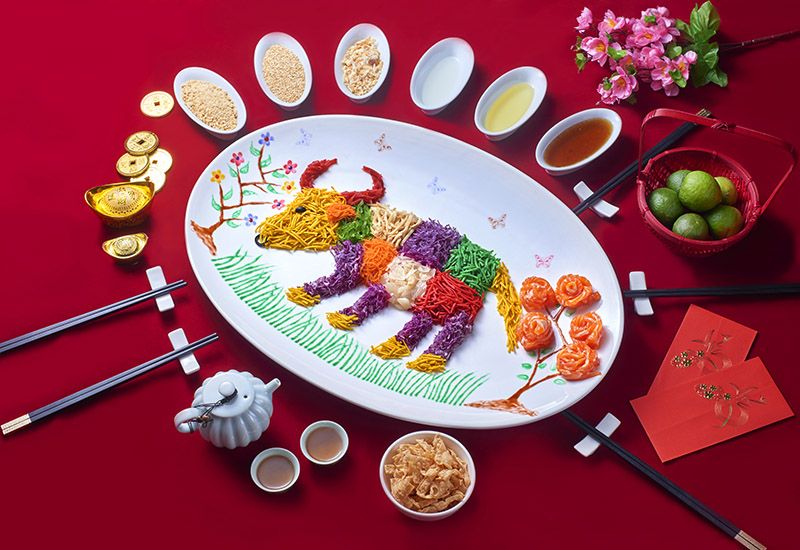 Le Meridien Kuala Lumpur's Chinese banquet Chef Teh has put together a variety of 6-course set menus and yee sang platters this Year of the Ox, available for takeaway and delivery. The sets are prepared sous vide-style and come with easy reheating instructions to allow customers to enjoy a warm meal at home, with highlights including Double-Boiled Chicken Soup with Cordyceps Flower and Mushrooms, Deep-Fried Chicken with Mongolian Sauce and Cereal Butter Prawns. There's also a selection of take-home treats and hampers for gifting.
6-course set menus 
From RM88 nett per person
Yee Sang menu
From RM200 nett (for 10 persons)
Luxurious Chinese New Year hampers
From RM388 nett
The yee sang menu, Chinese New Year Hampers and Take-Home Treats are available for purchase via ODDLE from 5 to 26 February 2021. Guests may opt for delivery or have it collected at Latest Recipe, level 5 of the hotel. For enquiries and reservations, please call +603 2263 7543 or +6012 215 8782, or email dining.lmkl@lemeridien.com.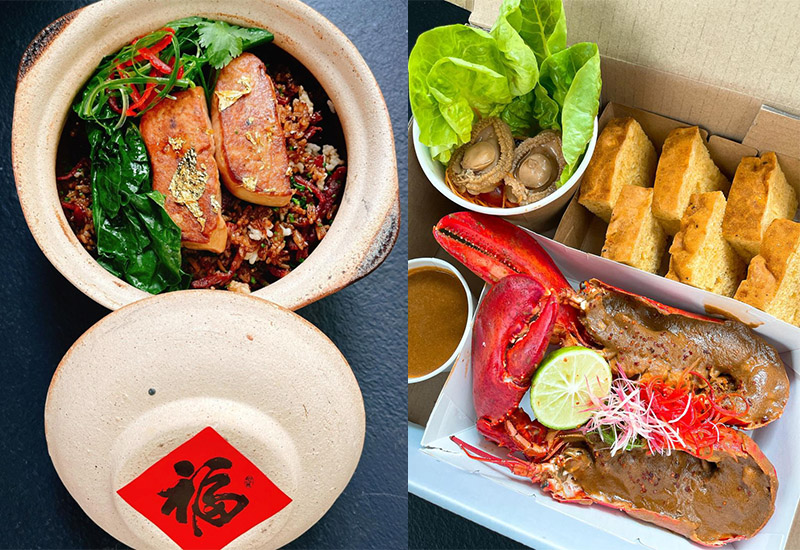 For a la carte orders that are made for sharing, try Skillet's CNY takeaway menu – offering a selection of appetisers, main course and desserts with a Malaysian twist. Among the highlights include Oven Baked Japanese Oyster, Chili Canadian Lobster with Curry Focaccia and Heirloom grains with Foie Gras Claypot Rice (we can vouch for this last dish). While you're at it, don't miss the chance to grab a selection of pork-free Bak Kwa and prosperity gift boxes from its sister group, KARLS!
KARLS Prosperity Gift Box – From RM328
KARLS Bak Kwa (Box of 5 pieces) – From RM68
Delivery hours from 11am to 7pm daily
The CNY takeaway menu, Bak Kwa and Prosperity boxes are available for delivery via Beepit here. For reservations and enquiries, please call +603 2181 2426 or visit the official website. W skilletkl.com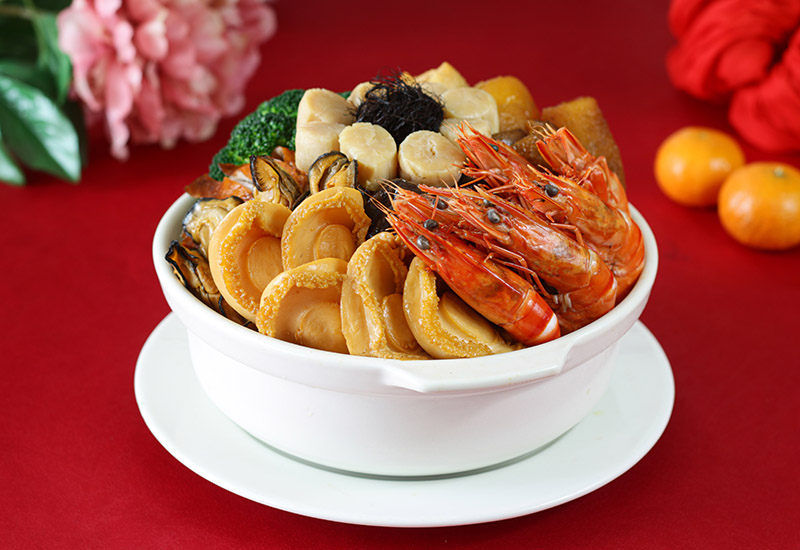 While we have fond memories of dining at Sheraton Petaling Jaya's Yue Chinese restaurant, we'll have to settle for delivery, take away or drive thru this Year of the Ox. Options include 5- or 6-course meals curated for smaller yet no less treasured reunions, as well as 3 types of customary yee sang and a Poon Choi bowl. Additionally, there's a selection of vibrant gift boxes to share the luck and abundance with your loved ones.
Dine at Home: Happiness Set Menu (5 courses, 2-3 pax) – RM238
The Opulent Set Menu (6 courses, 4-5pax) – RM368
Yee sang – From RM138
Poon Choi – RM588
The CNY offerings are available from January 26 to February 14, 2021. Purchases with a total of up to RM1000 in accumulative receipts will be rewarded with a complimentary one night stay at the hotel. For reservations and enquiries, please contact 03 7622 8888 or email sheraton.petalingjaya@sheraton.com. W sheratonpetalingjaya.com
Concorde Hotel Kuala Lumpur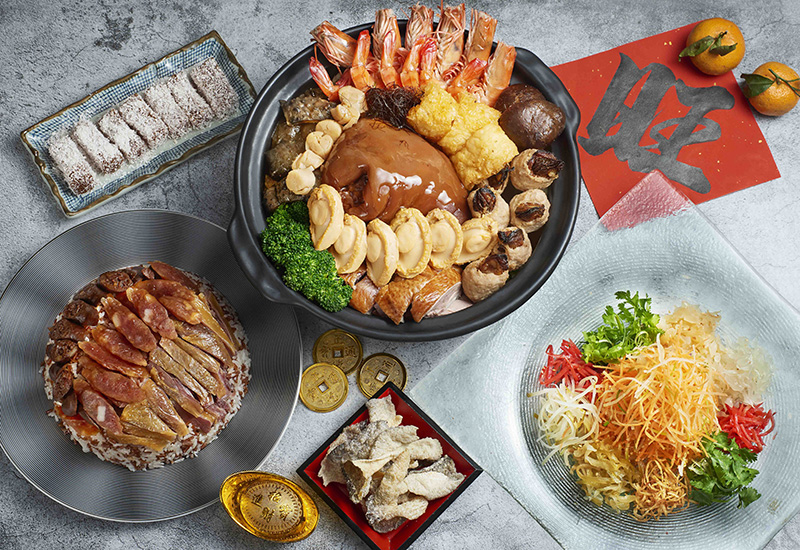 Concorde's Xin Cuisine Chinese Restaurant has cooked up an array of traditional delicacies, poon choi and yee sang for delivery or takeaway. A la carte options are available too, such as Stewed Pork Knuckle with Sea Cucumber in Brown Sauce and Signature Spare Ribs with Champagne Sauce, alongside three Nian Gao variations.
Abundance set – RM588 for 6 persons
Treasure Pot Poon Choy – RM468 for 6 persons
Yee sang – From RM88
For takeaway and delivery, please contact 03 2144 8750 or 012 399 5007. Pre-orders are highly recommended at least 3 days in advance, from January 11 to February 26, 2021 (10 am to 7 pm daily). Pick-up time for CNY Eve is between 2pm to 4pm. Delivery fee applies. W concordehotelsresorts.com
The Ritz-Carlton, Kuala Lumpur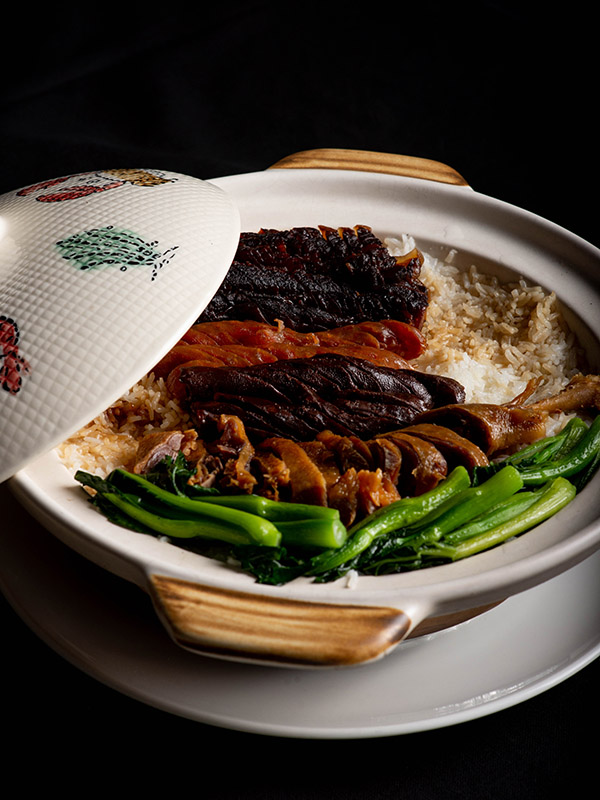 Enjoy "Reunion Star Dishes" from Li Yen that emphasise on tradition, including Hong Kong-Style Waxed Meat Clay Pot Rice, Roasted Pipa Duck and Slow-Cooked Kurobuta Spare Ribs. There's also two Golden Prosperity Salmon Yee Sang, Abalone and Black Caviar Yee Sang and classic Li Yen Poon Choi. All dishes are available for takeaway daily from 12pm to 8pm, now until 28 February 2021.
The hotel is offering complimentary delivery with a minimum order of RM200 and above (up to 20km). A delivery fee of RM20 applies for orders below RM200 (up to 20km).
For reservations and enquiries, WhatsApp +60 18-646 8033, WeChat @liyenkl or
email li.yen@ritzcarltonkl.com. W ritzcarltonkl.com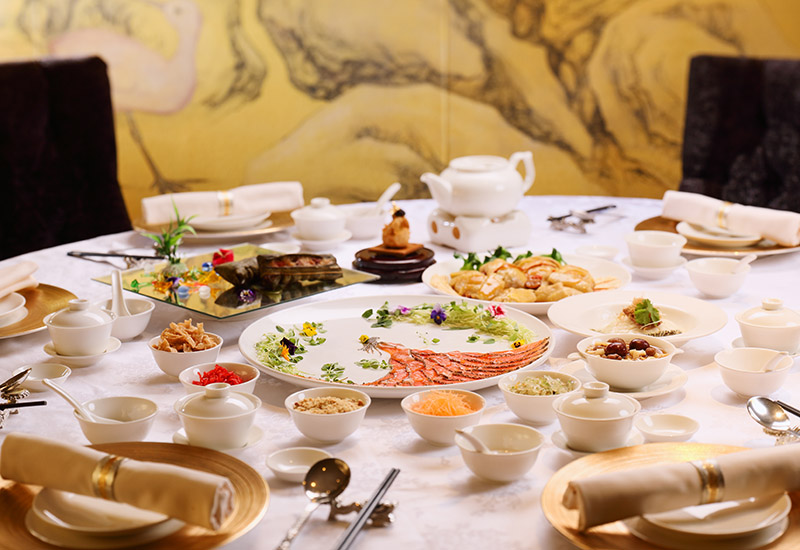 Fans of Shanghainese cuisine, look no further than JW Marriott KL's Shanghai restaurant, offering a selection of curated sets and a la carte menus. Led by Shanghainese native Executive Chinese Chef Wong Wing Yeuk, the menu highlights traditional favourites such as the Signature Shanghainese Casserole (Poon Choi) and yee sang made with the chef's 20-year secret recipe.
Yee sang – From RM118 (small) and RM188 (large)
Set menu – From RM238 per person
From now until 28 February 2021 (takeaway and delivery from Tuesday to Sunday, 12pm to 8pm)
Guests can enjoy complimentary delivery within 20km for orders above RM200.
For reservations and enquiries, please WhatsApp +6018 591 9537, WeChat @shanghaijwmkl
or email shanghairestaurant@jwmarriottkl.com. W marriott.com