Because nothing quite captures the heart of Chinese New Year like a meal with loved ones, especially with a customary toss of yee sang.
Strings of red lanterns, lion dances and festive music ringing through the malls now all point to an upcoming celebration: Chinese New Year. Those merely make up a fraction of the heart of the season, with family, tradition and togetherness being the central tenets. And nothing quite captures all three like a meal with loved ones, especially with a customary toss of yee sang.
That being said, here's a roundup of hotels and restaurants to 'lou sang' and ring in good health, wealth and prosperity this Chinese New Year.
Five Sen5es, The Westin Kuala Lumpur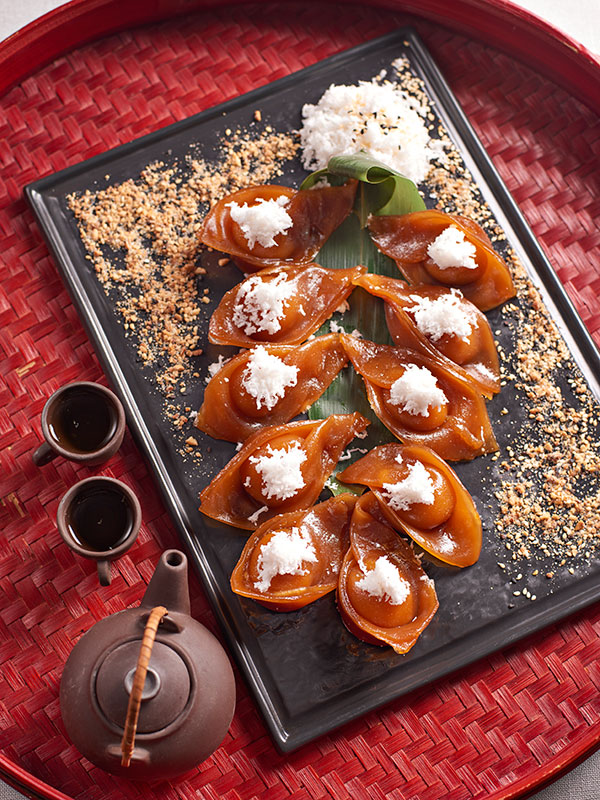 For a meal comprising a mix of traditional and modern dishes, Five Sen5es has got you covered with its three festive set menus. Highlights include herbal soups like Double Boiled Chicken Consommé with Sliced Fish Maw, Trumpet Shell and Ginseng and classic dishes like Steamed Eight Treasure Chicken Wrapped in Lotus Leaf. The set menus will be served from 5th January to 24th February and comes with one complimentary wine bottle.
Standout dish: 'Nian Gau' Stuffed with Sweet Potato Paste – a less sweet alternative from the classic lotus paste version that's still equally tempting
To find out more about the full menu or to make a reservation, please call 03 2773 8338 or email westindining@westin.com.
The St Regis Kuala Lumpur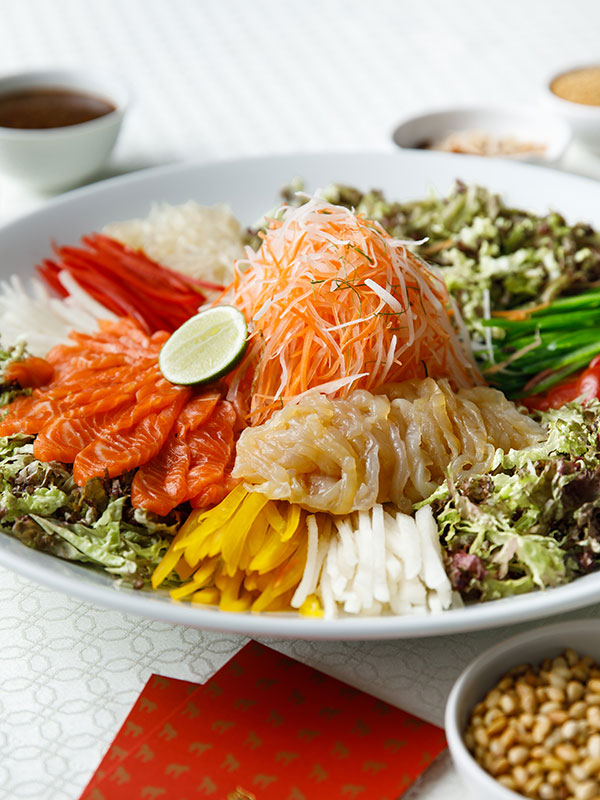 While it may not have a dedicated Chinese restaurant, that doesn't stop The St Regis KL from celebrating the legacy of family and traditions at its private dining rooms. From 5th January to 19th February, groups as small as 4 to 50 guests can reserve The Astor Room and larger parties of up to 800 guests can book the Grand Ballroom to enjoy the specially curated 8-course menus. Don't miss the "House of Fortune" pop-up shop at the lobby, selling traditional cookies and snacks as well as Puan Sri Sharon Chua's Chinese calligraphy and paintings.
Standout dish: Salmon & Jelly Fish Signature Prosperity Yee Sang – a special recipe passed down from Puan Sri Sharon Chua's ancestors that is made fresh and tastes incredibly zesty (can be ordered separately or as part of the Chinese New Year set)
To find out more about the full menu or to make a reservation, please call +603 2727 6696 or email dining.kualalumpur@stregis.com.
Li Yen, Ritz-Carlton Kuala Lumpur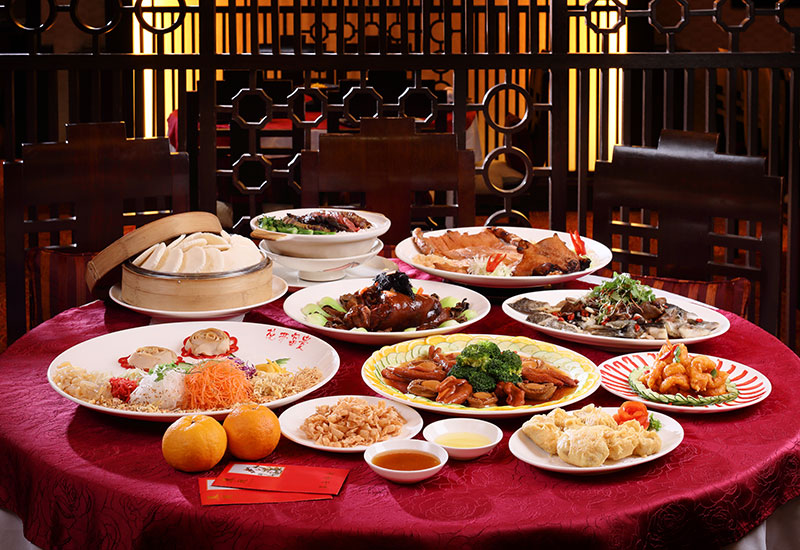 If your CNY meal feels incomplete without pork (it is the Year of the Pig, after all), then Li Yen will not disappoint. Choose from six festive menus (three each for lunch and dinner) showcasing the best of Cantonese cuisine, with dishes such as Braised Pork Knuckle with Dried Oysters and Sea Moss, Steamed Giant Grouper with Cordyceps Flower and Barbecued Crispy Suckling Pig. Both lunch and dinner set menus are available from 4th to 7th February; orders for prior dates can be arranged with advance notice.
Must try: Steamed Clay Pot Rice with Chinese Waxed Meat – made with Chinese sausages flown in from Hong Kong, the rice is infused with the fragrance of the vegetables, herbs and meat for 45 minutes before serving for a burst of umami goodness
To find out more about the full menu or to make a reservation, please call 603 2782 9122 or email liyen@ritzcarlton.com.my.
Shanghai, JW Marriott Kuala Lumpur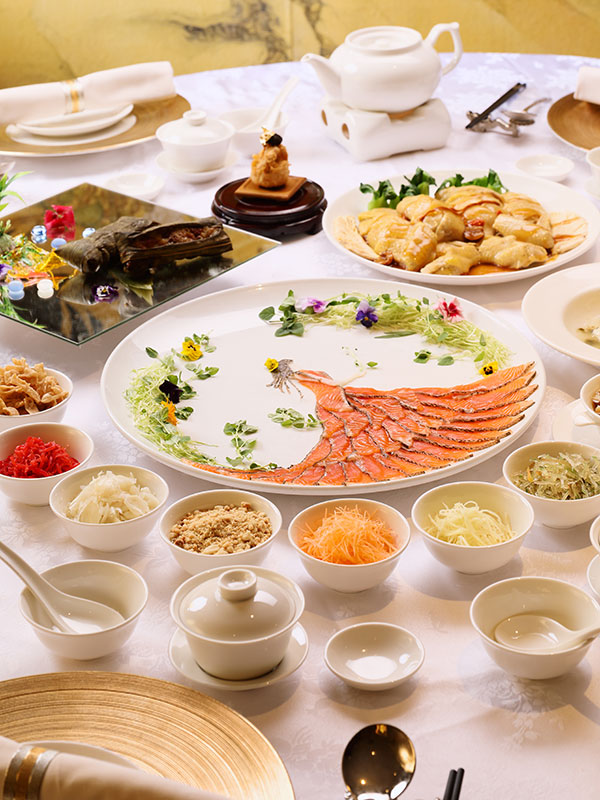 There's only one place in KL to enjoy exquisite Shanghainese cuisine and what better time to enjoy it than during Chinese New Year? JW Marriott's Shanghai is offering three festive menus with specialties including Bird's Nest, Steamed Bamboo Fish Shanghainese-style with Preserved Vegetable and Sweetened Cordyceps Flower with Snow Fungus. Alternatively, skip the sets and order an a la carte Shanghainese Hot Pot with Assorted Dried Seafood. Available for lunch and dinner from 5th January to 19th February.
Standout dish: Yee Sang – swap the usual salmon and jellyfish for Shanghai's lobster and geoduck variations, which can be decorated in the design of your choice (ours was a woman dressed in a salmon gown)
To find out more about the full menu or to make a reservation, please call 603 2719 8288 or email shanghairestaurant@ytlhotels.com.my.
Yue, Sheraton Petaling Jaya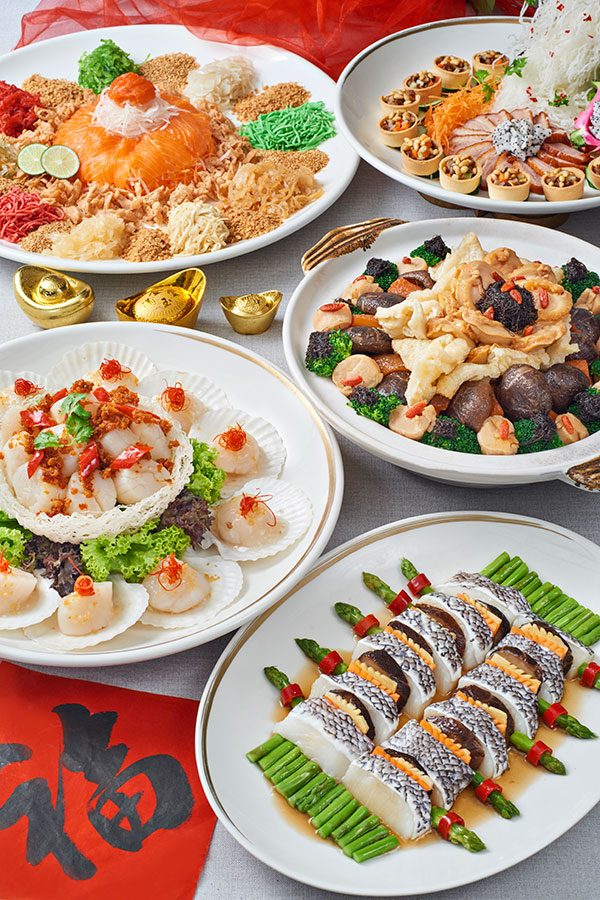 Sheraton Petaling Jaya is having a big celebration this Lunar New Year with a full line-up of performances on Chinese New Year Eve (4th February) themed 'Splendour of China'. Enjoy your reunion dinner at the Grand Ballroom with a 9-course meal as lion dances, acrobatic performances, LED drums and more entertain you throughout the meal. Meanwhile at Yue, three set menus will be available from 21st January to 25th February, featuring Braised Whole Five Head Abalone with Dried Oysters and Smoked Live Tiger Garoupa 'Taiwanese Style'.
Standout dish: Wok Fried Fresh Scallops with Superior Sauce and Steamed Fresh Scallops with Garlic Sauce – this two-way scallop dish comes in generous portions that will leave fans of the seafood more than satisfied
To find out more about the full menu or to make a reservation, please call 03 7622 8888 or email in at sheraton.petalingjaya@sheraton.com.
YEN, W Kuala Lumpur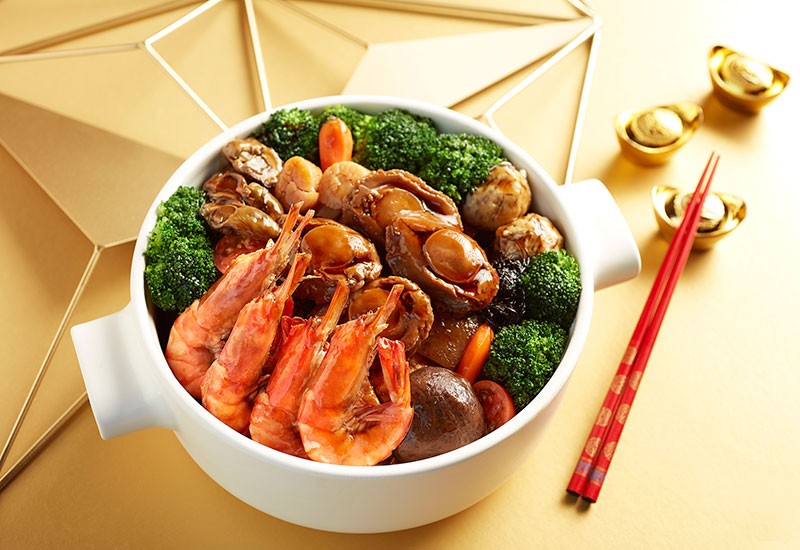 Being eclectic is second nature to YEN and one can expect the same of its Chinese New Year menus. Pick from four varieties of yee sang, each with an uncommon ingredient like Air Dried Szechuan Fish Chips or Qiandao Lake Angel Beads, then curate your own menu from a selection of classic meets contemporary a la carte dishes. Or you can opt to indulge in any of the four set menus (one of which is exclusively for lunch) to welcome the new year, starting from 7th January to 24th February.
Must try: Braised Premium Assorted Hot Dish (Poon Choy) – full of seafood treasures like 6 head abalone, sea cucumber and tiger prawns, this traditional dish remains a modern-day favourite for having so many premium ingredients in one wholesome bowl
To find out more about the full menu or to make a reservation, please call 603 2786 8888 or email b&f.wkualalumpur@whotels.com.
Lai Po Heen, Mandarin Oriental Kuala Lumpur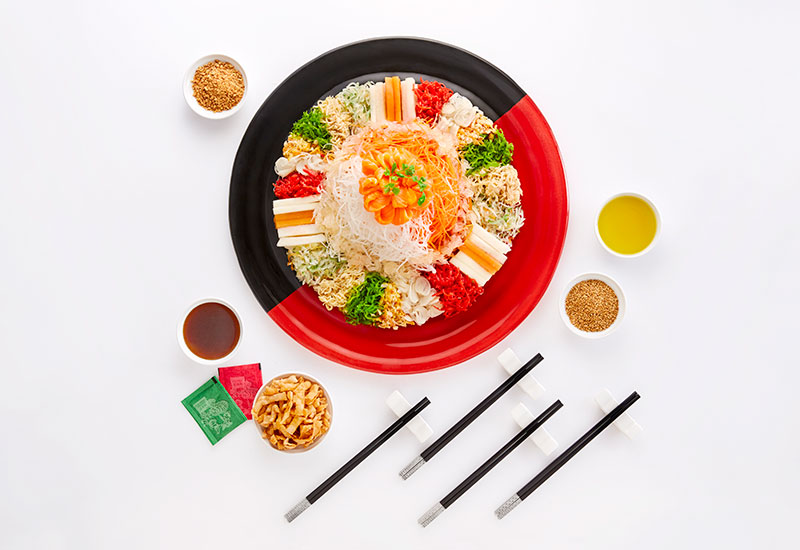 Fans of dim sum can usher Prosperity and Longevity with two lunch set menus at Lai Po Heen, which will tempt diners with creations such as Pan Fried Bean Curd Rolls Filled with Shrimp and Deep Fried Roasted Duck Dumplings. For dinner, Fortune, Prosperity and Wealth sets will keep the well wishes rolling with a traditional yee sang toss to start off the 8-course meal. All set menus are available from 9th January to 28th February and require a minimum of four diners, except Wealth, which is plated individually for a minimum of two diners.
Must try: Salt brine corn fed chicken served with ginger and onion dip – if this kampung-style chicken doesn't bring back nostalgic memories of homecooked food (but with a Lai Po Heen touch), we don't know what does
To find out more about the full menu or to make a reservation, please call 603 2330 8798 or e-mail mokul-fb@mohg.com.
Shangri-La Kuala Lumpur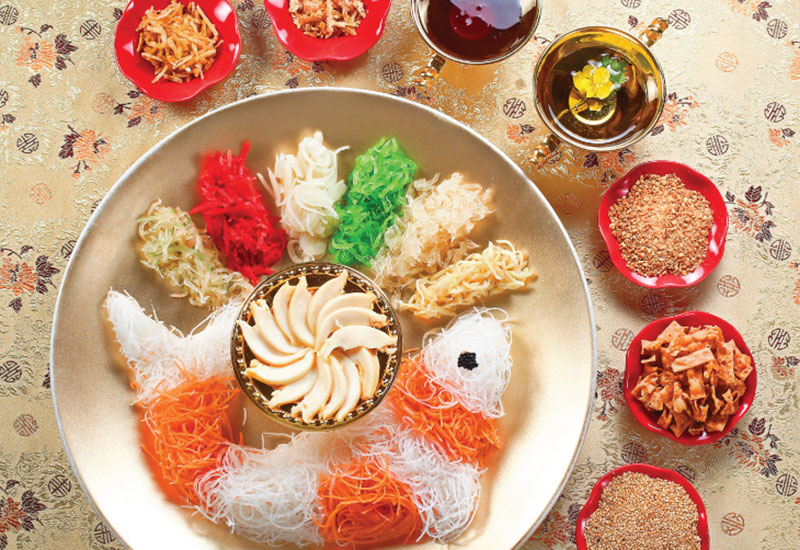 Reunions at Shang Palace can be celebrated with a selection of not one, two or three but five set menus and five different yee sang varieties, including Korean Snow Pear and Tempura Soft Shell Crab. If you prefer a buffet spread over a 8- or 9- course meal, head over to Lemon Garden instead. You can still enjoy a 'lou sang' there, plus an unlimited supply of seafood offerings too. Both Shang Palace and Lemon Garden are accepting Chinese New Year bookings from now till 19th February.
Standout dish: Signature Sliced Abalone with Caviar and Gold Flakes – because 'abalone', 'caviar' and 'gold flakes' in one dish should be enough to attract prosperity – and your appetites
To find out more about the full menu or to make a reservation, please call 03 20743900 or email restaurantreservations.slkl@shangri-la.com.
Red Chinese Cuisine, Pullman KLCC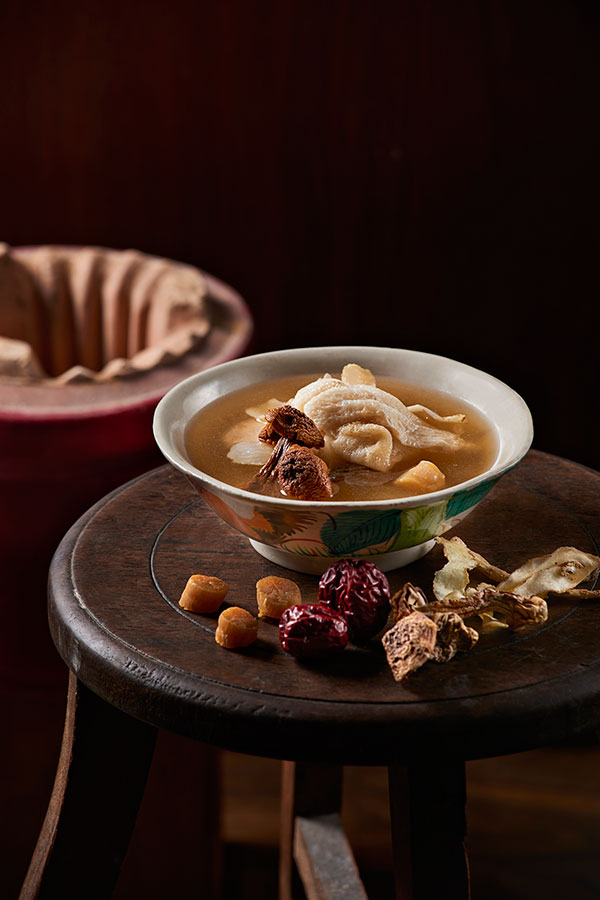 'A Nostalgic Celebration' is taking place at Pullman KLCC this year, given by the lanterns, pink cherry blossoms and retro grocery store greeting guests at the hotel's lobby. Red's three festive menus echo the reminiscence with highlights including "Fujian Style" Seafood Fried Rice with Whole Abalone and Pan-fried Chinese Pudding, to name a few. The menus will be available along with the signature yee sang made with Red's homemade sauces from 4th January to 19th February.
Standout dish: Double boiled Sea Whelk Soup with Matsutake Mushroom, Winter Melon and Conpo – heartwarming, nutritious and irresistible, this broth is so good, we might even return just for it
To find out more about the full menu or to make a reservation, please call 603 2170 8888 or email enquiry@pullman-klcc.com.
Nobu Kuala Lumpur
Too many 8-course meals, too little time to burn the calories? Go easy on the tummy with Nobu's HARHARHAR Prosperity Platter. It comes with either Salmon and White fish sashimi or a whole lobster, along with jicama, carrots, beetroot, dragon fruit, rose apple and seaweed salad. The platter for two can also be complemented with the Steamed Plaice with Iwashi Dashi and God of Wealth dessert for just enough to satisfy your appetite without adding inches to your waistline. All three dishes are available from 20th January until 25th February.
To find out more or to make a reservation, please call 03 2164 5084 or WhatsApp 019 389 5085.
Images: Courtesy of respective establishments