Clase Azul was founded 25 years ago with the desire to share and honour the rich cultural heritage of Mexico with the rest of the globe. The artisanship, authenticity, and tradition of the brand are proudly displayed in the premium tequila that is praised by connoisseurs all over the world. This was demonstrated by their distinctive decanter, a handcrafted masterpiece that took 11 days to sculpt and paint by native Mahazua artisans, ensuring each decanter is unique and special.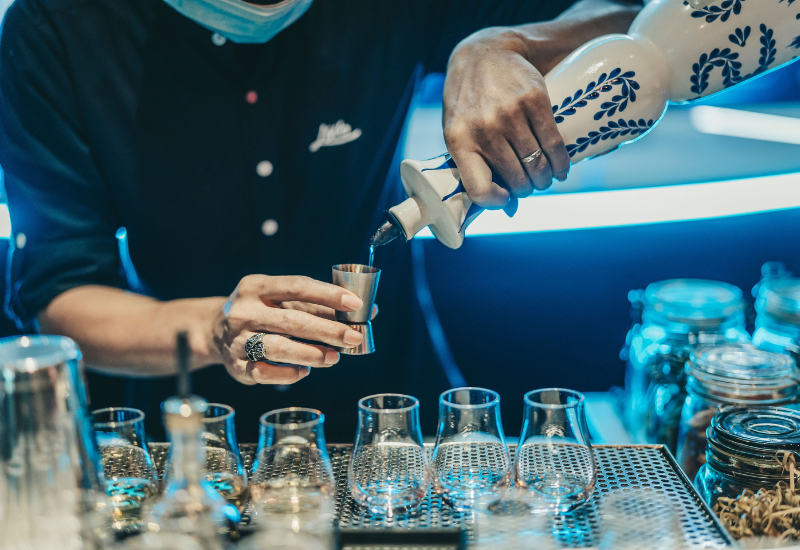 How Is Clase Azul Tequila Made?
Clase Azul Tequila is made from 100% Blue Agave. Before they are suitable for harvest, agave plants need 8 to 10 years to reach maturity. The plant's leaves are removed at the base during the "Jima" process, leaving only the agave heart, or "piña" of the plant. Using traditional brick ovens, the "piña" is then steamed for 48 to 72 hours. During the fermentation process, Clase Azul's own proprietary strain of yeast is added. Clase Azul uses a method called pot distillation, also known as "discontinuous distillation,". Tequila must be distilled twice according to CRT standards. Only the hearts from the first distillation are used. Clase Azul tequilas are then aged in the finest quality barrels, which are hand-selected by a qualified master distiller.
Available at Lavo Malaysia
Clase Azul Reposado is the essence and heritage of Clase Azul contained in a masterfully crafted decanter. Aged in American oak barrels for 8 months, the smooth and rich palate of the Reposado is widely regarded as the best reposado tequila in the world.
Clase Azul Añejo is a loving tribute to the indigenous Mazahua people and their historic heritage in both palate and presentation. The tequila's amber hue and strong aroma are the product of a 25-month-long ageing process contained in a decanter adorned with motifs such as clay and gold paint as a tribute to Mazahua culture.
Clase Azul Gold was inspired by the Mexican sunsets, where darkness meets the light, Clase Azul Gold echoes this with its unique blend of Clase Azul Plata and 8-year-old Extra Añejo. The decanter also reflects this with its unique fusion of a glistening glass decanter with a dark ceramic base.
Clase Azul Ultra is the pièce de resistance in Clase Azul's lineup, Clase Azul Ultra is the physical embodiment of premium artisanship. This special tequila takes a lengthy 14 years to produce, spending 5 years in both American whiskey and Spanish sherry casks, giving the Ultra its unique flavour profile.
Gracefully adorned with precious metals such as platinum, silver, and 24-karat gold, the decanter is also a work of art made exclusively for collectors where only the most skilled artisans can produce.
For more information, click here.