At a time when most of us are just barely recovering from the gastronomic onslaught that was Christmas and New Years, we regret to inform you that Chinese New Year is well on its way, along with its tantalising torrent of culinary delights. 
The auspicious season is one where people gather, reunite and reconnect, and more often than not, they're doing it over shared meals and festive treats. In Chinese culture, traditional food and ingredients are often richly embedded with meaning, and no time is this more evident than during Chinese New Year, when dishes and meals are symbolic of specific hopes for the year ahead.
From the delicate abalone and the hairy black moss, to sweet snacks like Fa Gao steamed cake and Tang Yuan balls, here is an ABC guide on the most popular CNY foods and why they're said to bring good luck, prosperity and togetherness.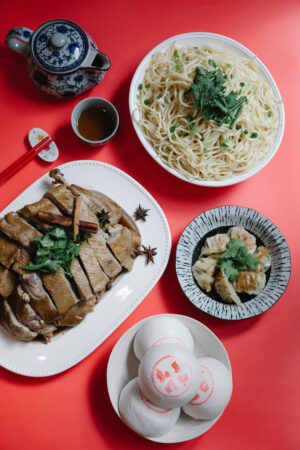 Abalone is an expensive delicacy often reserved for special occasions, its name 'Bau Yu' representing an overflow of good fortune. While the term 'Yu' is widely known as homophone for surplus and abundance, 'Bao' sounds like the Chinese word for 'assurance'. Put together, the Chinese name for Abalone doubles as the phrase for 'guaranteed surplus'.
Apples are eaten and given as gifts during Chinese New Year as a sign of well wishes for peace and prosperity. The first character in the fruit's name, 'Ping Guo', is a homophone for safety and peace, thus representing a harmonious, untroubled life ahead.
Black Moss is an ingredient that many think resembles dark, silky hair, particularly when cooked. Known as 'fat choy', the bacterium is favoured for Chinese New Year cooking because its name, which translates to 'hair vegetable', also sounds like the word for 'good fortune'.
Chicken is usually served whole for Chinese New Year family meals, as a visual signifier of togetherness in family reunions. Sometimes, the chicken's feet are given to the breadwinner of the household so that they can hold on to wealth.
Dried dates have a deep, rich, red shade that's favoured in Chinese culture because it represents joy and good fortune. Eaten as a snack or used to make tea, dates are favoured during festive occasions as its name, (Zao) carries the same pronunciation as the word for 'early', symbolising a head start in life.  
Dried longan is a prominent medicinal ingredient in Chinese culture, thanks to its nourishing and nutritious quality. The longan's name, 'Gui Yuan' sounds like the words for 'expensive' and 'round', signifying value and reunion for the family.
Fish is often served whole and eaten for Chinese New Year, thanks to its Chinese name 'Yu' which sounds like the word for surplus, signifying extra fortune, wealth and luck to come for the year ahead. In some traditions, the fish is the last dish left at the table, and some of the fish would be leftover to represent yearly surplus.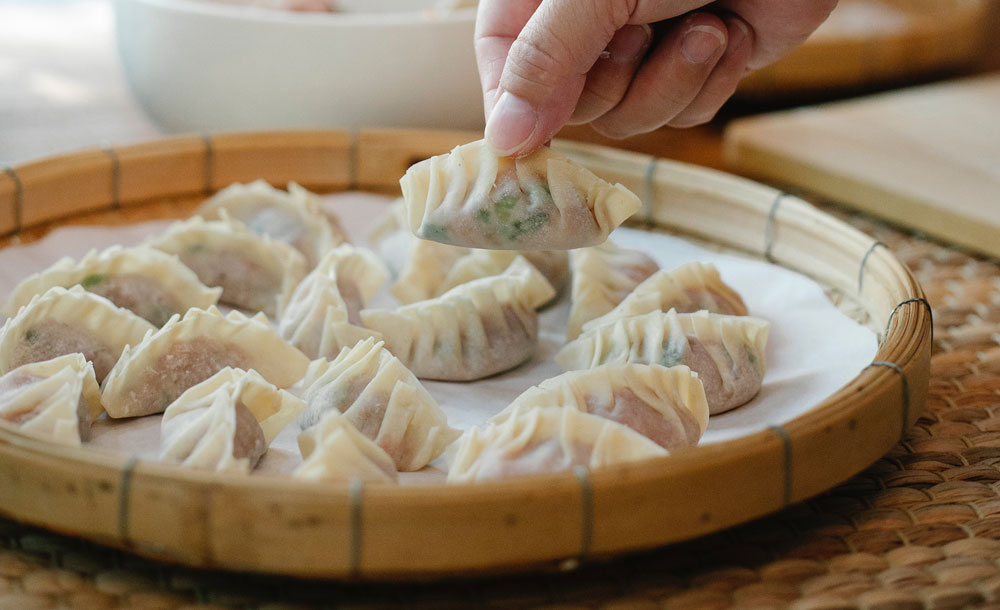 Jiaozi are traditional dumplings shaped in such a way that they look like ingots, a form of currency used in ancient China. The boat-like shape's association with money makes it a symbol of prosperity and wealth.
Longevity noodles are long, uncut noodles typically enjoyed stir fried or served in a broth on Chinese New Year Day. As you can guess, the lengthy strands characterising the dish represents having long life.
Mandarin oranges and Kumquats, often called 'Gam' in Cantonese and 'Jin' in Mandarin, are a popular treat during Chinese New Year not only because of their high snackablity, but because the words 'Gam' and 'Jin' means gold, thus symbolising prosperity.
Nian Gao is a sticky glutinous cake eaten during the Chinese New Year festive season, as its name literally means 'year cake'. The word 'Gao' also makes the same phonetic sound as the word for 'tall', so Nian Gao doubles as a symbol for attaining greater heights each year.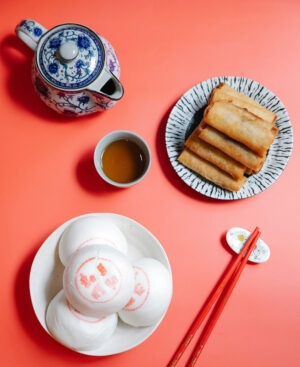 Peanuts, called 'Hua Sheng' in Mandarin, symbolises growth and flourishing as the word 'Hua' means 'flower' and 'Sheng' means 'birth'. For Chinese New Year, the nuts might be eaten raw, in candied form, or boiled and served as a savoury side dish.
Pomelo is a fruit enjoyed particularly during Chinese New Year for its link to prosperity and abundance. The name for pomelo, 'You', is a homophone for the word that means 'to have', as well as for the word 'again'. 
Poon choi is a traditional dish that translates to 'basin vegetables', originating from village communities who would get together and each contribute food to a communal pot. Symbolising unity and togetherness, the Lunar New Year dish can include pork, beef, prawns, abalone, broccoli, bean curd, and bamboo shoots layered and soaked in gravy. 
Spring Rolls' origins go all the way back to ancient China, when the wraps were eaten during the Spring season as that was when fresh vegetables were available to use for filling. As Lunar New Year marks the start of Spring, the deep-fried rolls are a festive favourite, while their crispy, golden appearance resembling gold bars also represent wealth for the new year.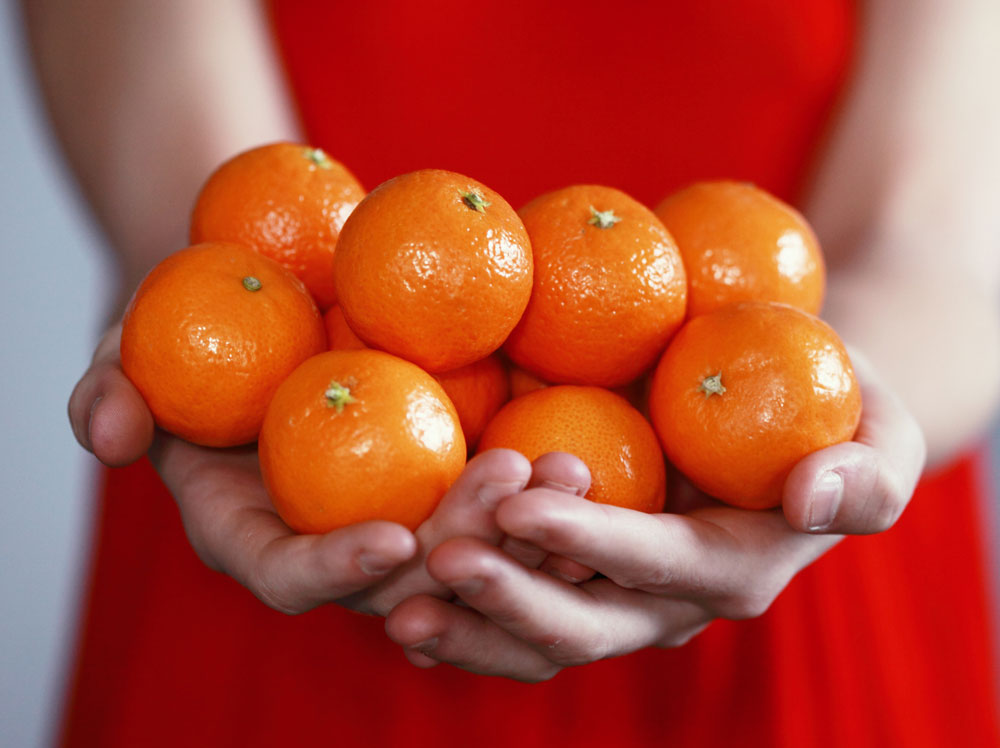 Steamed sponge cakes, or Fa Gao, are known to symbolise prosperity, as the 'Fa' in its name implies expanding wealth. The cakes notably have a split crack on their tops once they're baked, and in some traditions, a wider crack means greater prosperity.
Sunflower seeds are snacked on during Chinese New Year gatherings, often as an accompaniment to conversations and catch-ups with family and loved ones. Because the Chinese word for seed means 'child', the seeds are associated with having lots of offspring. 
Sweets and candy are a big part of Chinese New year celebrations, with households usually putting out a platter of sweet treats for guests and visitors. Called the Tray of Togetherness, the multi-compartment platter is filled with different types of candy, dried fruit, nuts and biscuits that symbolise a sweet, happy life.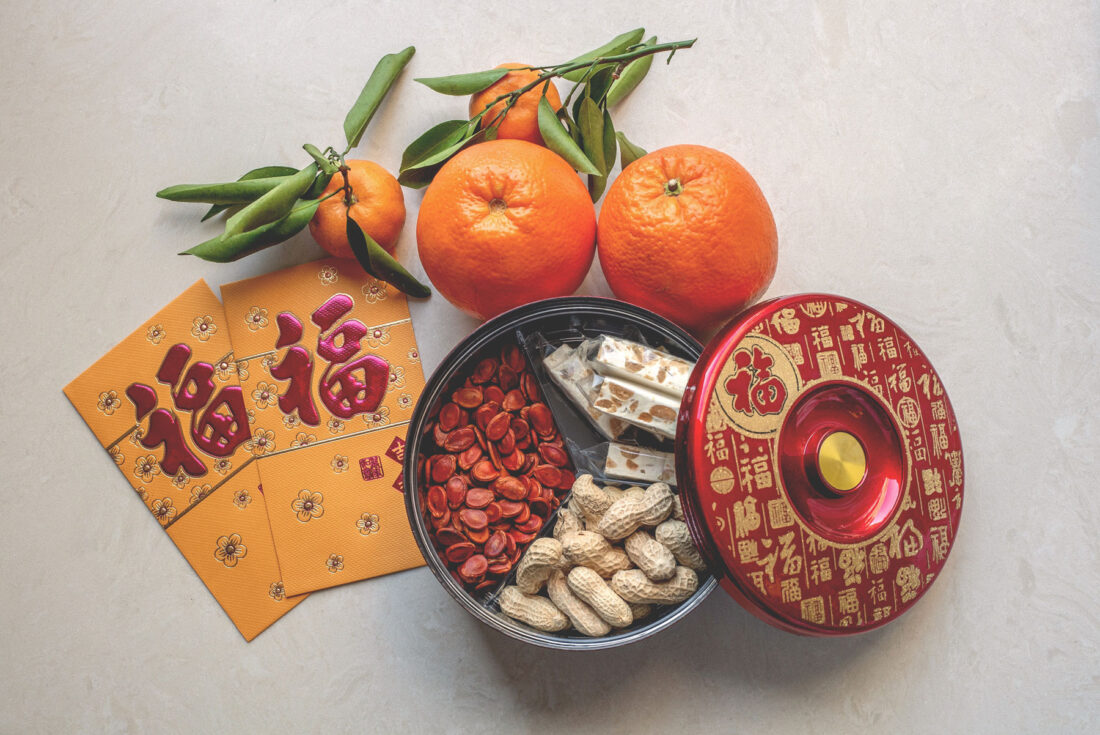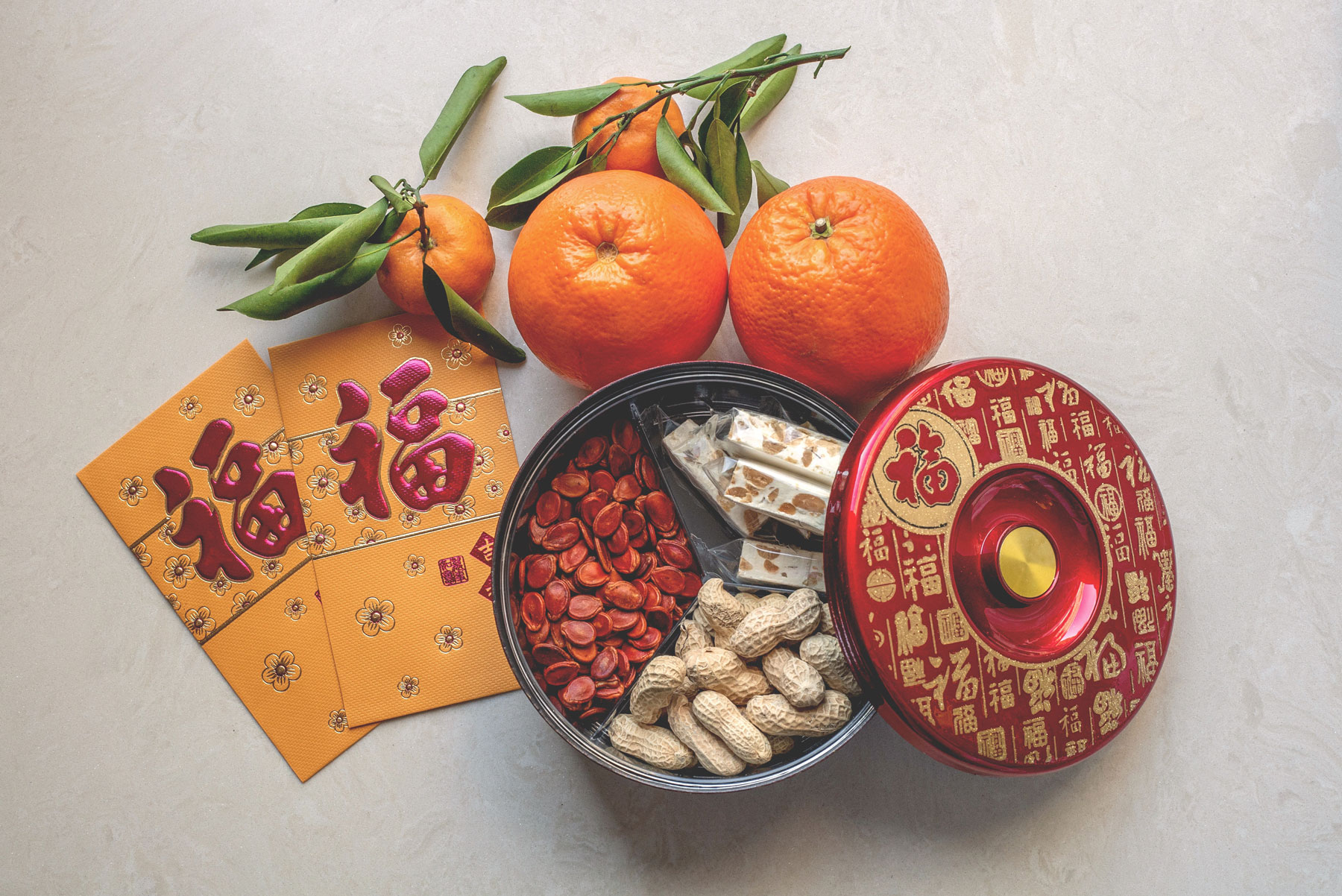 Tang yuan are sweet glutinous rice balls that are often more associated with Mid-autumn festival than Lunar New Year. However, the dessert's round shape representing unity and oneness, as well as its name which sounds like 'tuan yuan', denoting togetherness and reunions, make it an ideal New Year time dessert.
Zongzi are glutinous rice dumplings, often associated with the Dragon Boat Festival in China. However, in some regions, it is a Chinese New Year tradition to have the rice-based snack as it symbolises an abundant harvest for the coming year.