To all fans and followers who have waited with bated breath for this moment, here's everything there is to know about Chiara's wedding dress. Actually, make that two dresses.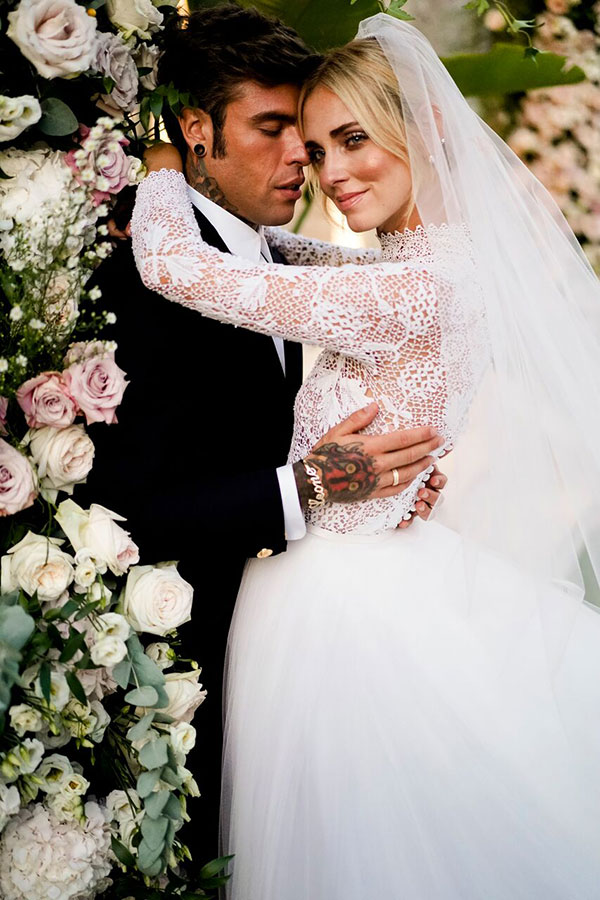 Fashion super-influencer turned entrepreneur Chiara Ferragni (aka The Blonde Salad) and singer Fedez have tied the knot over the weekend and it might just be the greatest Italian wedding of the year.
Since Fedez proposed to Chiara onstage at his concert May last year, the couple have buried themselves in nuptial arrangements – sidelined only temporarily by their son, Leone's arrival. Now that the wedding has taken place, we're pretty sure it's all over your Instagram feed – thanks to their millions of followers.
View this post on Instagram
Prior to the big day, details on the location of their wedding (Noto, Sicily, in Italy); how the invitation card looks like (which Chiara kindly shared on her Instagram); and top names on the guest list (including Paris Hilton, Gilda Ambrioso, Chiara Capitani and Veronica Ferraro) have gotten out.
But one important piece of information was kept under wraps until recently: the wedding dress.
And so, to all fans and followers who have waited with bated breath for this moment, here's everything there is to know about Chiara's wedding dress. Actually, make that two dresses.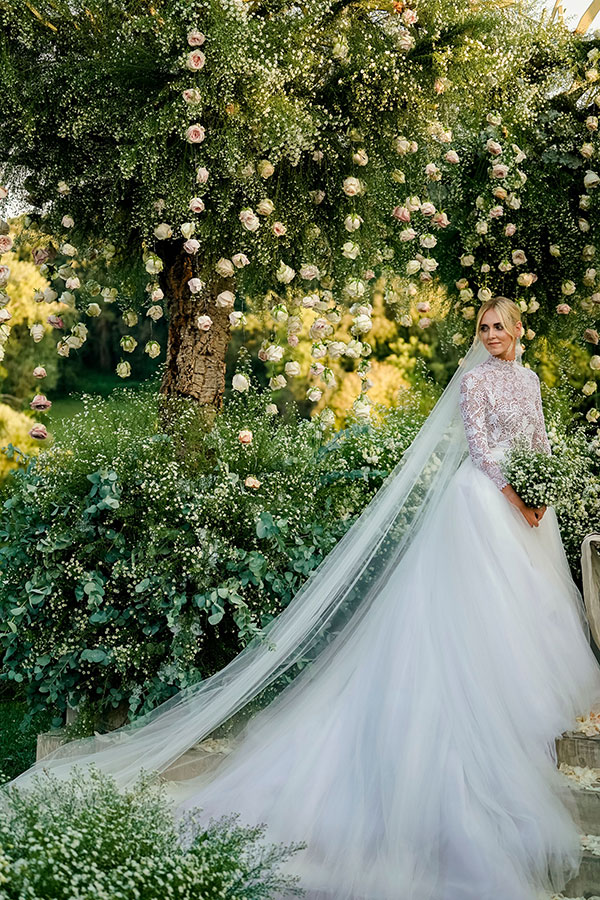 Who designed them?
Having custom-designed Miranda Kerr's awe-inspiring dress last year, Maria Grazia Chiuri has made yet another girl's wedding dress dreams come true. Some may have guessed it from Chiara's frequent posts in Dior, but then again, she has also worked closely with Gucci, Prada and Versace. You'll just never know until you know – and now you do for certain.
You may also like: Get to know the designer of Meghan Markle's wedding dress
What do they look like?
The first, which Chiara wore as she walked down the aisle in the arms of her father, was a high-necked long-sleeve traditional wedding dress with a modern twist. It composed of a lace jumpsuit and a wraparound tulle skirt – a style that's quite synonymous with Chiuri. A cathedral-length veil completed the look with a classic touch of elegance.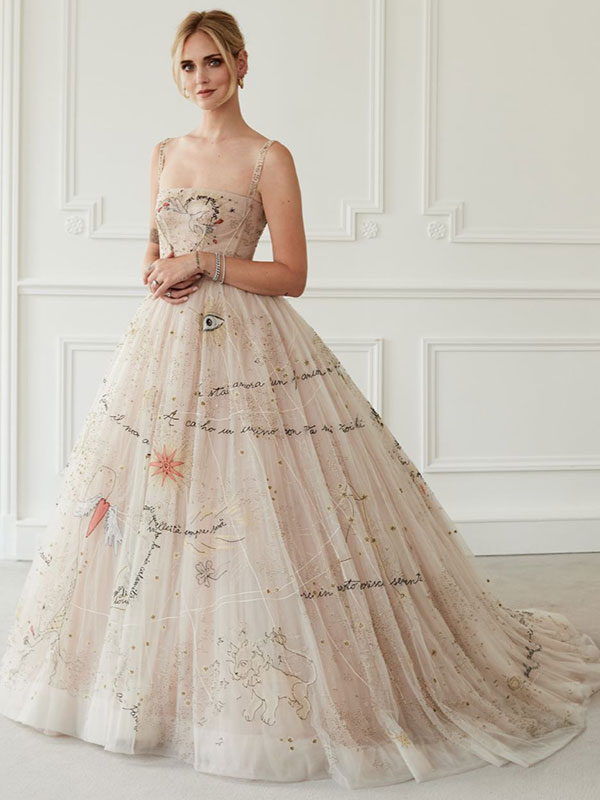 For the reception, she changed into a tulle ball gown embroidered with words and symbols capturing the couple's romantic history. The hand-stitched motifs included an eye, palm trees, birds and stars, the Milan Duomo and the Eiffel Tower – all of which were emblems of where they met and cities they had lived in together; as well as a lion representing their son, Leone.
Upping the personalisation game were words, or more accurately, lyrics from the song Fedez wrote about their relationship – the very one he performed on the night he popped the question. "It's like my whole relationship in a dress, so that's amazing," Chiara said of the masterpiece at her fitting.
What inspired their designs?
Back in 2016, Chiara revealed her preference for sexy, figure-hugging styles on her blog, whilst also naming Grace Kelly's wedding dress as her inspiration. Though the actress' number did turn out to be a reference point for the first dress – as given by the high neckline and lace detailing – she traded her former inclination for a graceful, voluminous silhouette instead.
"At the beginning, I didn't want a traditional wedding dress," Chiara told Vogue. "I felt I wanted more of an evening dress, specifically one that I loved from Maria Grazia Chiuri's first collection for Dior. [But] after, I met with Maria Grazia Chiuri, who thought we could realize a modern yet classical wedding dress without losing my contemporary identity, and fusing the fact that I am a young Italian woman."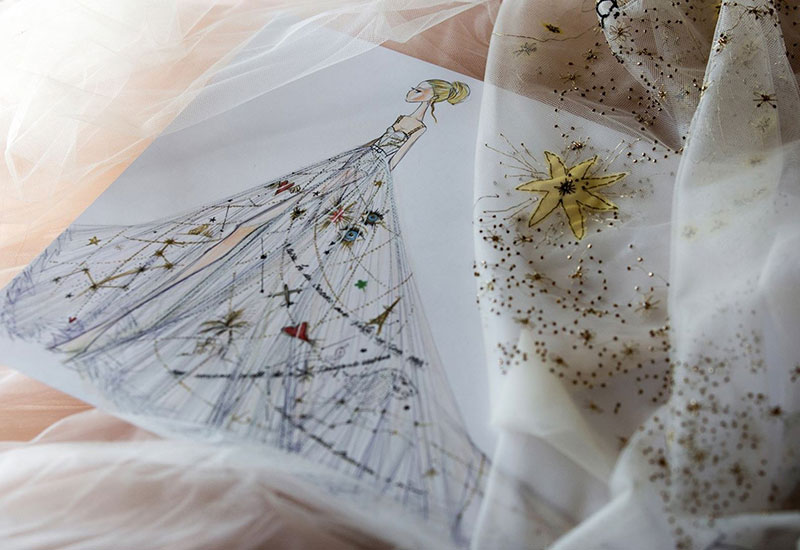 The second dress, on the other hand, was inspired by Chiuri's first collection for Dior. Drawing from the concept behind her tarot designs, the dress combined several layers of tulle to create a subtle contrast of shades.
Other fun facts
The ceremony dress required 400 metres of fabric and more than 1,600 hours of work in the ateliers at 30 Avenue Montaigne.
To match the dresses, Chiara wore a custom-made pair of white heels embroidered with "J'Adior" lettering on one side and "Chiara" on the other.
Her son Leone was also dressed in Baby Dior!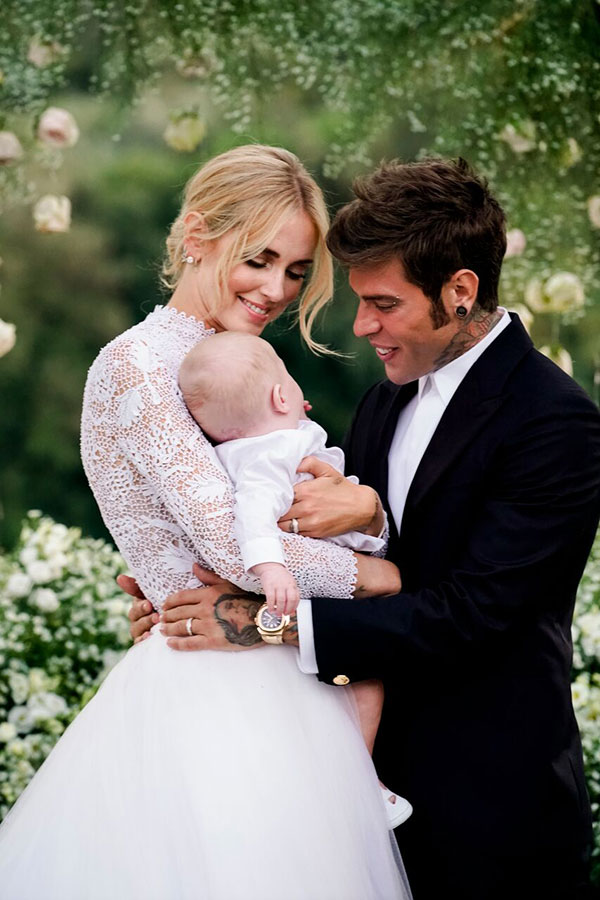 Follow the hashtag #theFerragnez on Instagram for more updates on the wedding.