Chef Sergio Meza's food comes with a playful factor as big as his hair, reflective of his personal mantra when it comes to food.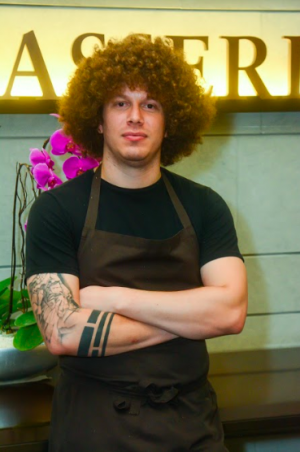 There are only a few things we know about Chef Sergio Meza, the larger-than-life chef and co-owner behind Villanos en Bermudas in Bogota, Colombia. One, he has big hair, cool tattoos and a wicked sense of humour, and, two, he is the youngest chef on the list of Latin America's 50 Best Restaurants.
In our defence, his elusiveness is no thanks to his non-existent social media presence.
"I deleted all my social media. I got tired of it," he tells us with a nonchalant shrug. "Everyone's always looking at photos, what people are doing, what you're eating, who you're going out with, what are you doing right now. Who cares?"
He takes the same approach with his food, which plays a big part in why it's so successful."I decided I would cook in a bubble. I would cook what I want, how I want," he states. "There's no point in me trying to cook something out of a dish I saw online. If I cook it without knowing that's in it or having tried it, it just becomes a shitty version of plagiarism. It's not even good plagiarism because I didn't get to try the actual thing."
We got a taste of his food as part of St Regis Kuala Lumpur's Guest Star Chef Series, where Chef Sergio and his brand of Colombian cuisine had their turn in the spotlight.
The result was an evening of unexpected surprises, just as he intended.
"A lot of people always ask me what's my style of cooking and I can't tell you specifically because I've been fortunate enough to live all over the world so you get Asian, European, Nordic, French, Spanish, Mexican, Latin American, Colombian, Chilean, it's all over the place," he elaborates. "If I had to name it, I think mine is considered free-style cooking because it's not fusion."
He may give himself the free hand to do whatever he likes, but he respects the basics to get it right each time.
"I like to do very simple dishes," he lets on. "There's a Belgian chef Gert de Mangeleer whose trademark line is "simplicity is not simple" and I really identify with that. If you have a dish that only has 3-4 components, you can't screw anything up otherwise 25%-33% of the dish is already gone. So you need to check your produce, have flawless execution and at some point, I don't care about the visual part so much, but if you can make it beautiful, then make it beautiful."
Here's what we tasted from our evening with Chef Sergio:
Shrimp/Vanilla/Macadamia/Pak Choy
Shrimp/Vanilla/Macadamia/Pak Choy
True to Chef Sergio's explanation of his style being a little bit of everything, European-style shrimp tartare is served on a simple leaf of Asian pak choy, sprinkled generously with macadamia shaving. The sweetness of the prawns is amplified by the herbaceousness of the pak choy and added depth with the nuttiness of the macadamia, each flavour profile apparent from the time you pop the entire thing into your mouth by hand.
Beet/Dragon Fruit/Almond
Beet/Dragon Fruit/Almond
Sweet moves on to earthy and nutty with beet served with almond powder. Texture-wise, it serves a good bite with a nice crunch, while flavour-wise, all that earthiness of beet is balanced out by juicy dragonfruit that gives a refreshing burst with each bite.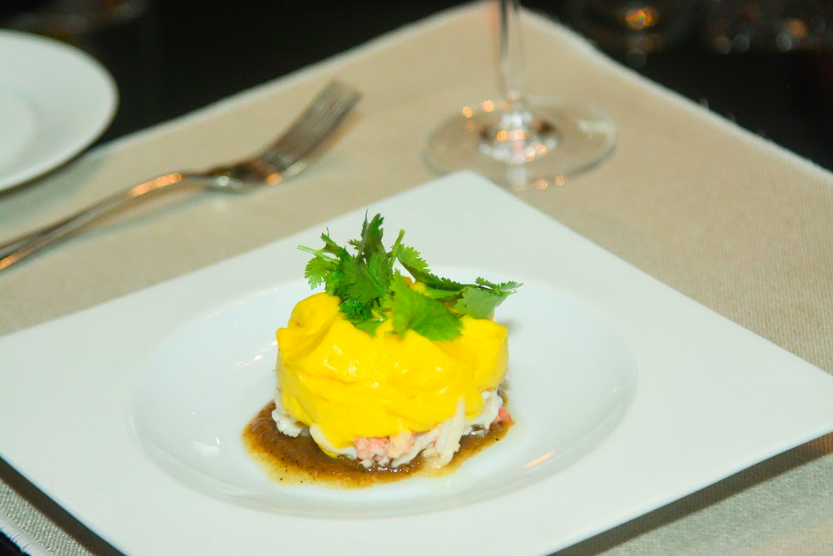 Pumpkin/Crab/Tomato/Cilantro
Pumpkin/Crab/Tomato/Cilantro
Meet the Mexican hangover food, as Chef Sergio puts it: Sweet crab meat made creamy with pumpkin puree, which butteriness extends on the sea sweetness of the crab to perfect lengths. Cutting through the oiliness is salsa-roasted tomatoes for just the right amounts of tartness. Cilantro lends a nice punch to the overall flavour without stealing too much from the seafood or puree.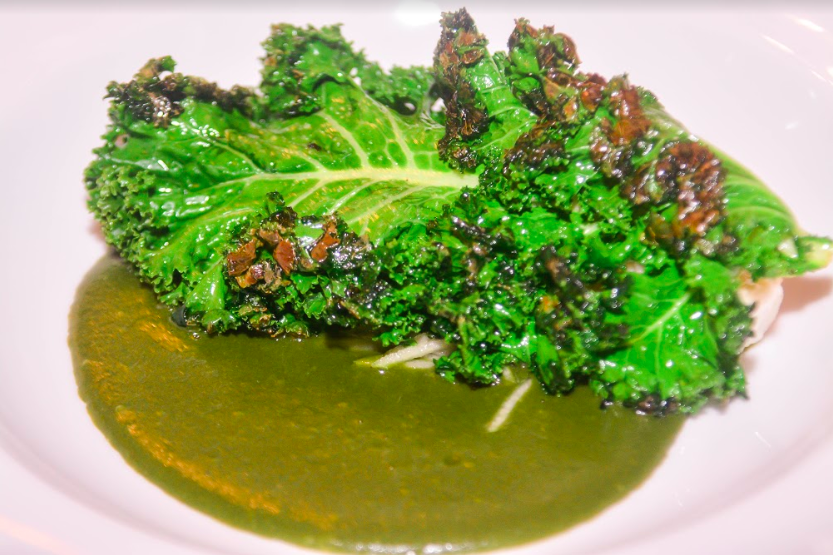 Sole/Lettuce/Kale/Apple
Sole/Lettuce/Kale/Apple
Beneath the giant piece of kale is a generous fillet of sole fish, but like the photo suggests, the spotlight is on the kale leaf itself. Simply welted over a hot pan for a nice crisp first bite, it is bittersweet to the tongue and satisfyingly chewy. Apple chunks offer acidity to sweeten it only ever so slightly for an unconventional take on your typical kale salad.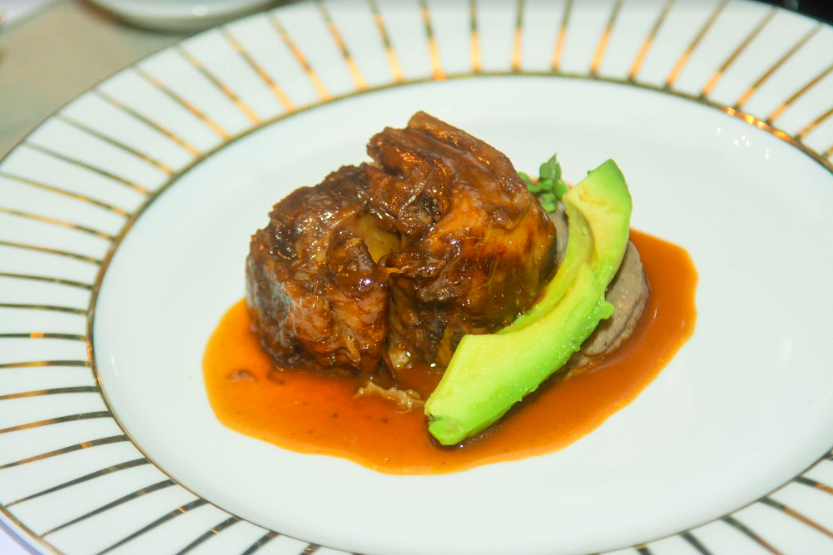 Lamb/Beans/Avocado/Mustard
Lamb/Beans/Avocado/Mustard
You haven't tasted Latin American until you've tasted Barbacoa lamb, and Chef Sergio does his as close as possible to the real deal, sans burying it in the dirt. Like the original, he rubs the lamb in chilli and spices before wrapping it in plaintain leaves. Instead of burying it and cooking it in dirt, however, he utilised the ovens at The St Regis KL, resulting in a juicy well cooked meat that falls off the bone.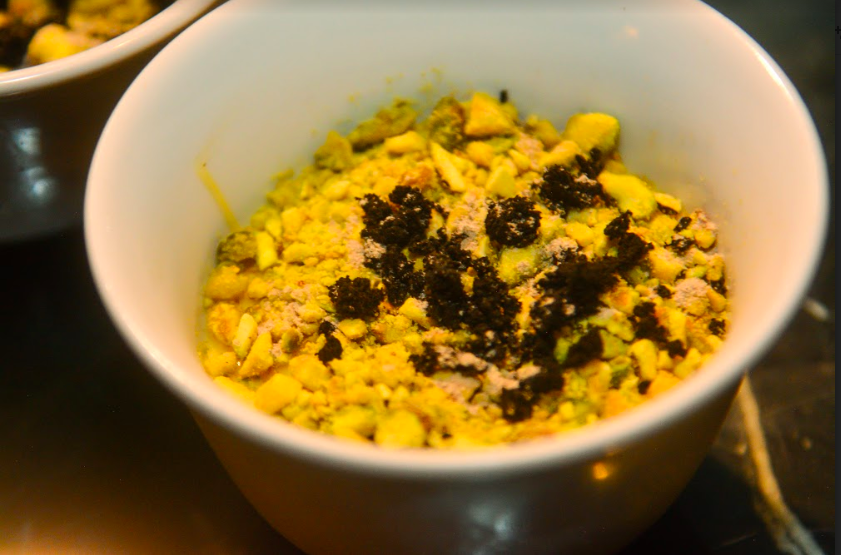 Yuzu/Pistachio/Capers/Olives
Yuzu/Pistachio/Capers/Olives
Here's a dessert that hits all the flavour profiles of sweet, sour, salty and spicy. The refreshingly citrusy body of yuzu custard is given a touch of saltiness with caper powder, a veil of nuttiness with crushed pistachio and rounded sweetness of olives. Had together, the layers come together for mouthfuls that satisfy both taste and texture.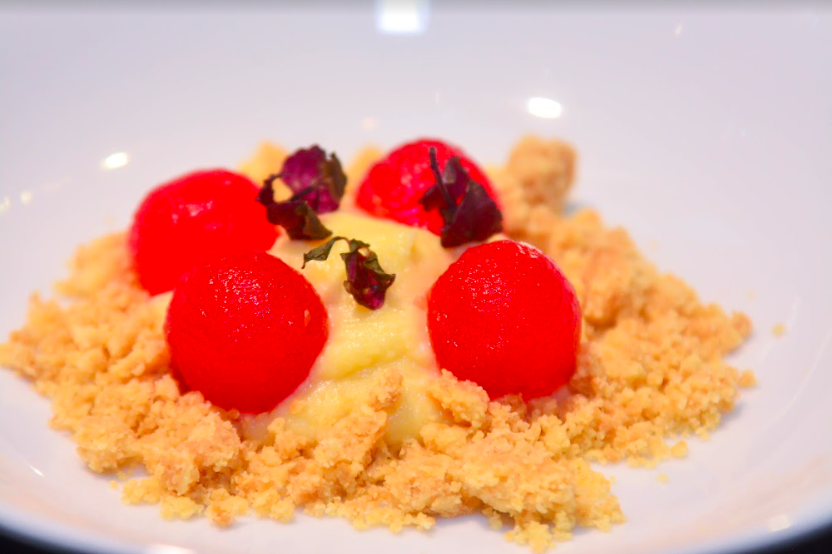 Miso/Watermelon/Mango/Shiso
Miso/Watermelon/Mango/Shiso
Savoury desserts seem to be Chef Sergio's forte, as seen with this final course of his dinner. Sweet miso custard wraps around fresh watermelon in a delicious medley of juicy and creamy. Lifting flavours is the slight tartness of mango, elevated with hints of shiso.
(Swipe left for more)
This dinner was presented by Pernod Ricard and came with pairings of Lillet and Campo Viejo. Chef Sergio Meza was invited as part of The St Regis KL's Guest Star Chef Series.
Next on the calendar is Chef Oso Otowa, a 1 Michelin star chef from Ciel et Sol in Tokyo, Japan. He will be at The St Regis KL from 28-30 March, 2019. 
For more information or to make your reservations, call +603 2727 1111.