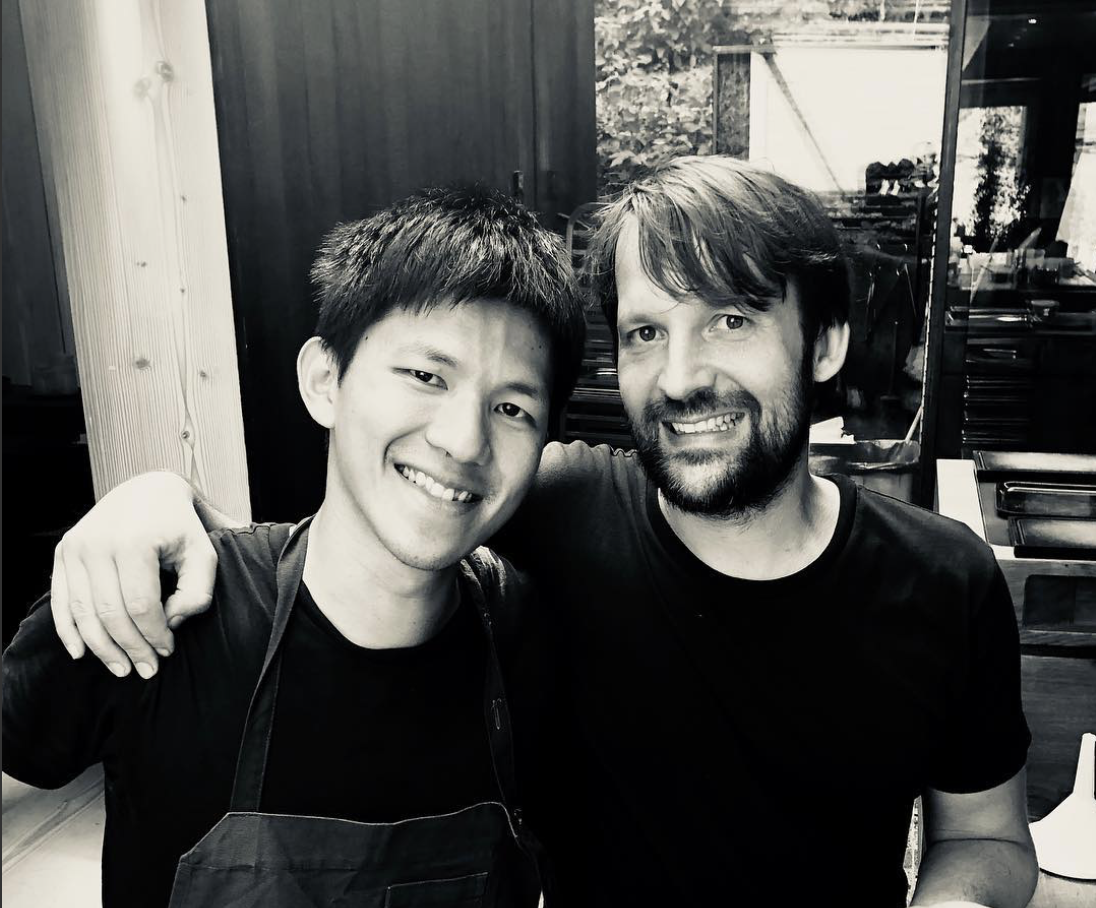 Many vie for a spot to dine at World's Best Restaurant 2021 Noma by renowned Danish chef René Redzepi.
Chef Koh Chin Hong, chef owner of Initial Restaurant in Johor Bahru, had a privilege bigger than that – he got the chance to spend four months interning in the kitchens of Noma 2.0 in Copenhagen and worked under the guidance of Chef René himself.
"He knows me by name," Chef Koh shares gleefully. "He'd sometimes call me by name to go help out in the other sections. It's great that he knows my name; he probably doesn't remember half the names of the crew since the restaurant has a kitchen team of almost 60."
View this post on Instagram
It was in 2014 when Chef Koh first got to meet the Chef René in person. The Danish chef made a visit to Hattori nutrition College in Tokyo, Japan, where Chef Koh was studying. Chef Koh remembers being completely starstruck about meeting his idol in person.
"I showed up at school  and my idol was in my school," Chef Koh regales. "We didn't talk but I saw him and I was wowed. This is the best chef in the world, right in front of me. It was in a class that I attended. He told us what he was doing, shared his knowledge."
It wasn't until four years later when Chef Koh was working in New Zealand that he came across a notice that Noma was calling for interns. The old Noma had shut and transitioned to the new Noma 2.0, which made Chef Koh doubly excited as he was looking forward to what is new. He applied, not giving it too much thought that he would get in.
"I got it," Chef Koh remembers the disbelief. "So I went."
Three Michelin-starred Noma gets an average of 4,000 applications on average for kitchen staff. Of that, they pick only 20-25 to man their 60-man kitchen, many of whom come and go as fast as the restaurant is renowned.
"Not everyone can take working at Noma. It's exhausting work, minimum 17-hour-a-day work," Chef Koh divulges. "On my day off, I sleep 20 hours. It's dangerous too – there are some people who break their arms and legs and end up in the hospital. They cannot handle the stress and long hours. Some who joined with me ended up in the hospital or quit much earlier."
View this post on Instagram
In the kitchen of the Best Restaurant in the World
Located in the Christianshavn neighbourhood of Copenhagen, Denmark, Noma serves two dinner seatings, offers a 22-course menu with juice or wine pairing, and accommodates up to 135 pax each seating. It is packed out every day.
"I worked very fast, I finished a lot of my task very much faster than most other interns and I will go help others," Chef Koh regales. "I found most of the jobs to be quite easy. If you move faster, you'll be done faster."
The hectic pace of the kitchen is matched by incredibly long hours.
"We start working at 7am every day," Chef Koh tells. "We had to make sure everything is ready by 6.45am. We work until 1-2am most days. It was a very big kitchen with about 60 chefs in the kitchen. It's like a factory. We were a very busy restaurant. You can imagine the prep."
Most interns start out in the production kitchen doing the prep work and the same applied to Chef Koh.
"All the interns worked there, where you picked herbs, the easier prep work," says Chef Koh. "I was there for two weeks. They allowed me to do foraging, which was very fun, for a week."
"I went around Copenhagen, sometimes further away, to pick up roses, ramson leaves and capers as well as elderflowers. We foraged a lot of herbs. It was something very special to me. They will use those in the restaurant."
After two weeks, Chef Koh was moved to the service kitchen where he got to watch, learn and help prepare some of Noma's renowned new Nordic cuisine that is characterised by inventiveness and clean flavours that pay homage to produce and their natural flavours.
"The real challenge started there," Chef Koh recalls. "It's where the chef de partie and all the other chefs are. I learned how to prepare the dishes and how the final dishes should look. I worked very fast, I finished a lot of my task very much faster than most other interns and I'd go help others."
One of the fondest things he learnt to make is a Baku flatbread. A flat fragrant bread that is served at the start of service, it comes topped with over 20 edible flower varieties and wild herbs, foraged on the day itself. It is seasoned with just a little salt, raisins and topped with crackers for crunch, presenting the best iteration of what Noma does best – whole foods derived from the local treasures of the land.
"Chef René taught me how important local produce is," says Chef Koh. "He will just walk out and try wild herbs growing around Copenhagen. He'll pick it up and eat it. Sometimes he goes to a garden and picks a flower and eat them. He has such great passion for produce."
View this post on Instagram
Another thing Chef Koh was privy to in his time there was Noma's delicate art of fermentation. It is another aspect of culinary arts that fascinated him, especially from his time in New Zealand, where during the winter, fresh produce was hard to find and chefs had to get creative with how they preserved ingredients and produce.
"Fermentation is done by David Zilber, Head of Noma fermentation project. They have a fermentation room in Noma. It's so interesting because fermentation can change the flavour of the produce. This was great knowledge."
View this post on Instagram
Working with Chef René Redzepi
There are a lot of things Chef Koh counts as priceless from his time at Noma, but none compares to working with the man himself.
"I worked beside René," he tells, referring to the chef extraordinaire by first name, with no need for title. "It's stressful. I didn't get a lot of scolding but he scolds the chef de partie often. He'll come and watch what I'm doing."
He recalls most the chef's attention to detail and strive for perfection. Everything needs to be as it was intended with the chef.
"We had a dish that uses barbecued rose petals. One time, it wasn't barbecued to crisp enough and René get very angry and shouted at the whole team."
His meticulousness extends to even the service team. At Noma, every guest gets a taxi called and ready to take them home at the end of dinner. Chef Koh remembers when the service team forgot a taxi for a guest, which resulted in Chef René giving them a very big piece of his mind.
Chef Koh took it all in during his time there. "I really learnt to pay attention. He does mostly R&D these days and I like what he's doing, how he presents his food."
Chef René and Noma piqued Chef Koh's interest so much from the start largely because of their concept of presenting what they had from their lands in the best way possible. Chef Koh himself is a big fan of local produce and creating dishes that respect the original tastes and textures of what is grown in our own backyard.
View this post on Instagram
"I love his concept and what he's doing, especially the foraging, farm-to-table concept," Chef Koh enthuses. "I watched a documentary once and fell in love with his style of foraging what was right outside his restaurant and home. He picked out wild forest produce and put it on his table and menu. That's what I like and want to do."
It is a technique Chef Koh applies to his restaurant Initial in Johor Bahru. The restaurant's vegetables, flowers and herbs are sourced from two local farms located merely 10 minutes out from the city centre. He then presents them in a menu that always lets them shine on their own, in the simplest, most minimalist manner for best flavours.
"Every country has local produce that is prized and precious to them. It's not only the Japanese or French who have the best foods," he opines. "We need to start looking at what we have and helping those shine."
For more information on Initial Johor Bahru or to make your reservations, follow it on Instagram @initial_jb. Follow Chef Koh on Instagram @chinhong_ to keep up on his culinary adventures.
(Photos: Koh Chin Hong)