Coloured gemstones are having its moment in the limelight, with the top jewellery houses debuting vivid gems in their latest collections. In its quest to lead this shift as the Master of Colour, Bvlgari presents Colour Journeys – a series of capsule collections that uncover the fascinating stories behind the Maison's prized gemstones and passion for vibrant colours.
To kickstart this voyage, Bvlgari unveils the first chapter, starting in between Brazil and Mozambique, where one of nature's rarest treasures can be discovered: the Paraiba tourmaline.
Hidden away from the world in a mine in Paraiba, Brazil until the late '80s, the Paraiba tourmaline reveals a magnificent green-blue hue that imparts an inimitable shine. Dubbed the Rising Phoenix of gems, the Paraiba symbolises perfection and rebirth with its intense, one-of-a-kind aqua green hue that conjures a lush, eclectic Mediterranean Eden.
More impressively, it is said that only one Paraiba tourmaline is found for every 10,000 diamonds, making it one of the most coveted gems in the world.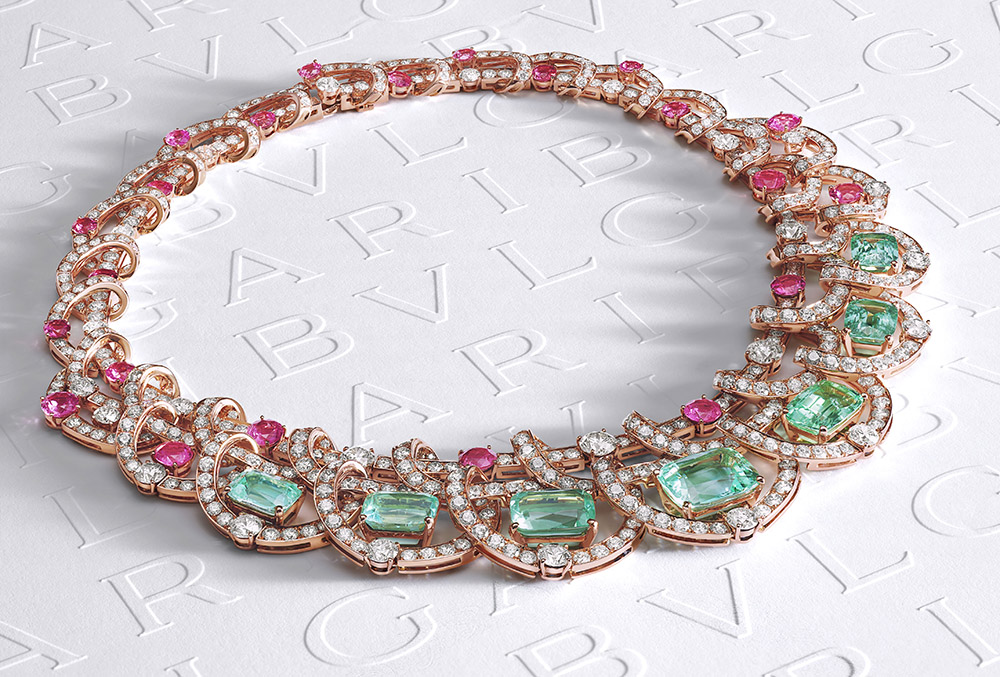 Bringing its flawless beauty and precious aquatic nuances to life, Bvlgari's new High Jewellery collection comprises of 17 unique creations showcasing the multiple facets of this rare tourmaline variety.
Highlighting the capsule are two high jewellery necklaces, the first of which plays on the striking combination between Paraiba and pink tourmalines, enlightened by diamonds. Seven Paraiba tourmalines totalling 36.81 carats adorn the ribbon-style high-jewellery necklace, harmonising perfectly with the delicate pink stones. The second set contrasts deep blue tanzanites and green emeralds with the light blue touch of the Paraiba, reflecting the intensity of the sea and the lightness of the sky.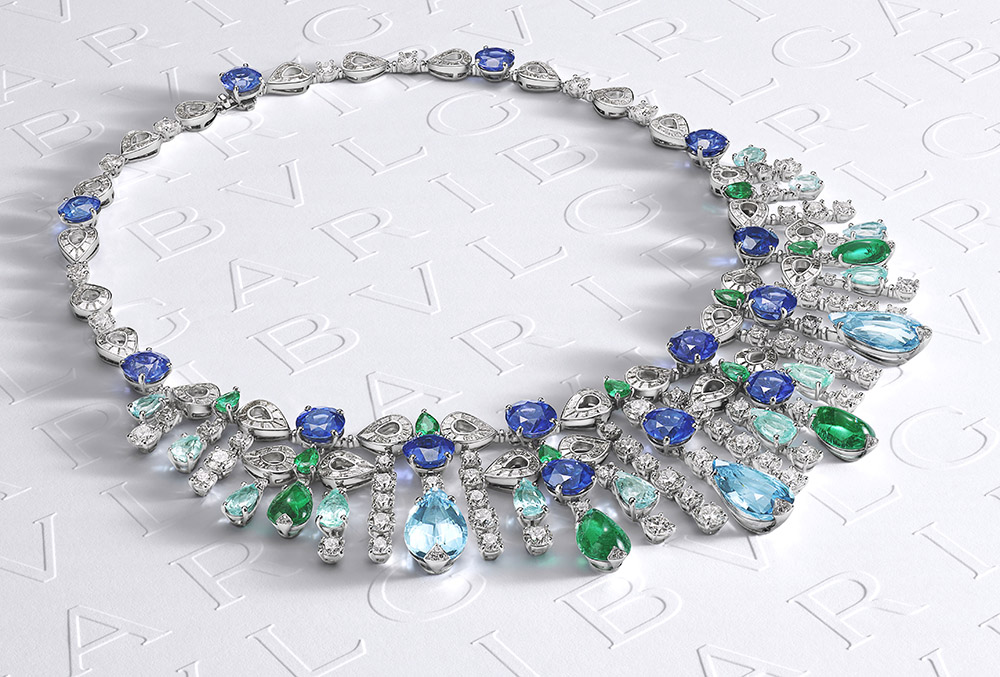 There are also two show-stopping rings crafted with Paraiba tourmalines weighing 5.60 and 3.35 carats respectively – one exuding a symphony of greens against emerald, and another set against pink sapphires and amethysts to unleash the feminine side of the Paraiba. Elegant earrings complete the jewellery collection with joyful cascades radiating the brilliance of the rare gems.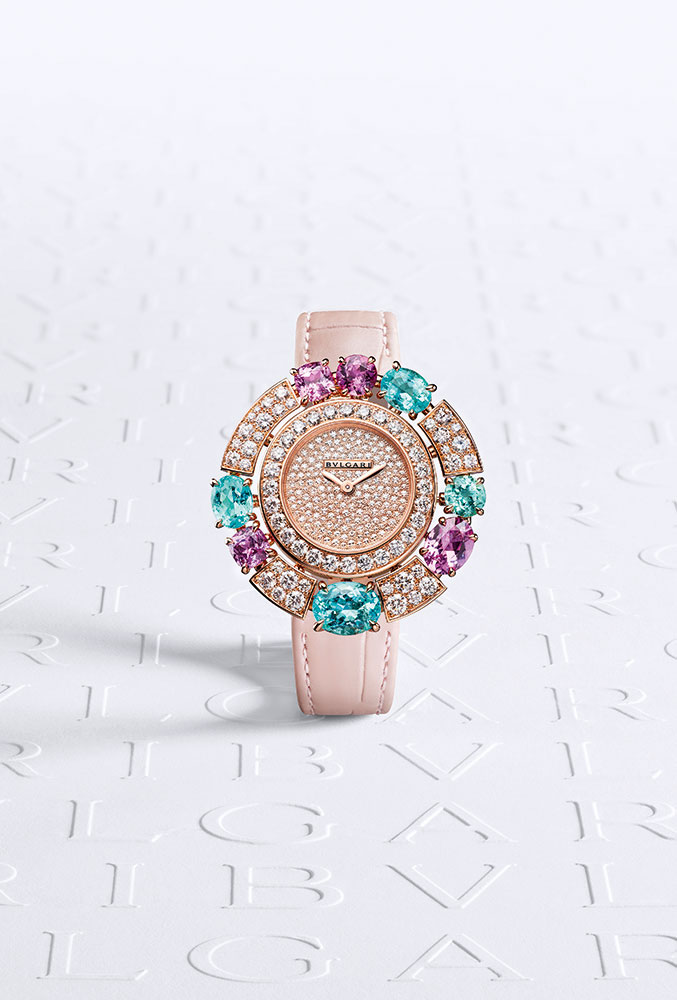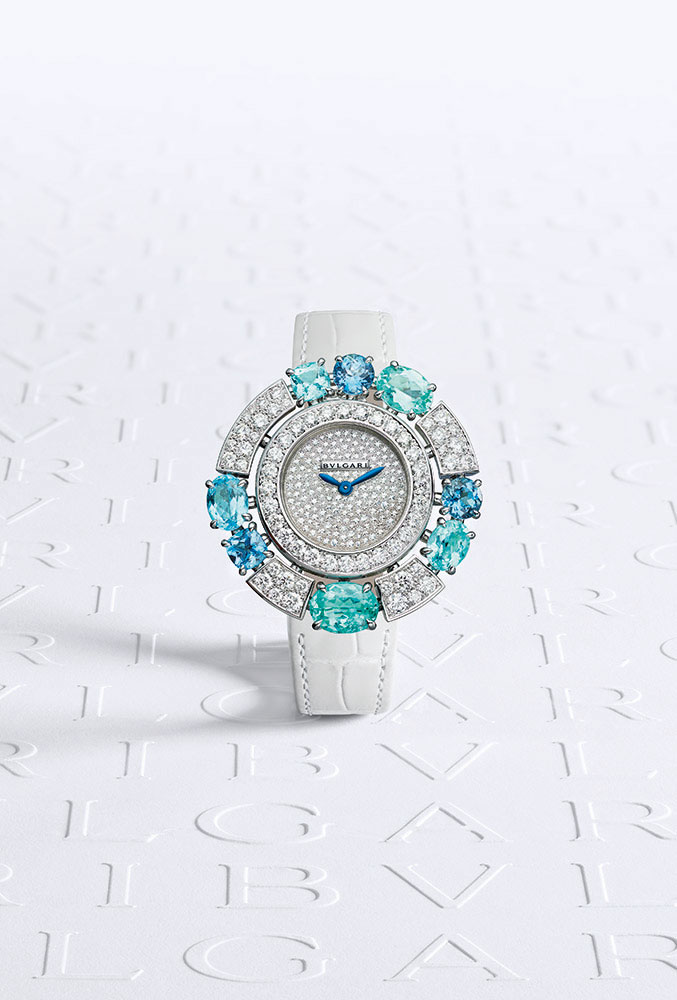 Extending its splendour to the world of horology, two new Allegra Jewellery watches are introduced with a riot of coloured gems in a kaleidoscope of cuts and sizes. These dazzling pieces feature a mesmerising rainbow of Paraiba tourmalines, aquamarines, pink and purple sapphires contrasted with 230 diamonds expertly crafted into metal settings. Available in either white or rose gold, both versions are complemented with a white and pink alligator strap.
Rounding off the capsule are two exclusive jewel bags in light blue and pastel pink crocodile skin. Inspired by the iconic Serpenti Forever line, the bags underscore the Maison's reputation as the Jeweller of Leather Goods with their colourful gem petals and the precious blue of the Paraiba, which crowns the snakehead signature. The full-diamond snakehead closure can also be detached and worn like a pendant. Each bag is completed with the tag 1/1, representing its exclusivity and rarity.
Photos: Bvlgari