Most of us were taught since young not to play with fire, but it seems the warning never quite stuck with the folks at Burnt & Co. Thank goodness it didn't.
Conceived by KARLS Group, the team also responsible for bringing us Beta KL and Skillet 163, Burnt & Co. at Artisan's Playground by Cookhouse is an exceptional new culinary concept that explores the boundless flavour possibilities of cooking over fire.
The open kitchen, with counter tables that seat up to 13, affords guests a casual yet intimate dining experience. Dishes were prepared right before us and presented by the chefs, who were more than happy to explain the processes behind their creations.
The star of the kitchen, however, was no doubt the Josper oven, the hybrid grill-and-oven used for a majority of the dishes on the menu. Having heard nothing but rave reviews from chefs about the fiery piece of equipment, we readied ourselves for a sizzling meal to remember.
View this post on Instagram
Starting off the 7-course Chef's Table dinner was the Hokkaido Scallop Tartare with Winged Beans and Peanut Butter. Charred winged beans are enhanced with a peanut butter and tofu curd sauce, and then tucked into folds of tender, melt-in-your-mouth scallops, before being met with a splash of clear fermented tomato water. The diverse elements made for an intriguing balance of sweet, savoury, acidic, nutty and a touch of bitterness, an indication for our palates to expect the unexpected here on.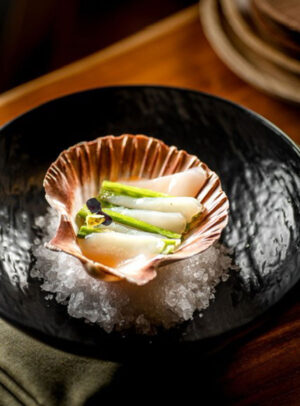 That instinct was correct, as the next item to grace our table was a somewhat unlikely pairing – a Clam Broth served alongside two pieces of Cheese Toast. Our menus offered little by way of information about the dish, outside of the high probability that it involves clams, broth, cheese and toast, but we were content to let the food itself do the talking. 
Boy, did it have a lot to say. Fresh, just-opened local clams, charred shimeji mushrooms, marinated cherry tomatoes and deep fried leek came together in a light yet complex-flavoured soup, while the perfectly browned cheese on toast was made even more delightfully decadent thanks to a smear of umami-rich nori butter.
Next came the Tiger Prawn with Smoked Paprika and Garlic, a dish that had us salivating just from the sight of its bright orange and red hues. Dressed in a mildly spicy coating of paprika and bell pepper, the grilled local prawns were a sumptuous standout that showcased the different forms smoky, charred flavours could take.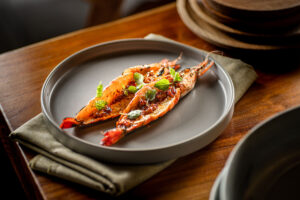 We soon realised that the first few courses were merely a warm-up, as the smokiness was dialled up several notches with the Kailan with Wild Garlic and Special Sauce. Grilled directly on top of the charcoal, the vegetable's characteristic crunchiness and inherent tinge of bitterness took on new layers of intensity and depth, rounded off by the savoury Budu emulsion.
Following this, the Smoked Duck with Szechuan pepper was brought out in a cracking claypot, accompanied by a crisp salad, a spicy dipping sauce, and a steamed bao bun. The slices of glistening smoked duck sat cradled in some leaves atop a piece of smoking charcoal, becoming more imbued with flavour right before our eyes. 
At the suggestion of the chef, we tasted the first piece of rich, juicy smoked duck on its own, savoured the next with the peppery dipping sauce, combined the third with the citrusy salad, and sandwiched the last in the fluffy bun, each version bringing out different nuances of the meat's smoky quality.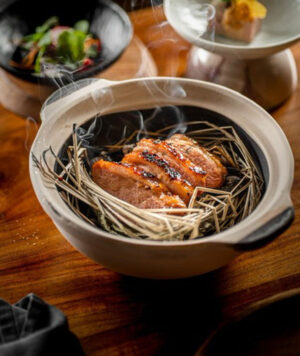 If you think the dessert would be spared from a smouldery fate, you'd be mistaken. The Smoked Chocolate with Coffee Foam and Soil provided the perfect cooling counterpart to this heat-heavy dinner, its combination of rich chocolate mousse and dark chocolate crumbs ending the meal on an indulgent note that was creamy, crunchy and cut with just the right amount of bitterness.
For more updates, visit Burnt & Co.'s Instagram.
To make a reservation, visit artisansplayground.my
Location: Artisan Playground by Cookhouse Level 1, Block H, Plaza Riverwalk. 1, Jalan Selvadurai, Off, Jln Sultan Azlan Shah, 51200 Kuala Lumpur
Photos: Burnt & Co.