Breguet gives its Extra-Thin Self-Winding Tourbillon a special touch of deep blue for 2020.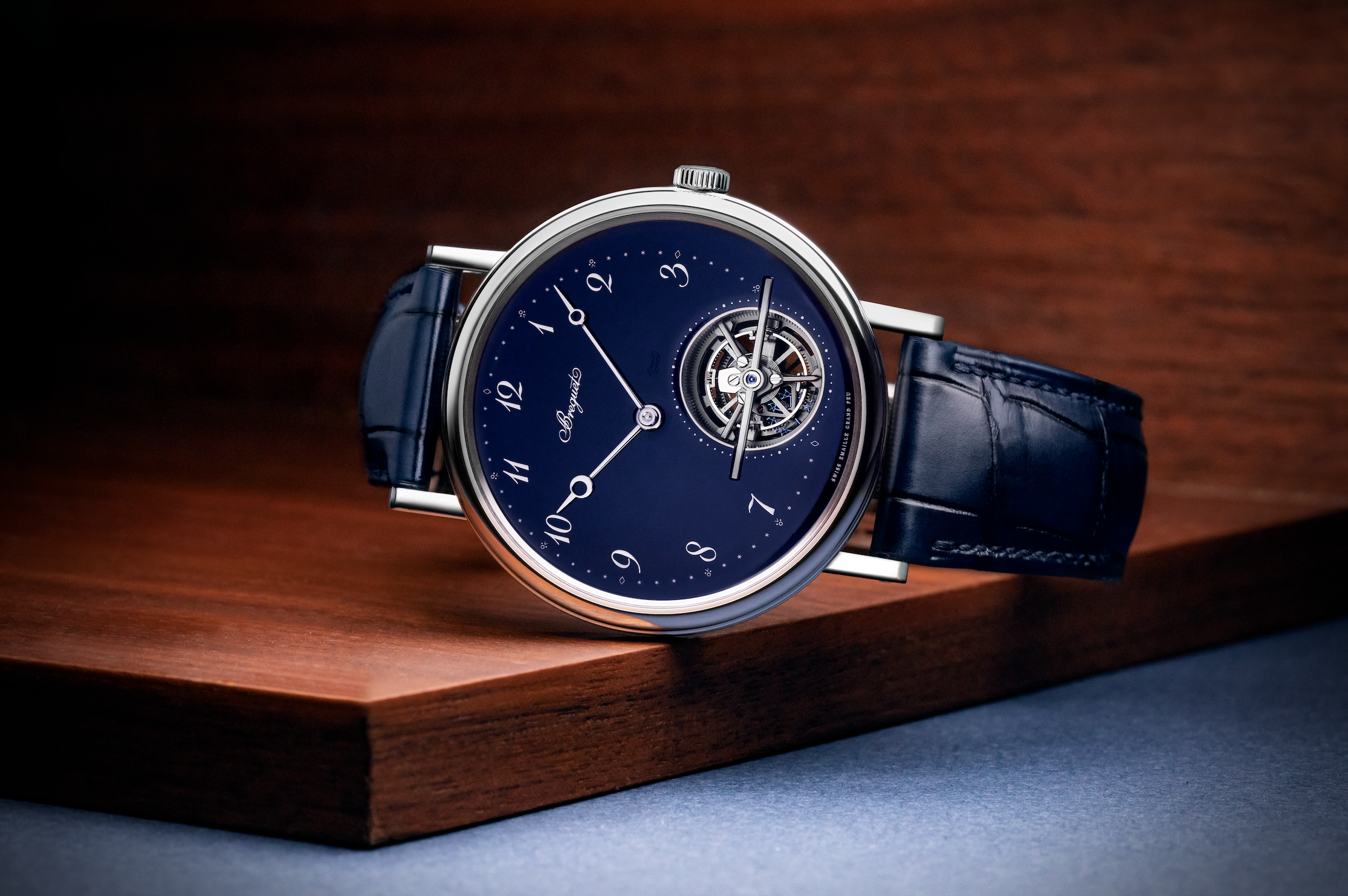 The House of Breguet revisits its Classique Tourbillon Extra-Plat Automatique 5367 by giving it a more contemporary touch of blue using a traditional grand feu enamel technique. A technique that was particularly dear to Abraham-Louis Breguet for its spotless aspect on watches, only a limited number of artisans are still capable of mastering the age-old process.
Enamel work isn't just about embellishing the dial, it's a highly specialised craft that calls for rigor, the utmost patience, and technical mastery. After going through the stages of grinding and cleaning, the enamel is applied in thin, consistent layers with a brush to the gold dial while it's still wet. It is then heated in a furnace at a temperature over 800°C. It's then topped off with an additional several layers of enamel until the desired colour is obtained. Finally, the dial goes through a gentle polishing before being placed in the furnace one last time to provide it with its natural sheen.
For the new timepiece, the hue is a blend of a number of blue nuances. After going through the enamelling process, the dial's gold elements are beveled in a workshop that's dedicated to the craft. In order to keep with the distinctive method, artisans provide a striking depth effect within the dial itself to the Breguet numerals, the hours chapter and seconds chapter, as well as the logo.
The range of blues also brings out the metallic quality of the powdered silver indicators. Meanwhile, a subtle detail can be found above the tourbillon carriage: the famous secret signature. This was first introduced in 1795 by Abraham-Louis Breguet himself as a guarantee of authenticity to help prevent counterfeits that were a ubiquitous problem at the time. Nowadays, Breguet adorns the majority of its models with this signature for decorative purposes as well as an homage to its founder.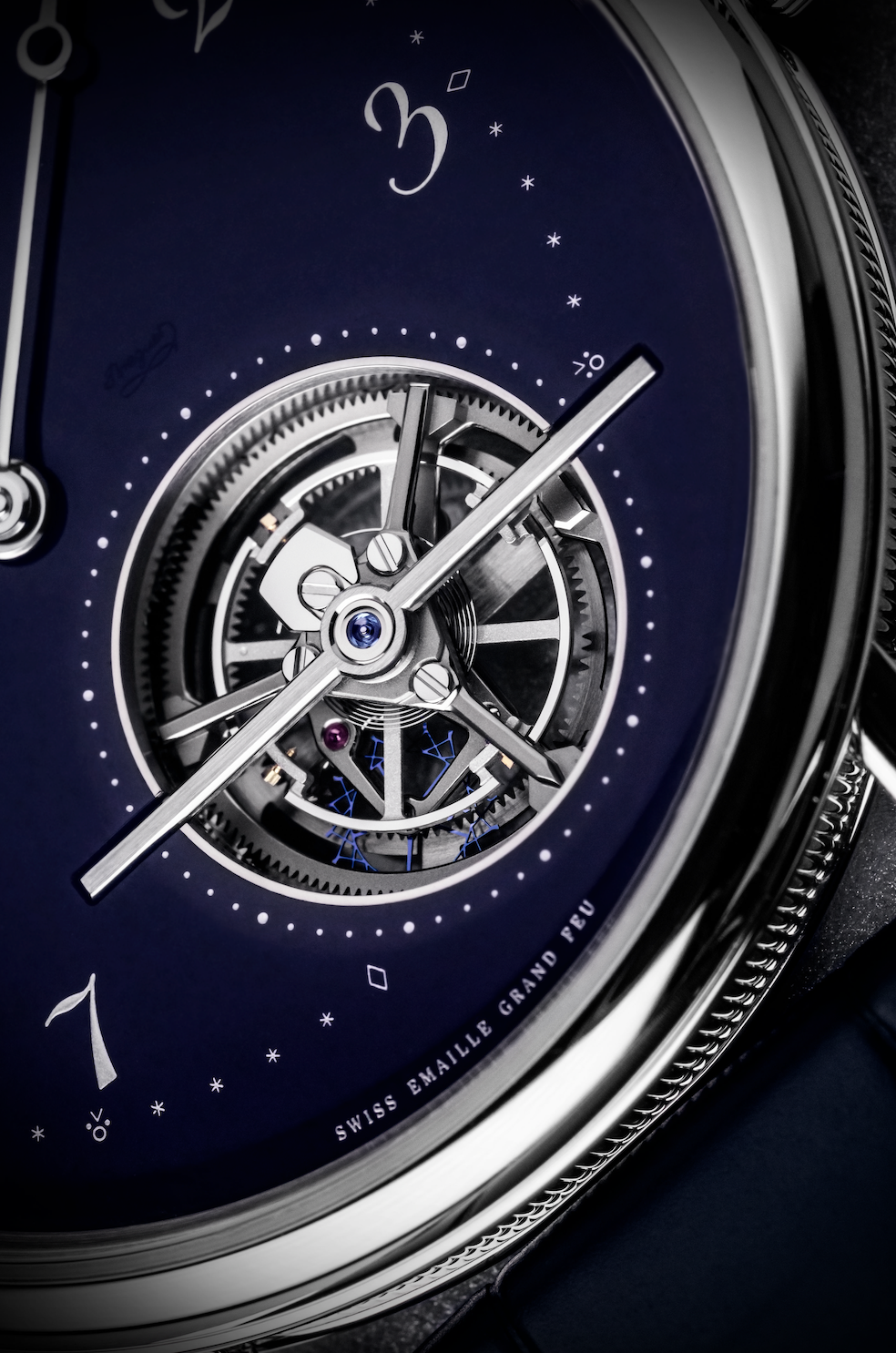 Underneath the enamelled dial lies the beating heart of the tourbillon, the 581 caliber that's known for its finesse and technical performance. The 5367 timepieces showcases Breguet's thinnest tourbillon movement that's no thicker than 3mm, with the total case thickness measuring 7.45mm. The tourbillon is placed between 4 and 6 o'clock, and housed in a titanium carriage featuring a made-to-measure escapement and a silicon Breguet balance spring that oscillates at a frequency of four hertz – which is particularly high for a tourbillon balance spring.
The 5367 model also boasts an incredible 80-hour power reserve, thanks to a high-energy barrel, which is a concept patented by Breguet.
The new Classique Tourbillon Extra-Plat Automatique 5367 in platinum comes with a blue alligator leather strap, and is available exclusively at Breguet boutiques around the world.
Find out more via their website here.
Photos: Breguet.