From Adidas to Ferragamo.
Sustainability has been an increasingly hot topic in the fashion industry in recent years, after decades of fast fashion and superfluous production chains.
The footwear market, in particular, has seen emerging trends concerned with eco-friendly materials and ethical production. According to a Grand View Research report, the sustainable footwear market is estimated to reach US$11.8 billion by 2027 – growing at a CAGR of 5.8% from 2020 to 2027.
Sustainable sneakers are leading the market shift – and it's a good thing they are, considering that sneaker productions alone account for 1.4% of the world's greenhouse emissions.
However, not all shoes made from eco-conscious materials are actually sustainable if the material breaks apart after several months. While there's no universal standard to determine the best sustainable footwear yet, three key factors to keep in mind are durability (do they last?), material (are they made from recyclable or renewable materials?) and biodegradability (can the materials disintegrate or be repurposed after they're worn out?).
With that in mind, we've rounded up a list of brands that offer sustainable footwear so you eco-warriors can walk in guilt-free comfort and class.
Adidas
Since its partnership with environmental organisation Parley in 2015, Adidas has been actively championing sustainable footwear. The leading sportswear brand launched the world's first recyclable performance shoe in April last year, known as the FUTURECRAFT.LOOP. Designed after the circular economy model, the shoes were collected from employees and Creators after a one-month beta test to be recycled and given new life. Adidas successfully relaunched the second-generation of the shoes eight months later, in November 2019, just as recyclable as before. After another test run with the Gen 2 shoes, the brand is targeting an official launch for Spring/Summer 2021. W adidas.com
Bottega Veneta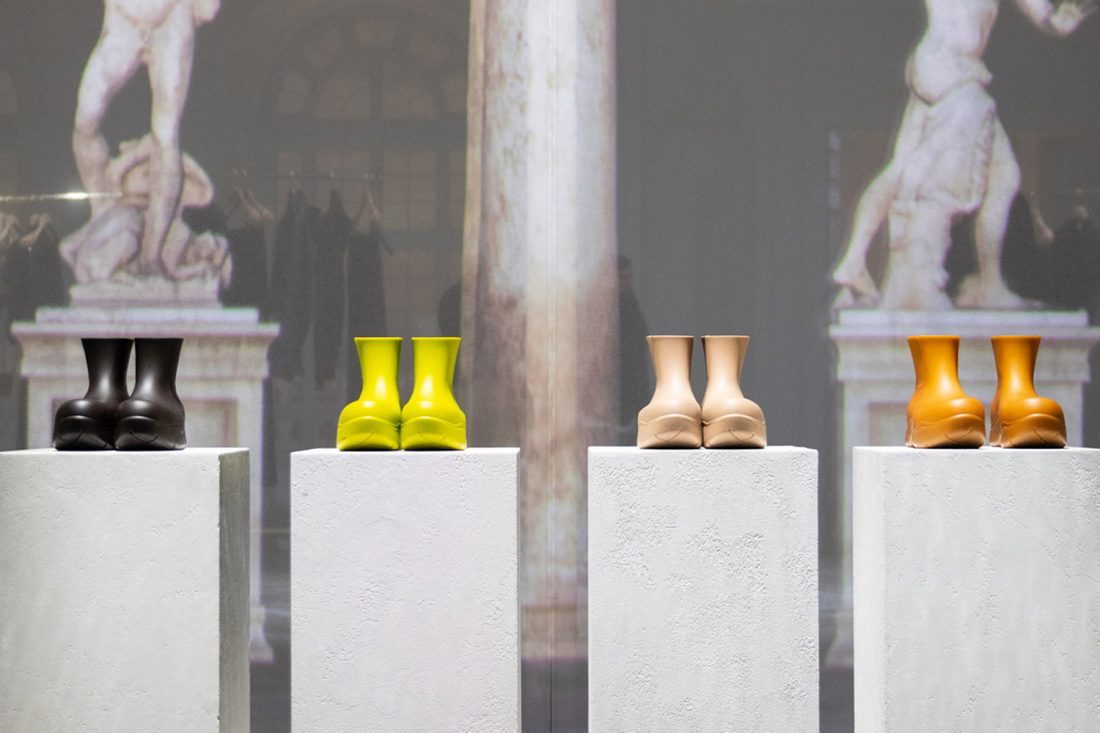 Whilst others on this list focus on it-sneakers, Italian designer house Bottega Veneta introduced its first fully sustainable footwear in the form of biodegradable boots during its Fall 2020 show. The clog-wellies hybrid is made out of rubber derived from sugarcane and coffee, which the brand claims will biodegrade within a year of being placed underground or in a controlled environment. This marks the latest move towards sustainability by creative director Daniel Lee, who took over reins at the leather heritage brand in 2018. W bottegaveneta.com 
Stella McCartney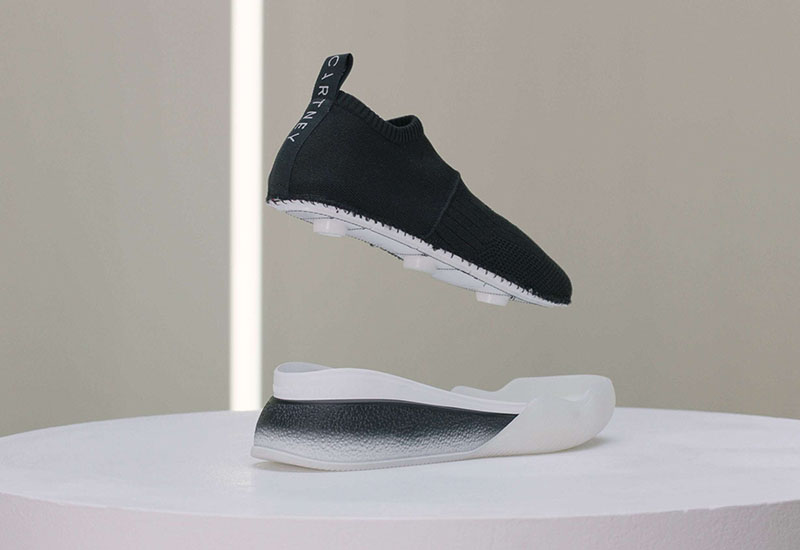 Vegan designer Stella McCartney's entire brand was established with sustainability (environmental and social alike) in mind from the very start, whether it comes to clothing or footwear. For the latter, the Loop Sneakers are a key product that debuted in 2018. In lieu of glue, the sole of the sneaker is stitched to the body with eco-friendly thread, which makes it easily recyclable. It is made of 100% recycled materials and now comes in a variety of vibrant colourways and new iterations. W stellamccartney.com 
You may also like: Gucci and other top fashion houses that have gone fur free
Nike 
In line with the brand's Move to Zero Initiative that commits to sustainable practices and minimising carbon footprint, Nike has just announced an eco-friendly footwear collection it calls "Space Hippie". Made from "space junk" (read: transformed factory and post-consumer waste), the collection features four radical designs incorporating 85 to 90 percent recycled polyester "Space Waste Yarn", recycled Nike ZoomX foam and "Crater Foam". The athletic giant also has an existing "Reuse-A-Shoe" campaign where consumers can recycle their old sneakers to be transformed and used in performance products and sports surfaces. W nike.com
Everlane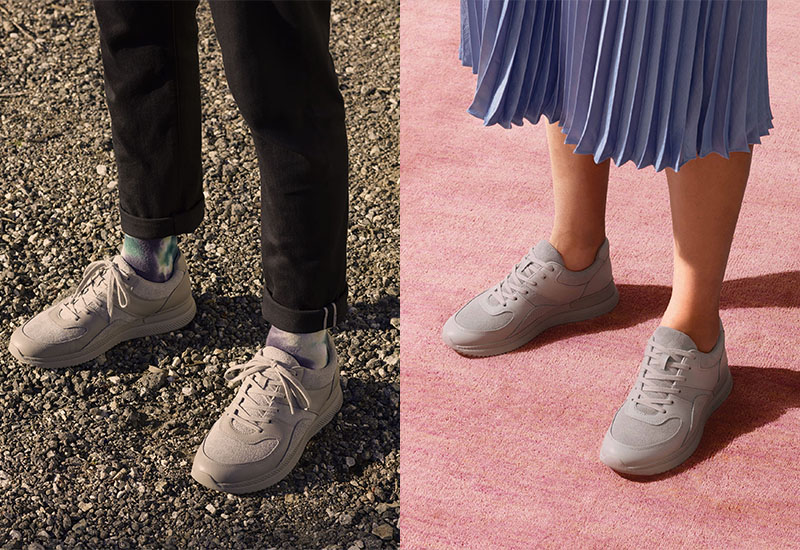 This California-based retailer, which prides itself in transparent pricing and ethical factories, has embarked on a mission to create the world's lowest impact sneakers. Launched as an independent brand named Tread by Everlane, the resulting sneaker range features a sole made 94.2% free of virgin plastic, full-grain leather produced at a gold-certified tannery and laces and linings made from recycled plastic bottles. While not yet a "zero impact" shoe, the brand has partnered with two third-party companies to measure the carbon footprint of the sneakers and offset their emissions on the road to closing their production loop. W everlane.com
Salvatore Ferragamo
Salvatore Ferragamo has committed to being transparent about its corporate sustainability efforts since 2014, detailing its progress via annual reports. Last year, the Maison launched the 'Sustainable Thinking' exhibition to commemorate natural, recycled and innovative materials from the brand's archives – which included reinterpretations of five sustainable shoes. One of the five is the Rainbow Future Sandals, unveiled in 2018 as the brand's first fully sustainable shoes. They are made out of veritable wood, organic crocheted cotton and lined in leather finished with no carbon dioxide emission or water consumption. Limited to 100 pieces, each sandal comes with a unique code that links to an orange tree planted in the countryside on the outskirts of Catania (Sicily). W ferragamo.com
Recommended for you: Is sustainability the new fashion trend?
Photos: Respective brands