Botanica+Co focuses its way forward with chargrilled specialties, prime pastas and exquisite pizzas baked over a woodfire oven. Sensational meals amidst a calming greenery setting awaits you as Botanica+Co opens its doors to its new flagship restaurant at Bamboo Hills. Expect a menu that's bigger, bolder and smokier than ever before. After both of their outlets at Bangsar South and Alila Bangsar received great responses from patrons, Platform Hospitality Group is proud to open the door to its flagship restaurant, the latest dining enclave in Kuala Lumpur by UOA Group.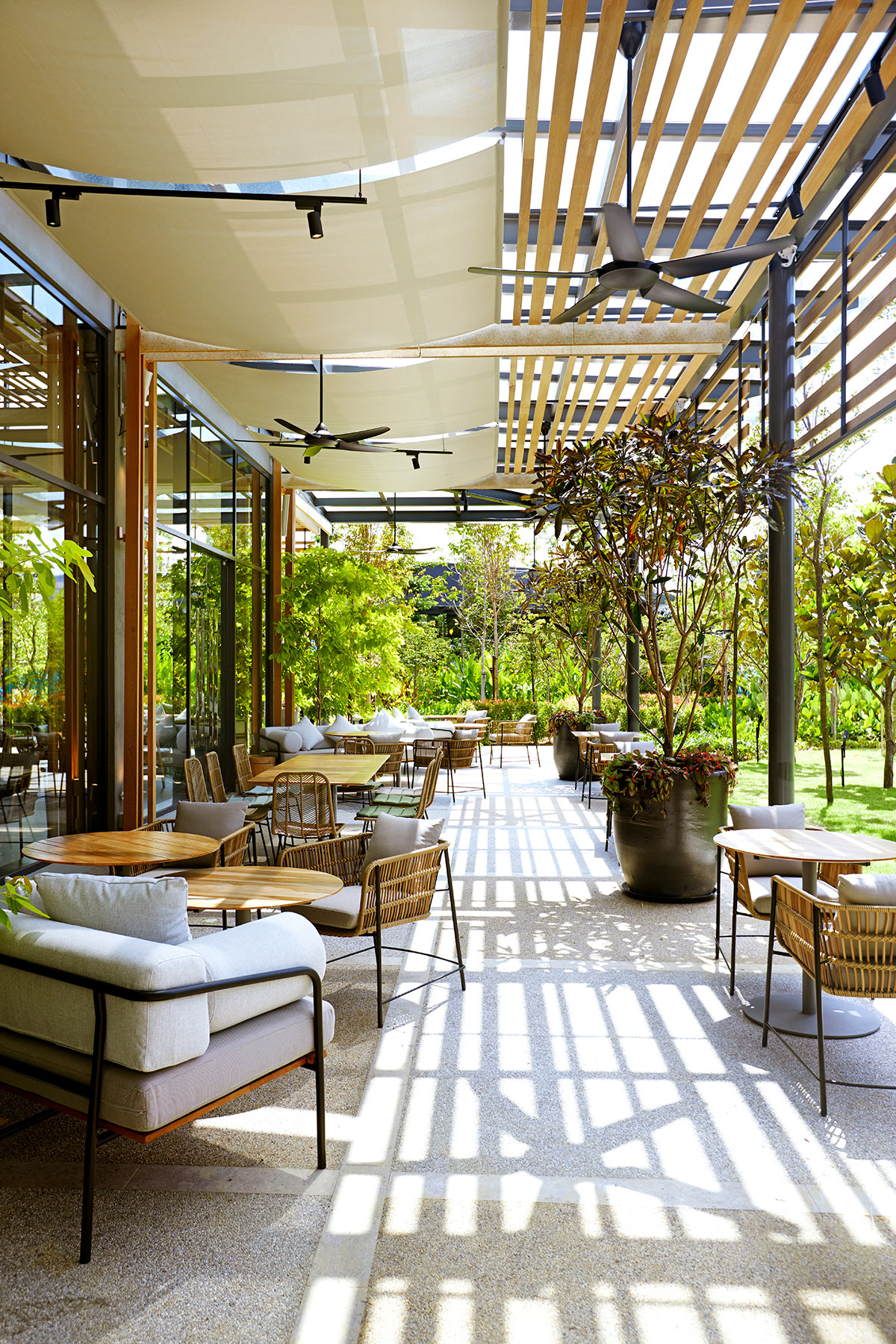 Staying true to its values and drawing inspiration from natural botanic, Botanica+Co creates its signature experience of dining outdoors amidst lush greenery with a brand-new signature menu. Serving up new items centering around smoky char and fragrant heat, where whole foods are cooked over an open fire oven and charcoal grill to resonate the most authentic taste.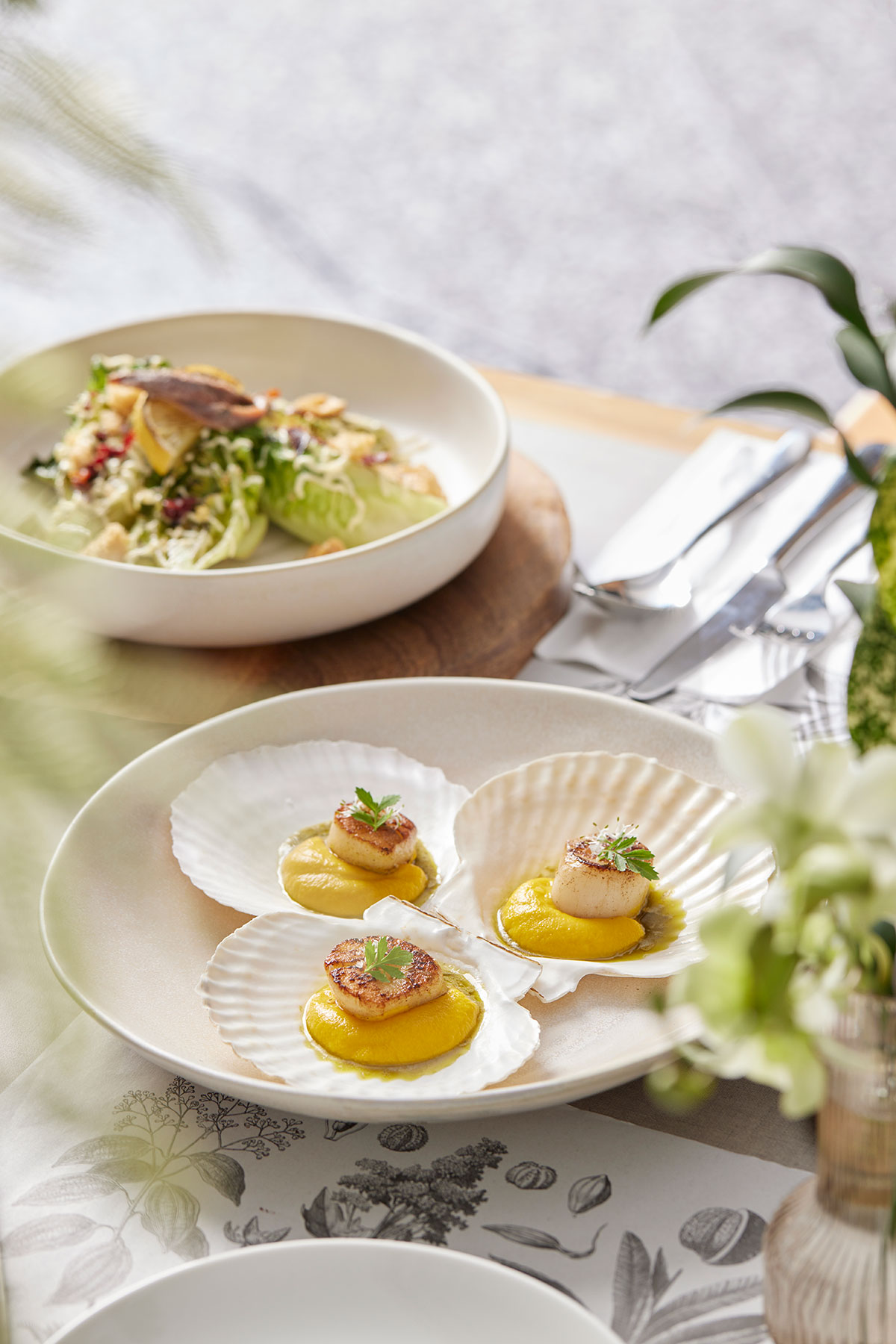 At this restaurant you'll find that they serve sharing portions. For its starters, a taste of wholesomeness awaits you with their toasted herbed focaccia. Dipping selections for this include their signature sauces – balsamic vinegar, basil pesto and tomato salsa. The deep-fried tiger prawns and baby squid are fried in a herb crust for crunch while the char-grilled scallop features three pieces of Hokkaido scallop seared with Montpellier butter for a springy and creamy bite and are served on their authentic scallop shells.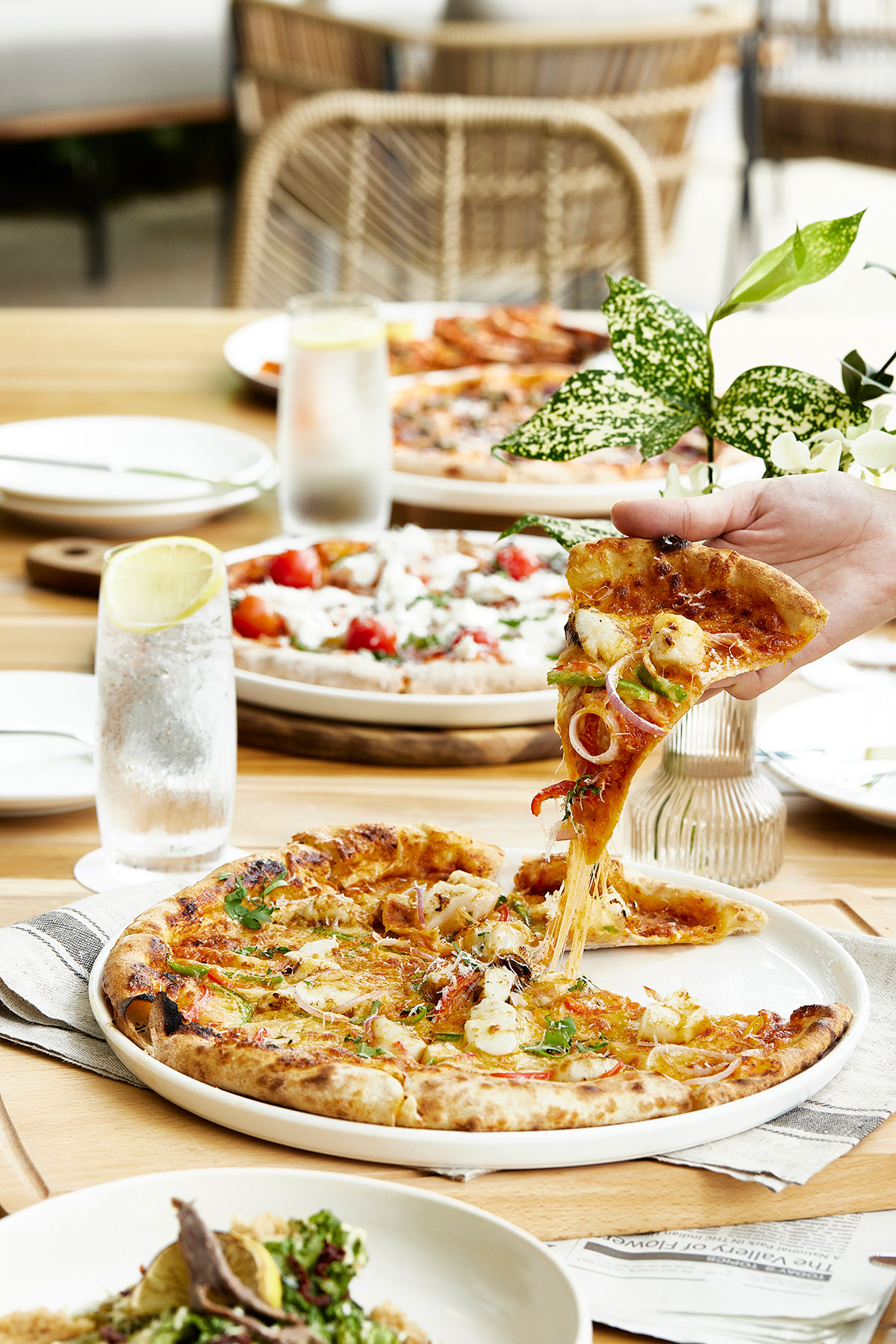 From the fiery furnace of an Italian wood-fired oven, Botanica+Co's pizzas now come crispier and smokier. An ode to the sea is the Squid Roe & Peppers that serves creamy pockets of marinated squid roe baked into the pie with bell pepper, shallots and coriander. Bold flavours can be found with the Salchichon & Capers of beef salchichon lent given an extra kick with its capers.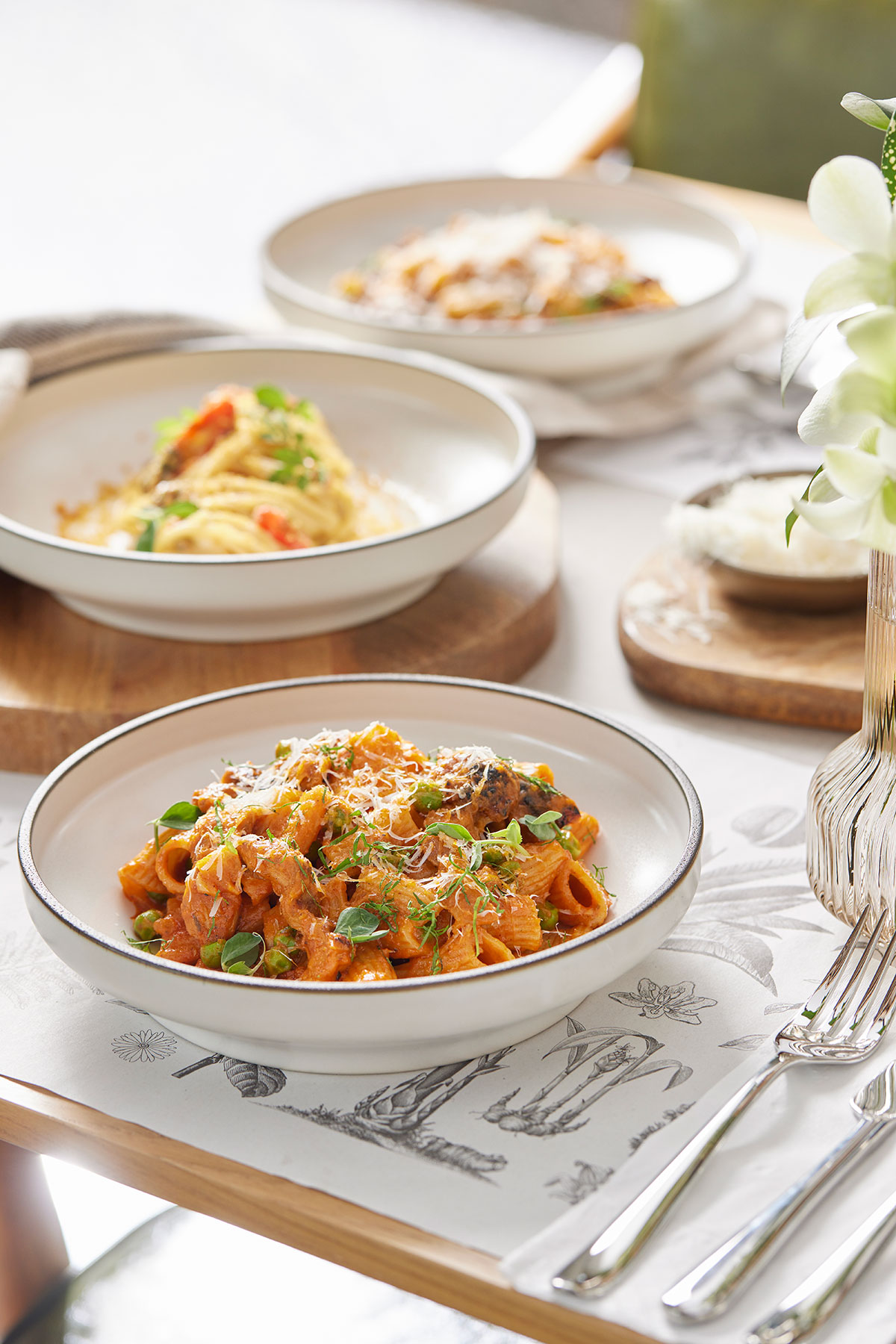 Their pastas are made by hand and include four varieties that can be prepared in five different ways. A choice of tasting portions which is ideal for two or full portions made for sharing amongst three to four pax. The Pink Rigatoni does chicken justice with an alfredo marinara sauce spiked with green peas. Taste the best of red meat with the Beef Cheek Conchiglie of braised beef cheek or go for the Bottarga Spaghetti that borrows the best umaminess of the sea with a cured bottarga fish roe.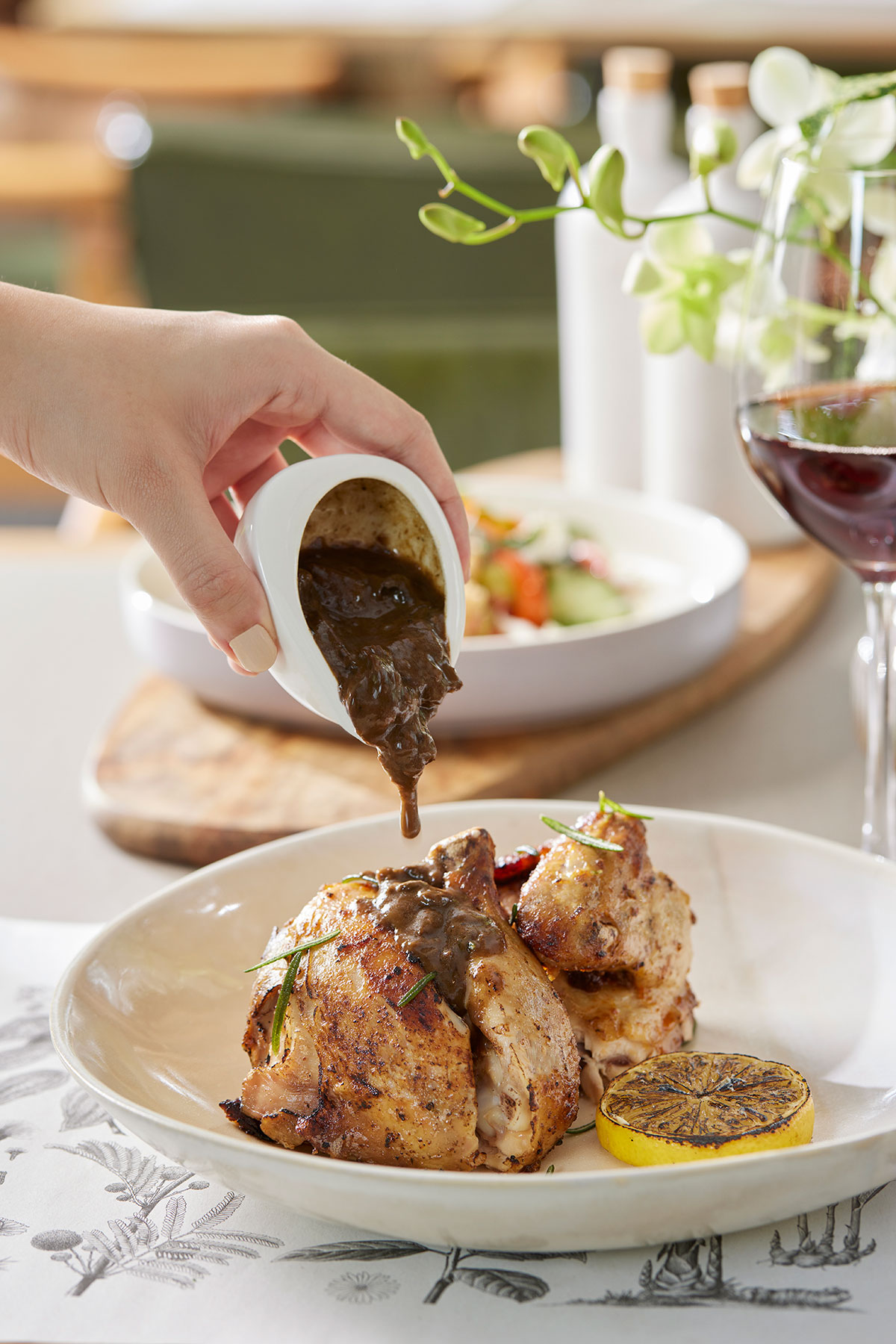 Roast chicken takes on new flavours with the Pineapple-Fed Chicken, a half roast of organic kampung chicken, sweetened by a diet of pineapple and grains and then roasted with a house-made rub and served with rosemary and rich porcini jus. While you're there, try the Butterflied Barramundi where a whole barramundi is split down the middle butterfly-style and grilled with a marinade of citrus pesto on one half and spiced adobo on the other.
Now, my personal favourite, the Salted Caramel Tart, a perfect balance of sweet and savoury with a creamy salted caramel custard enveloped in a buttery biscuit tart. Another selection on their dessert menu is the 8 Layer Chocolate Cake which consists of eight layers of chocolate sponge and eight layers of Guanaja chocolate mousse. If you're looking for something classic, try the Panna Cotta, a silky smooth white chocolate panna cotta glazed with house-made strawberry compote and drizzled with a final touch of olive oil and a garnishing of thyme.
For more information, click here.