Generous portions prepared from scratch match this Botanica+Co to urbanites who want their food to be wholesome yet Instagram-worthy.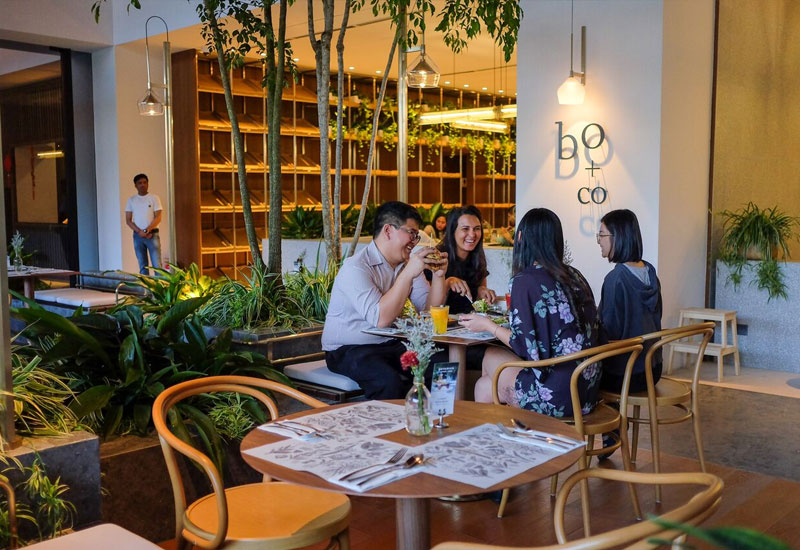 Botanica+Co became the first to set up shop in the up-and-coming 5-star boutique hotel, Alila Bangsar, this February. Located in a well thought-out ground floor space, this second outlet is the perfect green spot for drawn-out weekend lunches and cosy group sessions.
If you've been to the Bangsar South outlet, you would know that 'back to nature' is a central theme to both decor and cuisine. However, that's where the similarity between the two restaurants end; the new Botanica+Co strives to present unique creations and diversify its offerings with groceries and pastries in the near future.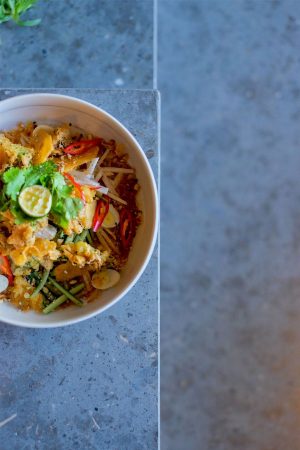 From sharing platters and sandwiches to salads and mains, the menu delivers a diverse taste of Asia within Alila Bangsar. Chef Sam Neoh brings his Western culinary training into the colourful realm of Asian flavours. The result? Wholesome fare of the freshest ingredients, served in generous portions that encourage digging in with friends.
Our favourite Malaysian dish came in the form of Pasembur. Crunchy yet soft, this salad of prawn fritters, quail egg, cucumber, and chilli pepper bean curd is lightly tossed with a tasty peanut sauce – every pasembur lover knows the sauce makes the dish.
A little further on the fusion spectrum is the wildly enjoyable Wagyu Beef Burger. This is a hearty Australian wagyu patty given the Asian treatment with sprouts, avocado, nori, pickled ginger, and unagi sauce. It's worth mentioning that all buns and pastries are baked in-house, including the one holding our glorious burger together.
Pasta and seafood lovers are in for a guilt-free treat too, with the light prawn & kale pesto pasta and creamy seafood parmigiana served on a sourdough base. Desserts include lemon meringue and our personal favourite, the rich chocolate ganache tart that's simply heavenly with a hot cuppa (or cocktail, if you so choose).
From the wooden floors and furniture to towering green trees, Botanica+Co Alila Bangsar celebrates a natural charm that brings community members together to indulge in Malaysia's favourite unifying factor: food.
Call 011 2600 8188 for reservations and enquiries, or follow Botanica+Co at Alila Bangsar on Facebook and Instagram.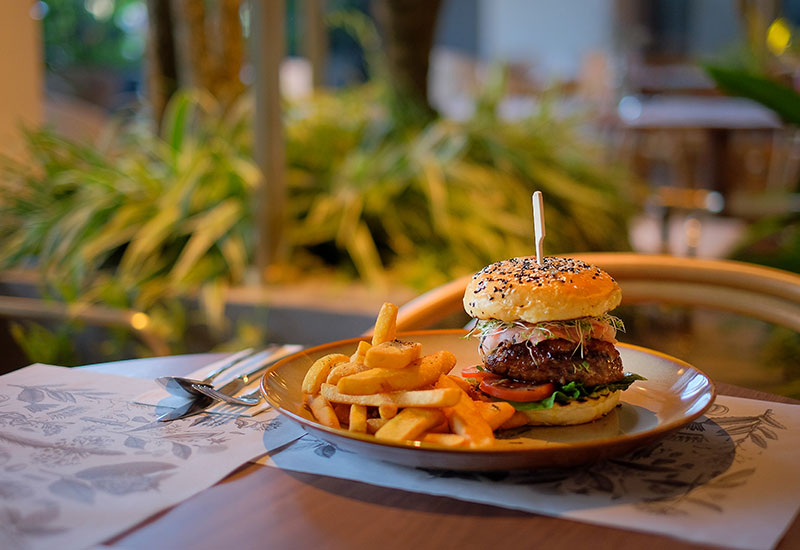 Address: Ground Floor at Alila Bangsar, No. 58 Jalan Ang Seng, 50470 Kuala Lumpur
Opening hours: 12 pm-10 pm (Monday to Saturday), 8am-10pm (April onwards)
Images: Botanica+Co