Botanica+Co's vegetarian menu aims to help people on their way to consuming less meat, while bringing out the best vegetables have to offer.
If you've ever thought about dipping your forks into a plant-based lifestyle or becoming a flexitarian, get a head start in trying out the commitment at Botanica+Co for their Meat-less Mondays menu. This menu features six vegetarian dishes thought up by Area Executive Chef Lim Tzer Chuan, and was created to help those who wish to consume less meat or achieve their lifestyle or diet goals. It's also an effort by Botanica+Co to aid in the fight against climate change, as a vegetarian diet can help reduce food-related emissions by 60-70%.
You won't find dishes such as salads or cauliflower rice bowls here, instead, Chef Chuan plates up a variety of vegetarian dishes that delivers punchy flavours, showcasing how vegetables can be both healthy and scrumptious.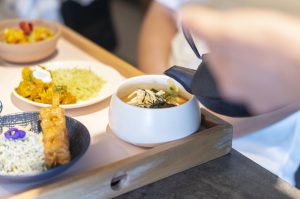 Kicking things off is a taste of Japan with a veggie twist. The Miso Ramen is something one should have during a rainy day or when feeling under the weather. The noodles are accompanied by tofu and baby spinach, with beansprouts, seaweed and caramelized carrot batons to provide a satisfying crunch. Everything swims in a mild and soothing miso broth, satisfying those who need their fix of carbs.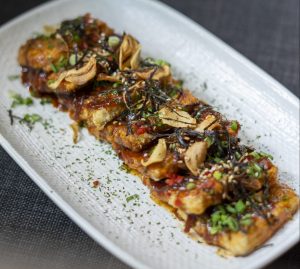 Next up is the Spicy Teriyaki Tofu, which comprises of deep-fried tofu glazed with a savoury and spicy teriyaki sauce, garnished with crispy garlic and shallots for added texture and brightness. This dish, personally, would've been better suited as a side dish or a snack rather than a whole meal on its own as it's still quite light on the appetite despite its savouriness. Though customers can also opt to have it with a bowl of steamed jasmine rice to make it more filling.
Aside from the menu being part of an effort to help people consume less meat, it also aims to highlight vegetables as more than just vehicles for fibre, and how they can be more than just salads and cauliflower rice, while being delicious and filling. First up is the main dish Roasted Butternut Pumpkin, topped with a melange of quinoa, kale and capsicum, and a tart cranberry sauce encircling it. This is perfect for those who have more of a sweet tooth, as the roasted pumpkin is just bursting with natural sweetness.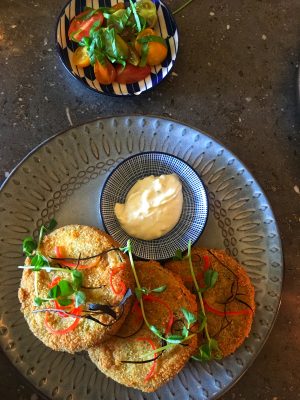 Though I've never really been a fan of aubergine and its tendency to easily soak up oils and liquids – thus rendering it a soggy, textural mess, the Aubergine Schnitzel from the menu was definitely an unexpected treasure. Thick cuts of aubergine are coated in batter and fried to a glorious crisp, but after taking a bite, it was a pleasant surprise to find that the aubergine itself was still soft yet firm without being raw or goopy. No sign of grease in sight! Dipping it in the accompanying house-made Remoulade sauce gives it a rich kick of zesty umami. Heirloom tomatoes on the side help to wick away the the feeling of guilty pleasure that comes after eating fried food.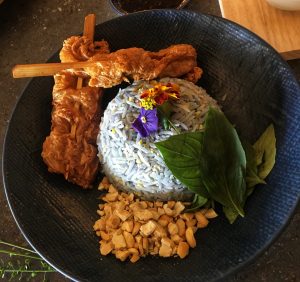 Us Asians normally can't go without our staple food – rice, in our meals, and Botanica+Co's Meat-less Mondays menu doesn't disappoint with two flavour-packed options. The Khao Phad Samunprai is a visual treat featuring butterfly pea rice reminiscent of our local nasi kerabu, served with cashew nuts, egg, long beans, and vegetarian chai gor. The chai gor was a tad on the oilier side, suited for those who wish to tuck into a bit of guilty pleasure, while the butterfly pea rice was fragrant with lemongrass.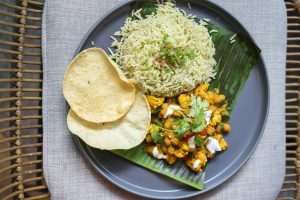 Saving the best for last is my personal favourite, the Cauliflower Tikka Masala. Roasted cauliflower is enveloped in a rich and beautifully spiced masala curry with chickpeas, served with pandan and coconut-infused basmati rice. This dish will definitely fix any curry cravings, while offering ample fibre from the cauliflower and chickpeas. Thankfully, the curry wasn't spicy enough to overpower the fragrant rice – making this a perfectly balanced dish. 
The Meat-less Mondays menu is available at both Alila Bangsar and Bangsar South outlets every Monday, from 11.30am through to dinner. The main ala carte and monthly seasonal promotional menus will also be available if desired.
For more information and to view the full menus, visit their website here.
Photos: Platform Hospitality.