Blonde dishes out comfort food that are too pretty to eat, but you'll savour them anyway.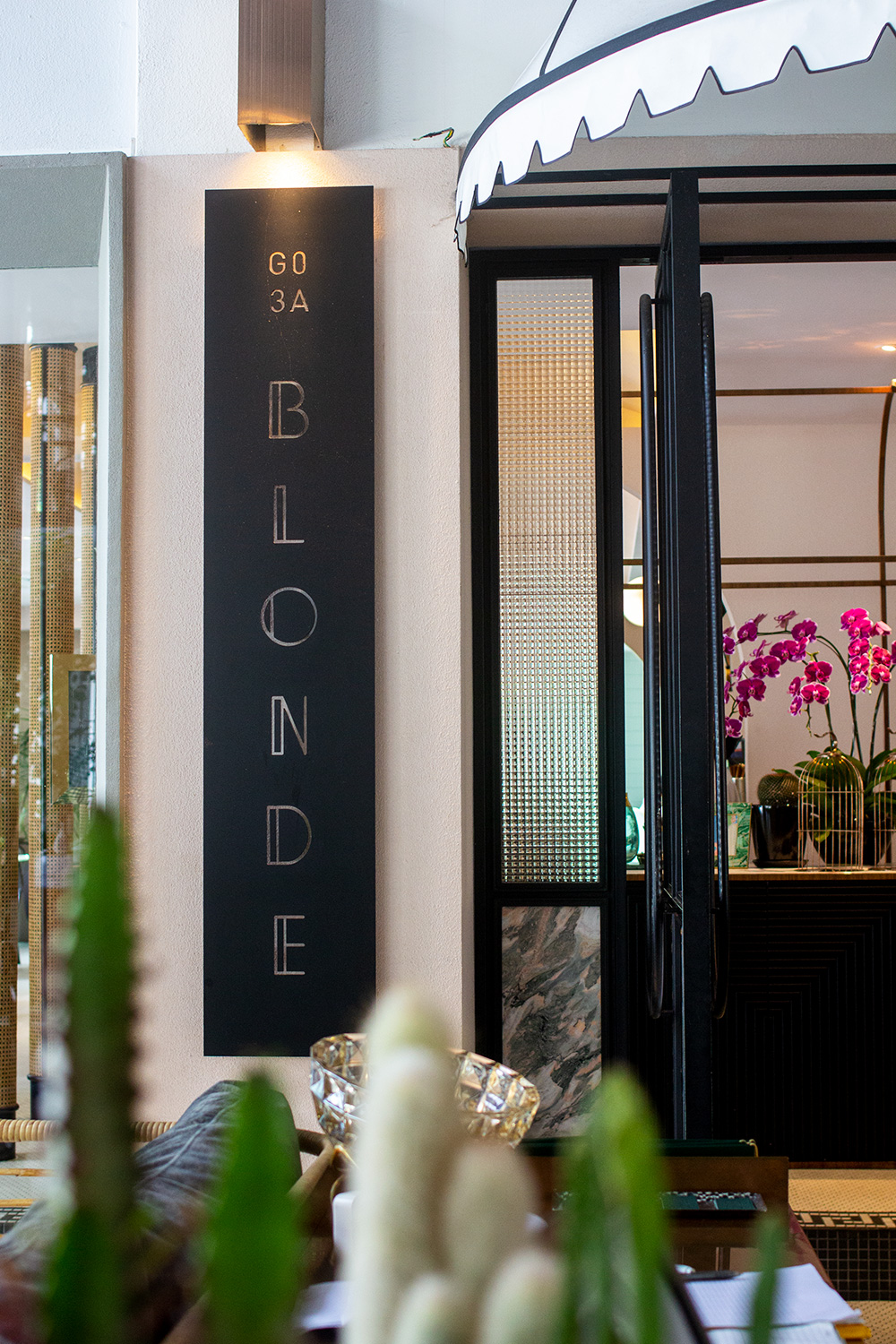 Whether you're a purveyor of comfort food, looking for a regular brunch spot, or just like all things pretty – Blonde from the Serai Group checks off all of the above easily. Located in The Republik, Bukit Damansara, we decided to spend our Tuesday morning at the popular establishment.
The moment you step into Blonde, you're immediately greeted with an interior that's made for millennials and today's Instagram generation. Contrasting shades of deep green and pastel pink meet mosaic flooring and lines reminiscent of Art Deco – creating a backdrop that's urban chic yet elegant.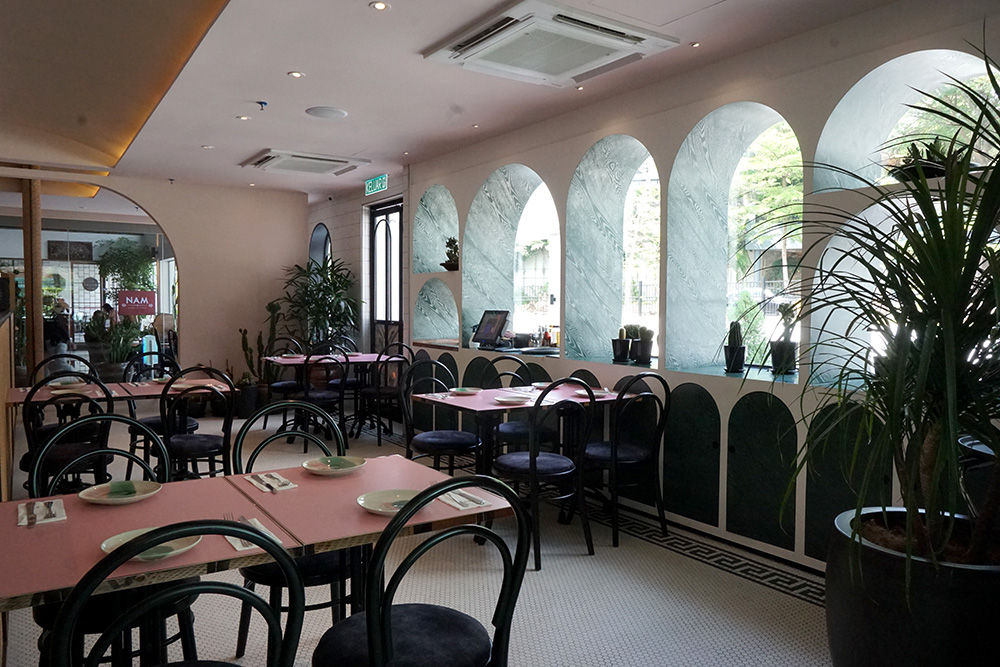 Venture further into Blonde and you'll see that the restaurant boasts large, dome-shaped windows overlooking the quaint, affluent Damansara Heights neighbourhood, while allowing plenty of natural light to stream in. Not only does it set the perfect scene for a sunny boujee brunch with your family or loved ones, it's also a prime location for taking some of the finest foodie shots to post up on social media.
Now, for the food. Blonde boasts a menu by the group's Chef Najib that takes the best of modern, Australian-style cuisine and marries it with a refined Asian twist – a nod to his experiences in Melbourne while staying true to his roots. A quick browse will immediately introduce you to their extensive selection of comfort food favourites, such as pastas, pizzas, and steak. Since it was just the two of us and it was too early in the morning for a giant steak platter, we decided to explore the breakfast and brunch/lunch options Blonde had to offer.
The best of brunch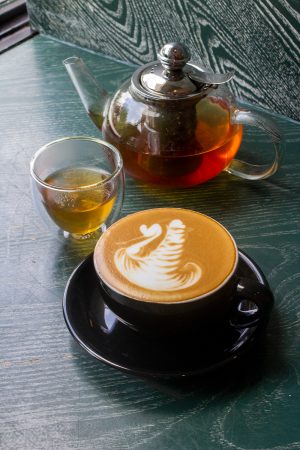 We started off with a Butterscotch-flavoured Café Latte and Raspberry & Rose Tea to kick off the morning. As a self-proclaimed coffee purist, I was indeed skeptical about adding syrups to my coffee. However, all initial trepidations of an overly cloying cuppa was quickly dashed aside, as the butterscotch syrup thankfully didn't overwhelm the brew with its naturally sticky toffee sweetness. Instead it lent toasty, caramel notes reminiscent of our own Ipoh white coffee. The Rose & Raspberry tea was also a fabulous way to start the morning, with tart and floral notes to awaken the senses.
Kicking off our brunch was a duo of egg dishes. The first being Scrambled Eggs with Ikura and Seasonal Mushrooms with Poached Eggs – both served with two slices of artisanal buttered sourdough. The first egg dish saw a mountain of fluffy, soft eggs atop the sourdough toast, scrambled to pillowy perfection that immediately melted in the mouth. The scrambled eggs were served with slices of equally creamy of avocado, giving the dish 'avo toast' a whole new meaning. The whole affair is topped off with ikura and seaweed crisps for a punch of texture. On the side, smoked salmon trout roses accompany dots of sweet capsicum jam, which brought a welcome blend of sweetness and savouriness.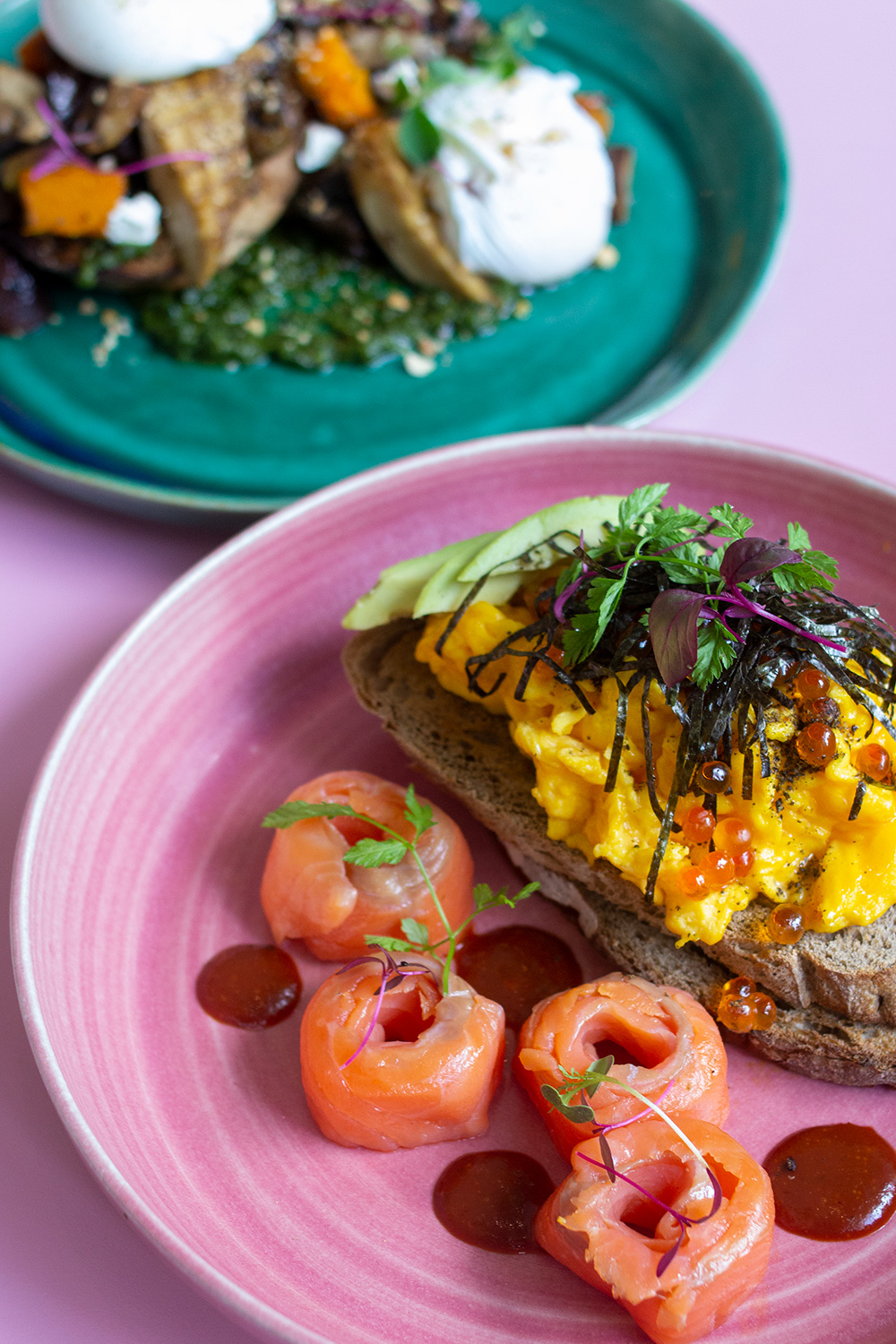 Scrambled Eggs on Buttered Sourdough with Smoked Salmon Trout
Scrambled Eggs on Buttered Sourdough with Smoked Salmon Trout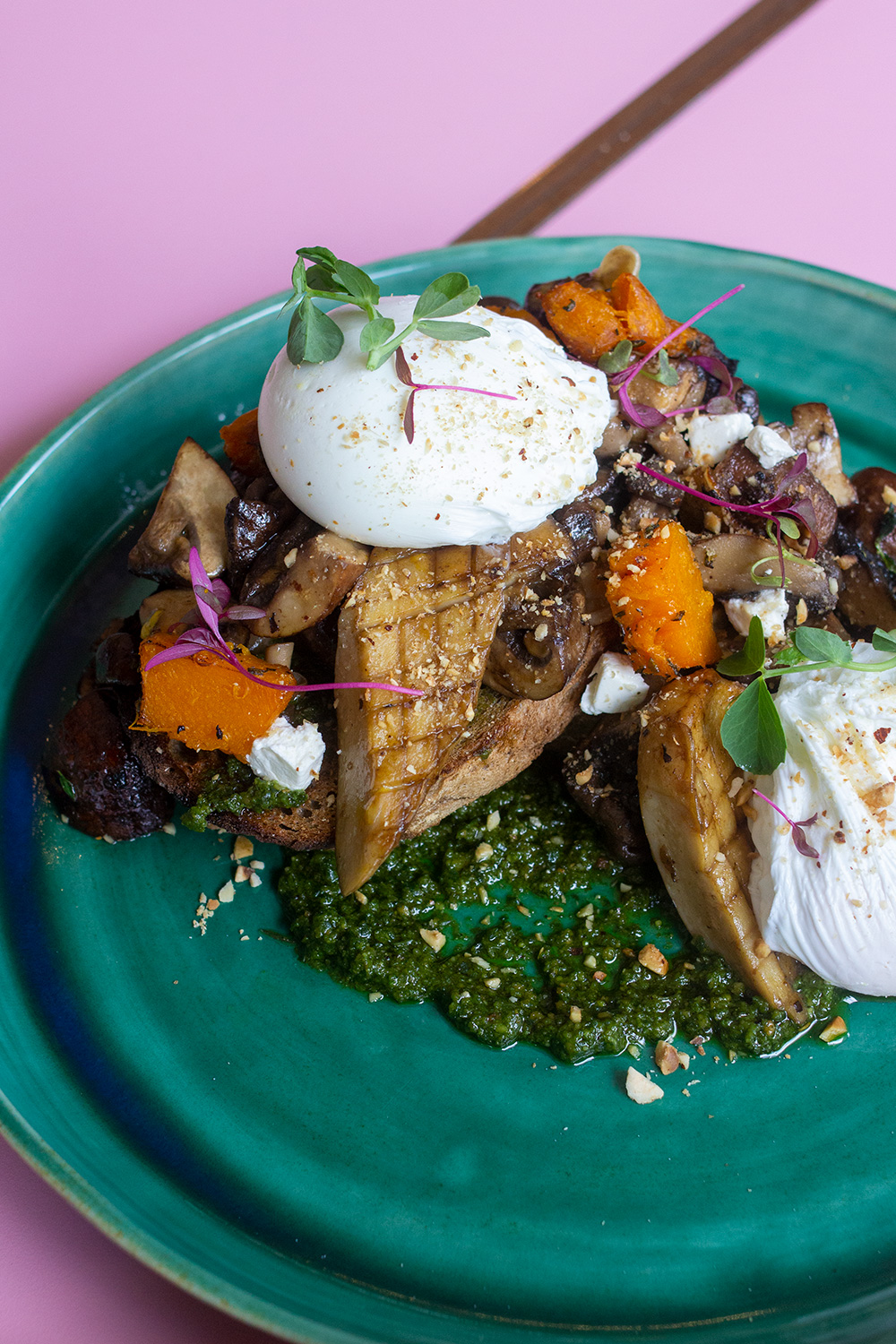 Poached Eggs and Seasonal Mushrooms with Buttered Sourdough
Poached Eggs and Seasonal Mushrooms with Buttered Sourdough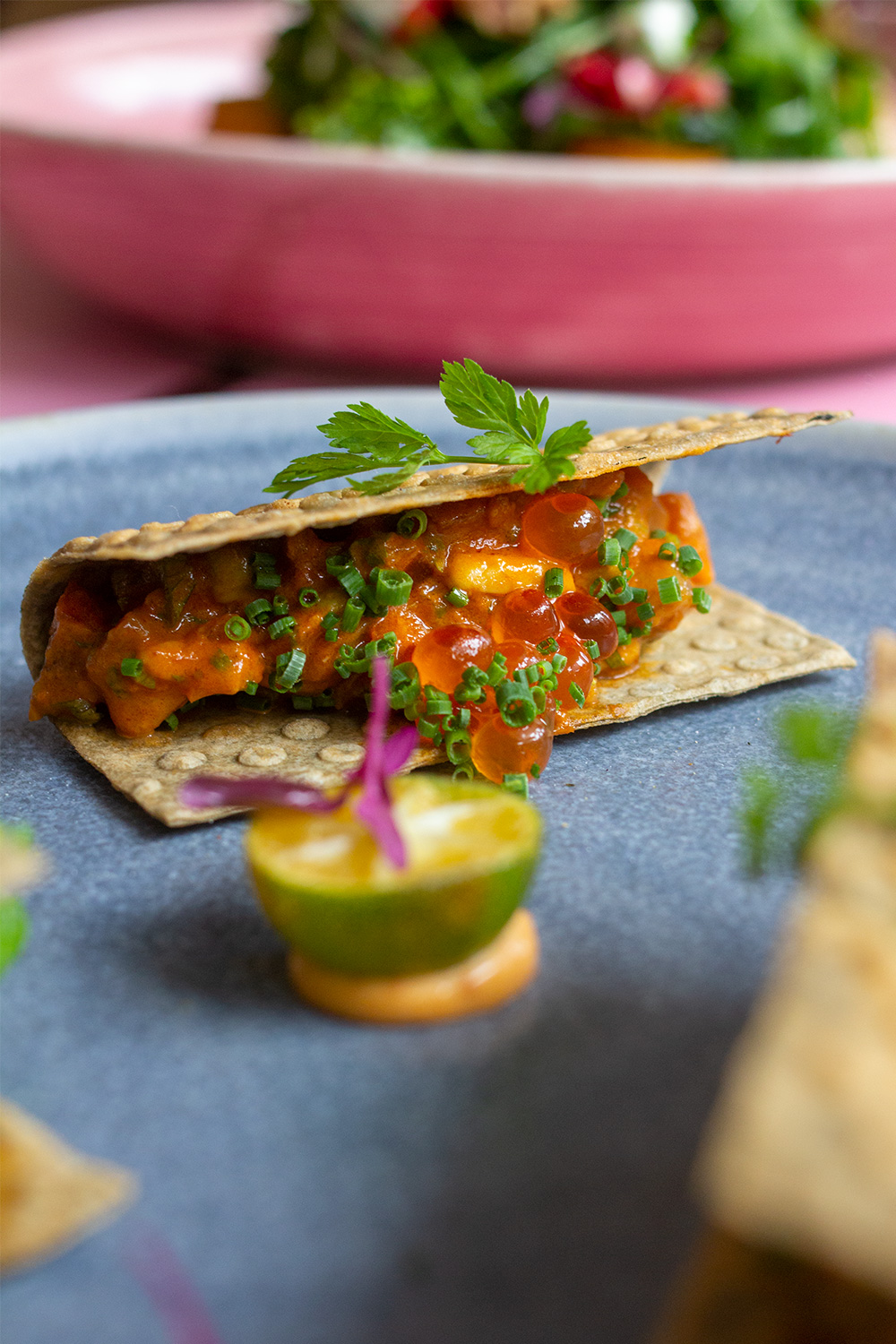 Seaweed Taco with Smoked Chilli Scallop Sashimi
Seaweed Taco with Smoked Chilli Scallop Sashimi
(Swipe left for more)
Meanwhile, the mushrooms on sourdough toast comprised of a medley of sautéed mushrooms and roasted pumpkin cubes, with two beautifully poached eggs perched on top. Is there really anything more luxurious than having unctuous egg yolk coat your slice of toast and its accoutrements? Roasted pumpkin and crushed hazelnuts elevated the dish with a touch of sweetness and satisfying crunch. Umami flavour bombs aside, the highlight of the dish was definitely the homemade hazelnut basil pesto underneath the entire affair, which was milder and sweeter compared to original pesto alla genovese. A breakfast this grand could easily start the day off on a good note.
Next up was the Seaweed Taco. While it was more of a snack than a main, it was definitely one of the standouts of the meal. The taco shell was made of nori sheets that had been fried in popiah skin, resulting in a delicious vessel that's lightweight and satisfyingly crisp. Inside the shell housed a smoked chilli scallop sashimi filling that brought to the palate an immediate burst of fiery spices that paired well with the sweet, meaty scallop. Squeeze a few drops of calamansi lime onto the taco and the citrus immediately elevates the snack by adding a touch of crisp acidity to cut through the rich chilli sauce.
A balancing act
In an attempt to incorporate more greens into our diet, we went for the Warm Roasted Pumpkin, Rocket, and Kale Salad with Figs and Pomegranate. The salad rested atop a swirl of spiced yoghurt, and was peppered with local Mutiara figs, walnuts, edible flowers, and pomegranate jewels for added texture. While the feta cheese and yoghurt offered some creamy savouriness and saltiness to the salad, it was still rather overpowered by sweetness from the light pomegranate dressing and caramelised pumpkin.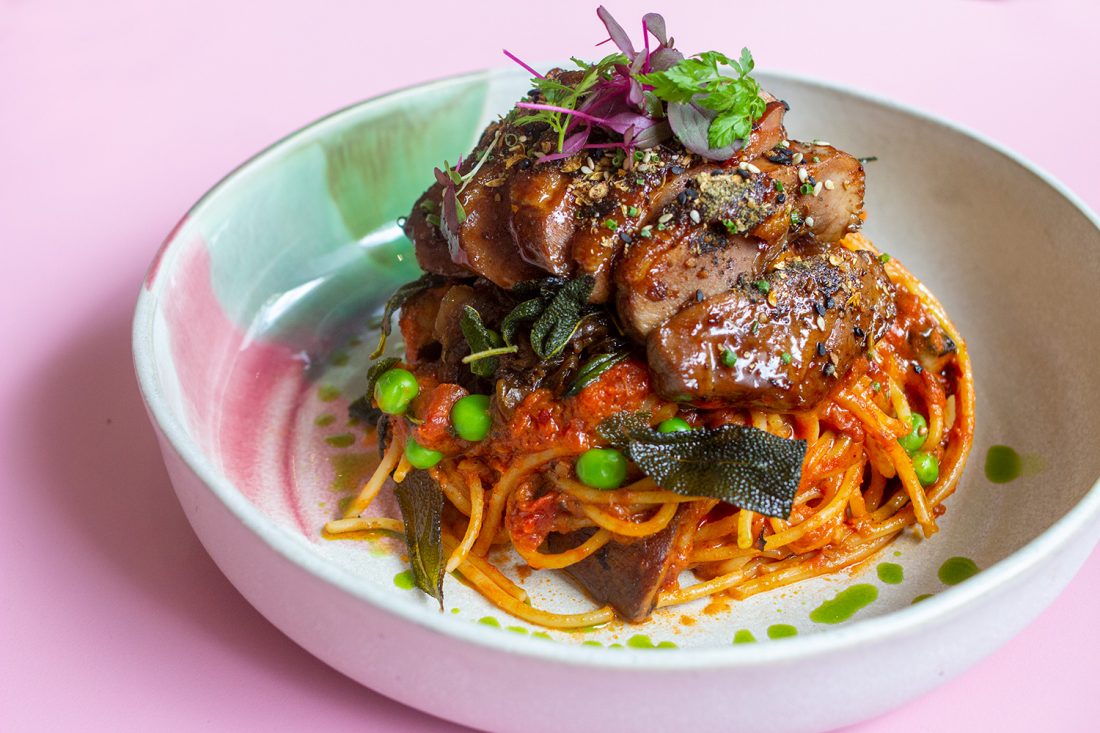 Then came another one of our favourites, which came in the form of Spaghetti and Roasted Duck Breast, complete with baby peas, portobello mushrooms, caramelised onion, and crispy sage. The dish was enveloped in the rich and creamy tomato sauce that coated each strand of al dente pasta. Every bite was pure pleasure, from the medium rare duck breast that was butter-tender, to the slightly spicy, velvety sauce that could be dubbed as the creamier cousin of Arrabbiata. Pasta lovers, you're going to want to put this down on your food bucket list.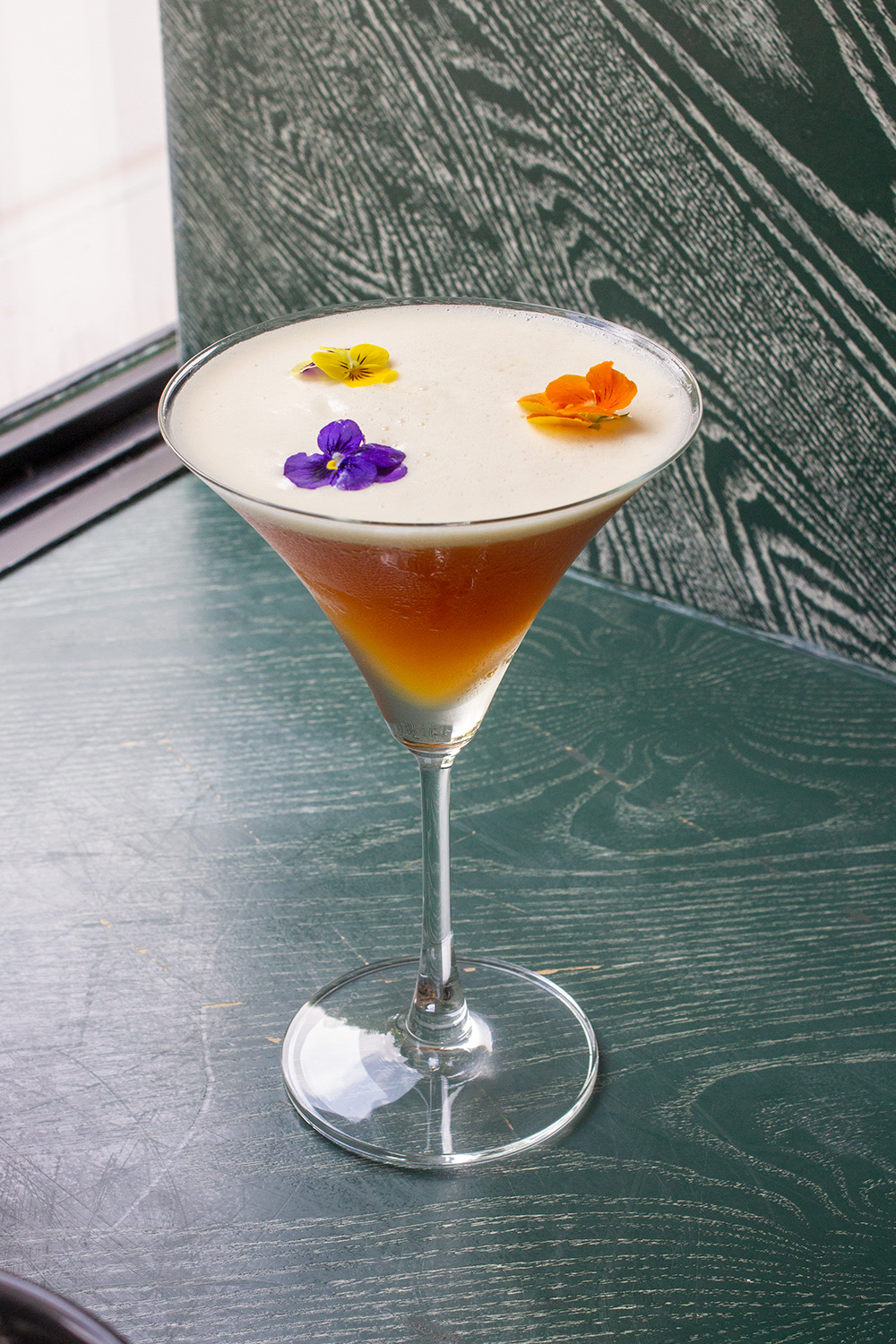 Pairing our main dishes was a martini glass of one of Blonde's signature mocktails, named Blonde's Passion. A floral bouquet of passionfruit, fresh lemon juice, honey, and Earl Grey was given a citrus-minty kick from a touch of Menta Cubano. Even through the fragrant sweetness and fruity flavours, you could still savour the fragrant bergamot notes of Earl Grey. A perfect summer mocktail that practically tasted of sunshine, it was an excellent pairing to the spicy snacks and savoury pasta.
Sweet endings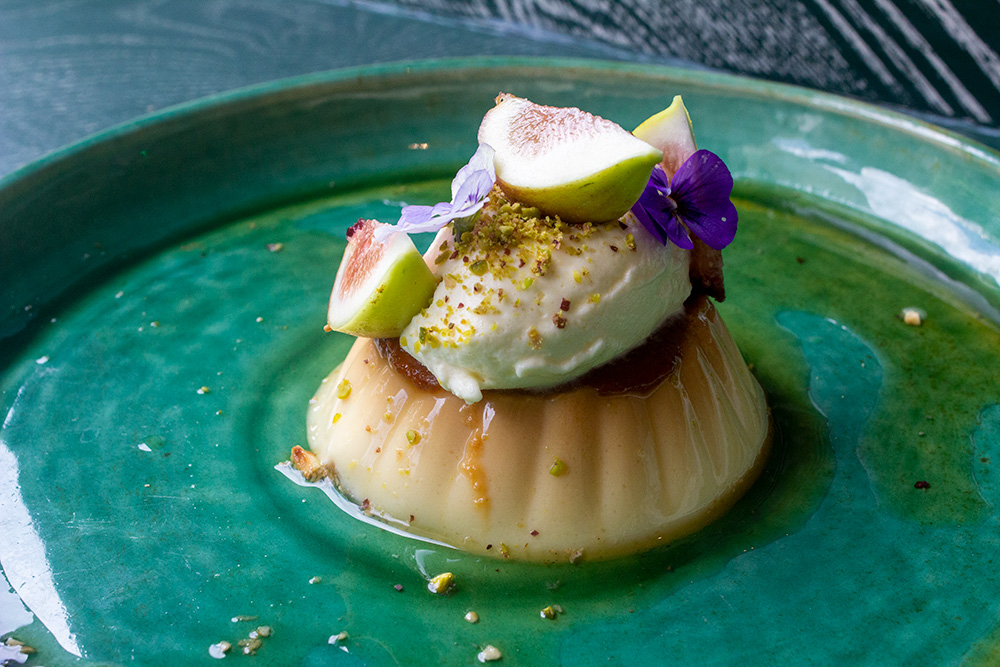 Despite the button of our trousers threatening to pop, we had to make room for dessert. Bringing our brunch feast to an end was the Custard Caramel, served with palm sugar syrup, and topped with juicy figs, fresh cream, and crushed pistachios. Light, creamy, and incredibly sinful, it was a perfect way to end the meal. The refreshing, honey-like Mutiara figs paired beautifully with the smooth custard, which had crushed hazelnuts hidden inside its soft centre for a surprising crunch with every bite. In between the luscious, fluffy cream and custard was a thin layer of fig jam, which added an extra burst of tang to the dessert.
Blonde certainly takes the phrase 'pretty delicious' to a whole new meaning. If you fancy yourself some beautifully-plated comfort food that doesn't sacrifice on bold flavours, you'll definitely find that you'll have more fun at Blonde.
Blonde is open daily from 11am – 10pm, for reservations and inquiries contact +603 2011 6070 or email info@seraigroup.com.my. To find out more of what the Serai Group has to offer, visit this website.
Location: G.03A, Republik, Jalan Medan Setia 1, Bukit Damansara, 50490 Kuala Lumpur, Malaysia.
Photography: Anson Siau