It's the most wonderful time of the year – not even a global pandemic can stop that. Having made it through arguably one of the hardest years of this century, we are all deserving of at least a small celebration this Christmas as a pat on the back.
While the malls and holiday markets may be quieter than past years, 2020 has taught us to count our blessings and be grateful for the things – or people – that truly matter. And despite the subliminal branding and capitalism messages they hold, these holiday advertisement campaigns echo this notion. Grab a loved one to join you in watching our roundup of light-hearted and tear-jerking Christmas films below!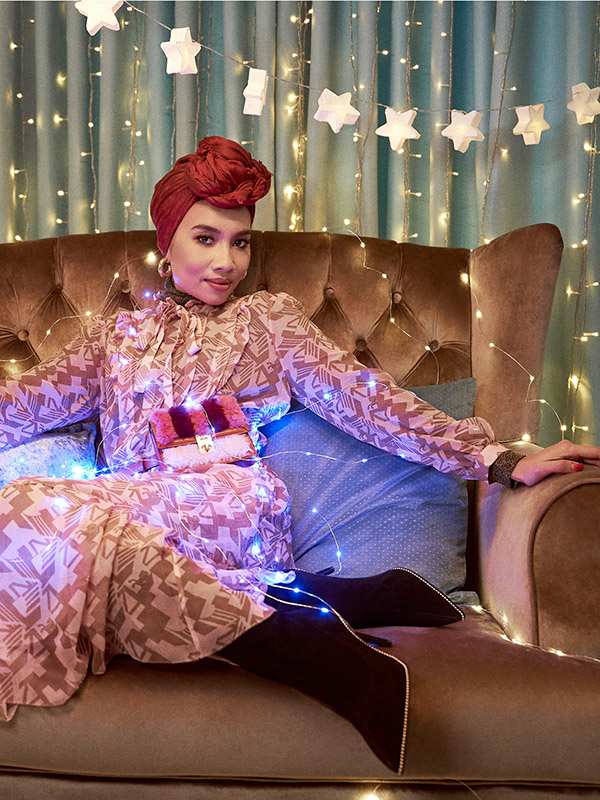 Gucci – Gucci Gift 2020
Set to the beat of Yazoo's Only You, Gucci's campaign recalls a retro '90s holiday party in an office setting where the employees are elatedly planning for Secret Santa exchanges and dancing contests. When the clock strikes five (because WFH hadn't existed then), the Gucci-clad workers transform into festive clubgoers. Produced by Alessandro Michele and directed by Akinola Davies Jr, the film features the brand's most colourful and coveted items of the season, including wooly GG jacquard scarves and hats, GG Marmont bags and the Gucci Tennis 1977 sneaker in multi-hued metallic sequins.
Coca-Cola – Christmas Commercial 2020
Goosebumps are in store with this one. Staying true to the heart of Christmas, Coca-Cola's thoughtful video has one key message: This Christmas, give something only you can give. Leave the hard work to Santa and his elves; make time for the ones you love – be it a through a phone call, glitchy video calls or best of all, in person.
Coach – Holiday is Where You Find It
Instead of one long film, Coach has unveiled a series of videos starring a diverse cast of global celebrity ambassadors in the #CoachFamily. Malaysian singer-songwriter Yuna debuts in the campaign, alongside faces like Jennifer Lopez, Michael B. Jordan, Jeremy Lin and Yang Zi – all of whom are portrayed spending the holidays with their respective loved ones, decked in the latest Coach getups and accessories. The stars also play a round of Pass The Present or Pass the Snow Globe and share their to-do list for the season.
Amazon – The Show Must Go On
Many of us are familiar with putting our hopes and dreams into 2020, only to find them cancelled or postponed indefinitely. Amazon takes the story of a young dancer whose family and friends come together to make her hard work and practice come to life, after her scheduled performance is scrapped. After all, the show must go on.
Burberry – Singing in The Rain
A stark change from last year's campaign, Burberry's 2020 ad uplifts the mood with a flash mob in streets of London. "It's all about that fearless spirit and imagination when pushing boundaries" reads the title – a quote by Burberry chief creative officer Riccardo Tisci, who conceived the film together with directors Megaforce and producers Riff Raff Films. This spirit is reflected in the film, featuring four young dancers dancing and dodging their way from killer ice blocks. Unveiled together with a series of imagery starring football star Marcus Rashford MBE, the campaign highlights the theme of community while bringing together the worlds of sport, high fashion and dance.
LEGO – And I think to myself…
If you're here for laughter, not tears, LEGO's film promises smiles and good cheer for all ages alike. Reimagining the lyrics of Louis Armstrong's "What a Wonderful World", the film depicts a cross between reality (as adults and parents see it) and fantasy (of the young and young at heart). From Iron Man blasting a hole in the wall of the living room to cop car chases on the streets, LEGO brings your wildest imaginations to life all in the name of fun and festivity.
Louis Vuitton – Journey Home for the Holidays
The holidays are usually a time of anticipation for the journey back to our hometowns. Louis Vuitton honours that with a film taking viewers through countless colourful doorways around the world, as friends and family gather bearing gifts and glad tidings. Whether in person or in spirit, it's the thought of sharing the spirit of the holidays that matters.
Waitrose & John Lewis – Give A Little Love
As much as 2020 is a tough year for us all, some have it harder than others. In the spirit of Christmas, Waitrose & John Lewis share a heartwarming 2-minute film inspiring little acts of kindness to our community. Be it donating food to the poor, sharing words of comfort to the lonely or giving back to the less fortunate, any gift – big or small, tangible or intangible – can make someone's day.
Versace – Home for the Holidays
Travel as we know it has been put on hold, but Versace's fantasy-themed campaign has us dreaming of when we can hit the road again. Watch as a starry cast comprising of Irina Shayk, Adut Akech, Biaggio Ali Walsh and Louis Baines hop on a convertible ride through wintry mountain escapes and tropical backdrops in the most glamorous of Versace outfits. Stay until the end for a furry surprise.
Kate Spade New York – Holiday 2020
ICYMI, Kate Spade New York has collaborated with local animal rescue team, Allergic Rescuers KL, and the city's most stylish to put together its holiday film. With the aim of spreading awareness on pet adoption, the film involves cat-loving personalities such as Daiyan Trisha, Ameera Khan, Kittie Yiyi, Ally Mukhriz, Julie Anne Kang and Aina Syahirah – all of whom are dressed up in pieces from the holiday collection and pictured alongside adorable feline rescues. Anyone considering adopting a pet for Christmas?
Tod's – A Pawfect Holiday
For those partial towards dogs, Tod's Pawfect Holiday campaign promises to make you feel all warm and fuzzy inside. The film features a "diverse cast" including a dalmation, a German shepherd, a golden retriever, a poodle, a Labrador and more, each portrayed with handbags, shoes and accessories from the leather house. Besides, the holiday season is about family, and dogs are family too! 
Disney – From Our Family to Yours
We've saved our favourite for last: Disney's heartwarming 3-minute ad centres around two characters, Lola and her granddaughter, and their holiday traditions. Based on consumer insights that traditions, family and nostalgia were the most important things to them during the festive season, the story follows Lola and her granddaughter's much-loved Mickey Mouse toy, which is later passed down to her granddaughter for Christmas along with the tradition of making star lanterns. Over time, their yearly ritual sadly begins to fade away… until Lola wakes up to a festive surprise on Christmas Day.
Merry Christmas from us at FirstClasse!
Featured image: Tod's