Bentley has announced that the Azure package is now available for its whole five-model lineup, which includes tactile and visual cues designed to alleviate stress and promote health, as well as driver assistance technology for smoother, safer travels. The new Azure range will offer Bentley customers a handpicked selection and will be available on the Bentayga, Bentayga EWB, Flying Spur, Continental GT, and Continental GTC, among other Bentley models.
"The Azure, like Speed and Mulliner, offers our customers clarity during the enjoyable process of choosing their ideal Bentley. We know from the scientific research undertaken by our specialists that our holistic approach to wellbeing behind the wheel, uniting technology, design and craftsmanship, will deliver driver and passengers to their destination more relaxed than when they set off," comments Adrian Hallmark, Chairman and Chief Executive of Bentley Motors.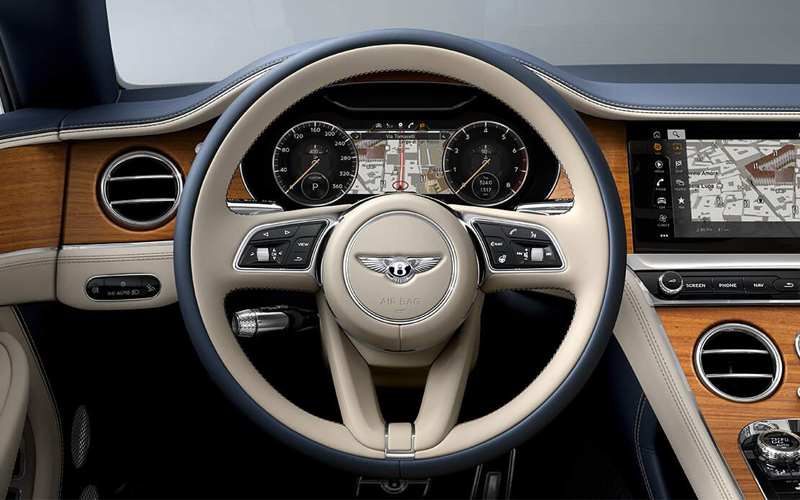 The Front Seat Comfort Specification is standard on all Bentley Azures, and it is the foundation for driving comfort and control. Passengers of different heights and weights may find their optimal seating position with up to 22-way adjustable seats, while the heating and ventilation function helps to maintain the body's optimum temperature for comfort and attentiveness. Azure's massaging function, which has six programmed levels, encourages regular micro-adjustments in muscle and posture, which are critical in reducing tiredness. The Front Seat Comfort standard includes adjustable side bolsters, motorised seatbelt adjustment, and comfort headrests.
Bentley Dynamic Ride, Bentley's 48V active anti-roll control technology that improves ride comfort and controls roll for smoother, more relaxed travels, is another major feature of the Azure range standard. When needed, the system electronically decouples the anti-roll bars to smooth the ride, then applies up to 1300 Nm of anti-roll torque in 0.3 seconds when cornering to maintain the body flat and stable.
The new Bentayga Extended Wheelbase is the pinnacle model in the Azure range, expanding on the Azure offering with the addition of Bentley's Airline Seat Specification, the most advanced seat ever fitted to a car. The seat has 22 methods of adjustment and world-firsts in a new auto temperature sensing system and postural adjustment technology and is available in the back cabin for the four-seat and 4+1 layouts. The seat can recline to 40 degrees in Relax mode, while the passenger seat is motored forward and a lovely leather-trimmed footrest extends from the back of the front passenger seat. The seat adjusts to its highest upright position in Business Mode to make working on the go more comfortable.
Elegant and distinctive design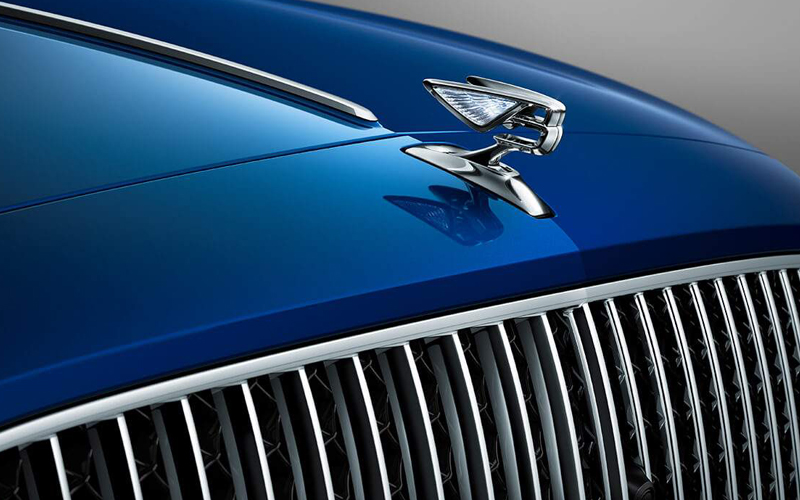 The fractal patterns of finely created diamond quilted upholstery create an eye-pleasing interplay of light and shade and present an alluring temptation to explore them with one's touch, according to the Azure interior design specification. Customers can choose from a full spectrum of 15 hide colours and colour splits, as well as contrast stitching as standard and seat piping as an optional extra. Azure lit treadplates, Bentley 'B' foot pedals, mood lighting, and a duo-tone steering wheel with heating function complement these visual delights.
Bright chrome lower bumper grilles, unique 22″ ten-spoke wheels, comfort quilted seats, and finishing details like the Bentley 'jewel' filler cap are all design constants for Azure. A glass-to-glass panoramic sunroof is also included in the Flying Spur Azure's specification. The feature allows natural light into the cabin while the front panel tilts and glides over the fixed rear to let fresh air into the cabin. When shade is desired, electric Alcantara blinds, which are colour-matched to the décor, provide it in a soft and tactile material that is an alternative to leather.