Anyone who's well-versed in the world of perfumes and fragrances will need no introduction to one Barnabé Fillion. A master perfumer with a nose for crafting unique sensory experiences, the Parisian has worked with prestigious brands including Aesop, Le Labo and Paul Smith, in addition to helming his own perfume house.
Having picked up the art of perfumery while studying botany and phytology, Barnabé discovered a penchant for blending fragrances and playing with different aromas. He has since been researching and concocting unique scents by incorporating traditional craft-orientated approaches for over a decade.
Marrying inspirations from his personal travels with his love for natural botanical ingredients, Barnabé's compositions often highlight the notion of innovation versus tradition. It is for this reason that premium Scotch whisky brand Royal Salute appointed him as Creative Advisor – a position that has allowed him to create an inimitable whisky pairing experience which has come to be known as the Royal Salute Olfactory Studio.
After having the pleasure of sitting through this exclusive experience, we had a chat with the master perfumer on the art of blending across the worlds of whisky and perfumes. Here's what he had to say.
---
Tell us about your relationship with Royal Salute. When and how did you start working with the brand?
I have always been connected to creativity, throughout my career and lifetime. Initially with visuals in modelling and photography, and then with an olfactory focus in perfumery. What I have always focused my work on is the quality of the ingredients available to me, and this is where my collaboration with Royal Salute was the perfect fit. Since our collaboration started, it has been a journey of creative innovation and sensorial exploration. A huge part of this is thanks to the mind-blowing craftsmanship of the Royal Salute Master Blender Sandy Hyslop. What Sandy has brought to the Royal Salute portfolio of prestige blends is something that immediately resonated with me as a perfumer. It is complexity and artistry in creating layers of flavour and aroma.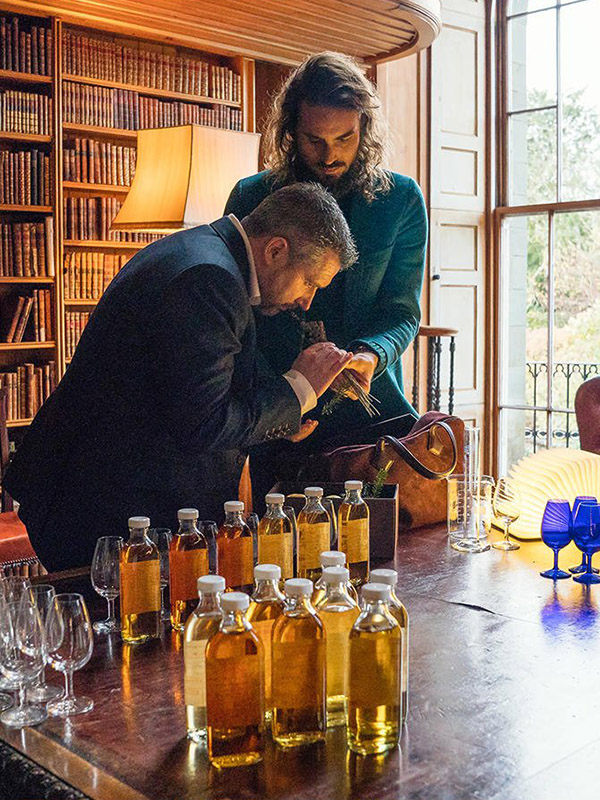 What attracted you to work with the brand and take up such a unique role?
Truly, there are many things that draw me to Royal Salute, but the initial pull was the entrepreneurial spirit of Sam Bronfman, the creator of Royal Salute. He took the time to select prestige Scotch whiskies and to blend them, to add layers of complexity and magic. He created an incredible whisky, fit to be gifted to the British Queen on her Coronation day.
And secondly, the best things in life are blends – delicate perfumes, fine cuisines, beautiful pieces of art, the company you keep. It is the very same for whisky. An expertly blended whisky like those that form the Royal Salute portfolio creates a palate of scents and flavours, offering the opportunity to explore and give space for creativity which is an ideal partner for me. It is a form of magic and inspiration that this artistry in whisky takes place over a long time period – for Royal Salute this is a minimum of 21 years – in the depths of the cask.
What would you say are the similarities between a perfume and a whisky?
Blending whisky is an art, like the blending of perfume. There are many unexpected but close parallels between the two. A truly great blend aims to bring the best out of every ingredient and from their unity, build beauty and inspire our senses.
I continue to be fascinated by the craftsmanship and transformation that a whisky undergoes during its aging process, and when that whisky is finally ready to be enjoyed, we find flavour and aroma are intimately entwined. The Olfactory sense provides around 95% of our total experience of flavour, so the art of nosing notes within a delicate perfume is arguably the most important skill to apply to enjoy a prestigious whisky blend like Royal Salute.
Walk us through the process of blending a perfume inspired by a whisky.
All flavours that pass ours lips are informed by our nose – in fact, every detail of a tasting experience is amplified by scent. My process always starts with understanding the depth of the Royal Salute blend so that I can isolate every tasting note and create a perfume with complementing aromas and a relevant story – the transition of the seasons, the passing of time, the wood of the casks, a play on light and darkness of the whisky, the fascinating phenomenon of the 'Angels Share', age, tradition, innovation etc.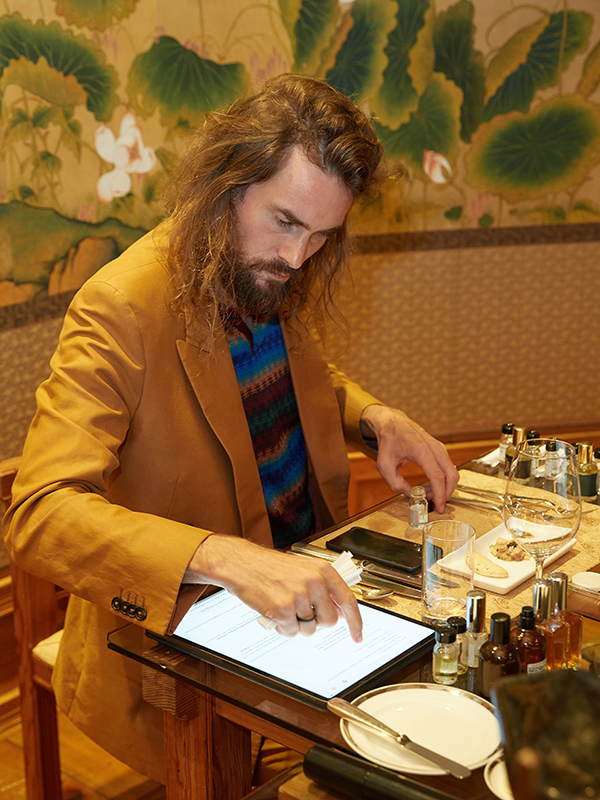 Which part would you consider the most challenging of the blending process?
When making a perfume, you need to be working with the freshest, newest distilled ingredients as otherwise, they can get damaged very quickly. When it comes to whisky, it's the absolute opposite as you find yourself working with aged products! With Royal Salute, the whiskies are all aged of a minimum of 21 years. I find this really interesting and a true challenge as I continue to explore the effects of time on the maturation of ingredients that will deliver an exquisite whisky.
"My ambition is to elevate the senses and create an experience that will commit the aroma and the taste to memory."
How does the Royal Salute Olfactory Studio enhance the whole experience of whisky tasting?
We have curated the Royal Salute Olfactory Studio experience to explore the nuances of enjoying a whisky. If you are enjoying a whisky as special as Royal Salute, we drink it to feel the energy and the preciousness of time. So the Royal Salute Olfactory Studio is our way of opening up a new visceral dimension to appreciate and understand the artistry and sophistication of that blend that has occurred over time by immersing all the sense – touch, taste, sound, smell, sight – and create stories and emotions that elevate our experience with that whisky, and ultimately, commit it to memory.
Based on your olfactory knowledge and experience, can you share a few tips on how best to nose a whisky?
Two of the simplest but greatest hints are firstly to close your eyes – to focus your mind and soul on your nose and explore the aromas. Allow the different notes within the scent time to trigger your olfactory sense in case you have those notes in mind somewhere already to build on. The second is to then add a small amount of water to the whisky, but this must be no more than a few drops. This helps loosen and release the aromas, for you to again explore deeper with your olfactory memory.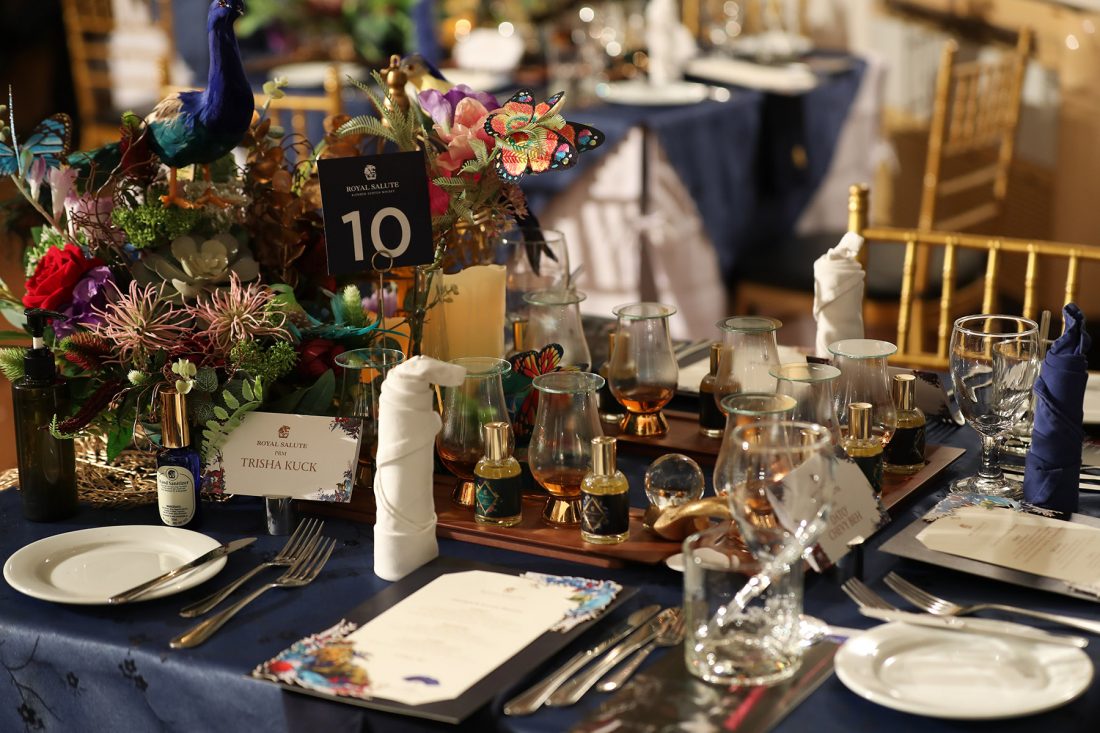 The next Olfactory Studio event will take place on 15 January 2021 at Mandarin Grill, Kuala Lumpur. For details of all upcoming Olfactory Studio events, please enquire with Trisha Kuck, Prestige PR Manager at Pernod Ricard Malaysia, at trisha.kuck@pernod-ricard.com or +6016-428-4403.
Learn more about Barnabé Fillion's projects and collaborations at his official website here.