Celebrating a shared vision of heritage, boldness and innovation, Balmain and Chivas have come together to bring us an exclusive collection of Chivas XV blended whiskies. 
The bottles' audacious design was developed in partnership with Balmain's creative director, Olivier Rousteing, whose daring outlook on the fashion world parallels Chivas' disruptive approach to Scotch.
"Both Balmain and Chivas (in their very different universes) have helped make clear that a mix of tradition, a rigorous attention to detail and a dedication to classic artisanal skills can very beautifully compliment a thoroughly modern outlook," shared Rousteing in an interview. 
"I think it's great that these two historic houses, with their shared values, have been able to partner on a project that really highlights that distinctive outlook."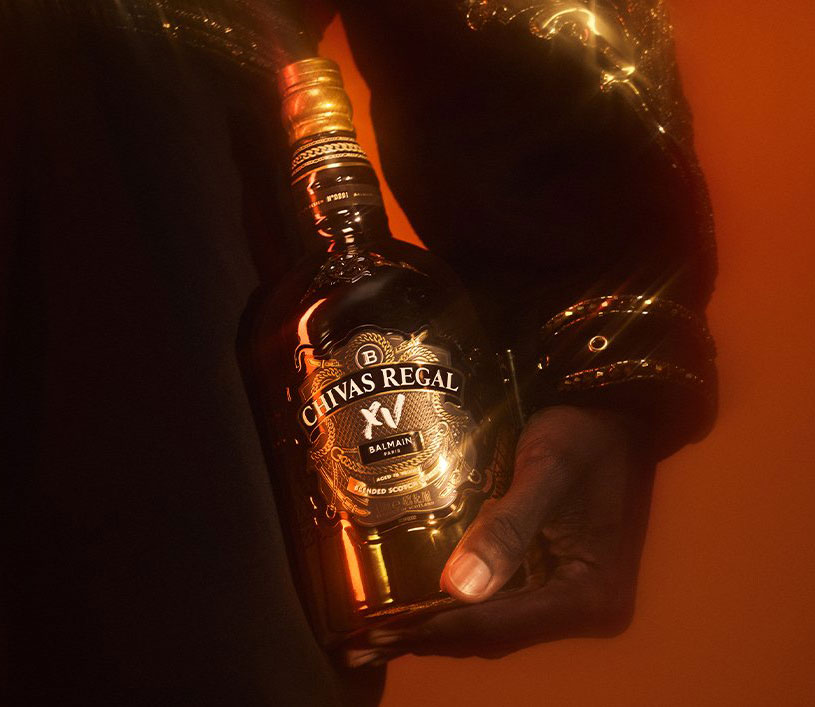 The collaboration between the two brands will see two launches, the first being a very limited Gold Edition that channels Balmain's signature runway pieces in its metallic armour and chain detailing. 
The second Balmain X Chivas XV drop, available November 22nd, is inspired by Balmain's characteristic silhouette. Featuring a symmetrical design of chains and belts, the bottle takes inspiration from the fashion house's recent collections.
According to Rousteing, the concept behind the use of Balmain's iconic, intricately patterned gold chain in the bottle designs came from learning more about the refined and rare blend that is Chivas XV. As a thing to be treasured and protected, the idea of defending the valuable item led to the creation of a 'coat of armour' for this collaborative creation.
View this post on Instagram
The Chivas XV is described as luxurious, velvety, and refined, carrying rich flavours of warm cinnamon, butterscotch and sultanas. The 15-year-old blended whisky holds yet another connection to Balmain's French origins, as a portion of the scotch is selectively finished in French cognac casks. 
"Both Balmain and Chivas are historic houses that stand out in their respective universes because of their shared determination to meld together luxury heritage and precise artisanal skills with a completely modern outlook that reflects how we want to live today," says Rousteing.
For more information, visit chivas.com