Panamera arrives in Malaysia, A8 receives a facelift, and the Prancing Horse gallops into its 70th year.
This week's wrap-up is a celebration of both new and old as these luxury carmakers have all given us a reason to rejoice in three distinct instances.
We're taking you through them with visual aid and official info, so get your engines started and strap in.
Upclose with LaFerrari Aperta for Ferrari's 70th anniversary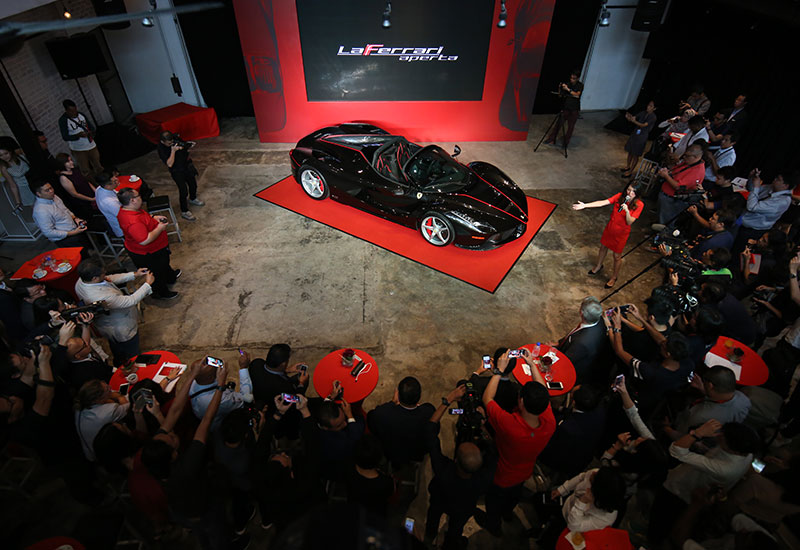 (swipe left for more)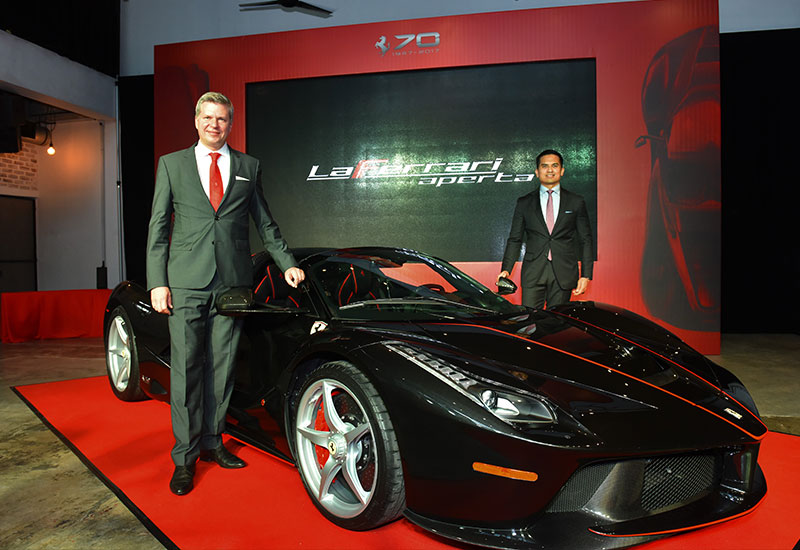 (From left) CEO of Ferrari Far and Middle East Hub, Dieter Knechtel, and Group Executive Chairman of NAZA World Group of Companies, Datuk Wira Hj SM Faisal Tan Sri SM Nasimuddin, pose with the star of the day.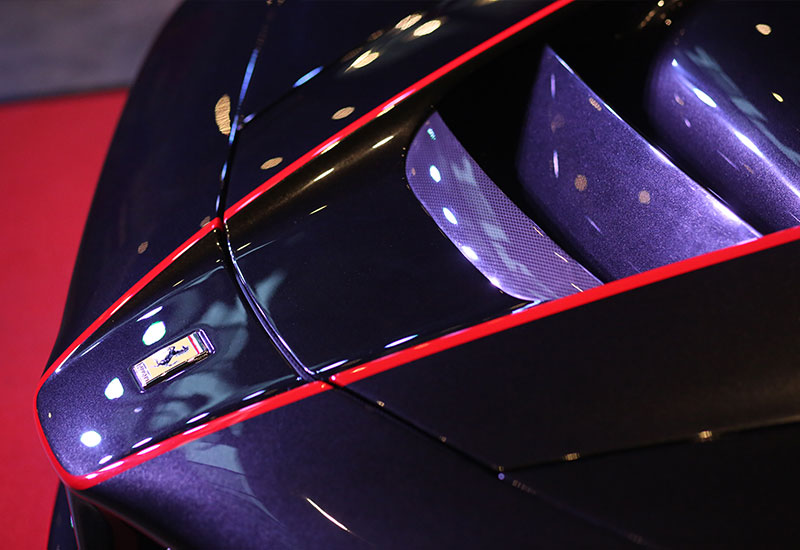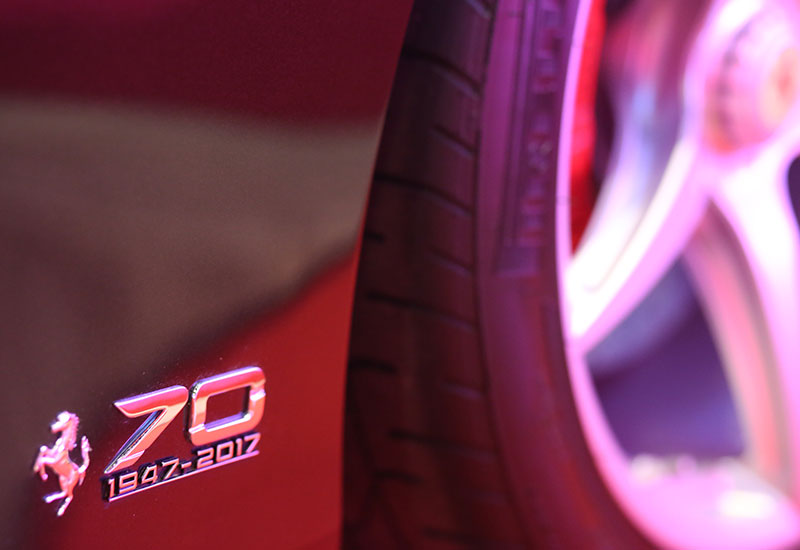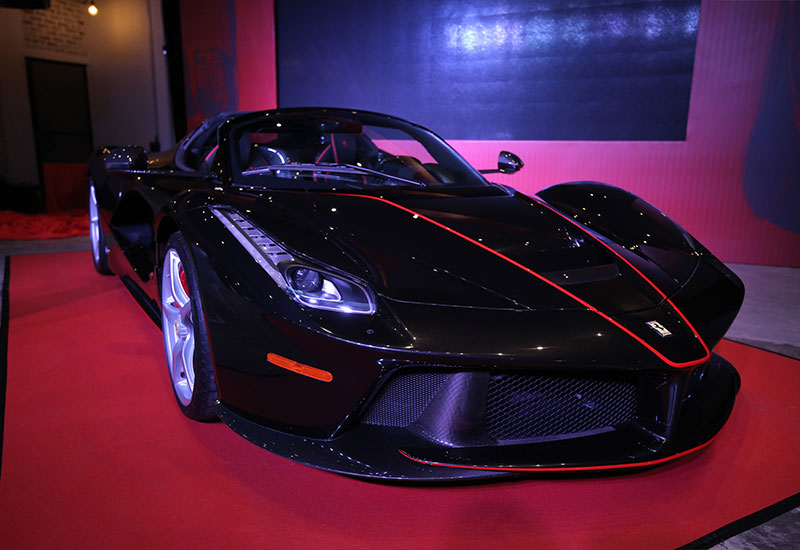 Ferrari's 70th year is celebrated worldwide in over 70 events, where enthusiasts will be treated to specially crafted activities honouring the iconic luxury brand, culminating in a grand Maranello weekend on September 9 & 10.
True to the Italian giant's cornerstone principle 'Driven by Emotion', the black-and-red LaFerrari Aperta was unveiled in an exclusive session at Slate @ The Row to an immediate fascination that gripped the entire room.
A dedication to its loyal customers, the limited edition spider version (just over 200 worldwide) of the famed LaFerrari is a testament to 70 years of excellent luxury carmaking, boasting technological excellence, dynamic performance and unique style – all of which are core values that brilliantly represent the brand. Maranello's latest supercar effortlessly combines extraordinary performance with the unique exhilaration of open-top driving. It is equipped with the same hybrid power unit as the coupé: a 262cc V12 engine coupled with a 120 kW electric motor for a total power output of a 949 hp.
It was undoubtedly the star of the show on the morning of July 20 – although we were also graced by the presence of red and yellow Ferrari 488 models at the entrance, which caught the attention of passers-by in the manner only mechanical wonders of its class can.
In Malaysia, sole local distributor Naza Italia joins the official celebration: a weekend in Penang for Ferraristi, consisting of a rally from KL to Jalan Padang Kota Lama, where the cars will form a majestic feature opposite Penang City Hall. To end with a bang, there will be an elegant gala dinner where the LaFerrari Aperta makes another dazzling appearance.
We must say this foremost luxury automobile specialist is ageing like fine wine, and we look forward to what the Prancing Horse has in store for the coming decades.
Follow the celebrations on the official 70 years site, and keep up to date on Ferrari Malaysia here.
Porsche Panamera Turbo arrives in Malaysia
(swipe left for more)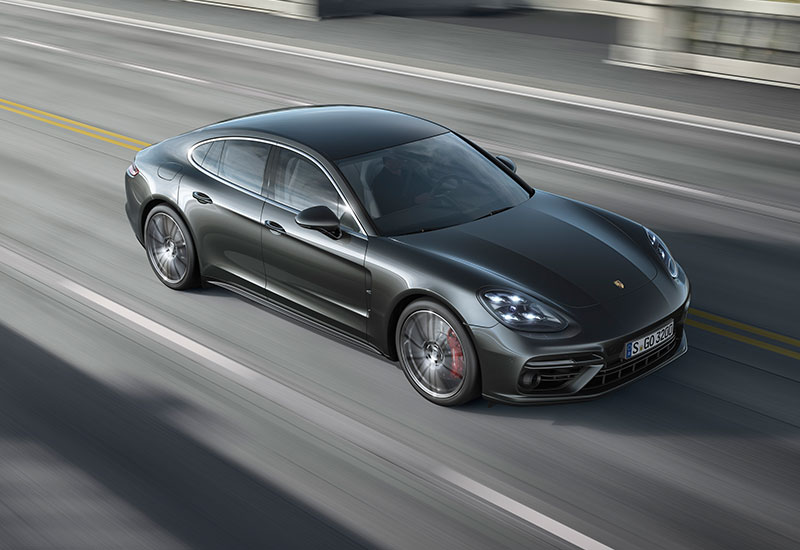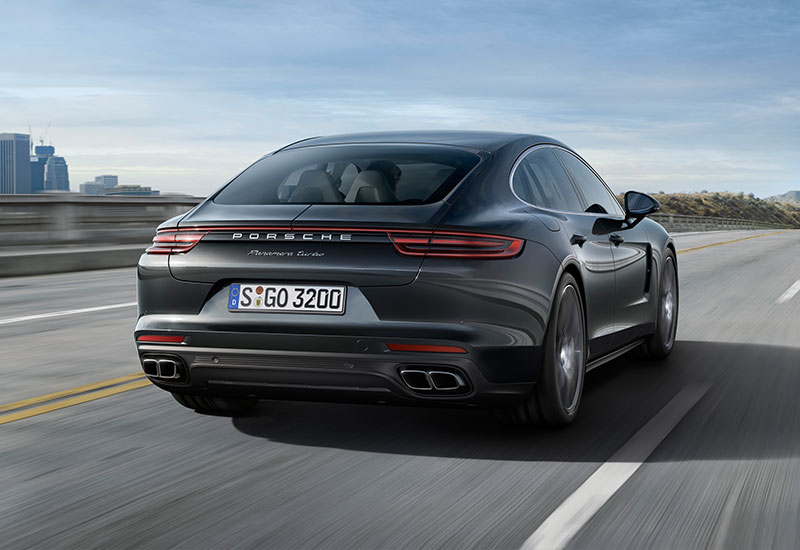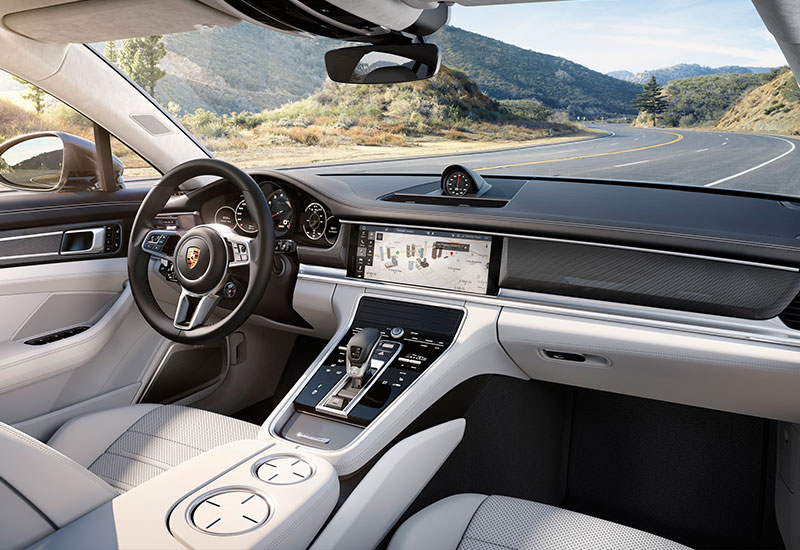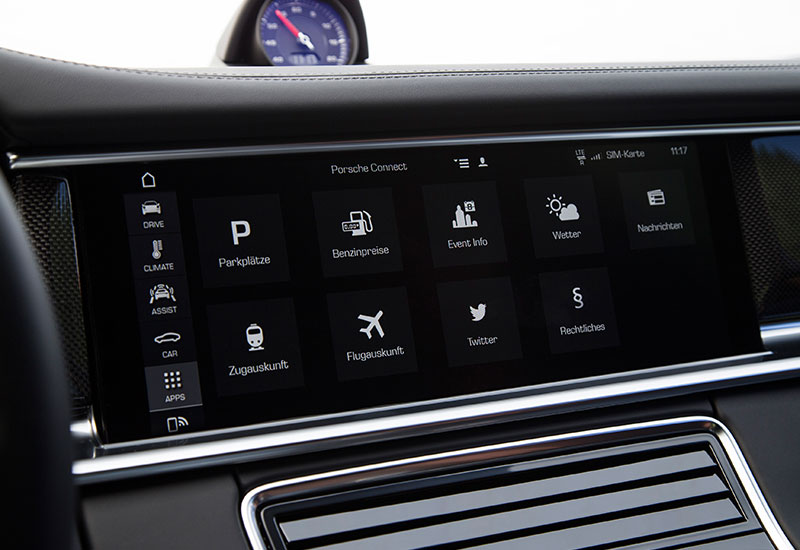 Since we covered the Panamera's 2017 makeover, more exciting news have hit our shores: the Porche Panamera Turbo is here courtesy of local distributor Sime Darby Auto Performance.
We welcomed this powerful petrol engine model on July 17, along with Porsche's enticing promise: the performance of a genuine sports car in the comfort of a luxury saloon.
While it sports an innovative new eight cylinder high-tech V8 engine with improve fuel consumption and low emission figures, the Panamera Turbo is also specifically built to harmoniously marry the typically contrasting aspects of high power and enviable torque.
Under the hood: The Panamera Turbo is lighter than its predecessor, with its new 4.0-litre engine delivering a higher maximum specific power of 137.5 hp per litre.
This engine is also Porsche's first with adaptive cylinder control system, resulting in 30% improved fuel economy in four cylinder phases. Porsche has managed to compress the engine package and reduce friction power losses to deliver a more stable, superior ride.
Turbo: This Panamera's sports car dynamic is largely attributed to its central turbo layout, meaning the turbocharger system is integrated centrally in the inner V between the cylinder banks for a more compact engine package. A dual branch air process system is applied for optimal engine response and efficiency. Injectors are also positioned centrally in the combustion chamber for improved process and reduced emissions, which is also promoted by the close proximity of the catalytic converter to the engine inside the inner V.
Yours for: RM 1,550,000 + four-year warranty & maintenance package (subject to change)
Delve deeper into the Porsche Panamera's Turbo's best features on the official page here.
All-new Audi A8 announced for 2018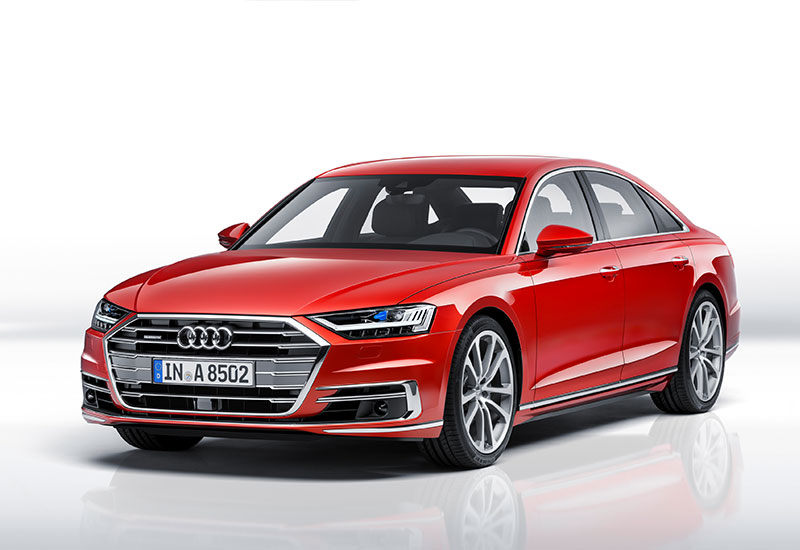 On July 11, the fourth-gen Audi A8 made its world debut at the Audi Summit in Barcelona, sporting new design language, innovative touchscreen operating concept, and systematically electrified drive.
With improved sport steering and stability, the A8's standard quatto permanent all-wheel drive is complemented by active torque distribution between the rear wheels.
Let's not forget the improved Audi AI active suspension, which provides a flexibility that lets your smooth, classic sedan drive like a sports car.
The most exciting aspect, though, could just be the piloted driving functions introduced that allow your car to function independently when parking in the garage, or in a traffic jam. This highly automated driving is courtesy of sensors, camera and laser scanners, but as a relatively new concept around the world, mass adaptation is likely to take some time.
Outside: Sports appeal and lightweight construction being this automaker's forte, the striking design is accentuated by HD Matrix LED headlights with Audi laser lighting, and LED light strip combined with OLED technology at the rear.
Inside: The new Audi A8 is lavishly spacious compared to its predecessor, with an optional relaxation seat that allows passengers to warm or massage their feet. We also bid goodbye to the classic instument panel as the latest model is much sleeker with a 10.1-inch touchscreen display.
The new voice control feature lets you direct your car, and the extensive connect range includes smart traffic sign recognition and hazard information services. The self-learning optimised navigation is quite a genius addition too, with a map incorporating highly detailed 3D models of major European cities.
Under the hood: Although the new Audi A8 will primarily feature a 48-volt electrical system, five other mild hybrid and e-tron models will be released – the former of which promises to reduce fuel consumption by as much as 0.7 litres per 100km thanks to better energy recovery output and extended start/ stop function. These models feature enhanced V6 turbo engines: a 3.0 TDI and 3.0 TFSI. The diesel version develops 210 kW (286 hp), and the gasoline version 250 kW (340 hp). Two eight-cylinder versions – a 4.0 TDI with 320 kW (435 hp) and a 4.0 TFSI with 338 kW (460 hp) – will follow slightly later. The exclusive top engine version is the W12 with a displacement of 6.0 litres.
When to expect: The new Audi A8 and A8 L are being built at Audi's Neckarsulm site and are scheduled to appear in the German market late fall.
Yours for: €90,600 (RM 452,244) for Audi A8 & €94,100 (RM 469,715) for Audi A8 L
Keep up with all things Audi on the official site here.
Images courtesy of respective car makers.