The next time you're scanning a menu in a restaurant, while you search for the one dish that truly speaks to your deep and unfathomable cravings, take a moment to look at the words and names you see. You'll find all kinds of peculiar and seemingly arbitrary names. 
Sure, some items like avocado toast are pretty self-explanatory, as is the straightforward self-proclaimed fattiness of our national dish. Other food terms, however, require a bit more historical backtracking. Why does truffle mean both a melt-in-your-mouth chocolate treat and an expensive piece of fungi dug up from the ground? What does Genghis Khan's Mongol army have to do with steak tartare?
From the seawater origins of marinade, to the paint stroke inspired name of carpaccio, read on for some captivating culinary origin stories.
An appetiser defined by its bright raw ground meat and served with onions, capers, and other seasonings, steak tartare is certainly not for the faint of heart. Because you can never have too much raw factor, an uncooked egg yolk typically tops off the dish. A theory of the name's origin comes from fabled tales of Genghis Khan's nomadic Mongol warriors, the Tatars. The legend goes that the soldiers would place a piece of raw horse meat under their saddles in the morning, and after a productive day of marauding, the meat would be tenderised and ready to feast on by nightfall. Quite a leap from questionable warrior rations to French bistro delicacy.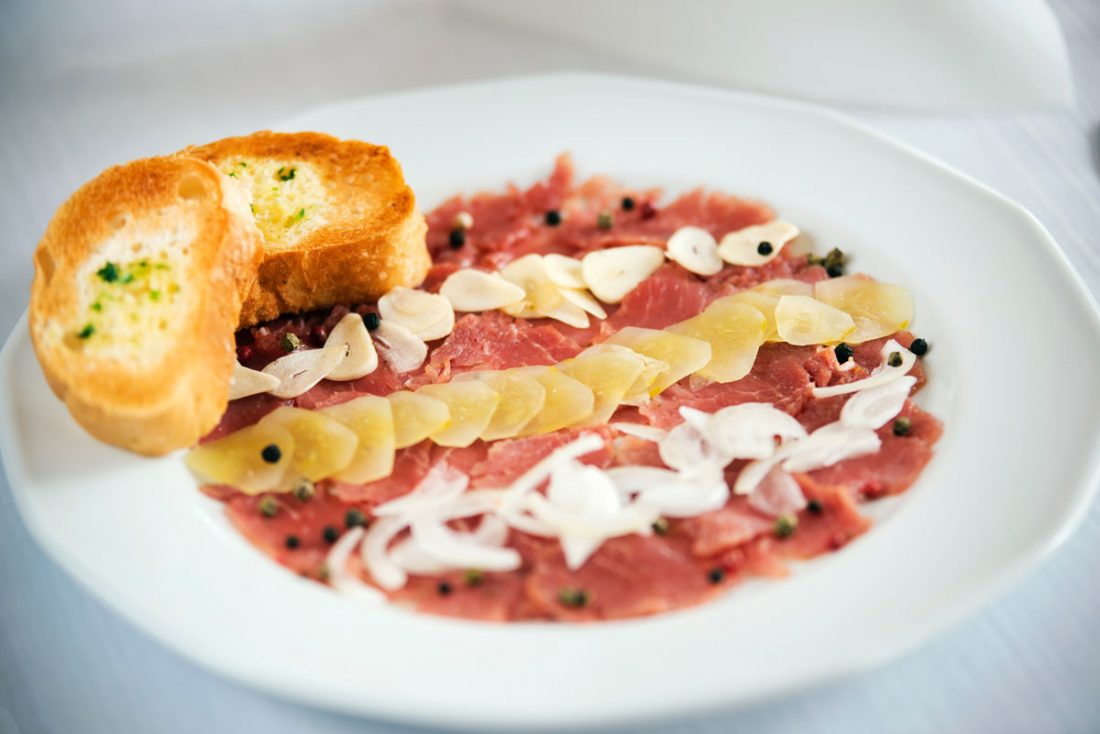 Continuing our theme of raw meat appetisers, here we have the Italian carpaccio – elegantly thin slices of uncooked meat or fish. The popular beef carpaccio is usually served with a drizzle of olive oil, lemon juice, parmesan cheese and parsley. Where did this ribbon-like meat dish get its name? Many have connected the moniker to Renaissance painter Vittore Carpaccio, who seemed partial to a certain orange and red, flesh-like hue in his art. The signature colour resembled raw beef slices so much that the dish was named in honour of him and his meaty paint styles.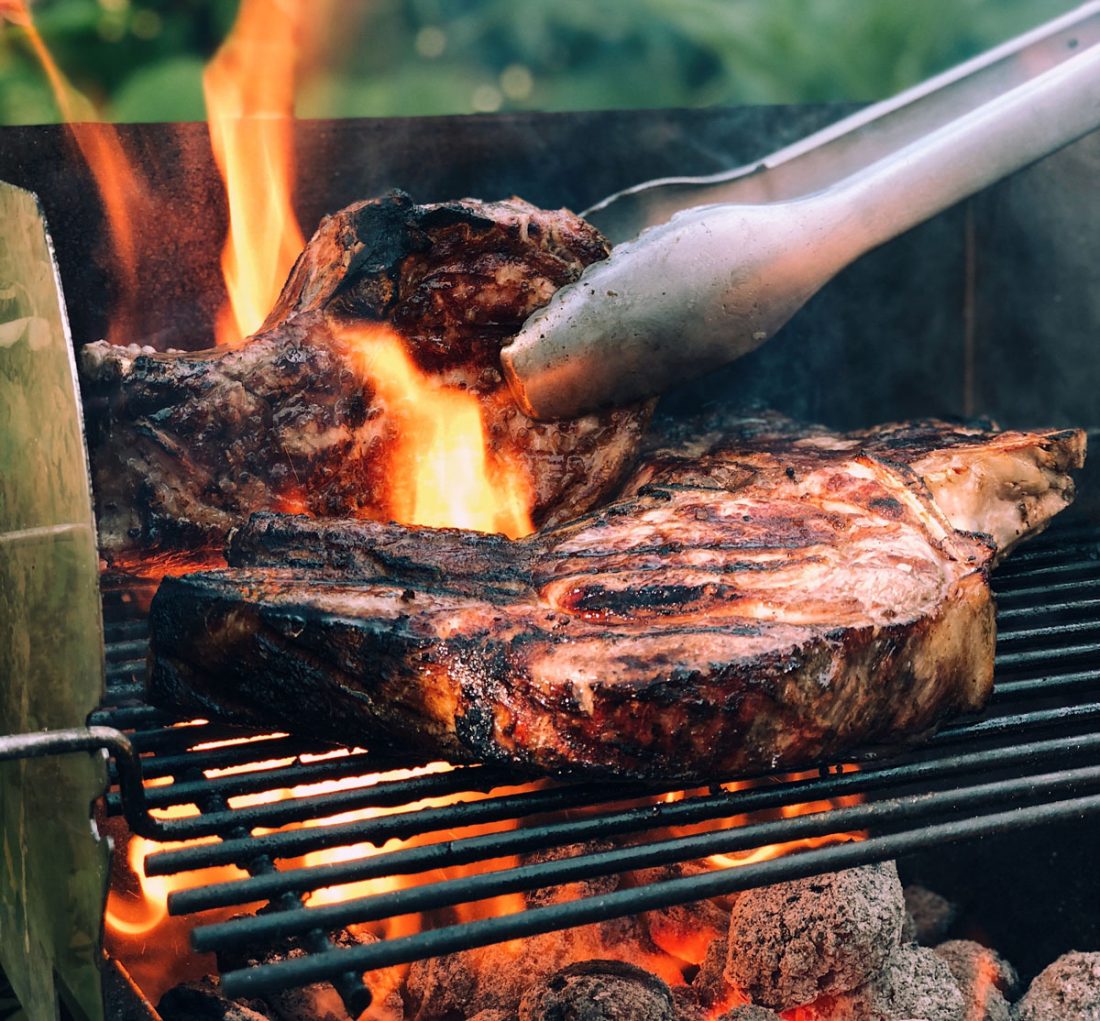 This summertime favourite needs no introduction, as most of us are already familiar with barbecue as the smoky, charring cooking method that doubles as an outdoor social activity. Derived from the word barbacoa, barbecue was a technique first enjoyed by indigenous tribes in the Americas. Spanish explorers were introduced to this new mode of cooking meat over an indirect flame, using a lattice structure made from natural materials called the barbacoa. The delicious results caused the technique to spread throughout the colonies, eventually becoming what we know today as barbecue.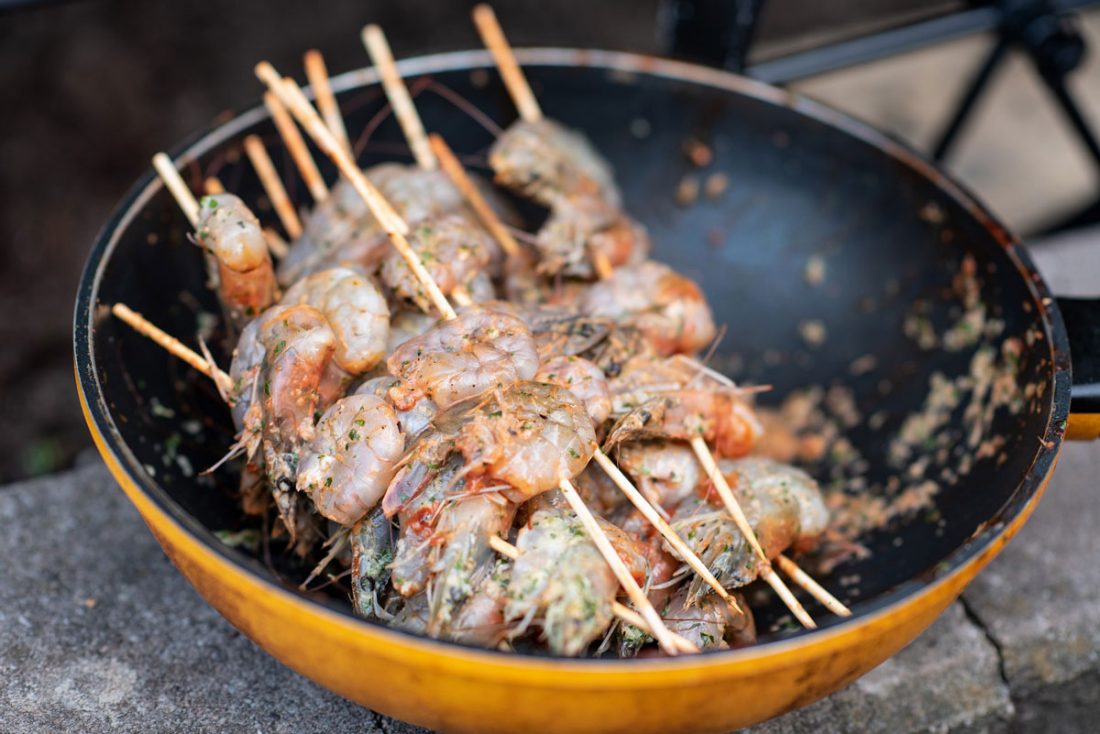 Widely known as the liquid seasoning for soaking meat or seafood in, this mixture is useful for preparing the protein before cooking by tenderising it and allowing flavour to penetrate. The term marinade has its roots in the sea, with its links to the word marine, while the French word mariner means 'to pickle'. An early variation of marinades involved the act of simply pickling it in salt water, using the high sodium content to preserve the meat and enhance its flavour. Over time, the process evolved to include acids like vinegar, wine or lemon juice, adding a tenderising effect on the food.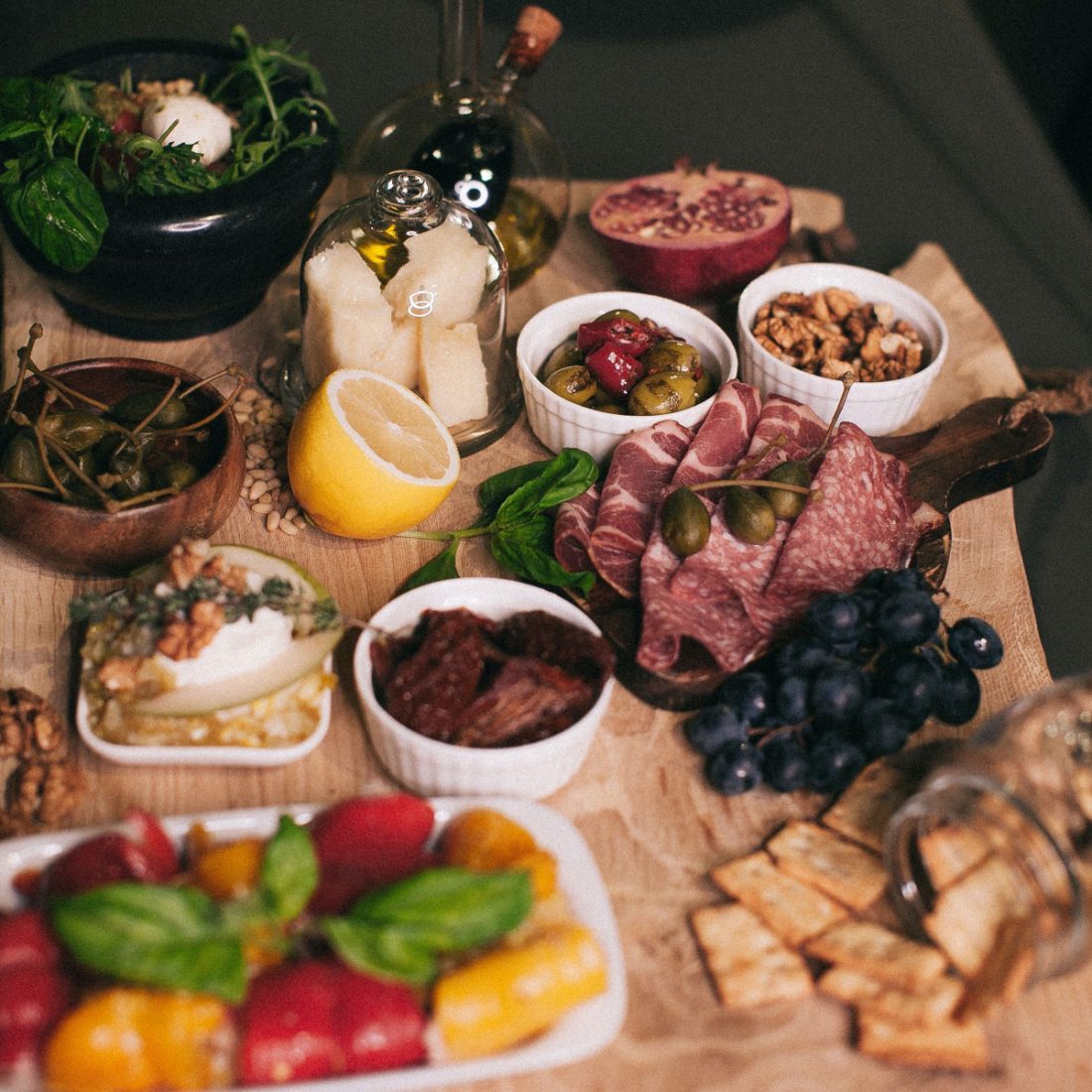 Perhaps one of the most well-known elements of Spanish cuisine, tapas are snacks and small bites served at bars, often accompanied with a drink. Typically enjoyed between meals or on the weekend, tapas dishes range from cold plates of olives and cheese to freshly battered and fried calamari. In Spanish, the word for tapas derives from taper which means 'to cover', and so the word tapa is used to mean 'lid'. A popular origin story for its name points to an old bartender custom of putting a slice of bread, cheese and ham on top of customers' glasses to keep dust and flies away. The free bar snack given by barkeep therefore acted as a literal lid, resulting in the tasty yet functional tradition of tapas.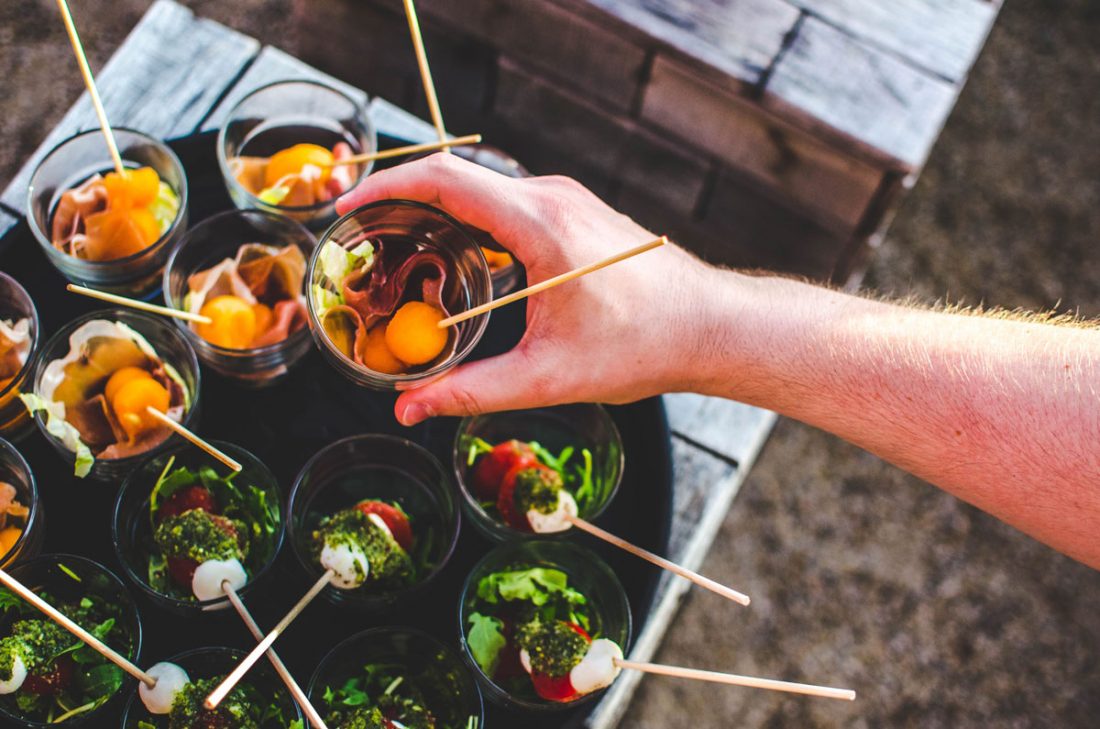 While some might dismiss hors-d'oeuvres as a fancy name for appetisers, the French word literally translates as 'outside the work'. In context, this means it is a dish that doesn't count as part of the regular courses of a meal, but rather an independent, supportive snack. With a history going back to the 17th century, hors d'oeuvres were small bruschetta style canapés that would appear in addition to an already complete set of symmetrically placed dishes.
Which came first, the truffle or the truffle? Sweet tooths might favour the chocolate confectionery truffle, a delicate treat made with a ganache centre and dusted with cocoa powder. However, the chocolate truffle was named for its visual similarity to the original truffle mushrooms, the prized culinary ingredient often found growing beneath oak trees. The word origins of truffle is said to come from the Latin word tuber, which translates to 'lump' or 'swelling'. An unappetizing, yet fairly accurate label for both the chocolate and mushroom variations, given their lump-like shape.
Hailing from Paris, these small, buttery almond cakes feature a fluffy soft centre that's complemented by a crisp golden exterior. The delicate characteristics of the pastry are contrasted by its unusual name, which stems from its colour and shape that resembles a gold bar. Around the end of the 19th century, a pâtissier sourced the recipe from catholic nuns in the Order of the Visitation, and in a flash of entrepreneurial inspiration decided to market the cake to bankers, naming it Financier in a frankly un-subtle play for their business.
This dainty French confectionery is a favourite among afternoon tea sessions, brunches and other elegant social events, due to its delicately tiny size and the endless potential for all manner of beautiful decoration. Though often made in batches, the 'four' in petit four bears no relation to the number four, but rather, is the French word for 'oven'. In the 18th century, when huge Dutch ovens were the cutting edge of cooking technology, there was no way of cooling down the equipment quickly. To make the most of this residual heat, bite-size pastries were baked in the oven while it lessened in temperature, hence the name petit four, meaning 'small oven'.