While many assume based on his most popular creations that chocolate is his main dialect, Amaury Guichon says pastry is his mothertongue.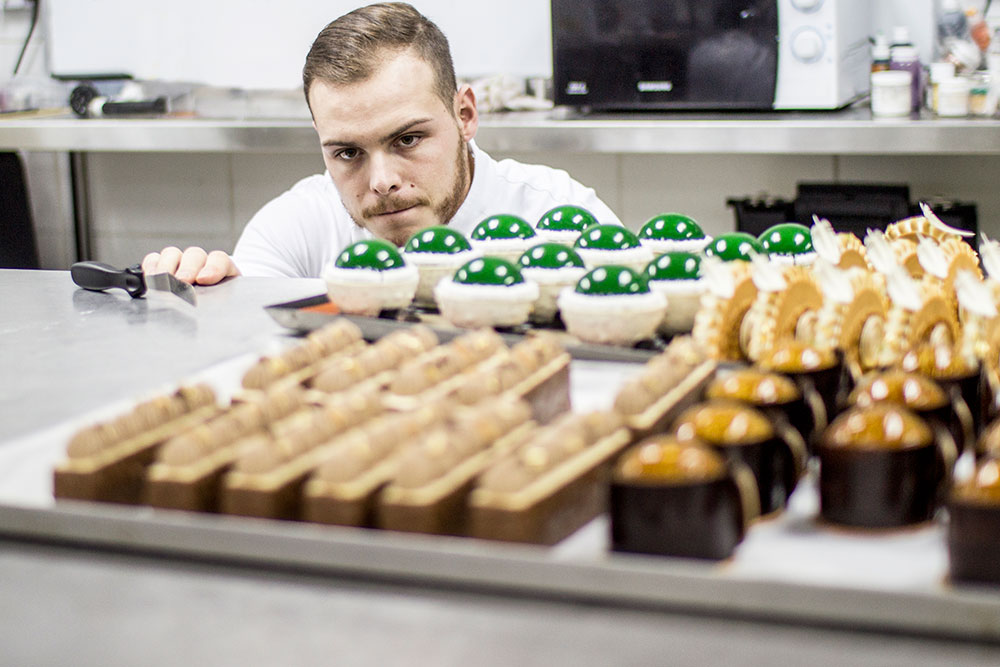 You may be familiar with the five love languages – words of affirmation, quality time, gifts, devotion and physical touch; but Amaury Guichon sums it all in one word: pastry.
We saw evidence of that first from one of his social media posts that when viral, then again as our initial curiosity found us scrolling through his Instagram feed, and once more upclose in the Academy of Pastry Arts Malaysia, where the International Pastry Chef and Instructor was teaching a class.
Observations aside, nothing speaks of his passion and dedication more than the fact that after a day's work in the kitchen and over a week of enduring a bad cough, he readily welcomes the opportunity to share his lingua franca with us without so much as a 5-minute break.
"The best part of my job right now is that my love for pastries is paving the way for meetings like this," tells the charming 26-year-old with his signature wide grin.
"I get to teach and share my passion with people that like what I do and it's more than just a pastry adventure, it's like a social adventure now. I get to eat different types of food, talk to different people, and learn about different cultures – it's so interesting."
Having travelled from France to Italy to Mexico for classes in the weeks before his arrival in Malaysia, he admits the job can also get rather tiring, even though he's still fresh into his worldwide endeavour.
Before we delve further into his present career, let's hit pause and rewind to when Amaury first discovered his love language.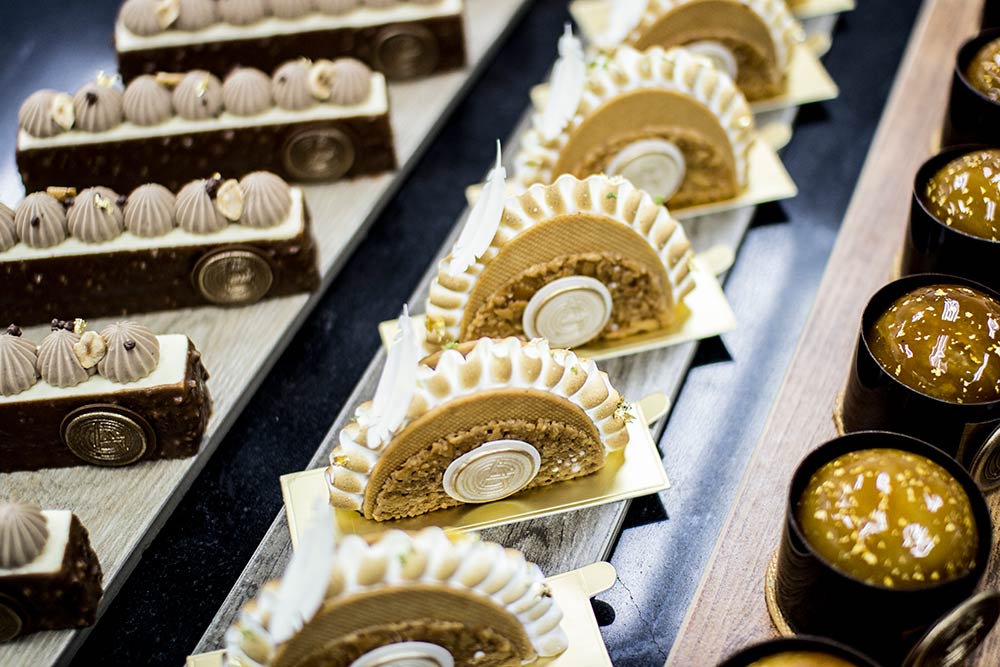 Learning the lingo
Born of French-Swiss parentage, Amaury grew up with both cultures and nationalities, frequenting between the two countries. He started his culinary training in the savoury sector at just 14-years-old at the Ecole Hoteliere Savoie Leman in France, and moved on to pastry at the age of 16 in Geneva, Switzerland.
"After a few months, I just had a great feeling about it – being able to create something from scratch, something that can have a 'wow' effect even at a young age," he recalls. "I never had such feelings before, so I pursued it and I just kept making pastries."
It was in those two years of pastry training that he discovered his other talent of creating chocolate showpieces, attested by earning first place in the Apprentice Chocolate Showpiece Contest.
"They're two different universes even though they seem similar because they're both sweet," he explains of his favourite confectionaries.
"One is extremely technical – you have to have the right flavour, texture, temperature, design, colour-matching, balance – and that's what pastry is about. On the other hand, as long as you know chocolate and how to ensure it doesn't collapse, you're very free to express yourself with it."
"I just had a great feeling about it – being able to create something from scratch, something that can have a 'wow' effect even at a young age."
While many assume based on his most popular creations, that chocolate is his main dialect, Amaury says pastry is his mothertongue.
"For a (chocolate) showpiece, you can just melt everything and redo it in maybe a day. But for pastries, you may have to work on it for weeks and if something doesn't match (at the end), then you have to start all over again. It's more difficult and frustrating, but that's why I love it."
A few years after completing the last tier of his pastry education back in Paris, he rose to become the Executive Chef of Hugo & Victor at merely 21-years-old – the youngest ever to hold the position in all of the city's history.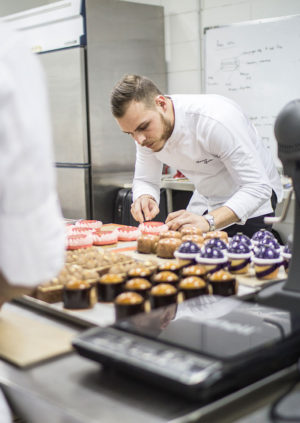 Breaking free
In 2014, Amaury moved to the United States for new career opportunities at a prestigious pastry shop – the Jean Philippe Patisserie in Las Vegas.
Given the land of possibilities, his undeniable skills and the power of social media, everything seemed to be working out perfectly for him – or so it appeared. Behind the scenes, frustrations at industry veterans abound.
"Some of those who have arrived at 50 years old and spent 35 years working in this industry, which is a very tough environment – it's always in the cold, your back hurts, and sometimes you wake up at 2am – they see young people taking up executive positions and they think it's not fair because they've worked all their lives to reach that level," he divulges.
"I grew up working with people who always kept a hand over my head; they didn't want me to grow. Every step of the way, even in school, people tried to make me feel bad about myself and told me I couldn't make it on my own."
Finally, after 12 years of working for others in the pastry world, he mustered enough courage and made the life-changing decision to quit and start his own business last May.
"I feel like I broke my chain and now I'm able to do what I want. Right now my life is pretty much how I want it to be," he says in the most appreciative tone.

Building his course
This brings us up to the present, where he travels around the globe teaching Masterclasses, and is known as the most followed pastry chef in the world with over 1 million followers on his Facebook and Instagram combined.
He has created his own logo and received numerous sponsorships so far this year, and has the whole of 2018 planned out, too. "Next year I'm going to work on a book, have my own line of jackets and travel to Russia, Columbia, Bangkok, and Beijing for classes," he reveals.
But this self-made course is not loose from challenges either, he confesses, and adaptation tops the list. Having classes away from a home kitchen means using the local tools and ingredients available in the particular country, which may not lead to the same results as the original product.
"People want to see exactly what's on my Instagram and I tell them that it requires this whole list of ingredients and tools, but they only have half the tools and not the same ingredients. I'm going to do my best to make it happen but it's not easy," he says.
"You might not be the next superstar, but nobody needs to be a superstar; you just need to be happy in your life and find what gets you there."
"I think that's why adaptation is one of the qualities of a good pastry chef – you have to adapt to the people, the students, the ingredients, and the tools in front of you to meet people's expectations."
Tough as it may be, Amaury believes it gets easier with every class he teaches, if he keeps his eyes set on the prize.
On that note, the young instructor shares a piece of advice, "I always tell my students that people will not hand you things. You have to sacrifice a lot and work hard. But if you have a goal and you work hard for it, you will reach it."
"You might not be the next superstar, but nobody needs to be a superstar; you just need to be happy in your life and find what gets you there."
As for those who aspire to make a name in the industry, he believes the key is to be yourself.
"It's easy to see great designs from other chefs and think, 'Oh wow that's what I want to do' but if you do that, you'll never be who you are; you'll always be a copycat. So grab the recipe, know the process, understand the way cakes are built, but do your own version of it."
In other words, find your own language – he did.
Follow Amaury Guichon on Facebook (
@amaury.pastry
) and Instagram (
@amauryguichon
) to see more of his creations.
For more information on Master Class or other pastry courses, check out the official website of the Academy of Pastry Arts Malaysia here.
Photography, videography and art direction: Gan Yew Chin